Abstract
Due to their hypoimmunogenicity and unique immunosuppressive properties, mesenchymal stem cells (MSCs) are considered one of the most promising adult stem cell types for cell therapy. Although many studies have shown that MSCs exert therapeutic effects on several acute and subacute conditions, their long-term effects are not confirmed in chronic diseases. Immunogenicity is a major limitation for cell replacement therapy, and it is not well understood in vivo. We evaluated the immunogenicity of allogeneic MSCs in vivo by transplanting MSCs into normal and diabetic rats via the tail vein or pancreas and found that MSCs exhibited low immunogenicity in normal recipients and even exerted some immunosuppressive effects in diabetic rats during the initial phase. However, during the later stage in the pancreas group, MSCs expressed insulin and MHC II, eliciting a strong immune response in the pancreas. Simultaneously, the peripheral blood mononuclear cells in the recipients in the pancreas group were activated, and alloantibodies developed in vivo. Conversely, in the tail vein group, MSCs remained immunoprivileged and displayed immunosuppressive effects in vivo. These data indicate that different transplanting routes and microenvironments can lead to divergent immunogenicity of MSCs.
Access options
Subscribe to this journal
Receive 12 digital issues and online access to articles
$119.00 per year
only $9.92 per issue
Rent or buy this article
Prices vary by article type
from$1.95
to$39.95
Prices may be subject to local taxes which are calculated during checkout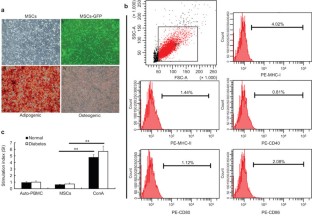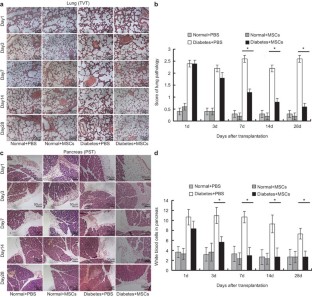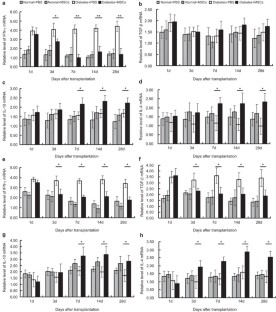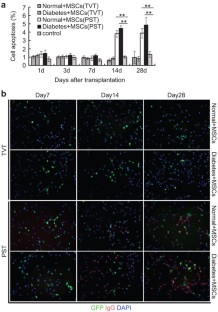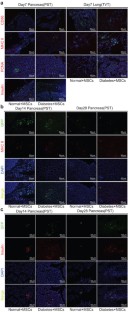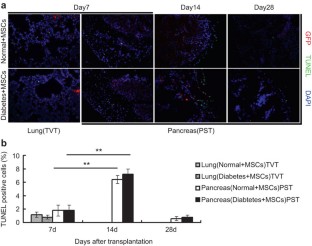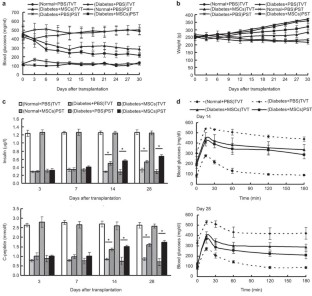 Similar content being viewed by others
References
DelaRosa O, Dalemans W, Lombardo E . Mesenchymal stem cells as therapeutic agents of inflammatory and autoimmune diseases. Curr Opin Biotechnol 2012; 23: 978–983.

Liu N, Zhang Y, Fan L, Yuan MZ, Du HW, Cheng RH et al. Effects of transplantation with bone marrow-derived mesenchymal stem cells modified by Survivin on experimental stroke in rats. J Transl Med 2011; 9: 105.

Ezquer FE, Ezquer ME, Parrau DB, Carpio D, Yañez AJ, Conget PA . Systemic administration of multipotent mesenchymal stromal cells reverts hyperglycemia and prevents nephropathy in type 1 diabetic mice. Biol Blood Marrow Transpl 2008; 14: 631–640.

Vassalli G, Moccetti T . Cardiac repair with allogeneic mesenchymal stem cells after myocardial infarction. Swiss Med Wkly 2011; 141: w13209.

Uccelli A, Moretta L, Pistoia V . Mesenchymal stem cells in health and disease. Nat Rev Immunol 2008; 8: 726–736.

Poncelet AJ, Vercruysse J, Saliez A, Gianello P . Although pig allogeneic mesenchymal stem cells are not immunogenic in vitro, intracardiac injection elicits an immune response in vivo. Transplantation 2007; 83: 783–790.

English K, French A, Wood KJ . Mesenchymal stromal cells: facilitators of successful transplantation? Cell Stem Cell 2010; 7: 431–442.

Zangi L, Margalit R, Reich-Zeliger S, Carpio D, Yañez AJ, Conget PA . Direct imaging of immune rejection and memory induction by allogeneic mesenchymal stromal cells. Stem Cells 2009; 27: 2865–2874.

Badillo AT, Beggs KJ, Javazon EH, Tebbets JC, Flake AW . Murine bone marrow stromal progenitor cells elicit an in vivo cellular and humoral alloimmune response. Biol Blood Marrow Transpl 2007; 13: 412–422.

Schu S, Nosov M, O'Flynn L, Shaw G, Treacy O, Barry F et al. Immunogenicity of allogeneic mesenchymal stem cells. J Cell Mol Med 2012; 16: 2094–2103.

Griffin MD, Ritter T, Mahon BP . Immunological aspects of allogeneic mesenchymal stem cell therapies. Hum Gene Ther 2010; 21: 1641–1655.

Zhang H, Fazel S, Tian H, Mickle DA, Weisel RD, Fujii T et al. Increasing donor age adversely impacts beneficial effects of bone marrow but not smooth muscle myocardial cell therapy. Am J Physiol Heart Circ Physiol 2005; 289: H2089–H2096.

Guo Y, Su L, Wu J, Zhang D, Zhang X, Zhang G et al. Assessment of the green florescence protein labeling method for tracking implanted mesenchymal stem cells. Cytotechnology 2012; 64: 391–401.

Ghaedi M, Soleimani M, Taghvaie NM, Sheikhfatollahi M, Azadmanesh K, Lotfi AS et al. Mesenchymal stem cells as vehicles for targeted delivery of anti-angiogenic protein to solid tumors. J Gene Med 2011; 13: 171–180.

Bai X, Pinkernell K, Song YH, Nabzdyk C, Reiser J, Alt E . Genetically selected stem cells from human adipose tissue express cardiac markers. Biochem Biophys Res Commun 2007; 353: 665–671.

Morandi F, Levreri I, Bocca P, Galleni B, Raffaghello L, Ferrone S et al. Human neuroblastoma cells trigger an immunosuppressive program in monocytes by stimulating soluble HLA-G release. Cancer Res 2007; 67: 6433–6441.

Martin RJ, Chu HW, Honour JM, Harbeck RJ . Airway inflammation and bronchial hyperresponsiveness after Mycoplasma pneumoniae infection in a murine model. Am J Respir Cell Mol Biol 2001; 24: 577–582.

Ye J, Liao YT, Jian YQ, Zhang XD, Wei P, Qi H et al. Alpha-1-antitrypsin for the improvement of autoimmunity and allograft rejection in beta cell transplantation. Immunol Lett 2013; 150: 61–68.

Pfaffl MW . A new mathematical model for relative quantification in real-time RT-PCR. Nucleic Acids Res 2001; 29: e45.

Fu WL, Jia ZQ, Wang WP, Zhang JY, Fu X, Duan XN et al. Proliferation and apoptosis property of mesenchymal stem cells derived from peripheral blood under the culture conditions of hypoxia and serum deprivation. Chin Med J 2011; 124: 3959–3967.

Dhanasekaran M, Indumathi S, Rajkumar JS, Sudarsanam D . Effect of high glucose on extensive culturing of mesenchymal stem cells derived from subcutaneous fat, omentum fat and bone marrow. Cell Biochem Funct 2013; 31: 20–29.

Huang YC, Leung VY, Lu WW, Luk KD . The effects of microenvironment in mesenchymal stem cell-based regeneration of intervertebral disc. Spine J 2013; 13: 352–362.

Yuan T, Li K, Guo L, Fan H, Zhang X . Modulation of immunological properties of allogeneic mesenchymal stem cells by collagen scaffolds in cartilage tissue engineering. J Biomed Mater Res Part A 2011; 98: 332–341.

Jia Z, Jiao C, Zhao S, Li X, Ren X, Zhang L et al. Immunomodulatory effects of mesenchymal stem cells in a rat corneal allograft rejection model. Exp Eye Res 2012; 102: 44–49.

Forgiarini LA Jr, Kretzmann NA, Porawski M, Dias AS, Marroni NA . Experimental diabetes mellitus: oxidative stress and changes in lung structure. J Bras Pneumol 2009; 35: 788–791.

Sassy-Prigent C, Heudes D, Mandet C, Bélair MF, Michel O, Perdereau B et al. Early glomerular macrophage recruitment in streptozotocin-induced diabetic rats. Diabetes 2000; 49: 466–475.

Papaccio G, Frascatore S, Esposito V, Pisanti FA . Early macrophage infiltration in mice treated with low-dose streptozocin decreases islet superoxide dismutase levels: prevention by silica pretreatment. Acta anatomica 1991; 142: 141–146.

Ezquer F, Ezquer M, Contador D, Ricca M, Simon V, Conget P . MSC anti-diabetic effect is unrelated to their trans-differentiation potential but to their capability to restore Th1/Th2 balance and to modify the pancreatic microenvironment. Stem Cells 2012; 30: 1664–1674.

Liu G, Wang L, Pang T, Zhu D, Xu Y, Wang H et al. Umbilical cord-derived mesenchymal stem cells regulate thymic epithelial cell development and function in Foxn1−/− mice. Cell Mol Immunol 2014; 11: 275–284.

Park KS, Kim YS, Kim JH, Choi B, Kim SH, Tan AH et al. Trophic molecules derived from human mesenchymal stem cells enhance survival, function, and angiogenesis of isolated islets after transplantation. Transplantation 2010; 89: 509–517.

Ho JH, Tseng TC, Ma WH, Ong WK, Chen YF, Chen MH et al. Multiple intravenous transplantations of mesenchymal stem cells effectively restore long-term blood glucose homeostasis by hepatic engraftment and beta-cell differentiation in streptozocin-induced diabetic mice. Cell Transplant 2012; 21: 997–1009.

Devine SM, Cobbs C, Jennings M, Bartholomew A, Hoffman R . Mesenchymal stem cells distribute to a wide range of tissues following systemic infusion into nonhuman primates. Blood 2003; 101: 2999–3001.

Fischer UM, Harting MT, Jimenez F, Monzon-Posadas WO, Xue H, Savitz SI et al. Pulmonary passage is a major obstacle for intravenous stem cell delivery: the pulmonary first-pass effect. Stem Cells Dev 2009; 18: 683–692.

Schrepfer S, Deuse T, Reichenspurner H, Fischbein MP, Robbins RC, Pelletier MP . Stem cell transplantation: the lung barrier. Transplant Proc 2007; 39: 573–576.

Furlani D, Ugurlucan M, Ong L, Bieback K, Pittermann E, Westien I et al. Is the intravascular administration of mesenchymal stem cells safe? Mesenchymal stem cells and intravital microscopy. Microvasc Res 2009; 77: 370–376.

Lee J, Han DJ, Kim SC . In vitro differentiation of human adipose tissue-derived stem cells into cells with pancreatic phenotype by regenerating pancreas extract. Biochem Biophys Res Commun 2008; 375: 547–551.

Xu YX, Chen L, Hou WK, Lin P, Sun L, Sun Y et al. Mesenchymal stem cells treated with rat pancreatic extract secrete cytokines that improve the glycometabolism of diabetic rats. Transplant Proc 2009; 41: 1878–1884.

Ferrand J, Noel D, Lehours P, Prochazkova-Carlotti M, Chambonnier L, Ménard A et al. Human bone marrow-derived stem cells acquire epithelial characteristics through fusion with gastrointestinal epithelial cells. PLoS One 2011; 6: e19569.

Huang XP, Sun Z, Miyagi Y, McDonald Kinkaid H, Zhang L, Weisel RD et al. Differentiation of allogeneic mesenchymal stem cells induces immunogenicity and limits their long-term benefits for myocardial repair. Circulation 2010; 122: 2419–2429.

Chang C, Niu D, Zhou H, Zhang Y, Li F, Gong F . Mesenchymal stroma cells improve hyperglycemia and insulin deficiency in the diabetic porcine pancreatic microenvironment. Cytotherapy 2008; 10: 796–805.

Hasegawa Y, Ogihara T, Yamada T, Ishigaki Y, Imai J, Uno K et al. Bone marrow (BM) transplantation promotes β-cell regeneration after acute injury through BM cell mobilization. Endocrinology 2007; 148: 2006–2015.

Urban VS, Kiss J, Kovacs J, Gócza E, Vas V, Monostori E et al. Mesenchymal stem cells cooperate with bone marrow cells in therapy of diabetes. Stem Cells 2008; 26: 244–253.
Acknowledgements
We thank our colleagues Ya-Ying Zhou, Chun-Yan Deng and Li-Li Ren for their technical assistance. This work was supported by the National Natural Science Foundation of China (No. 81270857), the Natural Science Foundation of Guangdong (No. S2013010014832), and the Science and Technology Project of Shenzhen (JCYJ20120618153743791, GJHZ20120618153934353).
Supplementary information
About this article
Cite this article
Gu, LH., Zhang, TT., Li, Y. et al. Immunogenicity of allogeneic mesenchymal stem cells transplanted via different routes in diabetic rats. Cell Mol Immunol 12, 444–455 (2015). https://doi.org/10.1038/cmi.2014.70
Received:

Revised:

Accepted:

Published:

Issue Date:

DOI: https://doi.org/10.1038/cmi.2014.70
Keywords