Abstract
Immunoglobulins (Igs) are known to be synthesized and secreted only by B lymphocytes. Class switch recombination (CSR) is a key event that enables B cells to express Igs, and one of the crucial steps for CSR initiation is the germline transcription of Ig genes. Surprisingly, recent studies have demonstrated that the Ig genes are also expressed in some epithelial cancer cells; however, the mechanisms underlying how cancer cells initiate CSR and express Igs are still unknown. In this study, we confirmed that the Ig Iα1 promoter in cancer cell lines was activated by the Ets-1 transcription factor, and the activity of the Ig Iα1 promoter and Ig Iα1–Cα1 germline transcription were attenuated after knockdown of Ets-1 by specific small interfering RNAs (siRNA). Furthermore, the expression of Ets-1 and Igα heavy chain in cancer cells was dose dependently upregulated by TGF-β1. These results indicate that activation of the Ig Iα1 promoter by the transcription factor Ets-1 is a critical pathway and provides a novel mechanism for Ig expression in non-B cell cancers.
Relevant articles
Open Access articles citing this article.
Shaokun Wang

,

Li Pang

…

Xiangwei Meng

BMC Cancer Open Access 03 July 2021

Marc Durocher

,

Bodie Knepp

…

Boryana Stamova

Translational Stroke Research Open Access 18 November 2020
Access options
Subscribe to this journal
Receive 12 digital issues and online access to articles
$119.00 per year
only $9.92 per issue
Rent or buy this article
Prices vary by article type
from$1.95
to$39.95
Prices may be subject to local taxes which are calculated during checkout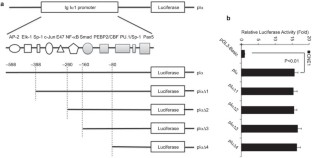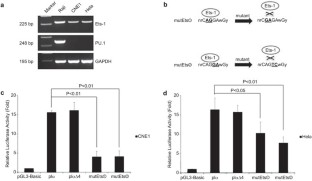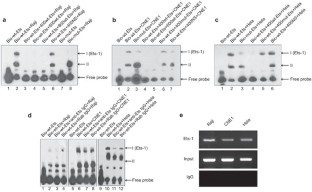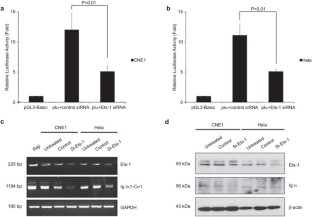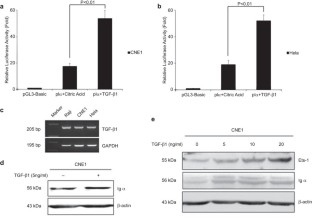 References
Hu D, Zheng H, Liu H, Li M, Ren W, Liao W et al. Immunoglobulin expression and its biological significance in cancer cells. Cell Mol Immunol 2008; 5: 319–324.

Chen Z, Qiu X, Gu J . Immunoglobulin expression in non-lymphoid lineage and neoplastic cells. Am J Pathol 2009; 174: 1139–1148.

Cao Y, Sun Y, Poirier S, Winterstein D, Hegamyer G, Seed J et al. Isolation and partial characterization of a transformation-associated sequence from human nasopharyngeal carcinoma. Mol Carcinog 1991; 4: 297–307.

Li M, Ren W, Weng XX, Liao W, Xia LQ, Deng X et al. Nucleotide sequence analysis of a transforming gene isolated from nasopharyngeal carcinoma cell line CNE2: an aberrant human immunoglobulin kappa light chain which lacks variable region. DNA Seq 2001; 12: 331–335.

Kimoto Y . Expression of heavy-chain constant region of immunoglobulin and T-cell receptor gene transcripts in human non-hematopoietic tumor cell lines. Genes Chromosomes Cancer 1998; 22: 83–86.

Qiu X, Zhu X, Zhang L, Mao Y, Zhang J, Hao P et al. Human epithelial cancers secrete immunoglobulin g with unidentified specificity to promote growth and survival of tumor cells. Cancer Res 2003; 63: 6488–6495.

Babbage G, Ottensmeier CH, Blaydes J, Stevenson FK, Sahota SS . Immunoglobulin heavy chain locus events and expression of activation-induced cytidine deaminase in epithelial breast cancer cell lines. Cancer Res 2006; 66: 3996–4000.

Chen Z, Gu J . Immunoglobulin G expression in carcinomas and cancer cell lines. FASEB J 2007; 21: 2931–2938.

Geng LY, Shi ZZ, Dong Q, Cai XH, Zhang YM, Cao W et al. Expression of SNC73, a transcript of the immunoglobulin alpha-1 gene, in human epithelial carcinomas. World J Gastroenterol 2007; 13: 2305–2311.

Huang J, Sun X, Mao Y, Zhu X, Zhang P, Zhang L et al. Expression of immunoglobulin gene with classical V–(D)–J rearrangement in mouse brain neurons. Int J Biochem Cell Biol 2008; 40: 1604–1615.

Zhu X, Li C, Sun X, Mao Y, Li G, Liu X et al. Immunoglobulin mRNA and protein expression in human oral epithelial tumor cells. Appl Immunohistochem Mol Morphol 2008; 16: 232–238.

Huang J, Zhang L, Ma T, Zhang P, Qiu X . Expression of immunoglobulin gene with classical V–(D)–J rearrangement in mouse testis and epididymis. J Histochem Cytochem 2009; 57: 339–349.

Zhang S, Mao Y, Huang J, Ma T, Zhang L, Zhu X et al. Immunoglobulin gene locus events in epithelial cells of lactating mouse mammary glands. Cell Mol Life Sci 2010; 67: 985–994.

Zheng H, Li M, Liu H, Ren W, Hu DS, Shi Y et al. Immunoglobulin alpha heavy chain derived from human epithelial cancer cells promotes the access of S phase and growth of cancer cells. Cell Biol Int 2007; 31: 82–87.

Li M, Zheng H, Duan Z, Liu H, Hu D, Bode A et al. Promotion of cell proliferation and inhibition of ADCC by cancerous immunoglobulin expressed in cancer cell lines. Cell Mol Immunol 2012; 9: 54–61.

Jung D, Giallourakis C, Mostoslavsky R, Alt FW . Mechanism and control of V(D)J recombination at the immunoglobulin heavy chain locus. Annu Rev Immunol 2006; 24: 541–570.

Stavnezer J, Guikema JE, Schrader CE . Mechanism and regulation of class switch recombination. Annu Rev Immunol 2008; 26: 261–292.

Zheng H, Li M, Ren W, Zeng L, Liu HD, Hu D et al. Expression and secretion of immunoglobulin alpha heavy chain with diverse VDJ recombinations by human epithelial cancer cells. Mol Immunol 2007; 44: 2221–2227.

Zheng J, Huang J, Mao Y, Liu S, Sun X, Zhu X et al. Immunoglobulin gene transcripts have distinct VHDJH recombination characteristics in human epithelial cancer cells. J Biol Chem 2009; 284: 13610–13619.

Chen Z, Xiao Y, Zhang J, Li J, Liu Y, Zhao Y et al. Transcription factors E2A, FOXO1 and FOXP1 regulate recombination activating gene expression in cancer cells. PLoS ONE 2011; 6: e20475.

Ramiro AR, Stavropoulos P, Jankovic M, Nussenzweig MC . Transcription enhances AID-mediated cytidine deamination by exposing single-stranded DNA on the nontemplate strand. Nat Immunol 2003; 4: 452–456.

Shen HM, Storb U . Activation-induced cytidine deaminase (AID) can target both DNA strands when the DNA is supercoiled. Proc Natl Acad Sci USA 2004; 101: 12997–13002.

Wang L, Whang N, Wuerffel R, Kenter AL . AID-dependent histone acetylation is detected in immunoglobulin S regions. J Exp Med 2006; 203: 215–226.

Muramatsu M, Kinoshita K, Fagarasan S, Yamada S, Shinkai Y, Honjo T . Class switch recombination and hypermutation require activation-induced cytidine deaminase (AID), a potential RNA editing enzyme. Cell 2000; 102: 553–563.

Stavnezer J, Schrader CE . Mismatch repair converts AID-instigated nicks to double-strand breaks for antibody class-switch recombination. Trends Genet 2006; 22: 23–28.

Yan CT, Boboila C, Souza EK, Franco S, Hickernell TR, Murphy M et al. IgH class switching and translocations use a robust non-classical end-joining pathway. Nature 2007; 449: 478–482.

Cerutti A . The regulation of IgA class switching. Nat Rev Immunol 2008; 8: 421–434.

Hu D, Duan Z, Li M, Jiang Y, Liu H, Zheng H et al. Heterogeneity of aberrant immunoglobulin expression in cancer cells. Cell Mol Immunol 2011; 8: 479–485.

Liu H, Duan Z, Zheng H, Hu D, Li M, Tao Y et al. EBV-encoded LMP1 upregulates Igkappa 3′enhancer activity and Igkappa expression in nasopharyngeal cancer cells by activating the Ets-1 through ERKs signaling. PLoS ONE 2012; 7: e32624.

Cerutti A, Zan H, Schaffer A, Bergsagel L, Harindranath N, Max EE et al. CD40 ligand and appropriate cytokines induce switching to IgG, IgA, and IgE and coordinated germinal center and plasmacytoid phenotypic differentiation in a human monoclonal IgM+IgD+ B cell line. J Immunol 1998; 160: 2145–2157.

Oikawa T, Yamada T, Kihara-Negishi F, Yamamoto H, Kondoh N, Hitomi Y et al. The role of Ets family transcription factor PU.1 in hematopoietic cell differentiation, proliferation and apoptosis. Cell Death Differ 1999; 6: 599–608.

Hahne JC, Okuducu AF, Sahin A, Fafeur V, Kiriakidis S, Wernert N . The transcription factor ETS-1: its role in tumour development and strategies for its inhibition. Mini Rev Med Chem 2008; 8: 1095–1105.

Schwarzenbach H, Newell JW, Matthias P . Involvement of the Ets family factor PU.1 in the activation of immunoglobulin promoters. J Biol Chem 1995; 270: 898–907.

Zhu X, Wu L, Zhang L, Hao P, Zhang S, Huang J et al. Distinct regulatory mechanism of immunoglobulin gene transcription in epithelial cancer cells. Cell Mol Immunol 2010; 7: 279–286.

Ikushima H, Miyazono K . TGFbeta signalling: a complex web in cancer progression. Nat Rev Cancer 2010; 10: 415–424.

Sundqvist A, Zieba A, Vasilaki E, Herrera Hidalgo C, Soderberg O, Koinuma D et al. Specific interactions between Smad proteins and AP-1 components determine TGFbeta-induced breast cancer cell invasion. Oncogene 2013; 32: 3606–3615.

Liu HD, Zheng H, Li M, Hu DS, Tang M, Cao Y . Upregulated expression of kappa light chain by Epstein-Barr virus encoded latent membrane protein 1 in nasopharyngeal carcinoma cells via NF-kappaB and AP-1 pathways. Cell Signal 2007; 19: 419–427.

Liu H, Zheng H, Duan Z, Hu D, Li M, Liu S et al. LMP1-augmented kappa intron enhancer activity contributes to upregulation expression of Ig kappa light chain via NF-kappaB and AP-1 pathways in nasopharyngeal carcinoma cells. Mol Cancer 2009; 8: 92.
Acknowledgements
This work was supported by the National High Technology Research and Development Program (863) of China (No. 2006AA02A404) and the National Nature Science Foundation of China (Nos. 30772465 and 30973399).
About this article
Cite this article
Duan, Z., Zheng, H., Xu, S. et al. Activation of the Ig Iα1 promoter by the transcription factor Ets-1 triggers Ig Iα1–Cα1 germline transcription in epithelial cancer cells. Cell Mol Immunol 11, 197–205 (2014). https://doi.org/10.1038/cmi.2013.52
Received:

Revised:

Accepted:

Published:

Issue Date:

DOI: https://doi.org/10.1038/cmi.2013.52
Keywords
This article is cited by
Shaokun Wang
Li Pang
Xiangwei Meng

BMC Cancer (2021)

Marc Durocher
Bodie Knepp
Boryana Stamova

Translational Stroke Research (2021)