Abstract
Recently, the increasing number of patients worldwide who are sensitive to dietary gluten without evidence of celiac disease or wheat allergy has contributed to the identification of a new gluten-related syndrome defined as non-celiac gluten sensitivity. Our knowledge regarding this syndrome is still lacking, and many aspects of this syndrome remain unknown. Its pathogenesis is heterogeneous, with a recognized pivotal role for innate immunity; many other factors also contribute, including low-grade intestinal inflammation, increased intestinal barrier function and changes in the intestinal microbiota. Gluten and other wheat proteins, such as amylase trypsin inhibitors, are the primary triggers of this syndrome, but it has also been hypothesized that a diet rich in fermentable monosaccharides and polyols may elicit its functional gastrointestinal symptoms. The epidemiology of this condition is far from established; its prevalence in the general population is highly variable, ranging from 0.63% to 6%. From a clinical point of view, non-celiac gluten sensitivity is characterized by a wide array of gastrointestinal and extraintestinal symptoms that occur shortly after the ingestion of gluten and improve or disappear when gluten is withdrawn from the diet. These symptoms recur when gluten is reintroduced. Because diagnostic biomarkers have not yet been identified, a double-blind placebo-controlled gluten challenge is currently the diagnostic method with the highest accuracy. Future research is needed to generate more knowledge regarding non-celiac gluten sensitivity, a condition that has global acceptance but has only a few certainties and many unresolved issues.
Relevant articles
Open Access articles citing this article.
Consolato Sergi

,

Vincenzo Villanacci

&

Antonio Carroccio

BMC Gastroenterology Open Access 06 January 2021

Małgorzata Gumienna

&

Barbara Górna

European Food Research and Technology Open Access 06 August 2020

Giacomo Caio

,

Umberto Volta

…

Alessio Fasano

BMC Medicine Open Access 23 July 2019
Access options
Subscribe to this journal
Receive 12 digital issues and online access to articles
$119.00 per year
only $9.92 per issue
Rent or buy this article
Prices vary by article type
from$1.95
to$39.95
Prices may be subject to local taxes which are calculated during checkout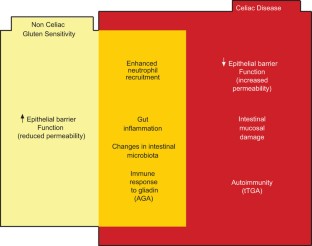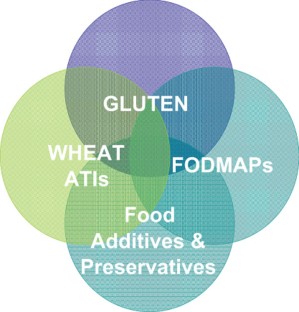 References
Volta U, de Giorgio R . New understanding of gluten sensitivity. Nat Rev Gastroenterol Hepatol 2012; 9: 295–299.

Sapone A, Bai JC, Ciacci C, Dolinsek J, Green PH, Hadijvassiliou M et al. Spectrum of gluten-related disorders: consensus on new nomenclature and classification. BMC Med 2012; 10: 13.

Gibert A, Espadaler M, Angel Canela M, Sánchez A, Vaqué C, Rafecas M . Consumption of gluten-free products: should be the threshold value for traces amounts of gluten be at 20, 100 or 200 p.p.m.? Eur J Gastroenterol Hepatol 2006; 18: 1187–1195.

Belderok B . Developments in bread-making processes. Plant Food Hum Nutr 2000; 55: 1–86.

Gobbetti M, Rizzello CG, Di Cagno R, de Angelis M . Sordough lactobacilli and coeliac disease. Food Microbiol 2007; 24: 187–196.

Volta U, Villanacci V . Celiac disease: diagnostic criteria in progress. Cell Mol Immunol 2011; 8: 96–102.

Inonata N . Wheat allergy. Cur Opin Aller Clin Immunol 2009; 9: 238–243.

Blomfeldt TO, Kuktaite R, Johansson E, Hedenqvist MS . Mechanical properties and network structure of wheat gluten forms. Biomacromolecules 2011; 12: 1707–1715.

Fraser JS, Engel W, Ellis HJ, Moodie SJ, Pollock EL, Wieser H et al. Coeliac disease: in vivo toxicity of the putative immunodominant epitope. Gut 2003; 52: 1698–1702.

Drago S, El Asmar R, Di Pierro M, Clemente MG, Tripathi A, Sapone A et al. Gliadin, zonulin, and gut permeability: effects on celiac and non-celiac mucosa and intestinal cell lines. Scand J Gastroenterol 2006; 41: 408–419.

Dolfini E, Roncoroni L, Elli L, Fumagalli C, Colombo R, Ramponi S et al. Cytoskeleton reorganization and ultrastructural damage induced by gliadin in a three-dimensional in vitro model. World J Gastroenterol 2005; 11: 7597–7601.

Cooper BT, Holmes GK, Ferguson R, Thompson RA, Allan RN, Cooke WT . Gluten-sensitive diarrhea without evidence of celiac disease. Gastroenterology 1980; 79: 801–806.

Kaukinen K, Turjanmaa K, Mäki M, Partanen J, Venäläinen R, Reunala T et al. Intolerance to cerealsis not specific for celiac disease. Scand J Gastroenterol 2000; 35: 942–946.

Verdu EF, Armstrong D, Murray JA . Between celiac disease and irritable bowel syndrome: the 'no man's land' of gluten sensitivity. Am J Gastroenterol 2009; 104: 1587–1594.

Troncone R, Jabri B . Coeliac disease and gluten sensitivity. J Intern Med 2011; 269: 582–590.

Di Sabatino A, Corazza GR . Non-celiac gluten sensitivity: sense or sensibility? Ann Intern Med 2012; 156: 309–311.

Lundin KEA, Alaedini A . Non-celiac gluten sensitivity. Gastrointest Endoscopy Clin N Am 2012; 22: 723–734.

Brown AC . Gluten sensitivity: problems of an emerging condition separate from celiac disease. Expert Rev Gastroenterol Hepatol 2012; 6: 41–53.

Godlee F . Gluten sensitivity: real or not? BMJ 2012; 345: e8450.

Anonymus patient, Rostami K, Hogg-Kollars S . Non-coeliac gluten sensitivity: a patient's journey. BMJ 2012; 345: e7982.

Sollid LM, Jabri B . Triggers and drivers of autoimmunity: lessons from celiac disease. Nat Rev Immunol 2013; 13: 294–302.

Marietta EV, Murray JA . Animal models in gluten sensitivity. Semin Immunopathol 2012; 34: 497–511.

Turvet SE, Broide DH . Innate immunity. J Allergy Clin Immunol 2010; 125( Suppl 2): S24–S32.

Bendelac A, Savage PB, Teyton L . The biology of NKT cells. Annu Rev Immunol 2007; 25: 297–336.

Bonilla FA, Oettgen HC . Adaptive immunity. J Allergy Clin Immunol 2010; 125( Suppl 2): S33–S40.

Zhu J, Yamane H, Paul WE . Differentiation of effector CD4T cell populations. Annu Rev Immunol 2010; 28: 445–489.

Crotty S . Follicular helper CD4 T cells (TFH). Annu Rev Immunol 2011; 29: 621–623.

Crome SQ, Wang AY, Levings MK . Translational mini-review series on Th17 cells: function and regulation of human T helper 17 cells in health and disease. Clin Exp Immunol 2010; 159: 109–119.

Bilate AM, Lafaille JJ . Induced CD4+ FoxP3+ regulatory T cells in immune tolerance. Annu Rev Immunol 2012: 30: 733–758.

Castellanos-Rubio A, Santin I, Irastorza I, Castaño L, Carlos Vitoria J, Ramon Bilbao J . TH17 (and TH1) signatures of intestinal biopsies of CD patients in response to gliadin. Autoimmunity 2009; 42: 69–73.

Harris KM, Fasano A, Mann DL . Cutting edge: IL-1 controls the IL-23 response induced by gliadin, the etiologic agent in celiac disease. J Immunol 2008; 181: 4457–4460.

Monteleone I, Pallone F, Monteleone G . Interleukin-23 and Th17 cells in the control of gut inflammation. Mediators Inflamm 2009; 2009: 297645.

Monteleone I, Sarra M, del Vecchio BG, Paoluzi OA, Franze E, Fina D et al. Characterization of IL-17A-producing cells in celiac disease mucosa. J Immunol 2010; 184: 2211–2218.

Sapone A, Lammers K, Casolaro V, Cammarota M, Giuliano MT, de Rosa M et al. Divergence of gut permeability and mucosal immune gene expression in two gluten-associated conditions: celiac disease and gluten sensitivity. BMC Med 2011; 9: 23.

Sapone A, Lammers KM, Mazzarella G, Mikhailenko I, Carteni M, Casolaro V et al. Differential mucosal IL-17 expression in two gliadin-induced disorders: gluten sensitivity and the autoimmune enteropathy celiac disease. Int Arch AllergyImmunol 2010; 152: 75–80.

Vorobjova T, Uibo O, Heilman K, Rägo T, Honkanen J, Vaarala O et al. Increased FOXP3 expression in small-bowel mucosa of children with coeliac disease and type I diabetes mellitus. Scand J Gastroenterol 2009; 44: 422–430.

Hansson T, Ulfgren AK, Lindroos E, DannAEus A, Dahlbom I, Klareskog L . Transforming growth factor-beta (TGF-beta) and tissue transglutaminase expression in the small intestine in children with coeliac disease. Scand J Immunol 2002; 56: 530–537.

Schuppan D . Current concepts of celiac disease pathogenesis. Gastroenterology 2000; 119: 234–242.

Biesiekierski JR, Newnham ED, Irving PM, Barrett JS, Haines M, Doecke JD et al. Gluten causes gastrointestinal symptoms in subjects without celiac disease: a double-blind randomized placebo-controlled trial. Am J Gastroenterol 2011; 106: 508–514.

Vaquez-Roque MI, Camilleri M, Smyrk T, Murray JA, Marietta E, O'Neill J et al. A controlled trial of gluten-free diet in patients with irritable bowel syndrome-diarrhea: effects on bowel frequency and intestinal function. Gastroenterology 2013; 144: 903–911.

Verdu EF, Huang X, Natividad J, Lu J, Blennerhassett PA, David CS et al. Gliadin-dependent neuromuscular and epithelial secretory responses in gluten-sensitive HLA-DQ8 transgenic mice. Am J Physiol Gastrointest Liver Physiol 2008; 294: G217–G225.

Natividad JM, Huang X, Slack E, Jury J, Sanz Y, David C et al. Host responses to intestinal microbial antigensin gluten sensitive mice. PLos ONE 2009; 4: e6472.

Junker Y, Zeissig S, Kim SJ, Barisani D, Wieser H, Leffler DA et al. Wheat amylase trypsin inhibitors drive intestinal inflammation via activation of toll-like receptor 4. J Exp Med 2012; 209: 2395–2408.

Gibson PR, Sheperd SJ . Food choice as a key management strategy for functional gastrointestinal symptoms. Am J Gastroenterol 2012; 107: 657–666.

Corazza GR, Frazzoni M, Strocchi A, Prati C, Sarchielli P, Capelli M et al. Alimentary exorphin actions on motility and hormonal secretion of gastrointestinal tract. In: Fraioli F, Isidori A, Mazzetti M (ed.). Opioid Peptides in the Periphery. Amsterdam: Elsevier Sciences Publisher, 1984: 243–247.

Suarez FL . Savaiano DA, Levitt MD . A comparison of symptoms after the consumption of milk or lactose-hydrolyzed milk by people with self-reported severe lactose intolerance. N Engl J Med 1995; 333: 1–4.

Carroccio A, Mansueto P, Iacono G, Soresi M, D'Alcamo A, Cavataio F et al. Non-celiac wheat sensitivity diagnosed by double-blind placebo-controlled challenge: exploring a new clinical entity. Am J Gastroenterol 2012; 107: 1898–1906.

Volta U, Tovoli F, Cicola R, Parisi C, Fabbri A, Piscaglia M et al. Serological tests in gluten sensitività (nonceliac gluten intolerance). J Clin Gastroenterol 2012; 46: 680–685.

Volta U . Indagine su sensibilità al glutine non celiaca: risultati preliminari. Celiachia Notizie 2013, 1: 58–60.

Dezi R, Niveloni S, Sugai E, Pedreira S, Smecuol E, Vazquez H et al. Gluten sensitivity in the rectal mucosa of first-degree relatives of celiac disease patients. Am J Gastroenterol 1997; 92: 1326–1330.

Bizzaro N, Tozzoli R, Villalta D, Fabris M, Tonutti E . Cutting-edge issues in celiac disease and in gluten intolerance. Clin Rev Allerg Immunol 2012; 42: 279–287.

Volta U, Granito A, Parisi C, Fabbri A, Fiorini E, Piscaglia M et al. Deamidated gliadin peptide antibodies as a routine test for celiac disease: a prospective analysis. J Clin Gastroenterol 2010; 44: 186–190.

Volta U, Corazza GR, Frisoni M, Valentini RA, Molinaro N, Bianchi FB et al. IgA antigliadin antibodies and persistence of jejunal lesions in adult celiac disease. Digestion 1990; 47: 111–114.

Oberhuber G, Granditsch G, Vogelsang H . The histopathology of coeliac disease: time for a stndardized report scheme for pathologists. Eur J Gastroenterol Hepatol 1999; 11: 1185–1194.

Not T, Ziberna F, Vatta S, Quaglia S, Martelossi S, Villanacci V et al. Cryptic genetic gluten intolerance revealed by intestinal antitransglutaminase antibodies and response to gluten-free diet. Gut 2011; 60: 1487–1493.
About this article
Cite this article
Volta, U., Caio, G., Tovoli, F. et al. Non-celiac gluten sensitivity: questions still to be answered despite increasing awareness. Cell Mol Immunol 10, 383–392 (2013). https://doi.org/10.1038/cmi.2013.28
Received:

Revised:

Accepted:

Published:

Issue Date:

DOI: https://doi.org/10.1038/cmi.2013.28
Keywords