Abstract
The role of vitamin D as an immune modulator has been emphasized in recent years, and low levels of the hormone were observed in several autoimmune diseases including multiple sclerosis and systemic lupus erythematosus. Vitamin D mediates its effect though binding to vitamin D receptor (VDR), and activation of VDR-responsive genes. While VDR gene polymorphism was found to associate with autoimmune thyroid diseases (AITDs), few studies examined levels of vitamin D in these patients and those that did yielded conflicting results. We therefore undertook to evaluate the levels of vitamin D in patients with AITDs compared to patients with non-AITDs and healthy controls. Serum vitamin D (25-OH) levels were measured in 50 patients with AITDs, 42 patients with non-AITDs and 98 healthy subjects, utilizing the LIAISON chemiluminescence immunoassay (DiaSorin, Saluggia, Italy). Vitamin D deficiency was designated at levels lower than 10 ng/ml. Antithyroid antibodies, thyroid functions and demographic parameters were evaluated in all patients. The prevalence of vitamin D deficiency was significantly higher in patients with AITDs compared with healthy individuals (72% versus 30.6%; P<0.001), as well as in patients with Hashimoto's thyroiditis compared to patients with non-AITDs (79% versus 52%; P<0.05). Vitamin D deficiency also correlated to the presence of antithyroid antibodies (P=0.01) and abnormal thyroid function tests (P=0.059). Significantly low levels of vitamin D were documented in patients with AITDs that were related to the presence of anti thyroid antibodies and abnormal thyroid function tests, suggesting the involvement of vitamin D in the pathogenesis of AITDs and the advisability of supplementation.
Relevant articles
Open Access articles citing this article.
S. Khamisi

,

M. Lundqvist

…

Ö. Ljunggren

Journal of Endocrinological Investigation Open Access 27 September 2022

Bashir khan

,

Huma Shafiq

…

Suhail Razak

Annals of General Psychiatry Open Access 18 August 2022

Yoon Young Cho

&

Yun Jae Chung

Scientific Reports Open Access 08 January 2020
Access options
Subscribe to this journal
Receive 12 digital issues and online access to articles
$119.00 per year
only $9.92 per issue
Rent or buy this article
Get just this article for as long as you need it
$39.95
Prices may be subject to local taxes which are calculated during checkout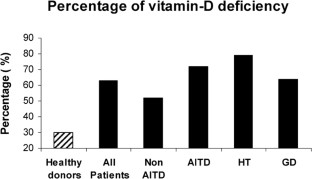 References
Zittermann A, Schleithoff SS, Koerfer R . Putting cardiovascular disease and vitamin D insufficiency into perspective. Br J Nutr 2005; 94: 483–492.

Giovannucci E, Liu Y, Rimm EB, Hollis BW, Fuchs CS, Stampfer MJ et al. Prospective study of predictors of vitamin D status and cancer incidence and mortality in men. J Natl Cancer Inst 2006; 98: 451–459.

Shapira Y, Agmon-Levin N, Shoenfeld Y . Mycobacterium tuberculosis, autoimmunity, and vitamin D. Clin Rev Allergy Immunol 2009; 39: 3147–3159.

Wang TJ, Pencina MJ, Booth SL, Jacques PF, Ingelsson E, Lanier K et al. Vitamin D deficiency and risk of cardiovascular disease. Circulation 2008; 117: 503–511.

Giovannucci E . Epidemiological evidence for vitamin D and colorectal cancer. J Bone Miner Res 2007; 22 Suppl 2: V81–V85.

Hypponen E, Laara E, Reunanen A, Jarvelin MR, Virtanen SM . Intake of vitamin D and risk of type 1 diabetes: a birth-cohort study. Lancet 2001; 358: 1500–1503.

Merlino LA, Curtis J, Mikuls TR, Cerhan JR, Criswell LA, Saag KG . Vitamin D intake is inversely associated with rheumatoid arthritis: results from the Iowa Women's Health Study. Arthritis Rheum 2004; 50: 72–77.

Huisman AM, White KP, Algra A, Harth M, Vieth R, Jacobs JW et al. Vitamin D levels in women with systemic lupus erythematosus and fibromyalgia. J Rheumatol 2001; 28: 2535–2539.

Kamen DL, Cooper GS, Bouali H, Shaftman SR, Hollis BW, Gilkeson GS . Vitamin D deficiency in systemic lupus erythematosus. Autoimmun Rev 2006; 5: 114–117.

Ben-Zvi I, Aranow C, Mackay M, Stanevsky A, Kamen DL, Marinescu LM et al. The impact of vitamin D on dendritic cell function in patients with systemic lupus erythematosus. PLoS One 2010; 5: e9193.

Shapira Y, Agmon-Levin N, Shoenfeld Y . Geoepidemiology of autoimmune diseases. Autoimmunity 2010; 8: 468–476.

Shoenfeld N, Amital H, Shoenfeld Y . The effect of melanism and vitamin D synthesis on the incidence of autoimmune disease. Nat Clin Pract Rheumatol 2009; 5: 99–105

Ascherio A, Munger KL . Environmental risk factors for multiple sclerosis. Part II: Noninfectious factors. Ann Neurol 2007; 61: 504–513.

Dahlquist G, Mustonen L . Childhood onset diabetes—time trends and climatological factors. Int J Epidemiol 1994; 23: 1234–1241.

The EURODIAB Substudy 2 Study Group. Vitamin D supplement in early childhood and risk for Type I (insulin-dependent) diabetes mellitus. Diabetologia 1999; 42: 51–54.

Mathieu C, Laureys J, Sobis H, Vandeputte M, Waer M, Bouillon R . 1,25-Dihydroxyvitamin D3 prevents insulitis in NOD mice. Diabetes 1992; 41: 1491–1495.

Andjelkovic Z, Vojinovic J, Pejnovic N, Popovic M, Dujic A, Mitrovic D et al. Disease modifying and immunomodulatory effects of high dose 1 alpha (OH) D3 in rheumatoid arthritis patients. Clin Exp Rheumatol 1999; 17: 453–456.

Myhr KM . Vitamin D treatment in multiple sclerosis. J Neurol Sci 2009; 286: 104–108.

Munger KL, Zhang SM, O'Reilly E, Hernán MA, Olek MJ, Willett WC et al. Vitamin D intake and incidence of multiple sclerosis. Neurology 2004; 62: 60–65.

Huckins D, Felson DT, Holick M . Treatment of psoriatic arthritis with oral 1,25-dihydroxyvitamin D3: a pilot study. Arthritis Rheum 1990; 33: 1723–1727.

Munger KL, Levin LI, Hollis BW, Howard NS, Ascherio A . Serum 25-hydroxyvitamin D levels and risk of multiple sclerosis. JAMA 2006; 296: 2832–2838.

Chen W, Lin H, Wang M . Immune intervention effects on the induction of experimental autoimmune thyroiditis. J Huazhong Univ Sci Technolog Med Sci 2002; 22: 343–345, 354.

Misharin A, Hewison M, Chen CR, Lagishetty V, Aliesky HA, Mizutori Y et al. Vitamin D deficiency modulates Graves' hyperthyroidism induced in BALB/c mice by thyrotropin receptor immunization. Endocrinology 2009; 150: 1051–1060.

Orbach H, Shoenfeld Y . Vaccination infection and autoimmunity: myth and reality VIAMR 2005-10-26-28, Beau-Rivage Palace Hotel, Lausanne, Switzerland. Autoimmun Rev 2007; 6: 261–266.

Czernobilsky H, Scharla S, Schmidt-Gayk H, Ziegler R . Enhanced suppression of 1,25(OH)2D3 and intact parathyroid hormone in Graves' disease as compared to toxic nodular goiter. Calcif Tissue Int 1988; 42: 5–12.

Goswami R, Marwaha RK, Gupta N, Tandon N, Sreenivas V, Tomar N et al. Prevalence of vitamin D deficiency and its relationship with thyroid autoimmunity in Asian Indians: a community-based survey. Br J Nutr 2009; 102: 382–386.

Shoenfeld Y, Selmi C, Zimlichman E, Gershwin ME . The autoimmunologist: geoepidemiology, a new center of gravity, and prime time for autoimmunity. J Autoimmun 2008; 31: 325–330.

Canaris GJ, Manowitz NR, Mayor G, Ridgway EC . The Colorado thyroid disease prevalence study. Arch Intern Med 2000; 160: 526–534.

Shoenfeld Y, Blank M, Abu-Shakra M, Amital H, Barzilai O, Berkun Y et al. The mosaic of autoimmunity: prediction, autoantibodies, and therapy in autoimmune diseases—2008. Isr Med Assoc J 2008; 10: 13–19.

Shoenfeld Y, Gilburd B, Abu-Shakra M, Amital H, Barzilai O, Berkun Y et al. The mosaic of autoimmunity: genetic factors involved in autoimmune diseases—2008. Isr Med Assoc J 2008; 10: 3–7.

Shoenfeld Y, Zandman-Goddard G, Stojanovich L, Cutolo M, Amital H, Levy Y et al. The mosaic of autoimmunity: hormonal and environmental factors involved in autoimmune diseases—2008. Isr Med Assoc J 2008; 10: 8–12.

Tozzoli R, Barzilai O, Ram M, Villalta D, Bizzaro N, Sherer Y et al. Infections and autoimmune thyroid diseases: parallel detection of antibodies against pathogens with proteomic technology. Autoimmun Rev 2008; 8: 112–115.

Gershwin ME . The mosaic of autoimmunity. Autoimmun Rev 2008; 7: 161–163.

van Etten E, Mathieu C . Immunoregulation by 1,25-dihydroxyvitamin D3: basic concepts. J Steroid Biochem Mol Biol 2005; 97: 93–101.

Arnson Y, Amital H, Shoenfeld Y . Vitamin D and autoimmunity: new aetiological and therapeutic considerations. Ann Rheum Dis 2007; 66: 1137–1142.

Haussler MR, Whitfield GK, Haussler CA, Hsieh JC, Thompson PD, Selznick SH et al. The nuclear vitamin D receptor: biological and molecular regulatory properties revealed. J Bone Miner Res 1998; 13: 325–349.

Bikle DD, Gee E, Halloran B, Kowalski MA, Ryzen E, Haddad JG . Assessment of the free fraction of 25-hydroxyvitamin D in serum and its regulation by albumin and the vitamin D-binding protein. J Clin Endocrinol Metab 1986; 63: 954–959.

Henry HL . Vitamin D hydroxylases. J Cell Biochem 1992; 49: 4–9.

Penna G, Adorini L . 1 Alpha,25-dihydroxyvitamin D3 inhibits differentiation, maturation, activation, and survival of dendritic cells leading to impaired alloreactive T cell activation. J Immunol 2000; 164: 2405–2411.

van Halteren AG, van Etten E, de Jong EC, Bouillon R, Roep BO, Mathieu C . Redirection of human autoreactive T-cells upon interaction with dendritic cells modulated by TX527, an analog of 1,25 dihydroxyvitamin D3. Diabetes 2002; 51: 2119–2125.

Boonstra A, Barrat FJ, Crain C, Heath VL, Savelkoul HF, O'Garra A . 1alpha,25-Dihydroxyvitamin d3 has a direct effect on naive CD4+ T cells to enhance the development of Th2 cells. J Immunol 2001; 167: 4974–4980.

Lagunova Z, Porojnicu AC, Lindberg F, Hexeberg S, Moan J . The dependency of vitamin D status on body mass index, gender, age and season. Anticancer Res 2009; 29: 3713–3720.

Gomez-Alonso C, Naves-Diaz ML, Fernandez-Martin JL, Diaz-Lopez JB, Fernandez-Coto MT, Cannata-Andia JB . Vitamin D status and secondary hyperparathyroidism: the importance of 25-hydroxyvitamin D cut-off levels. Kidney Int Suppl 2003; (85): S44–S48.

Iqbal AA, Burgess EH, Gallina DL, Nanes MS, Cook CB . Hypercalcemia in hyperthyroidism: patterns of serum calcium, parathyroid hormone, and 1,25-dihydroxyvitamin D3 levels during management of thyrotoxicosis. Endocr Pract 2003; 9: 517–521.

Pani MA, Knapp M, Donner H, Braun J, Baur MP, Usadel KH et al. Vitamin D receptor allele combinations influence genetic susceptibility to type 1 diabetes in Germans. Diabetes 2000; 49: 504–507.

Pani MA, Seissler J, Usadel KH, Badenhoop K . Vitamin D receptor genotype is associated with Addison's disease. Eur J Endocrinol 2002; 147: 635–640.

Horst-Sikorska W, Ignaszak-Szczepaniak M, Marcinkowska M, Kaczmarek M, Stajgis M, Slomski R . Association analysis of vitamin D receptor gene polymorphisms with bone mineral density in young women with Graves' disease. Acta Biochim Pol 2008; 55: 371–380.

Stefanic M, Papic S, Suver M, Glavas-Obrovac L, Karner I . Association of vitamin D receptor gene 3′-variants with Hashimoto's thyroiditis in the Croatian population. Int J Immunogenet 2008; 35: 125–131.

Kurylowicz A, Ramos-Lopez E, Bednarczuk T, Badenhoop K . Vitamin D-binding protein (DBP) gene polymorphism is associated with Graves' disease and the vitamin D status in a Polish population study. Exp Clin Endocrinol Diabetes 2006; 114: 329–335.

Ban Y, Ban Y, Taniyama M, Katagiri T . Vitamin D receptor initiation codon polymorphism in Japanese patients with Graves' disease. Thyroid 2000; 10: 475–480.

Miller AE, Morgante LA, Buchwald LY, Nutile SM, Coyle PK, Krupp LB et al. A multicenter, randomized, double-blind, placebo-controlled trial of influenza immunization in multiple sclerosis. Neurology 1997; 48: 312–314.

Collins JE, Heward JM, Nithiyananthan R, Nejentsev S, Todd JA, Franklyn JA et al. Lack of association of the vitamin D receptor gene with Graves' disease in UK Caucasians. Clin Endocrinol (Oxf) 2004; 60: 618–624.

von Restorff C, Bischoff-Ferrari HA, Theiler R . High-dose oral vitamin D3 supplementation in rheumatology patients with severe vitamin D3 deficiency. Bone 2009; 45: 747–749.
About this article
Cite this article
Kivity, S., Agmon-Levin, N., Zisappl, M. et al. Vitamin D and autoimmune thyroid diseases. Cell Mol Immunol 8, 243–247 (2011). https://doi.org/10.1038/cmi.2010.73
Received:

Accepted:

Published:

Issue Date:

DOI: https://doi.org/10.1038/cmi.2010.73
Keywords
autoantibodies

autoimmune thyroid disease

Graves' disease

Hashimoto's thyroiditis

vitamin D