Abstract
Celiac disease is a multisystemic dietary, gluten-induced autoimmune disorder characterized by the presence of transglutaminase (TG) 2 serum autoantibodies. Distinct autoantibodies targeting members of the TG family (TG2, TG3 and TG6) are found deposited in small-bowel mucosa and in extraintestinal tissues affected by the disease. Serum autoantibodies against other self-antigens also emerge in untreated celiac disease patients. Although villous atrophy and crypt hyperplasia in small-bowel biopsy samples are still the gold standards in diagnostics, celiac disease-specific antibodies are widely used as diagnostic aids. Gluten-induced small-bowel mucosal T-cell response is the cornerstone in the pathogenesis of the disorder, but humoral immunity may also play a central role. This review article is focused on the autoantibodies that occur in the context of celiac disease. The article summarizes the diagnostic utility of different celiac-related antibodies and discusses their roles in the pathogenesis of the disease.
Relevant articles
Open Access articles citing this article.
Sara Calderoni

,

Elisa Santocchi

…

Filippo Muratori

Italian Journal of Pediatrics Open Access 16 November 2016

Helen Thomas

,

Konrad Beck

…

Daniel Aeschlimann

Amino Acids Open Access 08 October 2011
Access options
Subscribe to this journal
Receive 12 digital issues and online access to articles
$119.00 per year
only $9.92 per issue
Rent or buy this article
Get just this article for as long as you need it
$39.95
Prices may be subject to local taxes which are calculated during checkout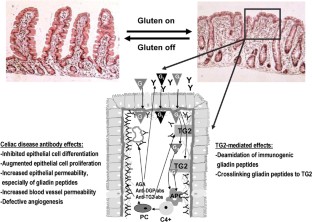 References
Lohi S, Mustalahti K, Kaukinen K, Laurila K, Collin P, Rissanen H et al. Increasing prevalence of coeliac disease over time. Aliment Pharmacol Ther 2007; 26: 1217–1225.

Mäki M, Mustalahti K, Kokkonen J, Kulmala P, Haapalahti M, Karttunen T et al. Prevalence of celiac disease among children in Finland. N Engl J Med 2003; 348: 2517–2524.

Vilppula A, Kaukinen K, Luostarinen L, Krekelä I, Patrikainen H, Valve R et al. Increasing prevalence and high incidence of celiac disease in elderly people: a population-based study. BMC Gastroenterol 2009; 9: 49.

Mustalahti K, Collin P, Sievänen H, Salmi J, Mäki M . Osteopenia in patients with clinically silent coeliac disease warrants screening. Lancet 1999; 354: 744–745.

Fry L . Dermatitis herpetiformis. Baillieres Clin Gastroenterol 1995; 9: 371–393.

Hadjivassiliou M, Sanders DS, Grunewald RA, Woodroofe N, Boscolo S, Aeschlimann D . Gluten sensitivity: from gut to brain. Lancet Neurol 2010; 9: 318–330.

Rubio-Tapia A, Murray JA . The liver in celiac disease. Hepatology 2007; 46: 1650–1658.

Chakravarty K, Scott DG . Oligoarthritis—a presenting feature of occult coeliac disease. Br J Rheumatol 1992; 31: 349–350.

Ludvigsson JF, Montgomery SM, Ekbom A . Celiac disease and risk of adverse fetal outcome: a population-based cohort study. Gastroenterology 2005; 129: 454–463.

Collin P, Kaukinen K, Välimäki M, Salmi J . Endocrinological disorders and celiac disease. Endocr Rev 2002; 23: 464–483.

Karell K, Louka AS, Moodie SJ, Ascher H, Clot F, Greco L et al. HLA types in celiac disease patients not carrying the DQA1*05-DQB1*02 (DQ2) heterodimer: results from the European Genetics Cluster on Celiac Disease. Hum Immunol 2003; 64: 469–477.

Liu J, Juo SH, Holopainen P, Terwilliger J, Tong X, Grunn A et al. Genomewide linkage analysis of celiac disease in Finnish families. Am J Hum Genet 2002; 70: 51–59.

Dubois PC, Trynka G, Franke L, Hunt KA, Romanos J, Curtotti A et al. Multiple common variants for celiac disease influencing immune gene expression. Nat Genet 2010; 42: 295–302.

Hausch F, Shan L, Santiago NA, Gray GM, Khosla C . Intestinal digestive resistance of immunodominant gliadin peptides. Am J Physiol Gastrointest Liver Physiol 2002; 283: G996–G1003.

Shan L, Molberg O, Parrot I, Hausch F, Filiz F, Gray GM et al. Structural basis for gluten intolerance in celiac sprue. Science 2002; 297: 2275–2279.

Smecuol E, Bai JC, Vazquez H, Kogan Z, Cabanne A, Niveloni S et al. Gastrointestinal permeability in celiac disease. Gastroenterology 1997; 112: 1129–1136.

Maiuri L, Ciacci C, Ricciardelli I, Vacca L, Raia V, Auricchio S et al. Association between innate response to gliadin and activation of pathogenic T cells in coeliac disease. Lancet 2003; 362: 30–37.

Hue S, Mention JJ, Monteiro RC, Zhang S, Cellier C, Schmitz J et al. A direct role for NKG2D/MICA interaction in villous atrophy during celiac disease. Immunity 2004; 21: 367–377.

Cinova J, Palova-Jelinkova L, Smythies LE, Cerna M, Pecharova B, Dvorak M et al. Gliadin peptides activate blood monocytes from patients with celiac disease. J Clin Immunol 2007; 27: 201–209.

Nikulina M, Habich C, Flohe SB, Scott FW, Kolb H . Wheat gluten causes dendritic cell maturation and chemokine secretion. J Immunol 2004; 173: 1925–1933.

Molberg O, McAdam SN, Korner R, Quarsten H, Kristiansen C, Madsen L et al. Tissue transglutaminase selectively modifies gliadin peptides that are recognized by gut-derived T cells in celiac disease. Nat Med 1998; 4: 713–717.

Vader LW, de Ru A, van der Wal Y, Kooy YM, Benckhuijsen W, Mearin ML et al. Specificity of tissue transglutaminase explains cereal toxicity in celiac disease. J Exp Med 2002; 195: 643–649.

van de Wal Y, Kooy Y, van Veelen P, Pena S, Mearin L, Papadopoulos G et al. Selective deamidation by tissue transglutaminase strongly enhances gliadin-specific T cell reactivity. J Immunol 1998; 161: 1585–1588.

Alaedini A, Green PH . Autoantibodies in celiac disease. Autoimmunity 2008; 41: 19–26.

Rostom A, Dubé C, Cranney A, Saloojee N, Sy R, Garritty C et al. The diagnostic accuracy of serologic tests for celiac disease: a systematic review. Gastroenterology 2005; 128: S38–S46.

Mäki M, Hällström O, Vesikari T, Visakorpi JK . Evaluation of a serum IgA-class reticulin antibody test for the detection of childhood celiac disease. J Pediatr 1984; 105: 901–905.

Sulkanen S, Halttunen T, Laurila K, Kolho KL, Korponay-Szabo IR, Sarnesto A et al. Tissue transglutaminase autoantibody enzyme-linked immunosorbent assay in detecting celiac disease. Gastroenterology 1998; 115: 1322–1328.

Lewis NR, Scott BB . Meta-analysis: deamidated gliadin peptide antibody and tissue transglutaminase antibody compared as screening tests for coeliac disease. Aliment Pharmacol Ther 2010; 31: 73–81.

Mäki M . The humoral immune system in coeliac disease. In: Howdle PD (ed.) Coeliac disease. Baillière's Clinical Gastroenterology 1995; 9: 231–249.

Seah PP, Fry L, Hoffbrand AV, Holborow EJ . Tissue antibodies in dermatitis herpetiformis and adult coeliac disease. Lancet 1971; 1: 834–836.

Chorzelski TP, Sulej J, Tchorzewska H, Jablonska S, Beutner EH, Kumar V . IgA class endomysium antibodies in dermatitis herpetiformis and coeliac disease. Ann NY Acad Sci 1983; 420: 325–334.

Mäki M, Holm K, Lipsanen V, Hällström O, Viander M, Collin P et al. Serological markers and HLA genes among healthy first-degree relatives of patients with coeliac disease. Lancet 1991; 338: 1350–1353.

Volta U, Molinaro N, de Franceschi L, Fratangelo D, Bianch FB . IgA antiendomysial antibody test. A step forward in celiac disease screening. Dig Dis Sci 1991; 36: 752–756.

Kurppa K, Collin P, Viljamaa M, Haimila K, Saavalainen P, Partanen J et al. Diagnosing mild enteropathy celiac disease: a randomized, controlled clinical study. Gastroenterology 2009; 136: 816–823.

Kurppa K, Ashorn M, Iltanen S, Koskinen LL, Saavalainen P, Koskinen O et al. Celiac disease without villous atrophy in children: a prospective study. J Pediatr 2010; 157: 373–380.

Dieterich W, Ehnis T, Bauer M, Donner P, Volta U, Riecken EO et al. Identification of tissue transglutaminase as the autoantigen of coeliac disease. Nat Med 1997; 3: 797–801.

Dieterich W, Laag E, Schopper H, Volta U, Ferguson A, Gillett H et al. Autoantibodies to tissue transglutaminase as predictors of celiac disease. Gastroenterology 1998; 115: 1317–1321.

Korponay-Szabo IR, Laurila K, Szondy Z, Halttunen T, Szalai Z, Dahlbom I et al. Missing endomysial and reticulin binding of coeliac antibodies in transglutaminase 2 knockout tissues. Gut 2003; 52: 199–204.

Lock RJ, Stevens S, Pitcher MC, Unsworth DJ . Is immunoglobulin A anti-tissue transglutaminase antibody a reliable serological marker of coeliac disease. Eur J Gastgroenterol Hepatol 2004; 16: 467–470.

Hopper AD, Cross SS, Hurlstone DP, McAlindon ME, Lobo AJ, Hadjivassiliou M et al. Pre-endoscopy serological testing for coeliac disease: evaluation of a clinical decision tool. BMJ 2007; 334: 729.

Korponay-Szabo IR, Halttunen T, Szalai Z, Laurila K, Kiraly R, Kovacs JB et al. Evaluation of IgG antibodies against tissue transglutaminase as a diagnostic tool for coeliac disease. Gut 2003; 52: 1567–1571.

Collin P, Mäki M, Keyriläinen O, Hällström O, Reunala T, Pasternack A . Selective IgA deficiency and coeliac disease. Scand J Gastroenterol 1992; 27: 367–371.

Kurppa K, Lindfors K, Collin P, Saavalainen P, Partanen J, Haimila K et al. Antibodies against deamidated gliadin peptides in early-stage celiac disease. J Clin Gastroenterol; in press. Doi:10.1097/MCG.Ob013e3181fbdfa6.

Clemente MG, Musu MP, Frau F, Brusco G, Sole G, Corazza GR et al. Immune reaction against cytoskeleton in coeliac disease. Gut 2000; 47: 520–526.

Shiner M, Ballard J . Antigen-antibody reactions in jejunal mucosa in childhood coeliac disease after gluten challenge. Lancet 1972; 1: 1202–1205.

Savilahti E . Intestinal immunoglobulins in children with coeliac disease. Gut 1972; 13: 958–964.

Jos J, Labbe F . Ultrastructural localization of IgA globulins in normal and coeliac intestinal mucosa using immunoenzymatic methods. Biomedicine 1976; 24: 425–434.

Lancaster-Smith M, Packer S, Kumar PJ, Harries JT . Immunological phenomena in the jejunum and serum after reintroduction of dietary gluten in children with treated coeliac disease. J Clin Pathol 1976; 29: 592–597.

Jos J, Labbe F, Geny B, Griscelli C . Immunoelectron-microscopic localization of immunoglobulin A and secretory component in jejunal mucosa from children with coeliac disease. Scand J Immunol 1979; 9: 441–450.

Lancaster-Smith M, Joyce S, Kumar P . Immunoglobulins in the jejunal mucosa in adult coeliac disease and dermatitis herpetiformis after the reintroduction of dietary gluten. Gut 1977; 18: 887–891.

Rantala I, Mäki M, Laasonen A, Visakorpi JK . Periodate-lysine-paraphormaldehyde as a fixative for the study of duodenal mucosa. Morphologic and immunohistochemical results at light and electron microscopic levels. Acta Pathol Microbiol Scand A 1985; 93: 165–173.

Karpati S, Kosnai I, Török E, Kovacs JB . Immunoglobulin A deposition in jejunal mucosa of children with dermatitis herpetiformis. J Invest Dermatol 1988; 91: 336–339.

Koskinen O, Villanen M, Korponay-Szabo I, Lindfors K, Mäki M, Kaukinen K . Oats do not induce systemic or mucosal autoantibody response in children with coeliac disease. J Pediatr Gastroenterol Nutr 8 ; 559–565. 2009;

Korponay-Szabo IR, Sulkanen S, Halttunen T, Maurano F, Rossi M, Mazzarella G et al. Tissue transglutaminase is the target in both rodent and primate tissues for celiac disease-specific autoantibodies. J Pediatr Gastroenterol Nutr 2000; 31: 520–527.

Korponay-Szabo IR, Halttunen T, Szalai Z, Laurila K, Kiraly R, Kovacs JB et al. In vivo targeting of intestinal and extraintestinal transglutaminase 2 by coeliac autoantibodies. Gut 2004; 53: 641–648.

Salmi TT, Collin P, Korponay-Szabo IR, Laurila K, Partanen J, Huhtala H et al. Endomysial antibody-negative coeliac disease: clinical characteristics and intestinal autoantibody deposits. Gut 2006; 55: 1746–1753.

Marzari R, Sblattero D, Florian F, Tongiorgi E, Not T, Tommasini A et al. Molecular dissection of the tissue transglutaminase autoantibody response in celiac disease. J Immunol 2001; 166: 4170–4176.

Koskinen O, Collin P, Lindfors K, Laurila K, Mäki M, Kaukinen K . Usefulness of small-bowel mucosal transglutaminase-2 specific autoantibody deposits in the diagnosis and follow-up of celiac disease. J Clin Gastroenterol 2010; 44: 483–488.

Koskinen O, Collin P, Korponay-Szabo I, Salmi T, Iltanen S, Haimila K et al. Gluten-dependent small bowel mucosal transglutaminase 2-specific IgA deposits in overt and mild enteropathy coeliac disease. J Pediatr Gastroenterol Nutr 2008; 47: 436–442.

Kaukinen K, Peräaho M, Collin P, Partanen J, Woolley N, Kaartinen T et al. Small-bowel mucosal transglutaminase 2-specific IgA deposits in coeliac disease without villous atrophy: a prospective and randomized clinical study. Scand J Gastroenterol 2005; 40: 564–572.

Borrelli M, Maglio M, Agnese M, Paparo F, Gentile S, Colicchio B et al. High density of intraepithelial gammadelta lymphocytes and deposits of immunoglobulin (Ig)M anti-tissue transglutaminase antibodies in the jejunum of coeliac patients with IgA deficiency. Clin Exp Immunol 2010; 160: 199–206.

Spurkland A, Ingvarsson G, Falk ES, Knutsen I, Sollid LM, Thorsby E . Dermatitis herpetiformis and celiac disease are both primarily associated with the HLA-DQ (alpha 1*0501, beta 1*02) or the HLA-DQ (alpha 1*03, beta 1*0302) heterodimers. Tissue Antigens 1997; 49: 29–34.

Sardy M, Karpati S, Merkl B, Paulsson M, Smyth N . Epidermal transglutaminase (TGase 3) is the autoantigen of dermatitis herpetiformis. J Exp Med 2002; 195: 747–757.

Hull CM, Liddle M, Hansen N, Meyer LJ, Schmidt L, Taylor T et al. Elevation of IgA anti-epidermal transglutaminase antibodies in dermatitis herpetiformis. Br J Dermatol 2008; 159: 120–124.

Rose C, Armbruster FP, Ruppert J, Igl BW, Zillikens D, Shimanovich I . Autoantibodies against epidermal transglutaminase are a sensitive diagnostic marker in patients with dermatitis herpetiformis on a normal or gluten-free diet. J Am Acad Dermatol 2009; 61: 39–43.

Hadjivassiliou M, Mäki M, Sanders DS, Williamson CA, Grunewald RA, Woodroofe NM et al. Autoantibody targeting of brain and intestinal transglutaminase in gluten ataxia. Neurology 2006; 66: 373–377.

Hadjivassiliou M, Aeschlimann P, Strigun A, Sanders DS, Woodroofe N, Aeschlimann D . Autoantibodies in gluten ataxia recognize a novel neuronal transglutaminase. Ann Neurol 2008; 64: 332–343.

Lindfors K, Koskinen O, Laurila K, Collin P, Saavalainen P, Haimila K et al. IgA-class autoantibodies against neuronal transglutaminase, TG6 in celiac disease: no evidence for gluten dependency. Clin Chim Acta 2010; 9: 744–749.

Halttunen T, Mäki M . Serum immunoglobulin A from patients with celiac disease inhibits human T84 intestinal crypt epithelial cell differentiation. Gastroenterology 1999; 116: 566–572.

Barone MV, Caputo I, Ribecco MT, Maglio M, Marzari R, Sblattero D et al. Humoral immune response to tissue transglutaminase is related to epithelial cell proliferation in celiac disease. Gastroenterology 2007; 132: 1245–1253.

Zanoni G, Navone R, Lunardi C, Tridente G, Bason C, Sivori S et al. In celiac disease, a subset of autoantibodies against transglutaminase binds Toll-like receptor 4 and induces activation of monocytes. PLoS Med 2006; 3: e358.

Matysiak-Budnik T, Moura IC, Arcos-Fajardo M, Lebreton C, Menard S, Candalh C et al. Secretory IgA mediates retrotranscytosis of intact gliadin peptides via the transferrin receptor in celiac disease. J Exp Med 2008; 205: 143–154.

Rauhavirta T, Kaukinen K, Mäki M, Lindfors K . Coeliac disease-specific IgA enhances the transepithelial passage of gliadin peptides. Clin Exp Immunil. In press. Doi: 10.1111/j.1365–2249.2010.04317.

Caputo I, Barone MV, Lepretti M, Martucciello S, Nista I, Troncone R et al. Celiac anti-tissue transglutaminase antibodies interfere with the uptake of alpha gliadin peptide 31–43 but not of peptide 57–68 by epithelial cells. Biochim Biophys Acta 2010; 1802: 717–727.

Myrsky E, Kaukinen K, Syrjänen M, Korponay-Szabo IR, Mäki M, Lindfors K . Coeliac disease-specific autoantibodies targeted against transglutaminase 2 disturb angiogenesis. Clin Exp Immunol 2008; 152: 111–119.

Caja S, Myrsky E, Korponay-Szabo IR, Nadalutti C, Sulic AM, Lavric M et al. Inhibition of transglutaminase 2 enzymatic activity ameliorates the anti-angiogenic effects of coeliac disease autoantibodies. Scand J Gastroenterol 2010; 45: 421–427.

Myrsky E, Caja S, Simon-Vecsei Z, Korponay-Szabo IR, Nadalutti C, Collighan R et al. Celiac disease IgA modulates vascular permeability in vitro through the activity of transglutaminase 2 and RhoA. Cell Mol Life Sci 2009; 66: 3375–3385.

Cervio E, Volta U, Verri M, Boschi F, Pastoris O, Granito A et al. Sera of patients with celiac disease and neurologic disorders evoke a mitochondrial-dependent apoptosis in vitro. Gastroenterology 2007; 133: 195–206.

Anjum N, Baker PN, Robinson NJ, Aplin JD . Maternal celiac disease autoantibodies bind directly to syncytiotrophoblast and inhibit placental tissue transglutaminase activity. Reprod Biol Endocrinol 2009; 7: 16.

Di Simone N, Silano M, Castellani R, Di Nicuolo F, D'Alessio MC, Franceschi F et al. Anti-tissue transglutaminase antibodies from celiac patients are responsible for trophoblast damage via apoptosis in vitro. Am J Gastroenterol 2010; 105: 2254–2261.

Boscolo S, Lorenzon A, Sblattero D, Florian F, Stebel M, Marzari R et al. Anti transglutaminase antibodies cause ataxia in mice. PLoS One 2010; 5: e9698.

Di Niro R, Sblattero D, Florian F, Stebel M, Zentilin L, Giacca M et al. Anti-idiotypic response in mice expressing human autoantibodies. Mol Immunol 2008; 45: 1782–1791.

Smart CJ, Trejdosiewicz LK, Howdle PD . Specific circulating anti-gliadin IgG-class antibody does not mediate intestinal enteropathy in gliadin-fed mice. Int Arch Allergy Immunol 1992; 97: 160–166.

Freitag T, Schulze-Koops H, Niedobitek G, Melino G, Schuppan D . The role of the immune response against tissue transglutaminase in the pathogenesis of coeliac disease. Autoimmun Rev 2004; 3: 13–20.

Jabri B, Sollid LM . Tissue-mediated control of immunopathology in coeliac disease. Nat Rev Immunol 2009; 9: 858–870.

Myrsky E, Syrjänen M, Korponay-Szabo IR, Mäki M, Kaukinen K, Lindfors K . Altered small-bowel mucosal vascular network in untreated coeliac disease. Scand J Gastroenterol 2009; 44: 162–167.

Haroon ZA, Hettasch JM, Lai TS, Dewhirst MW, Greenberg CS . Tissue transglutaminase is expressed, active, and directly involved in rat dermal wound healing and angiogenesis. Faseb J 1999; 13: 1787–1795.

de Kauwe AL, Chen Z, Anderson RP, Keech CL, Price JD, Wijburg O et al. Resistance to celiac disease in humanized HLA-DR3-DQ2-transgenic mice expressing specific anti-gliadin CD4+ T cells. J Immunol 2009; 182: 7440–7450.

Marietta E, Black K, Camilleri M, Krause P, Rogers RS 3rd, David C et al. A new model for dermatitis herpetiformis that uses HLA-DQ8 transgenic NOD mice. J Clin Invest 2004; 114: 1090–1097.

Sugai E, Cherñavsky A, Pedreira S, Smecuol E, Vazquez H, Niveloni S et al. Bone-specific antibodies in sera from patients with celiac disease: characterization and implications in osteoporosis. J Clin Immunol 2002; 22: 353–362.

Naiyer AJ, Shah J, Hernandez L, Kim SY, Ciaccio EJ, Cheng J et al. Tissue transglutaminase antibodies in individuals with celiac disease bind to thyroid follicles and extracellular matrix and may contribute to thyroid dysfunction. Thyroid 2008; 18: 1171–1178.

Sategna-Guidetti C, Franco E, Martini S, Bobbio M . Binding by serum IgA antibodies from patients with coeliac disease to monkey heart tissue. Scand J Gastroenterol 2004; 39: 540–543.

McQueen F, Elliott B . B cell lymphoproliferation and organ-directed self-recognition to explain autoimmunity: back to the past. Med Hypotheses 2010; 75: 328–333.
Acknowledgements
Celiac Disease Study Group has been financially supported by the Academy of Finland, the Sigrid Juselius Fundation, the Pediatric Research Foundation, the Competitive Research Funding of Tampere University Hospital and the European Commission IAPP frant TRANSCOM (contract number PIA-GA-2010-251506).
About this article
Cite this article
Caja, S., Mäki, M., Kaukinen, K. et al. Antibodies in celiac disease: implications beyond diagnostics. Cell Mol Immunol 8, 103–109 (2011). https://doi.org/10.1038/cmi.2010.65
Received:

Accepted:

Published:

Issue Date:

DOI: https://doi.org/10.1038/cmi.2010.65
Keywords
antibody

celiac disease

diagnostics

pathogenesis