Glob. Biogeochem. Cycles doi:10.1029/2007GB003028 (in the press)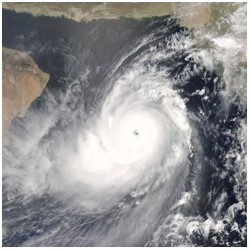 Tropical cyclones can increase carbon storage in the Arabian Sea, according to one analysis of the region after a moderate cyclone hit. Usually the surface waters of the Arabian Sea are still and unproductive, but the passing of a cyclone forces nutrient-rich waters up from below, increasing growth of phytoplankton and their export of carbon to deeper waters.
Hema Naik of the National Institute of Oceanography, India, and colleagues used shipboard measurements of ocean chemistry to examine the effect of a 1998 cyclone on the region's nutrient content. During this event, they found, the amount of nitrate drawn up to surface waters was enough to fuel production of approximately 4.2 million tonnes of organic carbon, equivalent to five per cent of the total amount that sinks beneath the surface of the Arabian Sea each year.
The latest scientific evidence suggests cyclones may become more intense with global warming. The authors say that if geographically limited, short-lived cyclones of moderate intensity like the one examined here can affect marine carbon production, then climate-induced changes in cyclone activity could significantly alter carbon cycling in these waters.
About this article
Cite this article
Armstrong, A. Causing a stir. Nature Clim Change 1, 98 (2008). https://doi.org/10.1038/climate.2008.75