Abstract
Natural killer (NK) cells hold promise for cancer therapy. NK cytotoxicity can be enhanced by expression of chimeric antigen receptors that re-direct specificity toward target cells by engaging cell surface molecules expressed on target cells. We developed a regulatory-compliant, scalable non-viral approach to engineer NK cells to be target-specific based on transfection of mRNA encoding chimeric receptors. Transfection of eGFP mRNA into ex vivo expanded NK cells (N=5) or purified unstimulated NK cells from peripheral blood (N=4) resulted in good cell viability with eGFP expression in 85±6% and 86±4%, 24 h after transfection, respectively. An mRNA encoding a receptor directed against CD19 (anti-CD19-BB-z) was also transfected into NK cells efficiently. Ex vivo expanded and purified unstimulated NK cells expressing anti-CD19-BB-z exhibited enhanced cytotoxicity against CD19+ target cells resulting in ⩾80% lysis of acute lymphoblastic leukemia and B-lineage chronic lymphocytic leukemia cells at effector target ratios lower than 10:1. The target-specific cytotoxicity for anti-CD19-BB-z mRNA-transfected NK cells was observed as early as 3 h after transfection and persisted for up to 3 days. The method described here should facilitate the clinical development of NK-based antigen-targeted immunotherapy for cancer.
Relevant articles
Open Access articles citing this article.
Gils Roex

,

Diana Campillo-Davo

…

Sébastien Anguille

Journal of Translational Medicine Open Access 14 March 2022

Gabrielle M. Robbins

,

Minjing Wang

…

Branden S. Moriarity

Stem Cell Research & Therapy Open Access 16 June 2021

Ahmet Yilmaz

,

Hanwei Cui

…

Jianhua Yu

Journal of Hematology & Oncology Open Access 07 December 2020
Access options
Subscribe to this journal
Receive 12 print issues and online access
$259.00 per year
only $21.58 per issue
Rent or buy this article
Get just this article for as long as you need it
$39.95
Prices may be subject to local taxes which are calculated during checkout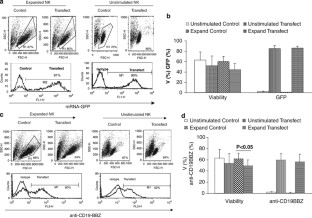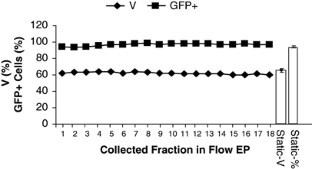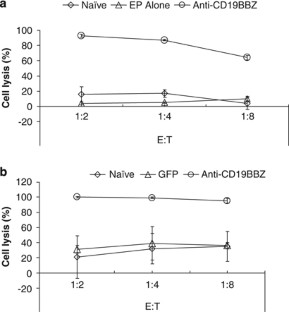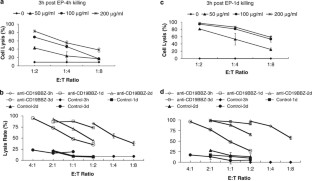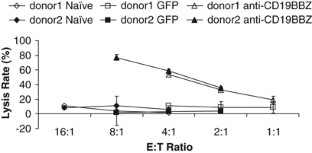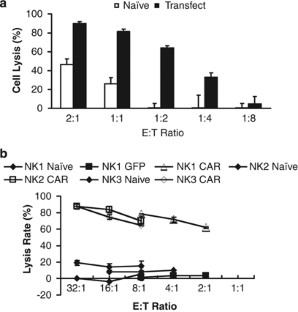 References
Schroers R, Hildebrandt Y, Hasenkamp J, Glass B, Lieber A, Wulf G et al. Gene transfer into human T lymphocytes and natural killer cells by Ad5/F35 chimeric adenoviral vectors. Exp Hematol 2004; 32: 536–546.

Ruggeri L, Capanni M, Urbani E, Perruccio K, Shlomchik WD, Tosti A et al. Effectiveness of donor natural killer cell alloreactivity in mismatched hematopoietic transplants. Science 2002; 295: 2097–2100.

Ruggeri L, Mancusi A, Burchielli E, Aversa F, Martelli MF, Velardi A . Natural killer cell alloreactivity in allogeneic hematopoietic transplantation. Curr Opin Oncol 2007; 19: 142–147.

McKenna Jr DH, Sumstad D, Bostrom N, Kadidlo DM, Fautsch S, McNearney S et al. Good manufacturing practices production of natural killer cells for immunotherapy: a six-year single-institution experience. Transfusion 2007; 47: 520–528.

Miller JS, Soignier Y, Panoskaltsis-Mortari A, McNearney SA, Yun GH, Fautsch SK et al. Successful adoptive transfer and in vivo expansion of human haploidentical NK cells in patients with cancer. Blood 2005; 105: 3051–3057.

Farag SS, Fehniger TA, Ruggeri L, Velardi A, Caligiuri MA . Natural killer cell receptors: new biology and insights into the graft-versus-leukemia effect. Blood 2002; 100: 1935–1947.

Chiorean EG, Miller JS . The biology of natural killer cells and implications for therapy of human disease. J Hematother Stem Cell Res 2001; 10: 451–463.

Lanier LL . Activating and inhibitory NK cell receptors. Adv Exp Med Biol 1998; 452: 13–18.

Passweg JR, Tichelli A, Meyer-Monard S, Heim D, Stern M, Kühne T et al. Purified donor NK-lymphocyte infusion to consolidate engraftment after haploidentical stem cell transplantation. Leukemia 2004; 18: 1835–1838.

Schellekens J, Rozemuller EH, Petersen EJ, van den Tweel JG, Verdonck LF, Tilanus MG . Activating KIRs exert a crucial role on relapse and overall survival after HLA-identical sibling transplantation. Mol Immunol 2008; 45: 2255–2261.

Klingemann HG . Natural killer cell-based immunotherapeutic strategies. Cytotherapy 2005; 7: 16–22.

Kolb HJ, Schattenberg A, Goldman JM, Hertenstein B, Jacobsen N, Arcese W et al. Graft-versus-leukemia effect of donor lymphocyte transfusions in marrow grafted patients. Blood 1995; 86: 2041–2050.

Verdonck LF, Petersen EJ, Lokhorst HM, Nieuwenhuis HK, Dekker AW, Tilanus MG et al. Donor leukocyte infusions for recurrent hematologic malignancies after allogeneic bone marrow transplantation: impact of infused and residual donor T cells. Bone Marrow Transplant 1998; 22: 1057–1063.

Collins Jr RH, Goldstein S, Giralt S, Levine J, Porter D, Drobyski W et al. Donor leukocyte infusions in acute lymphocytic leukemia. Bone Marrow Transplant 2000; 26: 511–516.

Gratwohl A, Brand R, Apperley J, Crawley C, Ruutu T, Corradini P et al. Allogeneic hematopoietic stem cell transplantation for chronic myeloid leukemia in Europe 2006: transplant activity, long-term data and current results. An analysis by the Chronic Leukemia Working Party of the European Group for Blood and Marrow Transplantation (EBMT). Haematologica 2006; 91: 513–521.

Abbott BL . Recent advances in chronic lymphocytic leukemia. Cancer Invest 2006; 24: 302–309.

Eshhar Z . The T-body approach: redirecting T cells with antibody specificity. Handb Exp Pharmacol 2008: 329–342.

Imai C, Iwamoto S, Campana D . Genetic modification of primary natural killer cells overcomes inhibitory signals and induces specific killing of leukemic cells. Blood 2005; 106: 376–383.

Imai C, Mihara K, Andreansky M, Nicholson IC, Pui CH, Geiger TL et al. Chimeric receptors with 4-1BB signaling capacity provoke potent cytotoxicity against acute lymphoblastic leukemia. Leukemia 2004; 18: 676–684.

Biagi E, Marin V, Giordano Attianese GM, Dander E, D'Amico G, Biondi A . Chimeric T-cell receptors: new challenges for targeted immunotherapy in hematologic malignancies. Haematologica 2007; 92: 381–388.

Cooper LJ, Ausubel L, Gutierrez M, Stephan S, Shakeley R, Olivares S et al. Manufacturing of gene-modified cytotoxic T lymphocytes for autologous cellular therapy for lymphoma. Cytotherapy 2006; 8: 105–117.

Finney HM, Akbar AN, Lawson AD . Activation of resting human primary T cells with chimeric receptors: costimulation from CD28, inducible costimulator, CD134, and CD137 in series with signals from the TCR zeta chain. J Immunol 2004; 172: 104–113.

Brentjens RJ, Santos E, Nikhamin Y, Yeh R, Matsushita M, La Perle K et al. Genetically targeted T cells eradicate systemic acute lymphoblastic leukemia xenografts. Clin Cancer Res 2007; 13: 5426–5435.

Kowolik CM, Topp MS, Gonzalez S, Pfeiffer T, Olivares S, Gonzalez N et al. CD28 costimulation provided through a CD19-specific chimeric antigen receptor enhances in vivo persistence and antitumor efficacy of adoptively transferred T cells. Cancer Res 2006; 66: 10995–11004.

Brentjens RJ . Novel approaches to immunotherapy for B-cell malignancies. Curr Hematol Rep 2005; 4: 64–72.

Loskog A, Giandomenico V, Rossig C, Pule M, Dotti G, Brenner MK . Addition of the CD28 signaling domain to chimeric T-cell receptors enhances chimeric T-cell resistance to T regulatory cells. Leukemia 2006; 20: 1819–1828.

Zimmermann U . Electrical breakdown, electropermeabilization and electrofusion. Rev Physiol Biochem Pharmacol 1986; 105: 176–256.

Golzio M, Rols MP, Teissie J . In vitro and in vivo electric field-mediated permeabilization, gene transfer, and expression. Methods 2004; 33: 126–135.

Hui S, Li L . In vitro and ex vivo delivery of genes to cells by electroporation. Electrically Mediated Delivery of Molecules to Cells: Electrochemotherapy, Electrogene Therapy and Transdermal Delivery by Electroporation. In: Jaroszeski MJ, Gilbert R, Heller R (eds) Human Press: New Jersey, 2000 pp 157–172.

Xie TD, Sun L, Tsong TY . Study of mechanisms of electric field-induced DNA transfection. I. DNA entry by surface binding and diffusion through membrane pores. Biophys J 1990; 58: 13–19.

Li LH, Shivakumar R, Feller S, Allen C, Weiss JM, Dzekunov S et al. Highly efficient, large volume flow electroporation. Technol Cancer Res Treat 2002; 1: 341–350.

Manabe A, Coustan-Smith E, Kumagai M, Behm FG, Raimondi SC, Pui CH et al. Interleukin-4 induces programmed cell death (apoptosis) in cases of high-risk acute lymphoblastic leukemia. Blood 1994; 83: 1731–1737.

Li LH, Sen A, Murphy SP, Jahreis GP, Fuji H, Hui SW . Apoptosis induced by DNA uptake limits transfection efficiency. Exp Cell Res 1999; 253: 541–550.

Li LH, McCarthy P, Hui SW . High-efficiency electrotransfection of human primary hematopoietic stem cells. FASEB J 2001; 15: 586–588.

Bell MP, Huntoon CJ, Graham D, McKean DJ . The analysis of costimulatory receptor signaling cascades in normal T lymphocytes using in vitro gene transfer and reporter gene analysis. Nat Med 2001; 7: 1155–1158.

Van Tendeloo VF, Willems R, Ponsaerts P, Lenjou M, Nijs G, Vanhove M et al. High-level transgene expression in primary human T lymphocytes and adult bone marrow CD34+ cells via electroporation-mediated gene delivery. Gene Ther 2000; 7: 1431–1437.

Lai W, Chang CH, Farber DL . Gene transfection and expression in resting and activated murine CD4T cell subsets. J Immunol Methods 2003; 282: 93–102.

Trompeter HI, Weinhold S, Thiel C, Wernet P, Uhrberg M . Rapid and highly efficient gene transfer into natural killer cells by nucleofection. J Immunol Methods 2003; 274: 245–256.

Maasho K, Marusina A, Reynolds NM, Coligan JE, Borrego F . Efficient gene transfer into the human natural killer cell line, NKL, using the Amaxa nucleofection system. J Immunol Methods 2004; 284: 133–140.

Li LH, Biagi E, Allen C, Shivakumar R, Weiss JM, Feller S et al. Rapid and efficient nonviral gene delivery of CD154 to primary chronic lymphocytic leukemia cells. Cancer Gene Ther 2006; 13: 215–224.

Landi A, Babiuk LA, van Drunen Littel-van den Hurk S . High transfection efficiency, gene expression, and viability of monocyte-derived human dendritic cells after nonviral gene transfer. J Leukoc Biol 82: 849–860.

Van De Parre TJ, Martinet W, Schrijvers DM, Herman AG, De Meyer GR . mRNA but not plasmid DNA is efficiently transfected in murine J774A.1 macrophages. Biochem Biophys Res Commun 2005; 327: 356–360.

Sullenger BA, Gilboa E . Emerging clinical applications of RNA. Nature 2002; 418: 252–258.

Holtkamp S, Kreiter S, Selmi A, Simon P, Koslowski M, Huber C et al. Modification of antigen-encoding RNA increases stability, translational efficacy, and T-cell stimulatory capacity of dendritic cells. Blood 2006; 108: 4009–4017.

Li Linhong, Allen C, Shivakumar R, Weiss JM, Fratantoni JC, Liu LN . Efficient non-viral gene delivery to primary, leukemia B cells by mRNA transfection. Mol Ther 2004; 9: 220.

Liu LN, Essner JJ, Wadman SA, Clark KJ, Nasevicious A, Shivakumar R et al. Non-viral, long-term gene expression in hematopaietic cells using the Sleeping Beauty transposen system. American Society for Gene Therapy, Seventh Annual Meeting. Mol Ther 2005; 11: S75.

Zhao Y, Zheng Z, Cohen CJ, Gattinoni L, Palmer DC, Restifo NP et al. High-efficiency transfection of primary human and mouse T lymphocytes using RNA electroporation. Mol Ther 2006; 13: 151–159.

Rabinovich PM, Komarovskaya ME, Ye ZJ, Gattinoni L, Palmer DC, Restifo NP et al. Synthetic messenger RNA as a tool for gene therapy. Hum Gene Ther 2006; 17: 1027–1035.
Acknowledgements
We express their gratitude to Dr Gary Moroff and Ms Amy Neuschaferand at American Red Cross Holland Lab (15601 Crabbs Branch Way, Rockville, MD) for training and usage of a Gammacell 1000 irradiator.
About this article
Cite this article
Li, L., Liu, L., Feller, S. et al. Expression of chimeric antigen receptors in natural killer cells with a regulatory-compliant non-viral method. Cancer Gene Ther 17, 147–154 (2010). https://doi.org/10.1038/cgt.2009.61
Received:

Revised:

Accepted:

Published:

Issue Date:

DOI: https://doi.org/10.1038/cgt.2009.61
Keywords
NK cells

chimeric antigen receptor

electroporation

non-viral

transfection

mRNA