Abstract
Umbilical cord blood (UCB) is a graft source for patients with malignant or genetic diseases who can be cured by allogeneic hematopoietic cell transplantation (HCT), but who do not have an appropriately HLA-matched family or volunteer unrelated adult donor. Starting in the 1990s, unrelated UCB banks were established, accepting donations from term deliveries and storing UCB units for public use. An estimated 730 000 UCB units have been donated and stored to date and ∼35 000 UCB transplants have been performed worldwide. Over the past 20 years, private and family banks have grown rapidly, storing ∼4 million UCB units for a particular patient or family, usually charging an up-front and yearly storage fee; therefore, these banks are able to be financially sustainable without releasing UCB units. Private banks are not obligated to fulfill the same regulatory requirements of the public banks. The public banks have released ∼30 times more UCB units for therapy. Some countries have transitioned to an integrated banking model, a hybrid of public and family banking. Today, pregnant women, their families, obstetrical providers and pediatricians are faced with multiple choices about the disposition of their newborn's cord blood. In this commentary, we review the progress of UCB banking technology; we also analyze the current data on pediatric and adult unrelated UCB, including the recent expansion of interest in transplantation for hemoglobinopathies, and discuss emerging studies on the use of autologous UCB for neurologic diseases and regenerative medicine. We will review worldwide approaches to UCB banking, ethical considerations, criteria for public and family banking, integrated banking ideas and future strategies for UCB banking.
This is a preview of subscription content
Access options
Subscribe to Journal
Get full journal access for 1 year
$119.00
only $9.92 per issue
All prices are NET prices.
VAT will be added later in the checkout.
Tax calculation will be finalised during checkout.
Buy article
Get time limited or full article access on ReadCube.
$32.00
All prices are NET prices.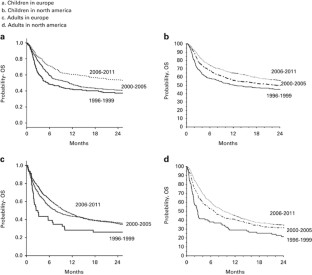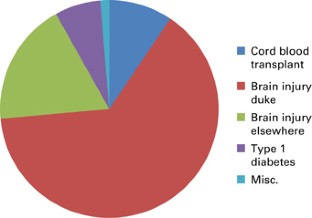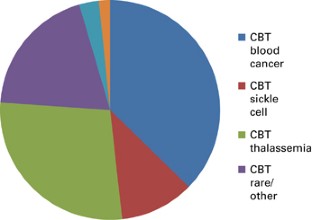 References
Rubinstein P, Dobrila L, Rosenfield RE, Adamson JVV, Magliaccio AR, Taylor PE et al. Processing and cryopreservation of placental/umbilical cord blood for unrelated bone marrow reconstitution. Proc Natl Acad Sci USA 1995; 92: 10119–10122.

Bone Marrow Donors Worldwide2014. http://www.bmdw.org.

Ballen KK, Barker JN, Stewart S, Greene M, Lane T . ASBMT Committee Report: collection and preservation of cord blood for personal use. Biol Blood Marrow Transplant 2008; 14: 356–363.

Ecker J, Greene MF . The case against private umbilical cord blood banking. Obstet Gynecol 2005; 105: 1282–1284.

Lubin BH, Shearer WT . American Academy of Pediatrics. Cord blood banking for potential future transplantation. Pediatrics 2007; 119: 165–170.

Ballen KK, Koreth J, Chen YB, Dey BR, Spitzer TR . Selection of optimal alternative graft source: mismatched unrelated donor, umbilical cord blood, or haploidentical transplant. Blood 2012; 119: 1972–1980.

Gluckman E, Broxmeyer HA, Auerbach AD, Friedman HS, Douglas GW, Devergie A et al. Hematopoietic reconstitution in a patient with Fanconi anemia by means of umbilical-cord blood from an HLA-identical sibling. N Engl J Med 1989; 321: 1174–1178.

Petz L, Jaing TH, Rosenthal J, Karanes C, Nademanee A, Chan LL et al. Analysis of 120 pediatric patients with nonmalignant disorders transplanted using unrelated plamsa-depleted or-reduced cord blood. Transfusion 2012; 52: 1311–1320.

Akel S, Regan D, Wall D, Petz L, McCullough J . Current thawing and infusion practice of cryopreserved cord blood: the impact on graft quality, recipient safety, and transplantation outcomes. Transfusion 2014; 54: 2997–3009.

Kurtzberg J, Cairo MS, Fraser JK, Baxter-Lowe L, Cohen G, Carter SL et al. Results of the cord blood transplantation (COBLT) study unrelated donor banking program. Transfusion 2005; 45: 842–855.

Gluckman E, Rocha V, Boyer Chammard A, Locatelli F, Arcese W, Pasquini R et al. Outcome of cord blood transplantation from related and unrelated donors. N Engl J Med 1997; 337: 373–381.

Wagner JE, Kernan NA, Steinbach M, Broxmeyer HE, Gluckman E . Allogeneic sibling umbilical-cord-blood transplantation in children with malignant and non-malignant disease. Lancet 1995; 346: 214–219.

Kurtzberg J, Laughlin M, Graham ML, Smith C, Olson JF, Halperin EC et al. Placental blood as a source of hematopoietic stem cells for transplantation into unrelated recipients. N Engl J Med 1996; 335: 157–166.

Wagner JE, Barker JN, DeFor TE, Baker KS, Blazar BR, Elde C et al. Transplantation of unrelated donor umbilical cord blood in 102 patients with malignant and nonmalignant diseases. Blood 2002; 100: 1611–1618.

Gluckman E, Rocha V, Arcese W, Michel G, Sanz G, Chan KW et al. Factors associated with outcomes of unrelated cord blood transplant: guidelines for donor choice. Exp Hematol 2004; 32: 397–407.

Rocha V, Cornish J, Sievers E, Filipovich A, Locatelli F, Peters C et al. Comparison of outcomes of unrelated bone marrow and umbilical cord blood transplants in children with acute leukemia. Blood 2001; 97: 2962–2971.

Eapen M, Rubinstein P, Zhang MJ, Stevens C, Kurtzberg J, Scradavou A et al. Outcomes of transplantation of unrelated donor umbilical cord blood and bone marrow in children with acute leukemia: a comparison study. Lancet 2007; 369: 1947–1954.

Escolar ML, Poe MD, Provenzale JM, Richards KC, Allison J, Wood S et al. Transplantation of umbilical cord blood in babies with infantile Krabbe's disease. N Engl J Med 2005; 352: 2069–2081.

Prasad VK, Kurtzberg J . Cord blood and bone marrow transplantation in inherited metabolic diseases: Scientific basis, current status, and future directions. Br J Haematol 2010; 148: 356–372.

Boelens JJ, Aldenhoven M, Purtill D, Ruggeri A, DeFor T, Wynn R et al. Outcomes of transplantation using various hematopoietic cell sources in children with Hurler's syndrome after myeloablative conditioning. Blood 2013; 121: 3981–3987.

Staba S, Escolar ML, Poe M, Kim Y, Martin PL, Szabolcs P et al. Cord-blood transplants from unrelated donors in patients with Hurler's syndrome. N Engl J Med 2004; 350: 1960–1969.

Prasad VK, Mendizabal A, Parikh SH, Szabolcs P, Driscoll TA, Page K et al. Unrelated donor umbilical cord blood transplantation for inherited metabolic disorders in 159 pediatric patients from a single center: influence of cellular composisiton of the graft on transplantation outcomes. Blood 2008; 112: 2979–2989.

Locatelli F, Rocha V, Reed W, Bernaudin F, Ertem M, Grafakos S et al. Related umbilical cord blood transplantation in patients with thalassemia and sickle cell disease. Blood 2003; 101: 2137–2143.

Wagner JE, Eapen M, Carter S, Wang Y, Schultz KR, Wall DA et al. One-unit versus two-unit cord blood transplantation for hematologic malignancies. N Engl J Med 2014; 371: 1685–1694.

Laughlin MJ, Barker J, Bambach B, Koc ON, Rizzieri DA, Wagner JE et al. Hematopoietic engraftment and survival in adult recipients of umbilical-cord blood from unrelated donors. N Engl J Med 2001; 344: 1815–1822.

Ballen KK, Gluckman E, Broxmeyer H . Umbilical cord blood transplantation: the first 25 years and beyond. Blood 2013; 122: 491–498.

Ruggeri A, Sanz G, Bittencourt H, Sanz J, Rambaldi A, Volt F et al. Comparison of outcomes after single or double cord blood transplantation in adults with acute leukemia using different types of myeloablative conditioning regimens, a retrospective study on behalf of Eurocord and the Acute Leukemia Working Party of EBMT. Leukemia 2014; 28: 779–786.

Sato A, Ooi J, Takahashi S, Tsukada N, Kato S, Kawakita T et al. Unrelated cord blood transplantation after myeloablative conditioning in adults with advanced myelodysplastic syndromes. Bone Marrow Transplant 2011; 46: 257–261.

Barker JN, Scaradavou A, Stevens CE . Combined effect of total nucleated cell dose and HLA match on transplantation outcome in 1061 cord blood recipients with hematologic malignancies. Blood 2010; 115: 1843–1849.

Cutler C, Stevenson K, Kim HT, Brown J, McDonough S, Herrera M et al. Double umbilical cord blood transplantation with reduced intensity conditioning and sirolimus-based GVHD prophylaxis. Bone Marrow Transplant 2011; 46: 659–667.

Brunstein CG, Eapen M, Ahn KW, Appelbaum FR, Ballen KK, Champlin RE et al. Reduced-intensity conditioning transplantation in acute leukemia: the effect of source of unrelated donor stem cells on outcomes. Blood 2012; 119: 5591–5598.

Labopin M, Ruggeri M, Gorin NC, Gluckman E, Blaise D, Mannone L et al. Cost-effectiveness and clinical outcomes of double vs single cord blood transplants in adults with acute leukemia in France. Haematologica 2014; 99: 535–540.

Munoz J, Shah N, Rezvani K, Hosing C, Bollard CM, Oran B et al. Concise review: umbilical cord blood transplantation: past, present, and future. Stem Cells Transl Med 2014; 3: 1–9.

Bautista G, Cabrera JR, Regidor C, Fores R, Garcia-Marco JA, Oieda E et al. Cord blood transplantation supported by co-infusion of moblized hematopoietic stem cells from third party donors. Bone Marrow Transplant 2009; 43: 365–373.

de Lima M, McNiece I, Robinson SN, Munsell M, Eapen M, Horowitz M et al. Cord blood engraftment with ex vivo mesnchymal-cell coculture. New Engl J Med 2012; 367: 2305–2315.

Delaney C, Heimfeld S, Brashem-Stein C, Voorhies H, Manger R, Bernstein ID . Notch-mediated expansion of human cord blood progenitor cells capable of rapid myeloid reconstitution. Nat Med 2010; 16: 232.

Horwitz ME, Chao NJ, Rizzieri DA, Long GD, Sullivan KM, Gasparetto C et al. Umbilical cord blood expansion with nicotinamide provides long-term multilineage engraftment. J Clin Invest 2014; 124: 3121–3128.

Cutler C, Multani P, Robbins D, Kim HT, Le T, Hoggart J et al. Prostaglandin-modulated umbilical cord blood hematopoietic stem cell transplantation. Blood 2013; 122: 3074–3081.

Farag SS, Srivastava S, Messina-Graham S, Schwartz J, Robertson MJ, Abonour R et al. In-vivo DPP-4 inhibition to enhance engraftment of single-unit cord blood transplants in adults with hematologic malignancies. Stem Cells Dev 2013; 22: 1007–1015.

Robinson SN, Thomas MW, Simmons PJ, Lu J, Yang H, Parmar S et al. Fucosylation with fucosyltransferase VI or fucosyltransferase VII improves cord blood engraftment. Cytotherapy 2014; 16: 84–89.

Norkin M, Lazarus HM, Wingard JR . Umbilical cord blood graft enhancement strategies: has the time come to move these into the clinic? Bone Marrow Transplant 2013; 48: 884–889.

Hanley PJ, Bollard CM, Brunstein CG . Adoptive immunotherapy with the use of regulatory T cell and virus-specific T cells derived from cord blood. Cytotherapy 2015; 17: 749–755.

Warlick ED, Peffault de Latour R, Shanley R, Robin M, Bejanyan N, Xhaard A et al. Allogeneic hematopoietic cell transplantation outcomes in acute myeloid leukemia: similar outcomes regardless of donor type. Biol Blood Marrow Transplant 2015; 21: 357–363.

Bachanova V, Burns LJ, Wang T, Carreras J, Gale RP, Wiernik PH et al. Alternative donors extend transplantation for patients with lymphoma lacking an HLA matched donor. Bone Marrow Transplant 2015; 50: 197–203.

Chen YB, Aldridge J, Kim HT, Ballen KK, Cutler C, Kao G et al. Reduced-intensity conditioning stem cell transplantation: comparison of double umbilical cord blood and unrelated donor grafts. Biol Blood Marrow Transplant 2012; 18: 805–812.

Luznik L, O'Donnell PV, Fuchs EJ . Post-transplantation cyclophosphamide for tolerance induction in HLA-haploidentical bone marrow transplantation. Semin Oncol 2012; 39: 683–693.

Brunstein CG, Fuchs EJ, Carter SJ, Karanes C, Costa LJ, Wu J et al. Alternative donor transplantation after reduced intensity conditioning: results of parallel phase 2 trials using partially HLA-mismatched related bone marrow or unrelated double umbilical cord blood grafts. Blood 2011; 118: 282–288.

Sun J, Allison J, McLaughlin C, Sledge L, Waters-Pick B, Wease S et al. Differences in quality between privately and publicly banked umbilical cord blood units: a pilot study of autologous cord blood infusion in children with acquired neurologic disorders. Transfusion 2010; 50: 1980–1987.

Rosenthal J, Woolfrey AE, Pawlowska A, Thomas SH, Appelbaum F, Forman S . Hematopoietic cell transplantation with autologous cord blood in patients with severe aplastic anemia: an opportunity to revisist the controversy regarding cord blood banking for private use. Pediatr Blood Cancer 2011; 56: 1009–1012.

Hayani A, Lampeter E, Viswanatha D, Morgan D, Salvi SN . First report of autologous cord blood transplant in the treatment of a child with leukemia. Pediatrics 2007; 119: e296–e300.

Haller MJ, Wasserfall CH, Hulme MA, Cintron M, Brusko TM, McGrail KM et al. Autologous umbilical cord blood transfusion in young children with type I diabetes fails to preserve C-peptide. Diabetes Care 2011; 34: 2567–2569.

Huang CJ, Butler AE, Moran A, Rao PN, Wagner JE, Blazar BR et al. A low frequency of pancreatic islet insulin-expressing cells derived from cord blood stem cell allografts in humans. Diabetologia 2011; 54: 1066–1074.

de la Pena I, Sanberg PR, Acosta S, Lin SZ, Borlongan CV . G-CSF as an adjunctive therapy with umbilical cord blood transplantation for traumatic brain injury. Cell Transplant 2015; 24: 447–457.

Cotten CM, Murtha AP, Goldberg RN, Grotegut CA, Smith PB, Goldstein RF et al. Feasibility of autologous cord blood cells for infants wtih hypoxic-ischemic encephalopathy. J Pediatr 2014; 164: 973–979.

Secco M, Zucconi E, Vieira NM, Fogaca LL, Cerqueira A et al. Multipotent stem cells from umbilical cord blood: cord is richer than blood!. Stem Cells 2008; 26: 146–150.

Cui X, Choppe M . Combination treatment of stroke wtih subtherapeutic simvastatin and human umbilical cord blood cells enhances vascular remodelling and improves function outcomes. Neuroscience 2012; 227: 223–231.

Huo W, Liu X, Tan C, Han Y, Kang C, Quan W et al. Stem cell transplantation and treating stroke: status, trends, and development. Neural Regen Res 2014; 9: 1643–1648.

Douglas-Escobar MV, Heaton SC, Bennett J, Young LJ, Glushakova O, Xu X et al. UCH-L1 and GFAP serum levels in neonates with HIE: a single center pilot study. Front Neurol 2014; 5: 273.

Lee HJ, Lee JK, Lee H, Carter JE, Chang JW, Oh W et al. Human umbilical cord blood-derived mesenchymal stem cells improve neuropathology and cognitive impairment in an Alzheimer's disease mouse model through modulation of inflammation. Neurobiol Aging 2012; 33: 588–602.

Kurtzberg J, Lyerly AD, Sugarman J . Untying the Gordian knot: policies, practices, and ethical issues related to banking of umbilical cord blood. J Clin Invest 2005; 115: 2592–2597.

Kobayashi S, Wakusawa K, Inui T, Tanaka S, Kobayashi Y, Onuma A et al. The neurologic outcomes of cerebellar injury in premature infants. Brain Dev, (e-pub ahead of print 12 February 2015; doi: 10.1016/j.braindev.2015.01.009).

Matsumoto MM, Dajani R, Matthews KRW . The Cord Blood Banking in the Arab World: Current Status and Future Developments. Biol Blood Marrow Transplant, (e-pub ahead of print 14 February 2015; doi: 10.1016/j.bbmt.2015.01.012).

Mazzocchetti D, Berti AM, Sartini R, Lucarini A, Ragusa G, Caroli M et al. Total nucleated cells as a sole predictor of distinct targets of hematopoietic potential (CD34+ cells) in cord blood units: the results of a large series analysis in autologous cord blood units. Transfusion 2014; 54: 1256–1262.

Parent's Guide to Cord Blood. Available at: http://parentsguidecordblood.org/cord-blood-price-options-USA.

Petrini C . Umbilical cord blood banking: from personal donation to international public registries to global bioeconomy. J Blood Med 2014; 5: 87–97.

Wagner AM, Krenger W, Suter E, Ben Hassem D, Surbek DV . High acceptance rate of hybrid allogeneic-autologous umbilical cord blood banking among actual and potential Swiss donors. Transfusion 2013; 53: 1510–1519.

Han MX, Craig ME . Research using autologous cord blood-time for a policy change. Med J Aust 2013; 199: 288–299.

Gluckman E, Ruggeri A, Rocha V, Badoux E, Boo M, Kurtzberg J et al. Family-directed umbilical cord blood banking. Haematologica 2011; 96: 1700–1707.

Jeevanantham V, Afzal MR, Zuba-Surma EK, Dawn B . Clinical trials of cardiac repair with adult bone marrow-derived cells. Methods Mol Biol 2013; 1036: 179–205.

Perotti C, Arici V, Cervio M, Del Fante C, Calliada F, Gnecchi M et al. Allogeneic lethally irradiated cord blood mononuclear cells in no-option critical limb ischemia: a 'box of rain.'. Stem Cells Dev 2013; 22: 2806–2812.

Wagner JE, Ishida-Yamamoto A, McGrath JA, Hordinsky M, Keene DR, Woodley DT et al. Bone marrow transplantation for recessive dystrophic epidermolysis bullosa. New Engl J Med 2010; 363: 629–639.
Ethics declarations
Competing interests
The authors declare no conflict of interest.
About this article
Cite this article
Ballen, K., Verter, F. & Kurtzberg, J. Umbilical cord blood donation: public or private?. Bone Marrow Transplant 50, 1271–1278 (2015). https://doi.org/10.1038/bmt.2015.124
Received:

Accepted:

Published:

Issue Date:

DOI: https://doi.org/10.1038/bmt.2015.124
Further reading
Sanja Bojic
Alex Murray
João Pedro de Magalhães

BMC Biology (2021)

Anna Funk
Johanna Buechel
Gwendolin Manegold-Brauer

Archives of Gynecology and Obstetrics (2021)

Irina Arutyunyan
Timur Fatkhudinov
Gennady Sukhikh

Stem Cell Research & Therapy (2018)