Abstract
Caregivers of patients receiving allogeneic hematopoietic stem cell transplants (allo-HSCT) serve a pivotal role in patient care but experience high stress, anxiety and depression as a result. We theorized that stress management adapted for allo-HSCT caregivers would reduce distress compared with treatment as usual (TAU). Of 267 consecutive caregivers of allo-HSCT patients approached, 148 (mean=53.5 years, 75.7% female) were randomized to either psychosocial intervention (i=74) or TAU (n=74). Eight one-on-one stress management sessions delivered across the 100-day post-transplant period focused on understanding stress, changing role(s) as caregiver, cognitive behavioral stress management, pacing respiration and identifying social support. Primary outcomes included perceived stress (psychological) and salivary cortisol awakening response (CAR) (physiological). Randomized groups were not statistically different at baseline. Mixed models analysis of covariance (intent-to-treat) showed that intervention was associated with significantly lower caregiver stress 3 months post transplant (mean=20.0, 95% confidence interval (95% CI)=17.9–22.0) compared with TAU (mean=23.0, 95% CI=21.0–25.0) with an effect size (ES) of 0.39 (P=0.039). Secondary psychological outcomes, including depression and anxiety, were significantly reduced with ESs of 0.46 and 0.66, respectively. Caregiver CAR did not differ from non-caregiving controls at baseline and was unchanged by intervention. Despite significant caregiving burden, this psychosocial intervention significantly mitigated distress in allo-HSCT caregivers.
Relevant articles
Open Access articles citing this article.
Annika M. Kisch

,

Karin Bergkvist

…

Jeanette Winterling

Supportive Care in Cancer Open Access 11 August 2022

Timothy S. Sannes

,

Krista W. Ranby

…

Mark L. Laudenslager

Health and Quality of Life Outcomes Open Access 10 January 2022

Emre Yucel

,

Shiyu Zhang

&

Sumeet Panjabi

Advances in Therapy Open Access 09 September 2021
Access options
Subscribe to Journal
Get full journal access for 1 year
$119.00
only $9.92 per issue
All prices are NET prices.
VAT will be added later in the checkout.
Tax calculation will be finalised during checkout.
Buy article
Get time limited or full article access on ReadCube.
$32.00
All prices are NET prices.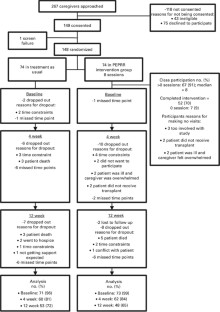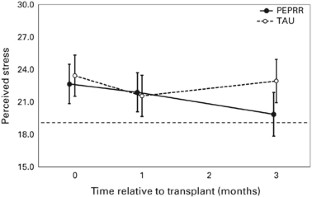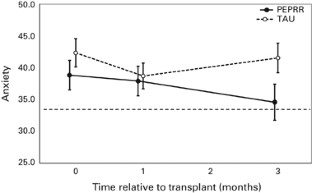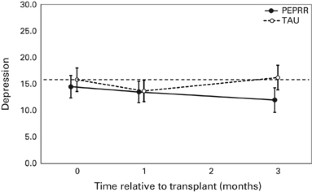 References
Li HW, Sykes M . Emerging concepts in haematopoietic cell transplantation. Nat Rev Immunol 2012; 12: 403–416.

Bevans M, Sternberg EM . Caregiving burden, stress, and health effects among family caregivers of adult cancer patients. JAMA 2012; 307: 398–403.

Simoneau TL, Mikulich-Gilbertson SK, Natvig C, Kilbourn K, Spradley J, Grzywa-Cobb R et al. Elevated peri-transplant distress in caregivers of allogeneic blood or marrow transplant patients. Psychooncology 2013; 22: 2064–2070.

Laudenslager ML . "Anatomy of an Illness": control from a caregiver's perspective. Brain Behav Immun 2014; 36: 1–8.

Mitchell AJ, Ferguson DW, Gill J, Paul J, Symonds P . Depression and anxiety in long-term cancer survivors compared with spouses and healthy controls: a systematic review and meta-analysis. Lancet Oncol 2013; 14: 721–732.

Tsigaroppoulos T, Mazaris E, Chatzidarellis E, Skolarikos A, Varkarakis I, Deliveliotis C . Problems faced by relatives caring for cancer patients at home. Int J Nurs Pract 2009; 15: 1–6.

Ulrich B . Caring for the caregivers. Nephrol Nurs J 2006; 33: 129.

Rohleder N, Marin TJ, Ma R, Miller GE, Rohleder N, Marin TJ et al. Biologic cost of caring for a cancer patient: dysregulation of pro- and anti-inflammatory signaling pathways. J Clin Oncol 2009; 27: 2909–2915.

Kiecolt-Glaser JK, Preacher KJ, MacCallum RC, Atkinson C, Malarkey WB, Glaser R . Chronic stress and age-related increases in the proinflammatory cytokine IL-6. Proc Natl Acad Sci USA 2003; 100: 9090–9095.

von Kanel R, Dimsdale JE, Mills PJ, Ancoli-Israel S, Patterson TL, Mausbach BT et al. Effect of Alzheimer caregiving stress and age on frailty markers interleukin-6, C-reactive protein, and D-dimer. J Gerontol A Biol Sci Med Sci 2006; 61: 963–969.

Braun M, Mikulincer M, Rydall A, Walsh A, Rodin G . Hidden morbidity in cancer: spouse caregivers. J Clin Oncol 2007; 25: 4829–4834.

Northouse LL, Katapodi MC, Schafenacker AM, Weiss D . The impact of caregiving on the psychological well-being of family caregivers and cancer patients. Semin Oncol Nurs 2012; 28: 236–245.

Gillick MR . THe critical role of caregivers in achieving patient-centered carethe critical role of caregivers in achieving patient-centered careviewpoint. JAMA 2013; 310: 575–576.

Northouse L, Williams A-L, Given B, McCorkle R . Psychosocial care for family caregivers of patients with cancer. J Clin Oncol 2012; 30: 1227–1234.

Antoni MH, Lutgendorf SK, Blomberg B, Carver CS, Lechner S, Diaz A et al. Cognitive-behavioral stress management reverses anxiety-related leukocyte transcriptional dynamics. Biol Psychiatry 2012; 71: 366–372.

Antoni MH, Lechner S, Diaz A, Vargas S, Holley H, Phillips K et al. Cognitive behavioral stress management effects on psychosocial and physiological adaptation in women undergoing treatment for breast cancer. Brain Behav Immun 2009; 23: 580–591.

Gavish B . Device-guided breathing in the home setting: technology, performance and clinical outcomes. Biol Psychol 2010; 84: 150–156.

Cohen S, Kamarck T, Mermelstein R . A global measure of perceived stress. J Health Soc Behav 1983; 24: 385–396.

Clow A, Hucklebridge F, Stalder T, Evans P, Thorn L . The cortisol awakening response: more than a measure of HPA axis function. Neurosci Biobehav Rev 2010; 35: 97–103.

Saban KL, Mathews HL, Bryant FB, O'Brien TE, Janusek LW . Depressive symptoms and diurnal salivary cortisol patterns among female caregivers of stroke survivors. Biol Res Nurs 2012; 14: 396–404.

Huber TJ, Issa K, Schik G, Wolf OT . The cortisol awakening response is blunted in psychotherapy inpatients suffering from depression. Psychoneuroendocrinology 2006; 31: 900–904.

de Vugt ME, Nicolson NA, Aalten P, Lousberg R, Jolle J . Verhey FRJ. Behavioral problems in dementia patients and salivary cortisol patterns in caregivers. J Neuropsychiatry Clin Neurosci 2005; 17: 201–207.

Wahbeh H, Kishiyama SS, Zajdel D, Oken BS . Salivary cortisol awakening response in mild Alzheimer disease, caregivers, and noncaregivers. Alzheimer Dis Assoc Disord 2008; 22: 181–183.

Hopewell S, Clarke M, Moher D, Wager E, Middleton P, Altman DG et al. CONSORT for reporting randomised trials in journal and conference abstracts. Lancet 2008; 371: 281–283.

Antoni MH, Lechner SC, Kazi A, Wimberly SR, Sifre T, Urcuyo KR et al. How stress management improves quality of life after treatment for breast cancer. J Consult Clin Psychol 2006; 74: 1143–1152.

Ostwald SK, Bernal MP, Cron SG, Godwin KM . Stress experienced by stroke survivors and spousal caregivers during the first year after discharge from inpatient rehabilitation. Top Stroke Rehabil 2009; 16: 93–104.

Radloff LS . The CESD Scale: a self report depression scale for research in the general population. Appl Psychol Meas 1977; 1: 385–401.

Spielberger CD, Gorsuch RL, Lushene R, Vagg PR, Jacobs GA . Manual for the State-Trait Anxiety Inventory Palo Alto. Consulting Psychologists Press, Palo Alto, CA, USA, 1983.

Given CW, Given B, Stommel C, Collins C, King S, Franklin S . The caregiver reaction assessment (CRA) for caregivers to persons wth chronic physical and mental impairments. Res Nurs Health 1992; 15: 271–283.

McNair DM, Lorr M, Droppleman LO . EITS Manual for the Profile of Moods States. Educational Testing Service: San Diego, CA, USA, 1971, p 23.

Buysse DJ, Reynolds CF 3rd, Monk TH, Bergman SR, Kupfer DJ . The Pittsburgh Sleep Quality Index: a new instrument for psychiatric practice and research. Psychiatry Res 1989; 28: 193–213.

Ware JE, Kosinski M, Dewey JE . How to Score Version 2 of the SF-36 Health Survey. Quality Metric Incorporated: Lincoln, RI, USA, 2000, p 281.

Horowitz M, Wilner N, Alverez W . Impact of event scale: a measure of subjective stress. Psychosom Med 1979; 41: 209–218.

Gemmill R, Cooke L, Williams AC, Grant M . Informal caregivers of hematopoietic cell transplant patients: a review and recommendations for interventions and research. Cancer Nurs 2011; 34: E13–E21.

Charles ST . Strength and vulnerability integration: a model of emotional well-being across adulthood. Psychol Bull 2010; 136: 1068–1091.

Brown H, Prescott R . Applied Mixed Models in Medicine. John B. Wiley & Sons: New York, NY, USA, 1999.

D'Agostino RB, Heeren TC . Multiple comparisons in over-the-counter drug clinical trials with both positive and placebo controls. Stat Med 1991; 10: 1–6.

Vlachantoni A . The demographic characteristics and economic activity patterns of carers over 50: evidence from the English Longitudinal Study of Ageing. Popul Trends 2010; (141): 51–73.

Hoffman R, Benz E, Silberstein L, Heslop H, Weitz J, Anastazi J . Hematology: Basic Principles and Practice, 6th edn. Saunders: Philadelphia, PA, USA, 2013.

Cohen S, Williamson G . Perceived stress in a probability sample of the United States. In: Spacapan S, Oskamp S (eds) . The Social Psychology of Health. Sage: Newbarry Park, CA, USA, 1988.

Kessler ER, Moss A, Eckhardt SG, Laudenslager ML, Kilbourn K, Mauss IB et al. Distress among caregivers of phase I trial participants: a cross-sectional study. Support Care Cancer 2014; 22: 3331–3340.

Livingston G, Barber J, Rapaport P, Knapp M, Griffin M, King D et al. Clinical effectiveness of a manual based coping strategy programme (START, STrAtegies for RelaTives) in promoting the mental health of carers of family members with dementia: pragmatic randomised controlled trial. BMJ 2013; 347: f6276.

Cruess DG, Antoni MH, Kumar M, Ironson G, McCabe P, Fernandez JB et al. Cognitive-behavioral stress management buffers decreases in dehydroepiandrosterone sulfate (DHEA-S) and increases in the cortisol/DHEA-S ratio and reduces mood disturbance and perceived stress among HIV-seropositive men. Psychoneuroendocrinology 1999; 24: 537–549.

Lopez OL, Schwam E, Cummings J, Gauthier S, Jones R, Wilkinson D et al. Predicting cognitive decline in Alzheimer's disease: an integrated analysis. Alzheimers Dement 2010; 6: 431–439.

McEwen B, Lasley EN . Allostatic load: when protection gives way to damage. Adv Mind Body Med 2003; 19: 28–33.

Irwin MB, Wang M, Ribiero D, Cho HJ, Olmstead R, Breen EC et al. Sleep loss activates cellular inflammatory signaling. Biol Psychiatry 2008; 64: 538–540.

Majhail NS, Mau LW, Denzen EM, Arneson TJ . Costs of autologous and allogeneic hematopoietic cell transplantation in the United States: a study using a large national private claims database. Bone Marrow Transplant 2013; 48: 294–300.

Knapp M, King D, Romeo R, Schehl B, Barber J, Griffin M et al. Cost effectiveness of a manual based coping strategy programme in promoting the mental health of family carers of people with dementia (the START (STrAtegies for RelaTives) study): a pragmatic randomised controlled trial. BMJ 2013; 347: f6342.
Acknowledgements
The execution of this study was supported in full by the National Institutes of Health grant 1R01CA126971 while final preparation of this manuscript was supported partly by Patient Centered Outcomes Institute Contract CE-1304-6208. We are particularly grateful to the caregivers who not only give their time to the care of their patients but also accepted the added burden of participating in this study. We are also thankful to Dr Susan Lutgendorf in the development of the intervention. We also thank Africa Armendariz, Danielle Glenn, Robert Hill, Rita Ouseph and Maribel Perea for their contributions and support during the execution of this study.
Author Contributions
Dr Laudenslager and Dr Mikulich-Gilbertson had full access to all the data in blinded format and are responsible for its integrity, reporting to the DSMB and the accuracy of data analysis. Study concept and design: Kilbourn, Laudenslager, Mikulich-Gilbertson and Simoneau. Acquisition of data: Benitez, Natvig, Philips and Spradley. Analysis and interpretation of data: Laudenslager, Mikulich-Gilbertson, Kilbourn and McSweeney, Natvig, and Simoneau. Initial drafting of the manuscript: Laudenslager. Critical revision of the manuscript for important intellectual content: Benitez, Kilbourn, Laudenslager, McSweeney, Mikulich-Gilbertson, Philips, Simoneau and Spradley. Statistical analysis: Mikulich-Gilbertson. Obtained funding: Laudenslager and Simoneau. Administrative, technical or material support: Benitez, Laudenslager, McSweeney, Natvig and Simoneau.
Disclaimer
The funding sources had no role in the design and conduct of the study; in the collection, analysis and interpretation of the data; or in the preparation, review or approval of the manuscript.
Footnote
Regarding consistency of the information reported to ClinicalTrials.gov, a contract agency for the Protocol Coordinator for NCI's PDQ Cancer Clinical Trials Registry, Office of Communications and Education National Cancer Institute initially entered the trial information at ClinicalTrials.Gov using our approved IRB submission. We assumed this was the process for this new (2008) federal reporting requirement and believed we had performed our due diligence. We received a confirmation that the trial was recorded on 23 February 2009 although we had received a registration number prior to that date. We began recruitment only after that number was filed and we received approval by our IRB. When the responsibility for maintaining this information was shifted from NCI to the study site 3 years later, we realized that many errors were made by the contracting agency in the description of our protocol and we did our best to correct the errors. The first author takes full responsibility for errors in reporting at ClinicalTrials.gov. However, from a CONSORT perspective, a clear analysis plan was in place prior to breaking the blind. Although inadvertently omitted from the reported plan, we had planned two analysis stages: q(1) an intent-to-treat analysis of the 3-month intervention once all subjects had completed that assessment and the blind was broken and (2) a second analysis that would commence once all subjects completed their final 1-year evaluation time point.
Ethics declarations
Competing interests
The authors declare no conflict of interest.
Additional information
A portion of this study was presented as a paper at the 10th Annual Meeting of the American Psychosocial Oncology Society, Huntington Beach, CA, USA by Simoneau TL, Kilbourn K, Mikulich-Gilbertson SK, Spradley J, Natvig C, McSweeney P, Laudenslager ML (February 2013). 'Efficacy of a stress management intervention for allogeneic transplant caregivers' and as a portion of the Norman Cousins Lectureship to the Psychoneuroimmunology Research Society, Stockholm Sweden by Mark L. Laudenslager, (June 2013), 'Anatomy of an Illness: Control from a Caregiver's perspective'.
Supplementary Information accompanies this paper on Bone Marrow Transplantation website
Supplementary information
About this article
Cite this article
Laudenslager, M., Simoneau, T., Kilbourn, K. et al. A randomized control trial of a psychosocial intervention for caregivers of allogeneic hematopoietic stem cell transplant patients: effects on distress. Bone Marrow Transplant 50, 1110–1118 (2015). https://doi.org/10.1038/bmt.2015.104
Received:

Revised:

Accepted:

Published:

Issue Date:

DOI: https://doi.org/10.1038/bmt.2015.104