Abstract
Since the introduction of the concept of aplastic anemia (AA) by Paul Ehrlich in 1888 and despite the current better understanding of the underlying mechanisms involved in this disease, a clear delimitation among BM failure syndromes is still a matter of debate. The diagnosis of AA can be difficult basically due to the overlapping morphological characteristics with other BM failure disorders. This paper reviews critical data relevant to the diagnosis of acquired AA and recommends work out steps and main considerations to determine severity and characterization of the disease. The diagnostic challenge in the differentiation between AA and hypoplastic myelodysplastic syndromes is also addressed. The definition of the response criteria to treatment belongs to the diagnostic tasks and it is included in this review as well as an overview of novel tools for the diagnosis of AA.
Relevant articles
Open Access articles citing this article.
A Albitar

,

D Townsley

…

M Albitar

Leukemia Open Access 23 August 2017
Access options
Subscribe to Journal
Get full journal access for 1 year
$119.00
only $9.92 per issue
All prices are NET prices.
VAT will be added later in the checkout.
Tax calculation will be finalised during checkout.
Buy article
Get time limited or full article access on ReadCube.
$32.00
All prices are NET prices.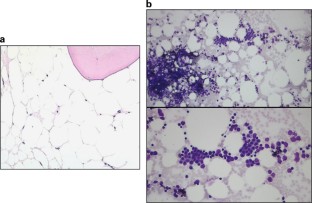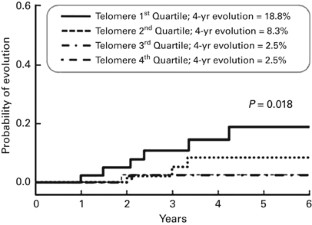 References
Young NS, Calado RT, Scheinberg P . Current concepts in the pathophysiology and treatment of aplastic anemia. Blood 2006; 108: 2509–2519.

Shimamura A . Clinical approach to marrow failure. Hematology Am Soc Hematol Educ Program 2009, 329–337.

Young NS . Acquired aplastic anemia. Ann Intern Med 2002; 136: 534–546.

Tichelli A, Gratwohl A, Nissen C, Signer E, Stebler GC, Speck B . Morphology in patients with severe aplastic anemia treated with antilymphocyte globulin. Blood 1992; 80: 337–345.

Hasle H, Baumann I, Bergstrasser E, Fenu S, Fischer A, Kardos G et al. The International Prognostic Scoring System (IPSS) for childhood myelodysplastic syndrome (MDS) and juvenile myelomonocytic leukemia (JMML). Leukemia 2004; 18: 2008–2014.

Hasle H . Myelodysplastic and myeloproliferative disorders in children. Curr Opin Pediatr 2007; 19: 1–8.

Tuzuner N, Bennett JM . Reference standards for bone marrow cellularity. Leuk Res 1994; 18: 645–647.

Medinger M, Buser A, Stern M, Heim D, Halter J, Rovo A et al. Aplastic anemia in association with a lymphoproliferative neoplasm: coincidence or causality? Leuk Res 2012; 36: 250–251.

Gupta V, Brooker C, Tooze JA, Yi QL, Sage D, Turner D et al. Clinical relevance of cytogenetic abnormalities at diagnosis of acquired aplastic anaemia in adults. Br J Haematol 2006; 134: 95–99.

Socie G, Rosenfeld S, Frickhofen N, Gluckman E, Tichelli A . Late clonal diseases of treated aplastic anemia. Semin Hematol 2000; 37: 91–101.

Tichelli A, Gratwohl A, Nissen C, Speck B . Late clonal complications in severe aplastic anemia. Leuk Lymphoma 1994; 12: 167–175.

Bennett JM, Orazi A . Diagnostic criteria to distinguish hypocellular acute myeloid leukemia from hypocellular myelodysplastic syndromes and aplastic anemia: recommendations for a standardized approach. Haematologica 2009; 94: 264–268.

Barrett J, Saunthararajah Y, Molldrem J . Myelodysplastic syndrome and aplastic anemia: distinct entities or diseases linked by a common pathophysiology? Semin. Hematol 2000; 37: 15–29.

Cantu RA, Fenu S, Kerndrup G, van Wering ER, Niemeyer CM, Baumann I . Evaluation of dysplastic features in myelodysplastic syndromes: experience from the morphology group of the European Working Group of MDS in Childhood (EWOG-MDS). Ann Hematol 2005; 84: 429–433.

Feng X, Scheinberg P, Wu CO, Samsel L, Nunez O, Prince C et al. Cytokine signature profiles in acquired aplastic anemia and myelodysplastic syndromes. Haematologica 2011; 96: 602–606.

Walne AJ, Dokal I . Dyskeratosis congenita: a historical perspective. Mech Ageing Dev 2008; 129: 48–59.

Walne AJ, Dokal I . Advances in the understanding of dyskeratosis congenita. Br J Haematol 2009; 145: 164–172.

Auerbach AD . Fanconi anemia and its diagnosis. Mutat Res 2009; 668: 4–10.

Camitta BM, Rappeport JM, Parkman R, Nathan DG . Selection of patients for bone marrow transplantation in severe aplastic anemia. Blood 1975; 45: 355–363.

Bacigalupo A, Hows J, Gluckman E, Nissen C, Marsh J, Van Lint MT et al. Bone marrow transplantation (BMT) versus immunosuppression for the treatment of severe aplastic anaemia (SAA): a report of the EBMT SAA working party. Br J Haematol 1988; 70: 177–182.

Young NS, Maciejewski JP, Sloand E, Chen G, Zeng W, Risitano A et al. The relationship of aplastic anemia and PNH. Int. J Hematol 2002; 76 (Suppl 2): 168–172.

Pu JJ, Brodsky RA . Paroxysmal nocturnal hemoglobinuria from bench to bedside. Clin Transl Sci 2011; 4: 219–224.

Pu JJ, Mukhina G, Wang H, Savage WJ, Brodsky RA . Natural history of paroxysmal nocturnal hemoglobinuria clones in patients presenting as aplastic anemia. Eur J Haematol 2011; 87: 37–45.

Hall SE, Rosse WF . The use of monoclonal antibodies and flow cytometry in the diagnosis of paroxysmal nocturnal hemoglobinuria. Blood 1996; 87: 5332–5340.

Brodsky RA, Mukhina GL, Li S, Nelson KL, Chiurazzi PL, Buckley JT et al. Improved detection and characterization of paroxysmal nocturnal hemoglobinuria using fluorescent aerolysin. Am J Clin Pathol 2000; 114: 459–466.

Borowitz MJ, Craig FE, Digiuseppe JA, Illingworth AJ, Rosse W, Sutherland DR et al. Guidelines for the diagnosis and monitoring of paroxysmal nocturnal hemoglobinuria and related disorders by flow cytometry. Cytometry B Clin Cytom 2010; 78: 211–230.

Kapustin SI, Popova TI, Lyschov AA, Togo AV, Abdulkadyrov KM, Blinov MN . HLA-DR2 frequency increase in severe aplastic anemia patients is mainly attributed to the prevalence of DR15 subtype. Pathol Oncol Res 1997; 3: 106–108.

Sugimori C, Yamazaki H, Feng X, Mochizuki K, Kondo Y, Takami A et al. Roles of DRB1 *1501 and DRB1 *1502 in the pathogenesis of aplastic anemia. Exp Hematol 2007; 35: 13–20.

Yoshida N, Yagasaki H, Takahashi Y, Yamamoto T, Liang J, Wang Y et al. Clinical impact of HLA-DR15, a minor population of paroxysmal nocturnal haemoglobinuria-type cells, and an aplastic anaemia-associated autoantibody in children with acquired aplastic anaemia. Br J Haematol 2008; 142: 427–435.

Song EY, Kang HJ, Shin HY, Ahn HS, Kim I, Yoon SS et al. Association of human leukocyte antigen class II alleles with response to immunosuppressive therapy in Korean aplastic anemia patients. Hum Immunol 2010; 71: 88–92.

Brown KE, Tisdale J, Barrett AJ, Dunbar CE, Young NS . Hepatitis-associated aplastic anemia. N Engl J Med 1997; 336: 1059–1064.

Young NS . Flaviviruses and bone marrow failure. JAMA 1990; 263: 3065–3068.

Locasciulli A, Bacigalupo A, Bruno B, Montante B, Marsh J, Tichelli A et al. Hepatitis-associated aplastic anaemia: epidemiology and treatment results obtained in Europe. A report of The EBMT aplastic anaemia working party. Br J Haematol 2010; 149: 890–895.

Mary JY, Baumelou E, Guiguet M . Epidemiology of aplastic anemia in France: a prospective multicentric study. The French Cooperative Group for Epidemiological Study of Aplastic Anemia. Blood 1990; 75: 1646–1653.

Rauff B, Idrees M, Shah SA, Butt S, Butt AM, Ali L et al. Hepatitis associated aplastic anemia: a review. Virol J 2011; 8: 87.

Lu J, Basu A, Melenhorst JJ, Young NS, Brown KE . Analysis of T-cell repertoire in hepatitis-associated aplastic anemia. Blood 2004; 103: 4588–4593.

Grey-Davies E, Hows JM, Marsh JC . Aplastic anaemia in association with coeliac disease: a series of three cases. Br J Haematol 2008; 143: 258–260.

Antic M, Lautenschlager S, Itin PH . Eosinophilic fasciitis 30 years after - what do we really know? Report of 11 patients and review of the literature. Dermatology 2006; 213: 93–101.

Hinterberger-Fischer M, Kier P, Forstinger I, Lechner K, Kornek G, Breyer S et al. Coincidence of severe aplastic anaemia with multiple sclerosis or thyroid disorders. Report of 5 cases. Acta Haematol 1994; 92: 136–139.

Stalder MP, Rovo A, Halter J, Heim D, Silzle T, Passweg J et al. Aplastic anemia and concomitant autoimmune diseases. Ann Hematol 2009; 88: 659–665.

Cesaro S, Marsh J, Tridello G, Rovo A, Maury S, Montante B et al. Retrospective survey on the prevalence and outcome of prior autoimmune diseases in patients with aplastic anemia reported to the registry of the European group for blood and marrow transplantation. Acta Haematol 2010; 124: 19–22.

Scheinberg P, Wu CO, Nunez O, Young NS . Predicting response to immunosuppressive therapy and survival in severe aplastic anaemia. Br J Haematol 2009; 144: 206–216.

Yoshida N, Yagasaki H, Hama A, Takahashi Y, Kosaka Y, Kobayashi R et al. Predicting response to immunosuppressive therapy in childhood aplastic anemia. Haematologica 2011; 96: 771–774.

Tichelli A, Schrezenmeier H, Socie G, Marsh J, Bacigalupo A, Duhrsen U et al. A randomized controlled study in patients with newly diagnosed severe aplastic anemia receiving antithymocyte globulin (ATG), cyclosporine, with or without G-CSF: a study of the SAA Working Party of the European Group for Blood and Marrow Transplantation. Blood 2011; 117: 4434–4441.

Gupta V, Gordon-Smith EC, Cook G, Parker A, Duguid JK, Wilson KM et al. A third course of anti-thymocyte globulin in aplastic anaemia is only beneficial in previous responders. Br J Haematol 2005; 129: 110–117.

Calado RT, Cooper JN, Padilla-Nash HM, Sloand EM, Wu CO, Scheinberg P et al. Short telomeres result in chromosomal instability in hematopoietic cells and precede malignant evolution in human aplastic anemia. Leukemia 2012; 26: 700–707.

Takaku T, Malide D, Chen J, Calado RT, Kajigaya S, Young NS . Hematopoiesis in 3 dimensions: human and murine bone marrow architecture visualized by confocal microscopy. Blood 2010; 116: e41–e55.
Acknowledgements
ERG spa, SAAR Depositi Oleari Portuali, Rimorchiatori Riuniti and Cambiaso and Risso are acknowledged for their support to the activity of the Hematology Unit of G Gaslini Children's Hospital, Genova, Italy.
Ethics declarations
Competing interests
The authors declare no conflict of interest.
About this article
Cite this article
Rovó, A., Tichelli, A., Dufour, C. et al. Diagnosis of acquired aplastic anemia. Bone Marrow Transplant 48, 162–167 (2013). https://doi.org/10.1038/bmt.2012.230
Received:

Accepted:

Published:

Issue Date:

DOI: https://doi.org/10.1038/bmt.2012.230
This article is cited by
A Albitar
D Townsley
M Albitar

Leukemia (2018)

Scott A. Peslak
Timothy Olson
Daria V. Babushok

Current Treatment Options in Oncology (2017)