Abstract
More than 145 European hematopoietic SCT programs have received JACIE (Joint Accreditation Committee for ISCT Europe and EBMT) accreditation since 2000, demonstrating compliance with FACT (Foundation for the Accreditation of Cell Therapy)-JACIE international standards. The association of JACIE with improved patient outcome was recently documented. However, conditions in which quality management systems were introduced and the actual benefits remain to be fully evaluated. Our study focuses on one aspect of quality management: introduction and use of indicators. Through a questionnaire sent to JACIE-accredited centers and responses from 32 programs (or 40%), we identified 293 indicators, including 224 (76%) that were introduced during the preparatory phase of JACIE accreditation. Indicators were associated with the following processes: measurement, analysis and improvement (54/293 or 18%); donor collection (49/293 or 16%); processing and storage of cell therapy products (37/293 or 12.5%); and administration of hematopoietic progenitor cells (67/293 or 23%). Mapping revealed an uneven distribution of indicators across the different subprocesses that contribute to this highly specialized medical procedure. Moreover, we found that only 101/293 indicators (34%) complied with the rules for implementation of a quality indicator, as defined by the FDX 50-171 standard. This suggests that risks to donors/recipients are unevenly monitored, leaving critical medical steps with low levels of monitoring.
Your institute does not have access to this article
Access options
Subscribe to Journal
Get full journal access for 1 year
$119.00
only $9.92 per issue
All prices are NET prices.
VAT will be added later in the checkout.
Tax calculation will be finalised during checkout.
Buy article
Get time limited or full article access on ReadCube.
$32.00
All prices are NET prices.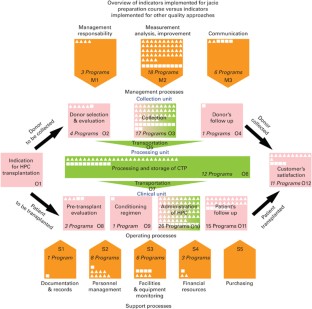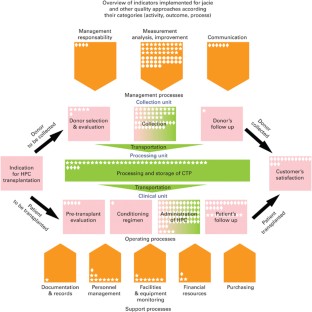 References
Committee on the Quality of Health Care in America. To Err is Human: Building a Safer Health System. Committee on the Quality of Health Care in America: Washington, DC, 1999.

Committee on the Quality of Health Care in America. Crossing the Quality Chasm: A New Health System for the 21st Century. Committee on the Quality of Health Care in America: Washington, DC, 2001.

Armitage JO . The history of autologous hematopoietic cell transplantation. In:. Thomas' Hematopoietic Cell Transplantation Appelbaum F, Forman SJ, Negrin RS, (eds) 4th edn pp 8–14 Wiley Blackwell: Oxford, UK, 2009.

Thomas ED . A history of allogeneic hematopoietic cell transplantation. In:. Thomas' Hematopoetic Cell Transplantation Appelbaum FR, Forman SJ, Negrin RS, (eds) 4th edn pp 3–7 Wiley Blackwell: Oxford, UK, 2009.

Appelbaum FR . Hematopoietic-cell transplantation at 50. N Engl J Med 2007; 357: 1472–1475.

Copelan EA . Hematopoietic stem-cell transplantation. N Engl J Med 2006; 354: 1813–1826.

Gratwohl A, Baldomero H, Aljurf M, Pasquini MC, Bouzas LF, Yoshimi A et al. Hematopoietic stem cell transplantation: a global perspective. Jama 2010; 303: 1617–1624.

Ljungman P, Bregni M, Brune M, Cornelissen J, de Witte T, Dini G et al. Allogeneic and autologous transplantation for haematological diseases, solid tumours and immune disorders: current practice in Europe. Bone Marrow Transplant 2009; 45: 219–234.

Baldomero H, Gratwohl M, Gratwohl A, Tichelli A, Niederwieser D, Madrigal A et al. The EBMT activity survey 2009: trends over the past 5 years. Bone Marrow Transplant 2011; 46: 485–501.

Gratwohl A, Baldomero H . Trends of hematopoietic stem cell transplantation in the third millennium. Curr Opin Hematol 2009; 16: 420–426.

LeMaistre CF, Loberiza FR . What is quality in a transplant program? Biol Blood Marrow Transplant 2005; 11: 241–246.

FACT-JACIE. FACT-JACIE International Standards For Cellular Therapy Product Collection, Processing, and Administration, 4th edn. FACT: Omaha, Nebraska, USA, 2008.

Kvalheim G, Berli M . EBMT and ISHAGE-Europe create a foundation for inspection and accreditation in Europe. Cytotherapy 1999; 1: 363–364.

Pamphilon D, Apperley JF, Samson D, Slaper-Cortenbach I, McGrath E . JACIE accreditation in 2008: demonstrating excellence in stem cell transplantation. Hematol Oncol Stem Cell Ther 2009; 2: 311–319.

Warkentin PI . Voluntary accreditation of cellular therapies: Foundation for the Accreditation of Cellular Therapy (FACT). Cytotherapy 2003; 5: 299–305.

Gratwohl A, Brand R, Niederwieser D, Baldomero H, Chabannon C, Cornelissen J et al. Introduction of a quality management system and outcome after hematopoietic stem-cell transplantation. J Clin Oncol 2011; 29: 1980–1986.

Loberiza FR, Zhang MJ, Lee SJ, Klein JP, LeMaistre CF, Serna DS et al. Association of transplant center and physician factors on mortality after hematopoietic stem cell transplantation in the United States. Blood 2005; 105: 2979–2987.

Samson D, Slaper-Cortenbach I, Pamphilon D, McGrath E, McDonald F, Urbano Ispizua A . Current status of JACIE accreditation in Europe: a special report from the Joint Accreditation Committee of the ISCT and the EBMT (JACIE). Bone Marrow Transplant 2007; 39: 133–141.

Warkentin PI, Nick L, Shpall EJ . FAHCT accreditation: common deficiencies during on-site inspections. Cytotherapy 2000; 2: 213–220.

(AFNOR) AFdNeS. Système de management de la qualité - Indicateurs et tableaux de bord. AFNOR Editions: Paris, 2000.

de Vos ML, van der Veer SN, Graafmans WC, de Keizer NF, Jager KJ, Westert GP et al. Implementing quality indicators in intensive care units: exploring barriers to and facilitators of behaviour change. Implement Sci 2010; 5: 52.

Kollberg B, Elg M, Lindmark J . Design and implementation of a performance measurement system in Swedish health care services: a multiple case study of 6 development teams. Qual Manage Health Care 2005; 14: 95–111.

Bourne MH, Neely A, Platts K, Mills J . The success and failure of performance measurement initatives. Perceptions of participating managers. Int J Oper Product Manage 2002; 22: 1288.

Weiner BJ, Alexander JA, Shortell SM, Baker LC, Becker M, Geppert JJ . Quality improvement implementation and hospital performance on quality indicators. Health Serv Res 2006; 41: 307–334.

US Department of Health and Human Services FaDA, Center for Drug Evaluation and Research (CDER), Center for Biologics Evaluation and Research (CBER) (eds) Guidance for Industry. Q9 Quality Risk Management 2006.
Acknowledgements
This work was supported in part by the JACIE executive office, by Institut Paoli-Calmettes and by Centre Hospitalier et Universitaire de Nancy. We thank Catherine Faucher and Noel Milpied at the Société Française de Greffe de Moelle (SFGM-TC) for their help in establishing the French survey. We also thank all members of the JACIE Executive Office and JACIE Accreditation Committee, all JACIE inspectors, and all health-care personnel at European hematopoietic SCT programs that care for patients. We also thank Nicolas Birouste at the Agence Française de la Normalisation (AFNOR) for helpful discussions. The list of JACIE-accredited programs that answered the survey appears in the legend to Supplementary Figure 1; we wish to express our appreciation to all respondents for their interest in the conduct and analysis of this survey.
Ethics declarations
Competing interests
The authors declare no conflict of interest.
Supplementary information
About this article
Cite this article
Caunday, O., Agulles, O., McGrath, E. et al. Implementation of JACIE accreditation results in the establishment of new indicators that unevenly monitor processes contributing to the delivery of hematopoietic SCT. Bone Marrow Transplant 48, 604–609 (2013). https://doi.org/10.1038/bmt.2012.181
Received:

Revised:

Accepted:

Published:

Issue Date:

DOI: https://doi.org/10.1038/bmt.2012.181
Keywords
hematopoietic SCT

quality management

risk management

standards