Abstract
We report the first randomized study comparing early hospital discharge with standard hospital-based follow-up after high-dose chemotherapy (HDCT) and PBSCT. Patients aged 18–65 years, with an indication of PBSCT for non-leukemic malignant diseases were randomly assigned between two arms. Arm A consisted of early hospital discharge (HDCT during hospitalization, discharge at day 0, home stay with a caregiver, outpatient clinic follow-up). In arm B patients were followed up as inpatients. In total 131 patients were analyzed (66 in arm A and 65 in arm B). Patient characteristics and hematological reconstitution were comparable between the two groups. In arm A, 26 patients were actually discharged early. Patients in group A spent fewer days in hospital (11 vs 12 days, P=0.006). This strategy resulted in a 6% mean cost reduction per patient when compared with the conventional hospital-based group. The early discharge approach within the French health system, while safe and feasible, is highly dependent on social criteria (caregiver availability and home to hospital distance). It is almost always associated with conventional hospital readmission during the aplasia phase, and limits cost savings when considering the whole population of patients benefiting from HDCT in routine clinical practice.
Access options
Subscribe to this journal
Receive 12 print issues and online access
$259.00 per year
only $21.58 per issue
Rent or buy this article
Get just this article for as long as you need it
$39.95
Prices may be subject to local taxes which are calculated during checkout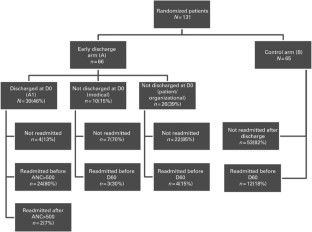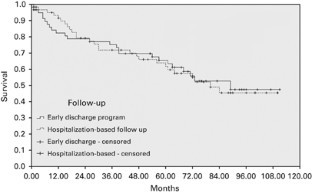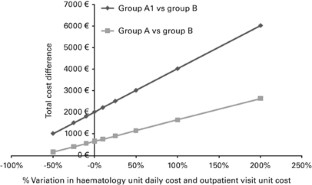 References
Le Corroller AG, Moatti JP . The economic evaluation of hematopoietic growth factors in high dose chemotherapy. Anti Cancer Drugs 1998; 9: 917–924.

Smith AM, Keating A . Peripheral blood progenitor cell transplantation: clinical, practical and economic considerations. J Hematother 1994; 3: 331–348.

Uyl-de Groot CA, Ossenkoppele GJ, van Riet AAPM, Rutten FFH . The costs of peripheral blood progenitor cell reinfusion mobilised by granulocyte colony-stimulating factor following high dose melphalan as compared with conventional therapy in multiple myeloma. Eur J Cancer 1994; 30A: 457–459.

Hartmann O, Le Corroller AG, Blaise D, Michon J, Philip I, Norol F et al. Peripheral blood stem cells and bone marrow transplantation for solid tumors and lymphomas: hematologic recovery and costs. A randomized controlled trial. Ann Intern Med 1997; 126: 600–607.

Anastasia A, Giglio F, Mazza R, Sarina B, Todisco E, Bramanti S et al. Early discharge after high-dose melphalan and peripheral blood stem cell reinfusion in patients with hematological and non-hematological disease. Leuk Lymphoma 2009; 50: 80–84.

Fernandez-Aviles F, Carreras E, Urbano-Ispizua A, Rovira M, Martinez C, Gaya A et al. Case-control comparison of at-home to total hospital care for autologous stem-cell transplantation for hematologic malignancies. J Clin Oncol 2006; 24: 4855–4861.

Ferrara F, Palmieri S, Viola A, Copia C, Schiavone EM, De Simone M et al. Outpatient-based peripheral blood stem cell transplantation for patients with multiple myeloma. Hematol J 2004; 5: 222–226.

Freeman M, Vose J, Bennett C, Anderson J, Kessinger A, Turner K et al. Costs of care associated with high-dose therapy and autologous transplantation for non-Hodgkin's lymphoma: results from the University of Nebraska Medical Center 1989 to 1995. Bone Marrow Transplant 1999; 24: 679–684.

Frey P, Stinson T, Siston A, Knight SJ, Ferdman E, Traynor A et al. Lack of caregivers limits use of outpatient hematopoietic stem cell transplant program. Bone Marrow Transplant 2002; 30: 741–748.

Gluck S, des Rochers C, Cano C, Dorreen M, Germond C, Gill K et al. High-dose chemotherapy followed by autologous blood cell transplantation: a safe and effective outpatient approach. Bone Marrow Transplant 1997; 20: 431–434.

Jagannath S, Vesole DH, Zhang M, Desikan KR, Copeland N, Jagannath M et al. Feasibility and cost-effectiveness of outpatient autotransplants in multiple myeloma. Bone Marrow Transplant 1997; 20: 445–450.

Leger C, Sabloff M, McDiarmid S, Bence-Bruckler I, Atkins H, Bredeson C et al. Outpatient autologous hematopoietic stem cell transplantation for patients with relapsed follicular lymphoma. Ann Hematol 2006; 85: 723–729.

McDiarmid S, Hutton B, Atkins H, Bence-Bruckler I, Bredeson C, Sabri E et al. Performing allogeneic and autologous hematopoietic SCT in the outpatient setting: effects on infectious complications and early transplant outcomes. Bone Marrow Transplant 2010; 45: 1220–1226.

Meisenberg BR, Miller WE, McMillan R, Callaghan M, Sloan C, Brehm T et al. Outpatient high-dose chemotherapy with autologous stem-cell rescue for hematologic and nonhematologic malignancies. J Clin Oncol 1997; 15: 11–17.

Peters WP, Ross M, Vredenburgh J, Hussein A, Rubin P, Dukelow K et al. The use of intensive clinic support to permit outpatient autologous bone marrow transplantation for breast cancer. Semin Oncol 1994; 21 (supl 7): 25–31.

Rizzo JD, Vogelsang GB, Krumm S, Frink B, Mock V, Bass EB . Outpatient-based bone marrow transplantation for hematologic malignancies: cost saving or cost shifting? J Clin Oncol 1999; 17: 2811–2818.

Summers N, Dawe U, Stewart DA . A comparison of inpatient and outpatient ASCT. Bone Marrow Transplant 2000; 26: 389–395.

Mehta J, Dulley FL . Outpatient or inpatient stem cell transplantation: patria est ubicunque est bene? Leuk Lymphoma 2009; 50: 3–5.

Dix SP, Geller RB . High-dose chemotherapy with autologous stem cell rescue in the outpatient setting. Oncology (Huntingt) 2000; 14: 171–185; discussion 85–86, 91–92.

Peters WP, Ross M, Vredenburgh JJ, Hussein A, Rubin P, Dukelow K et al. The use of intensive clinic support to permit outpatient autologous bone marrow transplantation for breast cancer. Semin Oncol 1994; 21 (Suppl 7): 25–31.

Rovira M . Outpatient management of autologous haematopoietic cell transplantation: the Barcelona experience. Presse Med 2004; 33: 479–481.

Westermann AM, Holtkamp MM, Linthorst GA, van Leeuwen L, Willemse EJ, van Dijk WC et al. At home management of aplastic phase following high-dose chemotherapy with stem-cell rescue for hematological and non-hematological malignancies. Ann Oncol 1999; 10: 511–517.

Stiff P, Mumby P, Miler L, Rodriguez T, Parthswarthy M, Kiley K et al. Autologous hematopoietic stem cell transplants that utilize total body irradiation can safely be carried out entirely on an outpatient basis. Bone Marrow Transplant 2006; 38: 757–764.
Acknowledgements
The study was supported by the French clinical research projects funding program (PHRC).
Ethics declarations
Competing interests
The authors declare no conflict of interest.
About this article
Cite this article
Faucher, C., Le Corroller Soriano, A., Esterni, B. et al. Randomized study of early hospital discharge following autologous blood SCT: medical outcomes and hospital costs. Bone Marrow Transplant 47, 549–555 (2012). https://doi.org/10.1038/bmt.2011.126
Received:

Revised:

Accepted:

Published:

Issue Date:

DOI: https://doi.org/10.1038/bmt.2011.126
Keywords