Abstract
Background:
Breast and Ovarian Analysis of Disease Incidence and Carrier Estimation Algorithm (BOADICEA) is a risk prediction algorithm that can be used to compute estimates of age-specific risk of breast cancer. It is uncertain whether BOADICEA performs adequately for populations outside the United Kingdom.
Methods:
Using a batch mode version of BOADICEA that we developed (BOADICEACentre), we calculated the cumulative 10-year invasive breast cancer risk for 4176 Australian women of European ancestry unaffected at baseline from 1601 case and control families in the Australian Breast Cancer Family Registry. Based on 115 incident breast cancers, we investigated calibration, discrimination (using receiver-operating characteristic (ROC) curves) and accuracy at the individual level.
Results:
The ratio of expected to observed number of breast cancers was 0.92 (95% confidence interval (CI) 0.76–1.10). The E/O ratios by subgroups of the participant's relationship to the index case and by the reported number of affected relatives ranged between 0.83 and 0.98 and all 95% CIs included 1.00. The area under the ROC curve was 0.70 (95% CI 0.66–0.75) and there was no evidence of systematic under- or over-dispersion (P=0.2).
Conclusion:
BOADICEA is well calibrated for Australian women, and had good discrimination and accuracy at the individual level.
References
AIHW (Australian Institute of Health and Welfare) (2012) BreastScreen Australia monitoring report 2009-2010. AIHW: Canberra.

Amir E, Evans DG, Shenton A, Lalloo F, Moran A, Boggis C, Wilson M, Howell A (2003) Evaluation of breast cancer risk assessment packages in the family history evaluation and screening programme. J Med Genet 40 (11): 807–814.

Anothaisintawee T, Teerawattananon Y, Wiratkapun C, Kasamesup V, Thakkinstian A (2012) Risk prediction models of breast cancer: a systematic review of model performances. Breast Cancer Res Treat 133 (1): 1–10.

Antoniou AC, Cunningham AP, Peto J, Evans DG, Lalloo F, Narod SA, Risch HA, Eyfjord JE, Hopper JL, Southey MC, Olsson H, Johannsson O, Borg A, Pasini B, Radice P, Manoukian S, Eccles DM, Tang N, Olah E, Anton-Culver H, Warner E, Lubinski J, Gronwald J, Gorski B, Tryggvadottir L, Syrjakoski K, Kallioniemi OP, Eerola H, Nevanlinna H, Pharoah PD, Easton DF (2008a) The BOADICEA model of genetic susceptibility to breast and ovarian cancers: updates and extensions. Br J Cancer 98 (8): 1457–1466.

Antoniou AC, Hardy R, Walker L, Evans DG, Shenton A, Eeles R, Shanley S, Pichert G, Izatt L, Rose S, Douglas F, Eccles D, Morrison PJ, Scott J, Zimmern RL, Easton DF, Pharoah PD (2008b) Predicting the likelihood of carrying a BRCA1 or BRCA2 mutation: validation of BOADICEA, BRCAPRO, IBIS, Myriad and the Manchester scoring system using data from UK genetics clinics. J Med Genet 45 (7): 425–431.

Antoniou AC, Pharoah PP, Smith P, Easton DF (2004) The BOADICEA model of genetic susceptibility to breast and ovarian cancer. Br J Cancer 91 (8): 1580–1590.

Apicella C, Andrews L, Hodgson SV, Fisher SA, Lewis CM, Solomon E, Tucker K, Friedlander M, Bankier A, Southey MC, Venter DJ, Hopper JL (2003) Log odds of carrying an Ancestral Mutation in BRCA1 or BRCA2 for a Defined personal and family history in an Ashkenazi Jewish woman (LAMBDA). Breast Cancer Res 5 (6): R206–R216.

Dite GS, Jenkins MA, Southey MC, Hocking JS, Giles GG, McCredie MR, Venter DJ, Hopper JL (2003) Familial risks, early-onset breast cancer, and BRCA1 and BRCA2 germline mutations. J Natl Cancer Inst 95 (6): 448–557.

Dite GS, Whittemore AS, Knight JA, John EM, Milne RL, Andrulis IL, Southey MC, McCredie MR, Giles GG, Miron A, Phipps AI, West DW, Hopper JL (2010) Increased cancer risks for relatives of very early-onset breast cancer cases with and without BRCA1 and BRCA2 mutations. Br J Cancer 103 (7): 1103–1108.

Ferlay J, Shin HR, Bray F, Forman D, Mathers C, Parkin DM (2010) GLOBOCAN 2008 v2.0, Cancer Incidence and Mortality Worldwide: IARC CancerBase No. 10. International Agency for Research on Cancer: Lyon, France.

Gail MH, Brinton LA, Byar DP, Corle DK, Green SB, Schairer C, Mulvihill JJ (1989) Projecting individualized probabilities of developing breast cancer for white females who are being examined annually. J Natl Cancer Inst 81 (24): 1879–1886.

Hopper JL (2011) Disease-specific prospective family study cohorts enriched for familial risk. Epidemiol Perspect Innov 8 (1): 2.

Hopper JL, Chenevix-Trench G, Jolley DJ, Dite GS, Jenkins MA, Venter DJ, McCredie MR, Giles GG (1999) Design and analysis issues in a population-based, case-control-family study of the genetic epidemiology of breast cancer and the Co-operative Family Registry for Breast Cancer Studies (CFRBCS). J Natl Cancer Inst Monogr 26: 95–100.

Hopper JL, Foley DL, White PA, Pollaers V (2013) Australian Twin Registry: 30 years of progress. Twin Res Hum Genet 16 (1): 34–42.

Hopper JL, Giles GG, McCredie MRE, Boyle P (1994) Background, rationale and protocol for a case-control-family study of breast cancer. The Breast 3: 79–86.

Independent UK Panel on Breast Cancer Screening (2012) The benefits and harms of breast cancer screening: an independent review. Lancet 380 (9855): 1778–1786.

John EM, Hopper JL, Beck JC, Knight JA, Neuhausen SL, Senie RT, Ziogas A, Andrulis IL, Anton-Culver H, Boyd N, Buys SS, Daly MB, O'Malley FP, Santella RM, Southey MC, Venne VL, Venter DJ, West DW, Whittemore AS, Seminara D (2004) The Breast Cancer Family Registry: an infrastructure for cooperative multinational, interdisciplinary and translational studies of the genetic epidemiology of breast cancer. Breast Cancer Res 6 (4): R375–R389.

Mavaddat N, Rebbeck TR, Lakhani SR, Easton DF, Antoniou AC (2010) Incorporating tumour pathology information into breast cancer risk prediction algorithms. Breast Cancer Res 12 (3): R28.

McCredie MR, Dite GS, Giles GG, Hopper JL (1998) Breast cancer in Australian women under the age of 40. Cancer Causes Control 9 (2): 189–198.

Milne RL, John EM, Knight JA, Dite GS, Southey MC, Giles GG, Apicella C, West DW, Andrulis IL, Whittemore AS, Hopper JL (2011) The potential value of sibling controls compared with population controls for association studies of lifestyle-related risk factors: an example from the Breast Cancer Family Registry. Int J Epidemiol 40 (5): 1342–1354.

National Human Genome Research Institute (2002) Breast cancer information core: an open access on-line breast cancer mutation data base. http://research.nhgri.nih.gov/bic/.

Quante AS, Whittemore AS, Shriver T, Strauch K, Terry MB (2012) Breast cancer risk assessment across the risk continuum: genetic and nongenetic risk factors contributing to differential model performance. Breast Cancer Res 14 (6): R144.

Roder D, Houssami N, Farshid G, Gill G, Luke C, Downey P, Beckmann K, Iosifidis P, Grieve L, Williamson L (2008) Population screening and intensity of screening are associated with reduced breast cancer mortality: evidence of efficacy of mammography screening in Australia. Breast Cancer Res Treat 108 (3): 409–416.

Satagopan JM, Offit K, Foulkes W, Robson ME, Wacholder S, Eng CM, Karp SE, Begg CB (2001) The lifetime risks of breast cancer in Ashkenazi Jewish carriers of BRCA1 and BRCA2 mutations. Cancer Epidemiol Biomarkers Prev 10 (5): 467–473.

Stahlbom AK, Johansson H, Liljegren A, von Wachenfeldt A, Arver B (2012) Evaluation of the BOADICEA risk assessment model in women with a family history of breast cancer. Fam Cancer 11 (1): 33–40.

Tyrer J, Duffy SW, Cuzick J (2004) A breast cancer prediction model incorporating familial and personal risk factors. Stat Med 23 (7): 1111–1130.
Acknowledgements
The ABCFR is the Australian site of the Breast Cancer Family Registry, and this work was supported by grant UM1 CA164920 from the National Cancer Institute. The content of the manuscript does not necessarily reflect the views or policies of the National Cancer Institute or any of the collaborating centres in the Breast Cancer Family Registry (BCFR), nor does mention of trade names, commercial products or organisations imply endorsement by the US Government or the BCFR. The Australian Breast Cancer Family Registry was also supported by the National Health and Medical Research Council (NHMRC) of Australia, the New South Wales Cancer Council and the Victorian Health Promotion Foundation. RJM is a NHMRC Sidney Sax Postdoctoral Research Fellow. K-AP is a National Breast Cancer Foundation Practitioner Fellow. ACA is a Cancer Research UK Senior Cancer Research Fellow (C12292/A11174). MCS is a NHMRC Senior Research Fellow and JLH is a NHMRC Senior Principal Research Fellow and was supported by the Distinguished Scholars Invitation Program at Seoul National University.
Additional information
This work is published under the standard license to publish agreement. After 12 months the work will become freely available and the license terms will switch to a Creative Commons Attribution-NonCommercial-Share Alike 3.0 Unported License.
Appendix A
Appendix A
Batch processing with the web-based BOADICEA program
A.1 Overview
The BOADICEA web client (http://ccge.medschl.cam.ac.uk/boadicea/) is an interactive tool for calculating risk estimates for breast cancer and BRCA1 and BRCA2 mutation status. The user enters a pedigree (manually or using file upload) and specifies an individual for risk estimation.
Researchers often need to calculate risk estimates from many pedigrees and for many individuals in each pedigree. The current BOADICEA web client makes this task laborious and time-consuming; each pedigree file must be free from errors, missing data may need to be imputed and risk estimates can only be requested for one member of one pedigree at a time.
To address these difficulties, we developed BOADICEACentre, an open source software tool written in Java that adopts a streamlined approach to batch processing. BOADICEACentre incorporates pedigree targeting, data validation, missing data imputation, online submission and collation of results for the web-based BOADICEA program.
A.2 Producing targeted pedigrees
BOADICEACentre produces a BOADICEA format pedigree file for each individual identified in a target list. The tool can also be configured to compute results for every woman in every pedigree.
A.3 Validating pedigrees
BOADICEACentre checks the validity of the data in each file and generates a report that describes the types of errors detected and lists the affected individuals. At present, it can detect up to 45 different types of syntactic (e.g., wrong field delimiter) and semantic (e.g., a pedigree member older than his or her living parent) pedigree errors. A file is produced containing the filenames of all pedigrees that did not pass validation. This list can be input into other BOADICEACentre components, most notably, the risk estimation component (see A.5).
A.4 Missing field imputation
BOADICEACentre uses a rule-based algorithm to impute missing year of birth and age at last follow-up. These fields are mandatory for any individual who is either the target for risk estimation or affected by any type of cancer. The algorithm estimates missing values based on the mean values of a person's relatives. Refer to Dite et al (2003), 2010 for more detailed descriptions of the imputation rules.
Imputation is achieved using an iterative estimation process; estimates of later iterations may be based on the estimates calculated in previous iterations.
A.5 Obtaining risk estimates for a batch
BOADICEACentre submits the pedigree files to BOADICEA via the internet and collates the results into a single spreadsheet of results.
BOADICEACentre's requires that the user has an existing BOADICEA web client account and that the pedigree files have passed validation (see A.3). Pedigree files that encounter a BOADICEA run-time error will not be processed. The user may optionally provide a list of targeted pedigrees to exclude from submission (e.g., a list of pedigrees that failed validation). Refer to the below figure for a typical BOADICEACentre workflow.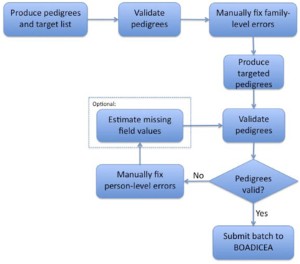 Rights and permissions
From twelve months after its original publication, this work is licensed under the Creative Commons Attribution-NonCommercial-Share Alike 3.0 Unported License. To view a copy of this license, visit http://creativecommons.org/licenses/by-nc-sa/3.0/
About this article
Cite this article
MacInnis, R., Bickerstaffe, A., Apicella, C. et al. Prospective validation of the breast cancer risk prediction model BOADICEA and a batch-mode version BOADICEACentre. Br J Cancer 109, 1296–1301 (2013). https://doi.org/10.1038/bjc.2013.382
Received:

Revised:

Accepted:

Published:

Issue Date:

DOI: https://doi.org/10.1038/bjc.2013.382
Keywords