North East London's Community Dental Service recently spent their weekend volunteering their time to promote oral health at the Annual Mayor's Newham Town Show.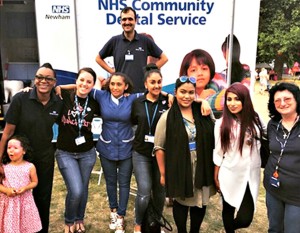 The service has been involved in the show for several years and this year made a record 3,478 contacts at the oral health stand, teaching children and parents about oral hygiene, dental-specific diet advice and going to the dentist.
The team included oral health promoters, dental therapists, dental nurses and dentists.
Natalie Bradley, who wrote to BDJ Team, said: 'Everyone had lots of fun. It was incredible to see such genuine interest from the public and eager children filling in our quizzes and word-searches or brushing our set of giant teeth.
'As well as our oral health stand, we were able to provide oral health screening on our mobile dental unit. Over the two days we saw 485 adults and children for oral health screens, many of whom required signposting to dentists as they required treatment.' Luckily the weather was on the team's side and with live music playing in the background and copious amounts of free toothbrushes and toothpaste to give out, there was a lively and festival-like atmosphere inside the unit that helped to acclimatise some of the more nervous or younger children into learning how a visit to the dentist can be fun.
Natalie said: 'I think getting the dental profession more involved in events like this is essential at tackling our public health issues head on and it can be really effective. Bring on next year!'
About this article
Cite this article
CDS team are a big hit at community show. BDJ Team 4, 17132 (2017). https://doi.org/10.1038/bdjteam.2017.132