Abstract
Recently, ultrasound-targeting microbubble destruction has been employed in molecular gene therapy, and a new potent nonviral gene transfer method known as 'sonoporation' has been developed. We investigated the efficiency of sonoporation toward growth inhibition of human gingival squamous carcinoma cell line, Ca9-22, in vitro and in vivo. The cytotoxicity of bleomycin (BLM) was investigated using flow-cytometric analysis and Hoechst's staining in vitro assay systems. We found that the delivery of BLM by sonoporation induced cytotoxic effect toward Ca9-22 cells in vitro. Our in vivo results showed that tumors nearly disappeared in Ca9-22 cell-implanted nude KSN/slc mice treated with a low dose of BLM followed by sonoporation during the 4-week experimental period. Histological analysis revealed that the cytotoxic effect was mainly apoptosis. We previously reported that the cytolethal distending toxin B (cdtB) from Actinobacillus actinomycetemcomitans, a periodontopathic bacterium, is responsible for cell cycle arrest and apoptosis in vitro. Thus, we used sonoporation to transfect a cdtB-expressing plasmid into Ca9-22 cells and examined cell viability in vitro and in vivo. We found that an administration of cdtB-expressing plasmid followed by sonoporation-induced marked growth inhibition of Ca9-22 cells and apoptotic cells were also observed in vitro and in vivo. These findings suggest that local administration of cytotoxic agents with sonoporation is a useful method for molecular cancer therapy.
Relevant articles
Open Access articles citing this article.
Martynas Maciulevičius

,

Mindaugas Tamošiūnas

…

Saulius Šatkauskas

Scientific Reports Open Access 08 May 2020
Access options
Subscribe to Journal
Get full journal access for 1 year
$119.00
only $9.92 per issue
All prices are NET prices.
VAT will be added later in the checkout.
Tax calculation will be finalised during checkout.
Buy article
Get time limited or full article access on ReadCube.
$32.00
All prices are NET prices.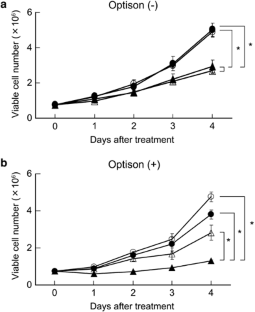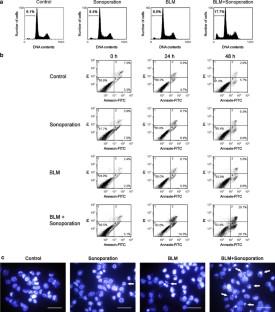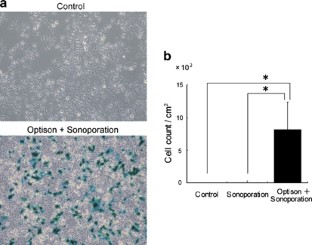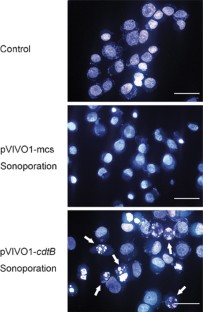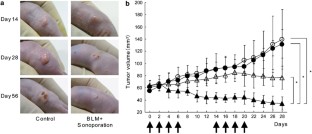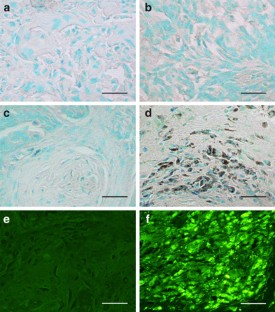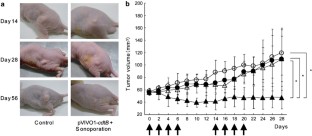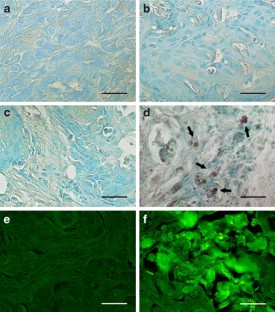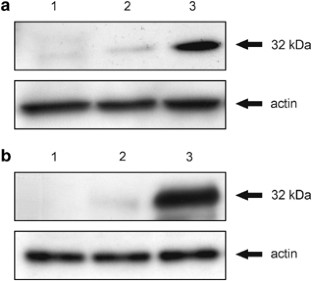 References
Tabata Y . Therapeutic trials based on combination of drug delivery system and ultrasound. In: ter Haar GR, Rivens I (eds). 4th International Symposium On Therapeutic Ultrasound. American Institute of Physics: New York, 2005: 77–80.

Yamashita Y, Shimada M, Tachibana K, Harimoto N, Tsujita E, Shirabe K et al. In vivo gene transfer into muscle via electro-sonoporation. Hum Gene Ther 2002; 13: 2079–2084.

Leonhard M, Srinivas S, Seung-Kew Y, Tim UK, Michael G, Bruce R et al. Gene therapy of hepatocellular carcinoma in vitro and in vivo in nude mice by adenoviral transfer of the Escherichia coli purine nucleoside phosphorylase gene. Hepatology 2000; 31: 606–614.

Terazaki Y, Yano S, Yuge K, Satoshi N, Mari F, Sheng Guo Z et al. An optimal therapeutic expression level is crucial for suicide gene therapy for hepatic metastatic cancer in mice. Hepatology 2003; 37: 155–163.

Sakakima Y, Hayashi S, Yagi Y, Hayakawa A, Tachibana K, Nakao A . Gene therapy for hepatocellular carcinoma using sonoporation enhanced by contrast agents. Cancer Gene Therapy 2005; 12: 884–889.

Miyoshi N, Sostaric JZ, Riesz P . Correlation between sonochemistry of surfactants and human leukaemia cell killing by ultrasound and porphyrins. In: ter Haar GR, Rivens I (eds). 4th Internat Symp Therapeu Ultraso. American Institute of Physics: New York, 2005: 84–87.

Wu J . Delivery of DNA and antibodies into cells using sonoporation and electroporation. In: ter Haar GR, Rivens I (eds). 4th Internatl Symp Therapeu Ultraso. American Institute of Physics: New York, 2005: 94–99.

Gehl J, Skovsgaard T, Mir LM . Enhancement of cytotoxicity by electropermeabilization: an improved method for screening drugs. Anticancer Drugs 1998; 9: 319–325.

Orlowski S, Belehradek Jr J, Paoletti C, Mir LM . Transient electropermeabilization of cells in culture. Increase of the cytotoxity of anticancer drugs. Biochem Pharmacol 1988; 37: 4727–4733.

Hartwell LH, Weinert TA . Checkpoints: controls that ensure the order of cell cycle events. Science. 1989; 246: 629–634.

Pickett CL, Whitehouse CA . The cytolethal distending toxin family. Trends Microbiol 1999; 7: 292–297.

Lara-tejero M, Galan JE . A bacterial toxin that controls cell cycle progression as a deoxyribonuclease-like protein. Science 2000; 290: 354–357.

Nishihara T, Koseki T . Microbial etiology of periodontitis. Periodontol 2000 2004; 36: 14–26.

Saiki K, Konishi K, Gomi T, Nishihara T, Yoshikawa M . Reconstitution and purification of cytolethal distending toxin of Actinobacillus actinomycetemcomitans. Microbiol Immunol 2001; 45: 497–506.

Yamamoto K, Tominaga K, Sukedai M, Okinaga T, Iwanaga K, Nishihara T et al. Delivery of cytolethal distending toxin B induces cell cycle arrest and apoptosis in gingival squamous cell carcinoma in vitro. Eur J Oral Science 2004; 112: 445–451.

Kamata N, Chida K, Rikimaru K, Horikoshi M, Enomoto S, Kuroki T . Growth-inhibitory effects of epidermal growth factor and overexpression of its receptors on human squamous cell carcinomas in culture. Cancer Res 1986; 46: 1648–1653.

Akifusa S, Poole S, Lewthwaitel J, Henderson B, Nair SP . Recombinant Actinobacillus actinomycetemcomitans cytolethal distending toxin proteins are required to interact to inhibit human cell cycle progression and to stimulate qhuman leukocyte cytokine synthesis. Infect Immun 2001; 69: 5925–5930.

Koseki T, Gao Y, Okahashi N, Murase Y, Tsujisawa T, Sato T et al. Role of TGF-âfamily in osteoclastogenesis induced by RANKL. Cellular Signalling 2002; 14: 31–36.

Kishida T, Asada H, Itokawa Y, Yasutomi K, Shin-Ya M, Gojo S et al. Electrochemo-gene therapy of cancer: intratumoral delivery of interleukin-12 gene and bleomycin synergistically induced therapeutic immunity and suppressed subcutaneous and metastatic melanomas in mice. Molecular Therapy 2003; 8: 738–745.

Fidler IJ . Selection of successive tumour lines for metastasis. Nat New Biol 1973; 242: 148–149.

Nicolson GL . Cancer metastasis: tumor cell and host organ properties important in metastasis to specific secondary sites. Biochim Biophys Acta 1988; 948: 175–224.

Shafer WG, Hine MK, Levy BM . A textbook of oral pathology. 4th edn. WB Saunders: Philadelphia, 1983: 112–127.

Mir LM . Therapeutic perspectives of in vivo cell electropermeabilization. Bioelectrochemistry 2001; 53: 1–10.

Gothelf A, Mir LM, Gehl J . Electrochemotherapy: results of cancer treatment using enhanced delivery of bleomycin by electroporation. Cancer treatment Rev 2003; 29: 371–387.

Mir LM, Tounekti O, Orlowski S . Bleomycin: revival of an old drug. Gen Pharmacol 1996; 27: 745–748.

Burger RM . Cleavage of nucleic acids by bleomycin. Chem Rev 1998; 98: 1153–1169.

Tounekti O, Pron G, Belehradek Jr J, Mir LM . Bleomycin, an apoptosis-mimetic drug that induces two types of cell death depending on the number of molecules internalized. Cancer Res 1993; 53: 5462–5469.

Tounekti O, Kenani A, Foray N, Orlowski S, Mir LM . The ratio of single- to double-strand DNA breaks and their absolute values determine cell death pathway. Br J Cancer 2001; 84: 1272–1279.

Roy SN, Horwitz SB . Characterization of the association of radiolabeled bleomycin A2 with HeLa cells. Cancer Res 1984; 44: 1541–1546.

Mao X, DiRienzo JM . Functional studies of the recombinant subunits of a cytolethal distending holotoxin. Cell Microbiol 2002; 4: 245–255.

Mise K, Akifusa S, Watarai S, Ansai T, Nishihara T, Takehara T . Involvement of ganglioside GM3 in G(2)/M cell cycle arrest of human monocytic cells induced by Actinobacillus actinomycetemcomitans cytolethal distending toxin. Infect Immu 2005; 73: 4846–4852.

Chang SC, Erwin AE, Lee AS . Glucose-regulated protein (GRP94 and GRP78) genes share common regulatory domains and are coordinately regulated by common trans-acting factors. Mol Cell Biol 1989; 9: 2153–2162.

Tachibana K, Uchida T, Ogawa K, Yamashita N, Tamura K . Induction of cell-membrance porosity by ultrasound. Lancet. 1999; 353: 1409.

Shiping B, Brian DT, Douglas LM . Transfection of a reporter plasmid into cultured cells by sonoporation in vitro. Ultrasound Med Biol 1997; 23: 953–959.

Ka-yun N, Yang L . Therapeutic ultrasound: its application in drug delivery. Med Res Rev 2002; 22: 204–223.

Rodriguez-Cuevas S, Barroso-Bravo S, Almanza-Estrada J, Cristobal-Martinez L, Gonzalez-Rodriguez E . Electrochemotherapy in primary and metastatic skin tumors: phase trial using intralesional bleomycin. Arch Med Res 2001; 32: 273–276.

Heller R, Jaroszeski MJ, Reintgen DS, Puleo CA, Deconti RC, Gilbert RA et al. Treatment of cutaneous and subcutaneous tumors with electrochemotherapy using intralesional bleomycin. Cancer 1998; 83: 148–157.

Kitamura A . Bleomycin-mediated electrochemotherapy in mouse NR-S1 carcinoma. Cancer Chemother Pharmacol 2003; 51: 359–362.

Li T, Tachibana K, Kuroki M, Kuroki M . Gene Transfer with Echo-enhanced Contrast Agents: comparison between Albunex, Optison, and Levovist in Mice–Initial Results. Radiology 2003; 229: 423–428.

Nakashima M, Tachibana K, Iohara K, Ito M, Ishikawa M, Akamine A . Induction of reparative dentin formation by ultrasound-mediated gene delivery of growth/differentiation factor 11. Hum Gene Ther 2003; 14: 591–597.

Evan CU, Evan H, Mani V, Terry OM, Thomas M . Local drug and gene delivery through microbubbles. Prog Cardiovasc Dis 2001; 44: 45–54.

Hosseinkhani H, Aoyama T, Ogawa O, Tabata Y . Ultrasound enhances the transfection of plasmid DNA by non-viral vectors. Current Pharmaceu Biotechno 2003; 4: 109–122.

Taniyama Y, Tachibana K, Hiraoka K, Aoki M, Yamamoto S, Matsumoto K et al. Development of safe and efficient novel nonviral gene transfer using ultrasound: enhancement of transfection efficiency of naked plasmid DNA in skeletal muscle. Gene Therapy 2002; 9: 372.
Acknowledgements
This work was supported in part by grants-in Aid from the Ministry of Education, Science and Culture of Japan and the Ministry of Health and Welfare of Japan.
About this article
Cite this article
Iwanaga, K., Tominaga, K., Yamamoto, K. et al. Local delivery system of cytotoxic agents to tumors by focused sonoporation. Cancer Gene Ther 14, 354–363 (2007). https://doi.org/10.1038/sj.cgt.7701026
Received:

Revised:

Accepted:

Published:

Issue Date:

DOI: https://doi.org/10.1038/sj.cgt.7701026
Keywords
sonoporation

squamous cell carcinoma

apoptosis

in vivo transfection