Abstract
Different antiangiogenic and antimetastatic recombinant adenoviruses were tested in a transgenic mouse model of metastatic ocular cancer (TRP1/SV40 Tag transgenic mice), which is a highly aggressive tumor, developed from the pigmented epithelium of the retina. These vectors, encoding amino-terminal fragments of urokinase plasminogen activator (ATF), angiostatin Kringles (K1–3), endostatin (ES) and canstatin (Can) coupled to human serum albumin (HSA) were injected to assess their metastatic and antiangiogenic activities in our model. Compared to AdCO1 control group, AdATF-HSA did not significantly reduce metastatic growth. In contrast, mice treated with AdK1–3-HSA, AdES-HSA and AdCan-HSA displayed significantly smaller metastases (1.19±1.19, 0.87±1.5, 0.43±0.56 vs controls 4.04±5.12 mm3). Moreover, a stronger inhibition of metastatic growth was obtained with AdCan-HSA than with AdK1–3-HSA (P=0.04). Median survival was improved by 4 weeks. A close correlation was observed between the effects of these viruses on metastatic growth and their capacity to inhibit tumor angiogenesis. Our study indicates that systemic antiangiogenic factors production by recombinant adenoviruses, particularly Can, might represent an effective way of delaying metastatic growth via inhibition of angiogenesis.
Access options
Subscribe to Journal
Get full journal access for 1 year
$119.00
only $9.92 per issue
All prices are NET prices.
VAT will be added later in the checkout.
Tax calculation will be finalised during checkout.
Buy article
Get time limited or full article access on ReadCube.
$32.00
All prices are NET prices.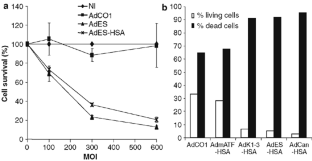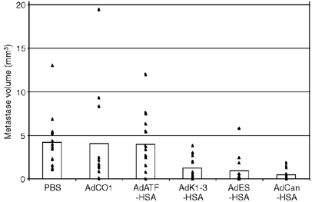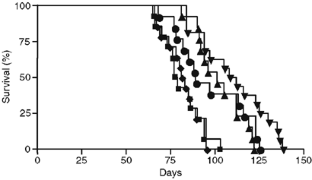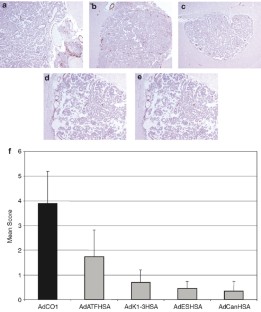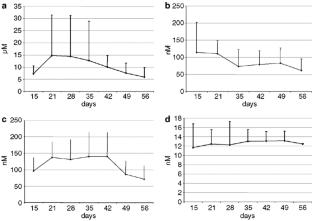 References
Folkman J . Angiogenesis in cancer, vascular, rheumatoid and other disease. Nat Med 1995; 1: 27–31.

Hanahan D, Folkman J . Patterns and emerging mechanisms of the angiogenic switch during tumorigenesis. Cell 1996; 86: 353–364.

Holash J, Maisonpierre P, Compton D, Boland P, Alexander CR, Zagzag D et al. Vessel cooption, regression, and growth in tumors mediated by angiopoietins and VEGF. Science 1999; 284: 1994–1998.

Zagzag D, Amirnovin R, Greco MA, Yee H, Holash, Wiegand SJ et al. Vascular apoptosis and involutionin gliomas precede neovascularisation: a novel concept for glioma growth and angiogenesis. Lab Invest 2000; 80: 837–849.

O'Reilly MS, Boehm T, Shin Y, Fukai N, Vasios G, Lane WS et al. Endostatin: an endogenous inhibitor of angiogenesis and tumor growth. Cell 1997; 88: 277–285.

Kamphaus GD, Colorado PC, Panka DJ, Hopfer H, Ramchandran R, Torre A et al. Canstatin, a novel matrix-derived inhibitor of angiogenesis and tumor growth. J Biol Chem 2000; 275: 1209–1215.

O'Reilly MS, Holmgren L, Shing Y, Fukai N, Vasios G, Lane WS et al. Angiostatin: a novel angiogenesis inhibitor that mediates the suppression of metastases by a Lewis lung carcinoma. Cell 1994; 79: 315–328.

O'Reilly MS, Holmgren L, Chen C, Folkman J . Angiostatin induces and sustains dormancy of human primary tumors in mice. Nat Med 1996; 2: 689–692.

Griscelli F, Li H, Bennaceur-Gricelli A, Soria J, Opolon P, Soria C et al. Angiostatin gene transfer: inhibition of tumor growth in vivo by blockage of endothelial cell proliferation associated with a mitosis arrest. Proc Natl Acad Sci USA 1998; 95: 6367–6372.

Bouquet C, Frau E, Opolon P, Connault E, Abitbol M, Griscelli F et al. Systemic administration of a recombinant adenovirus encoding a HSA-angiostatin kringle 1–3 conjugate inhibits MDA-MB-231 tumor growth and metastasis in transgenic model of spontaneous eye cancer. Mol Ther 2003; 7: 174–183.

Sauter BV, Martinet O, Zhang WJ, Mandeli J, Woo SL . Adenovirus-mediated gene trasnfer of endostatin in vivo results in high level of transgene expression and inhibition of tumor growth and metastases. PNAS 2000; 97: 4802–4807.

Kobayashi H, Gotoh J, Hirashima Y, Fujie M, Sugino D, Terao T . Inhibitory effect of a conjugate between human urokinase and urinary trypsin inhibitor on tumor cell invasion in vitro. J Biol Chem 1995; 270: 8361–8366.

Li H, Lu H, Griscelli F, Opolon P, Sun LQ, Ragot T et al. Adenovirus-mediated delivery of a uPA/uPAR antagonist suppresses angiogenesis-dependant tumor growth and dissemination. Gene Ther 1998; 5: 1105–1113.

Li H, Griscelli F, Lindenmeyer F, Opolon P, Sun LQ, Connault E et al. Systemic delivery of antiangiogenic adenovirus AdmATF induces liver resistance to metastasis and prolongs survival of mice. Human Gene Ther 1999; 10: 3045–3053.

Apparailly F, Bouquet C, Millet V, Noel D, Jacquet C, Opolon P et al. Adenovirus-mediated gene tranfer of urokinase plasminogen inhibitor inhibits angiogenesis in experimental arthritis. Gene Therapy 2002; 2002: 192–200.

Chen QR, Kumar D, Stass SA, Mixon AJ . Liposomes complexed to plasmids encoding angiostatin and endostatin inhibit breast cancer in nude mice. Cancer Res 1999; 59: 3308–3312.

Kuo CJ, Farnebo F, Yu EI, Christofferson R, Swearingen RA, Carter R et al. Comparative evaluation of the antitumor activity of antiangiogenic proteins delivered by gene transfer. Proc Natl Acad Sci 2001; 98: 4605–4610.

Penna D, Schmidt A, Beerman F . Tumors of the retinal pigment epithelium metastasise to inguinal lymph nodes and spleen in tyrosinase-related protein 1/SV40T antigen transgenic mice. Oncogene 1998; 17: 2601–2607.

Magnon C, Galaup A, Mullan B, Rouffiac V, Bouquet C, Bidart J-M et al. Canstatin acts on endothelial and tumor cells via mitochondrial damage initiated through interaction with alpha beta 3 and alpha beta 5 integrins. Cancer Res 2005; 65: 4353–4361.

Folberg R, Pe'er J, Gruman LM, Woolson RF, Jeng G, Montague PR et al. The morphologic characteristics of tumor blood vessels as a marker of tumor progression in primary uveal melanoma: a matched case–control study. Hum Pathol 1992; 23: 1298–1305.

Folberg R, Rummelt V, Parys-Van ginderdeuren R, Hwang T, Woolson RF, Pe'er J et al. The pronostic value of tumor blood vessel morphology in primary uveal melanoma. Ophthalmology 1993; 100: 1389–1398.

Folberg R, Mehaffey M, Gardner LM, Meyer M, Rummelt V, Pe'er J . The microcirculation of choroidal and ciliary body melanomas. Eye 1997; 11: 227–238.

Rummelt V, Folberg R, Rummelt C, Gruman LM, Hwang T, Woolson RF et al. Microcirculation architecture of melanocytic naevi and malignant melanoma of the ciliary body and choroid:A comparative histopathologic and ultrastructural study. Ophthalmology 1994; 101: 718–727.

Rummelt V, Folberg R, Woolson RF, Hwang T, Pe'er J . Relation between the microcirculation architecture and the aggressive behavior of ciliary body melanomas. Ophthalmology 1995; 102: 844–851.

Apte RS, Niederkorn JY, Mayhew E, Alizadeh H . Angiostatin produced by certain primary uveal melanoma cell lines impedes the development of liver metastases. 2001; 119: 1805–1809.

Mueller AJ, Freeman WR, Schaller UC, Kampik A, Folberg R . Complex microcirculation patterns detected by confocal indocyanine green angiography predict time to growth of small choridal melanocytic tumors: MuSIC Report II. Ophthalmology 2002; 109: 22204–22214.

Blezinger P, Wang J, Gondo M, Quesada A, Mehrens D, French M et al. Sytemic inhibition of tumor growth and tumor metastases by intramuscular administration of endostatin gene. Nat Biotechnol 1999; 17: 343–348.

Chen CT, Lin J, Li Q, Phipps SS, Jacubczak JL, Stewart DA et al. Antiangiogenic gene therapy for cancer via systemic administration of adenoviral vectors expressing secretable endostatin. Hum Gene Ther 2000; 11: 1983–1996.

Libutti SK . Antiangiogenic gene therapy of cancer utilizing a recombinant adenovirus to elevate systemic endostatin levels in mice. Cancer Res 2000; 60: 1503–1506.

Dkhissi F, Lu H, Soria C, Opolon P, Griscelli F, Liu H et al. Endostatin exhibits a direct antitumor effect in addition to its antiangiogenic activity in colon cancer cells. Hum Gene Ther 2003; 14: 997–1008.

MacDonald NJ, Murad AC, Fogler WE, Lu Y, Sim BK . The tumor suppressing activity of angiostatin protein resides within kringles 1 to 3. Biochem Biophys Res Commun 1999; 264: 469–477.

De Boüard S, Guillamo JS, Christov C, Lefevre N, Brugieres P, Gola E et al. Antiangiogenic therapy against experimental glioblastoma using genetically engineered cells producing interferon-alpha, angiostatin, or endostatin. Hum Gene Ther 2003; 14: 883–895.

Murphy SF, Mahl CF, Bloom SM . Choroidal melanoma. Optomet Clin 1993; 3: 63–77.

Egan K, Seddon J, Glynn R, Gragoudas ES, Albert DM . Epidemiologic aspect of uveal melanoma. Surv Ophthalmol 1988; 32: 239–251.

Vidal JL, Bacin F, Albuisson E, Rozan R, Desjardins L, D'Hermies F et al. 'Melanome 92' Etude épidémiologique des mélanomes uvéaux en France. J Fr Ophtalmol 1995; 18: 520–528.

Diener-West M, Hawkins BS, Markowitz JA, Schatchat AP . A review of mortality from choroidal melanoma. II. A meta-analysis of 5-years mortality rates following enucleation, 1966 through 1988. Arch Ophthalmol 1992; 110: 245–250.

Crouzet J, Naudin L, Orsini C, Vigne E, Ferrero L, Le Roux A et al. Recombinational construction in E. coli of infectious adenoviral genomes. Proc Natl Acad Sci 1997; 94: 1414–1419.

Mullan B, Dugué C, Moutard V, Raoux D, Tremp G, Denefle P et al. Towards robust functional gene validation by adenoviral vectors: One Step E-coli-derived Recombinant Adenoviral Genome Construction. Gene Ther 2004; 11: 1599–1605.

Weidner N, Folkman J, Pozza F, Bevilacqua P, Allred EN, Moore DH et al. Tumor anglogenesis: a new significant and independent prognostic indicator in early-stage breast carcinoma. J NaH Cancer Inst 1992; 84: 1875–1887.
Acknowledgements
We are very grateful to all the staff (in particular C Chianale and P Ardouin) in the animal facilities at the Institut Gustave Roussy for their help during the in vivo experiments. We thank Faroudy Boufassa (INSERM CHU de Bicêtre) for his help in statistical analysis. We also thank L St Ange for editing. La Ligue National Contre le Cancer, l'Association pour la Recherche Contre le Cancer (ARC), and le Centre National de la Recherche scientifique (CNRS) are acknowledged for financial support.
About this article
Cite this article
Frau, E., Magnon, C., Opolon, P. et al. A gene transfer comparative study of HSA-conjugated antiangiogenic factors in a transgenic mouse model of metastatic ocular cancer. Cancer Gene Ther 14, 251–261 (2007). https://doi.org/10.1038/sj.cgt.7701005
Received:

Accepted:

Published:

Issue Date:

DOI: https://doi.org/10.1038/sj.cgt.7701005
Keywords
antiangiogenic factors

HSA conjugates

metastasis

transgenic mice