Abstract
The development of methods for efficient and specific delivery of therapeutic genes into target tissues is an important issue for further development of in vivo gene therapy. In the present study, the physical targeting technique, photochemical internalization (PCI), has been used together with adenovirus. The combination of PCI and adenoviral transduction has previously been shown to be favorable compared to adenovirus used alone, and the aim of this study was to verify the role of the adenoviral receptors and identify the uptake pathway used by adenoviral particles in photochemically treated cells. All examined cell lines showed augmented transduction efficiency after PCI-treatment, with a maximum of 13-fold increase in transgene expression compared to conventionally infected cells. Blocking of CAR induced a complete inhibition of PCI-enhanced transgene expression. However, photochemical treatment managed to enhance the transduction efficiency of the retargeted virus AdRGD-GFP showing also that the virus-CAR interaction is not vital for obtaining a photochemical effect on adenoviral transduction. Blocking the αV-integrins reduced the gene expression significantly in photochemically treated cells. Subjecting HeLa cells expressing negative mutant-dynamin to light treatment after infection gave no significant increase in gene transfer, while the gene transfer were enhanced seven-fold in cells with wild-type dynamin. Furthermore, chlorpromazine inhibited photochemical transduction in a dose-dependent manner, whereas Filipin III had no effect on the gene transfer. In summary, the data presented imply that adenoviral receptor binding is important and clathrin-mediated endocytosis is the predominant uptake mechanism for adenoviral particles in photochemically treated cells.
Relevant articles
Open Access articles citing this article.
Marjan M. Fretz

,

Anders Høgset

…

Gert Storm

Pharmaceutical Research Open Access 31 May 2007
Access options
Subscribe to this journal
Receive 12 print issues and online access
$259.00 per year
only $21.58 per issue
Rent or buy this article
Prices vary by article type
from$1.95
to$39.95
Prices may be subject to local taxes which are calculated during checkout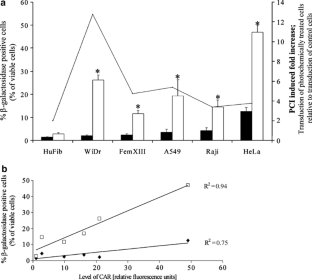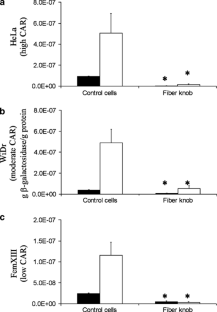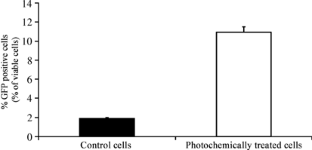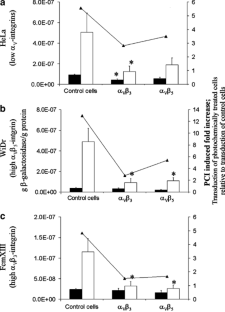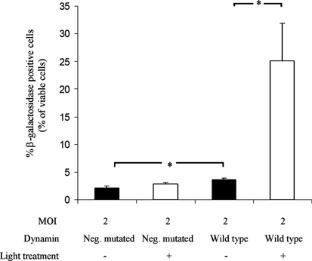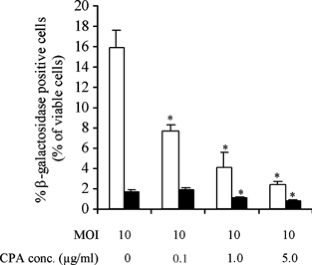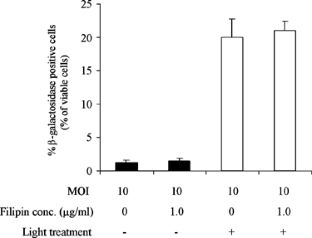 References
Berg K, Selbo PK, Prasmickaite L, et al. Photochemical internalization: a novel technology for delivery of macromolecules into cytosol. Cancer Res. 1999;59:1180–1183.

Berg K, Bommer JC, Winkelman JW, Moan J . Cellular uptake and relative efficiency in cell inactivation by photoactivated sulfonated meso-tetraphenylporphines. Photochem Photobiol. 1990;52:775–781.

Berg K, Western A, Bommer JC, Moan J . Intracellular localization of sulfonated meso-tetraphenylporphines in a human carcinoma cell line. Photochem Photobiol. 1990;52:481–487.

Hogset A, Prasmickaite L, Tjelle TE, Berg K . Photochemical transfection: a new technology for light-induced, site-directed gene delivery. Hum Gene Ther. 2000;11:869–880.

Hogset A, Ovstebo Engesaeter B, Prasmickaite L, et al. Light-induced adenovirus gene transfer, an efficient and specific gene delivery technology for cancer gene therapy. Cancer Gene Ther. 2002;9:365–371.

Liu Q, Muruve DA . Molecular basis of the inflammatory response to adenovirus vectors. Gene Therapy. 2003;10:935–940.

Zaiss AK, Liu Q, Bowen GP, et al. Differential activation of innate immune responses by adenovirus and adeno-associated virus vectors. J Virol. 2002;76:4580–4590.

Zhang M, Li S, Li J, et al. Ionizing radiation increases adenovirus uptake and improves transgene expression in intrahepatic colon cancer xenografts. Mol Ther. 2003;8:21–28.

Wickham TJ, Mathias P, Cheresh DA, Nemerow GR . Integrins alpha v beta 3 and alpha v beta 5 promote adenovirus internalization but not virus attachment. Cell. 1993;73:309–319.

Bergelson JM . Receptors mediating adenovirus attachment and internalization. Biochem Pharmacol. 1999;57:975–979.

Greber UF, Willetts M, Webster P, Helenius A . Stepwise dismantling of adenovirus 2 during entry into cells. Cell. 1993;75:477–486.

Wang K, Huang S, Kapoor-Munshi A, Nemerow G . Adenovirus internalization and infection require dynamin. J Virol. 1998;72:3455–3458.

Bergelson JM, Cunningham JA, Droguett G, et al. Isolation of a common receptor for Coxsackie B viruses and adenoviruses 2 and 5. Science. 1997;275:1320–1323.

Leopold PL, Ferris B, Grinberg I, et al. Fluorescent virions: dynamic tracking of the pathway of adenoviral gene transfer vectors in living cells. Hum Gene Ther. 1998;9:367–378.

Tveit KM, Fodstad O, Olsnes S, Pihl A . In vitro sensitivity of human melanoma xenografts to cytotoxic drugs. Correlation with in vivo chemosensitivity. Int J Cancer. 1980;26:717–722.

Dmitriev I, Krasnykh V, Miller CR, et al. An adenovirus vector with genetically modified fibers demonstrates expanded tropism via utilization of a coxsackievirus and adenovirus receptor-independent cell entry mechanism. J Virol. 1998;72:9706–9713.

Hitt M, Bett AJ, Addison CL, et al. Techniques for human adenovirus vector construction and characterization. In: Adolph KW, ed. Methods in Molecular Genetics. New York: Academic Press; 1995: 13–30.

Davison E, Kirby I, Whitehouse J, et al. Adenovirus type 5 uptake by lung adenocarcinoma cells in culture correlates with Ad5 fibre binding is mediated by alpha(v)beta1 integrin and can be modulated by changes in beta1 integrin function. J Gene Med. 2001;3:550–559.

Fechner H, Wang X, Wang H, et al. Trans-complementation of vector replication versus Coxsackie-adenovirus-receptor overexpression to improve transgene expression in poorly permissive cancer cells. Gene Therapy. 2000;7:1954–1968.

Kawashima H, Ogose A, Yoshizawa T, et al. Expression of the coxsackievirus and adenovirus receptor in musculoskeletal tumors and mesenchymal tissues: efficacy of adenoviral gene therapy for osteosarcoma. Cancer Sci. 2003;94:70–75.

Davison E, Diaz RM, Hart IR, et al. Integrin alpha5beta1-mediated adenovirus infection is enhanced by the integrin-activating antibody TS2/16. J Virol. 1997;71:6204–6207.

Li Y, Pong RC, Bergelson JM, et al. Loss of adenoviral receptor expression in human bladder cancer cells: a potential impact on the efficacy of gene therapy. Cancer Res. 1999;59:325–330.

Wickham TJ, Filardo EJ, Cheresh DA, Nemerow GR . Integrin alpha v beta 5 selectively promotes adenovirus mediated cell membrane permeabilization. J Cell Biol. 1994;127:257–264.

Li E, Brown SL, Stupack DG, et al. Integrin alpha(v)beta1 is an adenovirus coreceptor. J Virol. 2001;75:5405–5409.

Vieira AV, Lamaze C, Schmid SL . Control of EGF receptor signaling by clathrin-mediated endocytosis. Science. 1996;274:2086–2089.

Gossen M, Bujard H . Tight control of gene expression in mammalian cells by tetracycline-responsive promoters. Proc Natl Acad Sci USA. 1992;89:5547–5551.

Oh P, McIntosh DP, Schnitzer JE . Dynamin at the neck of caveolae mediates their budding to form transport vesicles by GTP-driven fission from the plasma membrane of endothelium. J Cell Biol. 1998;141:101–114.

Damke H, Baba T, Warnock DE, Schmid SL . Induction of mutant dynamin specifically blocks endocytic coated vesicle formation. J Cell Biol. 1994;127:915–934.

Wang LH, Rothberg KG, Anderson RG . Mis-assembly of clathrin lattices on endosomes reveals a regulatory switch for coated pit formation. J Cell Biol. 1993;123:1107–1117.

Schnitzer JE, Oh P, Pinney E, Allard J . Filipin-sensitive caveolae-mediated transport in endothelium: reduced transcytosis, scavenger endocytosis, and capillary permeability of select macromolecules. J Cell Biol. 1994;127:1217–1232.

Rothenberger S, Iacopetta BJ, Kuhn LC . Endocytosis of the transferrin receptor requires the cytoplasmic domain but not its phosphorylation site. Cell. 1987;49:423–431.

Skretting G, Torgersen ML, van Deurs B, Sandvig K . Endocytic mechanisms responsible for uptake of GPI-linked diphtheria toxin receptor. J Cell Sci. 1999;112 (Part 22):3899–3909.

Day III RS, Dimattina M . Photodynamic action of chlorpromazine on adenovirus 5:repairable damage and single strand breaks. Chem Biol Interact. 1977;17:89–97.

Hirai H, Natori S, Sekimizu K . Inhibitory action of phospholipid-interacting drugs on transcription initiation in a nuclear extract of Ehrlich ascites tumor cells. Biochim Biophys Acta. 1991;1088:191–196.

Chroboczek J, Ruigrok RW, Cusack S . Adenovirus fiber. Curr Top Microbiol Immunol. 1995;199:163–200.

Ebbinghaus C, Al-Jaibaji A, Operschall E, et al. Functional and selective targeting of adenovirus to high-affinity Fcgamma receptor I-positive cells by using a bispecific hybrid adapter. J Virol. 2001;75:480–489.

Bonsted A, Engesaeter B, Hogset A, et al. Transgene expression is increased by photochemically mediated transduction of polycation-complexed adenoviruses. Gene Therapy. 2004;11:152–160.

Gruenberg J . The endocytic pathway: a mosaic of domains. Nat Rev Mol Cell Biol. 2001;2:721–730.

Li E, Stupack D, Klemke R, et al. Adenovirus endocytosis via alpha(v) integrins requires phosphoinositide-3-OH kinase. J Virol. 1998;72:2055–2061.

Meier O, Boucke K, Hammer SV, et al. Adenovirus triggers macropinocytosis and endosomal leakage together with its clathrin-mediated uptake. J Cell Biol. 2002;158:1119–1131.

Suomalainen M, Nakano MY, Keller S, et al. Microtubule-dependent plus- and minus end-directed motilities are competing processes for nuclear targeting of adenovirus. J Cell Biol. 1999;144:657–672.

Imelli N, Meier O, Boucke K, et al. Cholesterol is required for endocytosis and endosomal escape of adenovirus type 2. J Virol. 2004;78:3089–3098.

Selbo P, Sivam G, Fodstad O, et al. In vivo documentation of photochemical internalization, a novel approach to site specific cancer therapy. Int J Cancer. 2001;92:761–766.
Acknowledgements
We are grateful to Frank L Graham (McMaster University, Canada) for providing the AdhCMV-lacZ, to Jeffery M Bergelson (Children's Hospital of Philadelphia, USA) for giving us the monoclonal antibody against CAR (RmcB) and to Ian Kirby (Kings College, UK) for supplying recombinant Ad5 fiber-knob. This work was supported by The Norwegian Radium Hospital, The Norwegian Cancer Society and the Gene Therapy Funding from the Norwegian Ministry of Health.
About this article
Cite this article
Engesæter, B., Bonsted, A., Berg, K. et al. PCI-enhanced adenoviral transduction employs the known uptake mechanism of adenoviral particles. Cancer Gene Ther 12, 439–448 (2005). https://doi.org/10.1038/sj.cgt.7700808
Received:

Published:

Issue Date:

DOI: https://doi.org/10.1038/sj.cgt.7700808
Keywords
This article is cited by
Marjan M. Fretz
Anders Høgset
Gert Storm

Pharmaceutical Research (2007)