Abstract
We have developed multicellular spheroids (MCS) established from LM05e and LM3 spontaneous Balb/c-murine mammary adenocarcinoma and B16 C57-murine melanoma derived cell lines as an in vitro model to study the efficacy of the herpes simplex virus thymidine kinase/ganciclovir (HSVtk/GCV) suicide system. We demonstrated for the first time that HSVtk-expressing cells assembled as MCS manifested a GCV resistance phenotype compared to the same cells grown as sparse monolayers. HSVtk-expressing LM05e, LM3 and B16 spheroids were 16-, three- and nine-fold less sensitive to GCV than their respective monolayers, even though they could express transgenes 10-, eight- and five-fold more efficiently. Mixed populations of HSVtk− and their respective βgal-expressing cells displayed a cell-type specific bystander effect that was higher in monolayers than in MCS. However, HSVtk−expressing cells in two- or three-dimensional cultures were always significantly more sensitive to GCV than the βgal-expressing counterparts, supporting the feasibility of this suicide approach in vivo. We present evidence showing that HSVtk-expressing tumor cells, when transferred from monolayers to MCS, displayed: (i) lower GCV cytotoxic activity and bystander effect; (ii) higher and efficient expression of genes transferred as lipoplexes; (iii) lower cell proliferation rates; and (iv) changes in intracellular Bax/Bcl-xL rheostat of mitochondria-mediated apoptosis.
Access options
Subscribe to this journal
Receive 12 print issues and online access
$259.00 per year
only $21.58 per issue
Rent or buy this article
Get just this article for as long as you need it
$39.95
Prices may be subject to local taxes which are calculated during checkout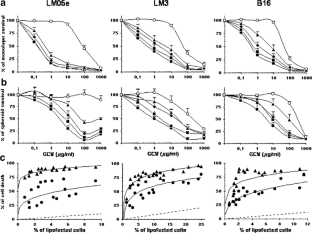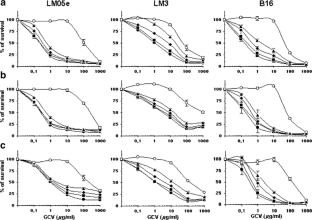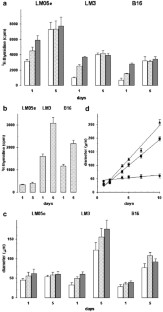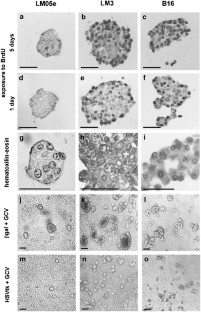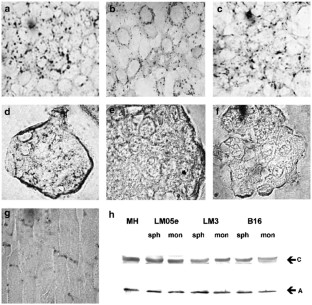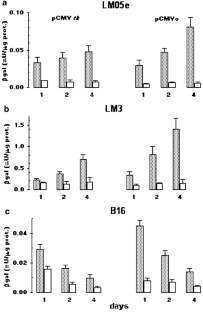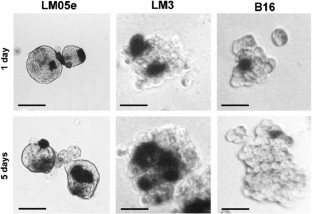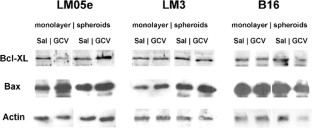 References
Niculescu-Duvaz I, Cooper RG, Stribbling SM, et al. Recent developments in gene-directed enzyme prodrug therapy (GDEPT) for cancer. Curr Opin Mol Ther. 1999;1:480–486.

Aghi M, Hochberg F, Breakefield XO . Prodrug activation enzymes in cancer gene therapy. J Gene Med. 2000;2:148–164.

Moolten FL . Tumor chemosensitivity conferred by inserted herpes thymidine kinase genes: paradigm for a prospective cancer strategy. Cancer Res. 1986;46:5276–5281.

Tomicic MT, Thust R, Kaina B . Ganciclovir-induced apoptosis in HSV-1 thymidine kinase expressing cells: critical role of DNA breaks, Bcl-2 decline and caspase-9 activation. Oncogene. 2002;21:2141–2153.

Pope IM, Poston GJ, Kinsella AR . The role of the bystander effect in suicide gene therapy. Eur J Cancer. 1997;33:1005–1016.

Freeman SM, Abboud CN, Whartenby KA, et al. The 'bystander effect': tumor regression when a fraction of the tumor mass is genetically modified. Cancer Res. 1993;53:5274–5283.

Sutherland RM . Cell and environment interactions in tumor microregions: the multicell spheroid model. Science. 1998;240:177–184.

Santini MT, Rainaldi G . Three-dimensional spheroid model in tumor biology. Pathobiology. 1999;67:148–157.

Mueller-Klieser W . Three-dimensional cell cultures: from molecular mechanisms to clinical applications. Am J Physiol. 1997;273:C1109–C1123.

Aguirre Ghiso JA, Farias EF, Alonso DF, et al. A phospholipase D and protein kinase C inhibitor blocks the spreading of murine mammary adenocarcinoma cells altering f-actin and beta1-integrin point contact distribution. Int J Cancer. 1997;71:881–890.

Karara AL, Bumaschny VF, Fiszman GL, et al. Lipofection of early passages of cell cultures derived from murine adenocarcinomas: in vitro and ex vivo testing of the thymidine kinase/ganciclovir system. Cancer Gene Ther. 2001;8:96–99.

Urtreger AJ, Diament MJ, Ranuncolo SM, et al. New murine cell line derived from a spontaneous lung tumor induces paraneoplastic syndromes. Int J Oncol. 2001;18:639–647.

Frankel A, Buckman R, Kerbel RS . Abrogation of Taxol-induced G2–M arrest and apoptosis in human ovarian cancer cells grown as multicellular tumor spheroids. Cancer Res. 1997;57:2388–2393.

Klunder I, Hulser DF . Beta-galactosidase activity in transfected Ltk− cells is differentially regulated in monolayer and in spheroid cultures. Exp Cell Res. 1993;207:155–162.

Kobayashi H, Man S, Kapitain SJ, et al. Acquired multicellular-mediated resistance to alkylating agents in cancer. Proc Nat Acad Sci USA. 1993;90:3294–3298.

MacGregor GR, Caskey T . Construction of plasmids that express E. coli β-galactosidase in mammalian cells. Nucleic Acids Res. 1989;17:2365.

Felgner JH, Kumar R, Sridhar CN, et al. Enhanced gene delivery and mechanism studies with a novel series of cationic lipid formulations. J Biol Chem. 1994;269:2550–2561.

Teifel M, Friedl P . New lipid mixture for efficient lipid-mediated transfection of BHK cells. Biotechniques. 1995;19:79–82.

Finocchiaro LME, Glikin GC . Intracellular melatonin distribution in cultured cell lines. J Pineal Res. 1998;24:22–34.

Dolbeare F, Gray JW . Use of restriction endonucleases and exonuclease III to expose halogenated pyrimidines for immunochemical staining. Cytometry. 1988;9:631–635.

Bradford MM . A rapid and sensitive method for the quantitation of microgram quantities of protein utilizing the principle of protein-dye binding. Anal Biochem. 1976;72:248–254.

Yang L, Chiang Y, Lenz HJ, et al. Intercellular communication mediates the bystander effect during herpes simplex thymidine kinase/ganciclovir-based gene therapy of human gastrointestinal tumor cells. Hum Gene Ther. 1998;9:719–728.

Hulser DF . Intercellular communication in three-dimensional culture. In: Bjerkvig R, ed Spheroid Culture in Cancer Research. Boca Raton, FL: CRC Press; 1992: 172–196.

Ballangrud AM, Yang WH, Dnistrian A, et al. Growth and characterization of LNCaP prostate cancer cell spheroids. Clin Cancer Res. 1999;5:3171s–3176s.

Elion GB, Furman PA, Fyfe JA, et al. Selectivity of action of an antiherpetic agent 9-(2-hydroxyethoxymethyl) guanine. Proc Natl Acad Sci USA. 1977;74:5716–5720.

Elion GB . The chemotherapeutic exploitation of virus-specified enzymes. Adv Enzyme Regul. 1980;18:53–60.

Touraine RL, Ishii-Morita H, Ramsey WJ, Blaese RM . The bystander effect in the HSVtk/ganciclovir system and its relationship to gap junctional communication. Gene Therapy. 1998;5:1705–1711.

Namba H, Iwadate Y, Kawamura K, et al. Efficacy of the bystander effect in the herpes simplex virus thymidine kinase-mediated gene therapy is influenced by the expression of connexin43 in the target cells. Cancer Gene Ther. 2001;8:414–420.

King TJ, Fukushima LH, Hieber AD, et al. Reduced levels of connexin43 in cervical dysplasia: inducible expression in a cervical carcinoma cell line decreases neoplastic potential with implications for tumor progression. Carcinogenesis. 2000;6:1097–1109.

Cirenei N, Colombo BM, Mesnil M, et al. In vitro and in vivo effects of retrovirus-mediated transfer of the connexin 43 gene in malignant gliomas: consequences for HSVtk/GCV anticancer gene therapy. Gene Therapy. 1998;5:1221–1226.

Knuechel R, Siebert-Wellnhofer A, Traub O, et al. Connexin expression and intercellular communication in two- and three-dimensional in vitro cultures of human bladder carcinoma. Am J Pathol. 1996;149:1321–1332.

Craperi D, Vicat JM, Nissou MF, et al. Increased bax expression is associated with cell death induced by ganciclovir in a herpes thymidine kinase gene-expressing glioma cell line. Hum Gene Ther. 1999;10:679–688.

Beltinger C, Fulda S, Kammertoens T, et al. Mitochondrial amplification of death signals determines thymidine kinase/ganciclovir-triggered activation of apoptosis. Cancer Res. 2000;60:3212–3217.

Herdener M, Heigold S, Saran M, Bauer G . Target cell-derived superoxide anions cause efficiency and selectivity of intercellular induction of apoptosis. Free Radic Biol Med. 2000;29:1260–1271.

Bi WL, Parysek LM, Warnick R, Stambrook PJ . In vitro evidence that metabolic co-operation is responsible for the bystander effect observed with HSVtk retroviral gene therapy. Hum Gene Ther. 1993;4:725–731.

Kolchinsky A, Roninson IB . Drug resistance conferred by MDR-1 expression in spheroids formed by glioblastoma cell lines. Anticancer Res. 1997;17:3321–3328.

Jacobson MD, Raff MC . Programmed cell death and bcl-2 protection by very low oxygen. Nature. 1995;374:814–816.

Luo C, MacPhail SH, Dougherty GJ, et al. Radiation response of connexin 43-transfected cells in relation to the 'contact effect'. Exp Cell Res. 1997;234:225–232.

Wygoda MR, Wilson MR, Davis MA, et al. Protection of the herpes simplex virus thymidine kinase-transduced cells from ganciclovir-mediated cytotoxicity by bystander cells: the Good Samaritan effect. Cancer Res. 1997;57:1699–1703.

Andrade-Rozental AF, Rozental R, Hopperstad MG, et al. Gap junctions: the 'kiss of death' and the 'kiss of life'. Brain Res Rev. 2000;32:308–315.
Acknowledgements
We thank Gabriela Sobrido and Ana Bihary for technical assistance, Fernanda Roca for histological preparations, and Dr S Klein and Dr M Diament for mice adenocarcinomas. This work was partially supported by a grant from FONCYT: BID802/OC-AR — PICT 05-00037-00709, CABBIO and a grant from BioSidus SA. LMEF, ALK and GCG are members of the Consejo Nacional de Investigaciones Científicas y Técnicas (CONICET, Argentina). VFB and CCC are fellows of CONICET and GLF is a fellow of BioSidus SA.
About this article
Cite this article
Finocchiaro, L., Bumaschny, V., Karara, A. et al. Herpes simplex virus thymidine kinase/ganciclovir system in multicellular tumor spheroids. Cancer Gene Ther 11, 333–345 (2004). https://doi.org/10.1038/sj.cgt.7700682
Received:

Published:

Issue Date:

DOI: https://doi.org/10.1038/sj.cgt.7700682
Keywords
suicide gene therapy

lipofection

murine adenocarcinoma