Abstract
Dioxins are known to affect infant growth and neurodevelopment in both humans and animals. In this study, we examined the relationship between neonatal head circumference, which is related to fetal brain development, and the concentration of dioxins in breast milk as an indicator of maternal exposure. A total of 42 milk samples were obtained on the fifth to eighth postpartum day from mothers in Japan exposed to dioxins in the environment. The levels of seven dioxins and 10 furan isomers were measured in each milk sample using an HR-GC/MS system. The relationships between the concentration of each dioxin isomer and newborn size, including head circumference, were then investigated after adjustment for confounding factors. The concentration of 2,3,7,8-tetrachlorodibenzo-p-dioxin (TCDD), the most toxic dioxin isomer, negatively correlated with newborn head circumference, even after adjustment for gestational age, infant sex, parity and other confounding factors. However, there were no significant relationships between the concentration of other dioxin and furan isomers in maternal breast milk and infant height, weight and chest circumference at birth. These facts suggested that fetal brain development might be influenced by maternal exposure to TCDD in the environment.
Access options
Subscribe to this journal
Receive 6 print issues and online access
$259.00 per year
only $43.17 per issue
Rent or buy this article
Get just this article for as long as you need it
$39.95
Prices may be subject to local taxes which are calculated during checkout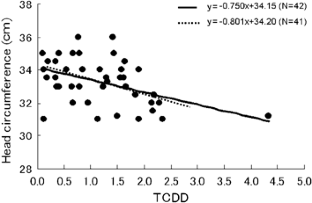 References
Bjerke D.J., and Peterson R.E. Reproductive toxicity of 2,3,7,8-tetrachlorodibenzo-p-dioxin in male rats: different effects of in utero versus lactational exposure. Toxicol Appl Pharmacol 1994: 127: 241–249.

Chen Y.J., Guo Y.L., and Hsu C. Cognitive development of children prenatally exposed to polychlorinated biphenyls (Yu-Cheng children) and their siblings. J Formos Med Assoc 1992: 91: 704–707.

Fein G.G., Jacobson J.L., Jacobson S.W., Schwartz P.M., and Dowler J.K. Prenatal exposure to polychlorinated biphenyls: effects on birth size and gestational age. J Pediatr 1984: 105: 315–320.

Huisman M., Koopman-Esseboom C., Lanting C.I., vad der Paauw C.G., Weisglas-Kuperus N., and Sauer P.J.J., et al. Neurological condition in 18-moth-old children perinatally exposed to polychlorinated biphenyls and dioxins. Early Hum Dev 1995: 43: 165–176.

Lagiou P., Mucci L., Tamimi R., Kuper H., Lagiou A., and Hsieh C.C., et al. Micronutrient intake during pregnancy in relation to birth size. Eur J Nutr 2005: 44: 52–59.

Lindley A.A., Becker S., Gray R.H., and Herman A.A. Effects of continuing or stopping smoking during pregnancy on infant birth weight, crown–heel length, head circumference, ponderal index, and brain:body weight ratio. Am J Epidemiol 2000: 152: 219–225.

Mably T.A., Moore R.W., and Peterson R.E. In utero and lactational exposure of male rats to 2,3,7,8-tetrachlorodibenzo-p-dioxin. 1. Androgenic status. Toxicol Appl Pharmacol 1992: 114: 97–107.

Markowski V.P., Cox C., Preston R., and Weiss B. Impaired cued delayed alternation behavior in adult rat offspring following exposure to 2,3,7,8-tetrachlorodibenzo-p-dioxin on gestation day 15. Neurotoxicol Teratol 2002: 24: 209–218.

McLennan J.E., Gilles F.H., and Neff R.K. A model of growth of the human fetal brain. In: Gilles F.H., Leviton A, and Dooling E.C. (Eds.). The Developing Human Brain: Growth and Epidemiologic Neuropathy. John Wright PSG Inc: Boston, 1983, 43–58.

Ministry of Health, Labour and Welfare. 2001. Report of Infant Children Growth Surveillance in 2000, Tokyo, available online at http://www.mhlw.go.jp/houdou/0110/h1024-4.html.

Nakajima S., Saijo Y., Kato S., Sasaki S., and Uno A., et al. Effects of prenatal exposure to polychlorinated biphenyls and dioxins on mental and motor development in Japanese children at 6 months of age. Environ Health Perspect 2006: 114: 773–778.

Nakatani T., Okazaki S., Ogaki S., Itano K., Fujita T., and Kuroda K., et al. Polychlorinated dibenzo-p-dioxin, polychlorinated dibenzofurans, and coplanar polychlorinated biphenyls in human milk in Osaka city, Japan. Arch Environ Contam Toxicol 2005: 49: 131–140.

Patandin S., Koopman-Esseboom C., De Ridder M.A.J., Weisglas-Kuperus N., and Sauer P.J.J. Effects of environmental exposure to polychlorinated biphenyls and dioxins on birth size and growth in Dutch children. Pediatric Res 1998: 44: 538–545.

Patandin S., Lanting C.I., Lanting C.I., Boersma E.R., Sauer P.J.J., and Weisglas-Kuperus N. Effects of environmental exposure to polychlorinated biphenyls and dioxins on cognitive abilities in Dutch children at 42 months of age. J Pediatr 1999: 134: 33–41.

Patterson Jr D.G., Holler J.S., Belser E., Booser E.L., Lapeza C.R., and Needham L.L. Determination of 2,3,7,8-tetrachlorodibenzo-p-dioxin (TCDD) in human adipose tissue on whole-weight and lipid bases. Chemosphere 1987: 16: 935–936.

Rogan W.J., Gladen B.C., Hung K.L., Koong S., Shin L., and Taylor J., et al. Congenital poisoning by polychlorinated biphenyls and their contaminations in Taiwan. Science 1988: 241: 334–336.

Rylander L., Stromberg U., and Hagmar L. Decreased birthweight among infants born to women with high dietary intake of fish contaminated with persistent organochlorine compounds. Scand J Work Environ Health 1995: 21: 368–375.

Seo B.W., Sparks A.J., Medra K., Amin S., and Schantz S.L. Learning and memory in rats gestationally and lactationally exposed to 2,3,7,8-tetrachlorodibenzo-p-dioxin (TCDD). Neurotoxicol Teratol 1999: 21: 231–239.

Szajewska K., Horvath A., and Koletzka B. Effect of n-3 long-chain polyunsaturated fatty acid supplementation of women with low-risk pregnancies on pregnancy outcomes and growth measures at birth: a meta-analysis of randomized controlled trials. Am J Clin Nutr 2006: 83: 1337–1344.

Tajimi M., Uehara R., Watanabe M., Oki T., Ojima Y., and Nakamura Y. Correlation coefficients between the dioxin levels in mother's milk and the distances to the nearest waste incinerators which was the largest source of dioxins from each mother's place of residence in Tokyo, Japan. Chemosphere 2005: 61: 1256–1262.

Tawara K., Honda R., Nishijo M., and Nakagawa H. Pretreatment procedure of dioxin analysis for a small volume of human breast milk. J Kanazawa Med Univ 2003: 28: 17–25 (in Japanese).

Uehara R., Peng G., Nakamura Y., Matsuura N., Kondo N., and Tada H. Human milk survey for dioxins in the general population in Japan. Chemosphere 2006: 62: 1135–1141.

Van den Berg M., Birnbaum L., Bosveld A.T.C., Brunstorm B., Cook P., and Feely M. Toxic equivalency factors (TEFs) for PCBs, PCDDs and PCDFs for human and wildlife. Environ Health Perspect 1998: 106: 775–792.

Van den Berg M., Birnbaum L.S., Denison M., De Vito M., Farland W., and Feely M., et al. The 2005 World Health Organization reevaluation on human and Mammalian toxic equivalency factors for dioxins and dioxin-like compounds. Toxicol Sci 2006: 93: 223–241.

Vreugdenhil H.J., Slijper M.E., Mulder P.G.H., and Weisglas-Kuperus N. Effects of perinatal exposure to PCBs and dioxins on play behavior in Dutch children at school age. Environ Health Perspect 2002: 110: A593–A598.
Acknowledgements
We thank the nursing and medical staff at Toyama University Hospital; Makiko Ebie, Mutumi Katsuo, Aki Ohta and Kyoko Tanebe. This work was supported by grant for Project Research from High-Technology Center of Kanazawa Medical University (H2000-4, H2005-9).
About this article
Cite this article
Nishijo, M., Tawara, K., Nakagawa, H. et al. 2,3,7,8-Tetrachlorodibenzo-p-dioxin in maternal breast milk and newborn head circumference. J Expo Sci Environ Epidemiol 18, 246–251 (2008). https://doi.org/10.1038/sj.jes.7500589
Received:

Accepted:

Published:

Issue Date:

DOI: https://doi.org/10.1038/sj.jes.7500589
Keywords
2,3,7,8-Tetrachlorodibenzo-p-dioxin

dioxins

breast milk

head circumference

newborn