Abstract
In 1991, Neas et al. reported that indoor nitrogen dioxide (NO2), a byproduct of high-temperature combustion, was significantly associated with lower respiratory symptoms among a cohort of 1159 white children aged 7–11 years in six US cities studied from 1983 to 1988. For each 15 p.p.b. increment of NO2, the multivariate adjusted odds ratio (OR) was 1.4 (95% confidence interval (CI)=[1.1, 1.7]). Although indoor NO2 concentration in the ambient air was assessed only in a subset of the children, the prevalence of lower respiratory symptoms and surrogate exposure variables were available in all of the children at the time of the indoor monitoring program. This paper evaluates the effect of indoor NO2 exposure on the annual risk of lower respiratory symptoms by applying a regression calibration method to the 2891 children in the overall study with complete covariate and outcome data, 1137 of whom had NO2 directly measured and 1754 of whom only surrogate exposure data were available. An estimate of the indoor annual NO2 exposure effect (p.p.b.) is obtained, which is adjusted for measurement error induced by the use of surrogate NO2 sources among the 1754. These sources include the presence of a gas stove with or without a pilot light, the presence of a kerosene space heater, the presence of a wood stove, and the usage of a stove for heating, and residential characteristics, including fan usage for kitchen ventilation and the total number of rooms in the home. After adjusting for age, gender, city, parental history of respiratory diseases, and smoking inside the children's home (packs/day), a 15-p.p.b. increment in NO2 exposure was found to be associated with a significant 50% increased annual risk of lower respiratory symptoms (OR=1.5, 95% CI=[1.2, 1.8]). Simulation results indicated that, under conditions similar to those observed in these data, the estimator is unbiased and has a coverage probability close to the nominal value. Using the methodology illustrated in this paper, it became possible to utilize all data available and obtain a 34% more precise estimate of the NO2 exposure effect on lower respiratory symptoms, which was adjusted for measurement error due to using NO2 surrogates instead of directly measured NO2.
Relevant articles
Open Access articles citing this article.
International Archives of Occupational and Environmental Health Open Access 22 February 2018

Kathie L. Dionisio

,

Howard H. Chang

&

Lisa K. Baxter

Environmental Health Open Access 25 November 2016
Access options
Subscribe to Journal
Get full journal access for 1 year
$119.00
only $19.83 per issue
All prices are NET prices.
VAT will be added later in the checkout.
Tax calculation will be finalised during checkout.
Buy article
Get time limited or full article access on ReadCube.
$32.00
All prices are NET prices.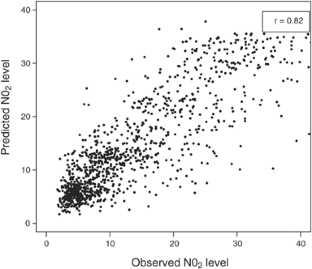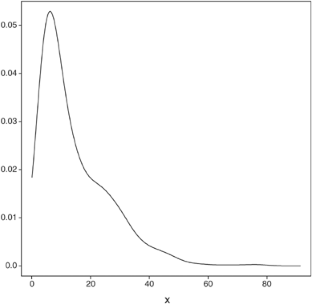 References
Dockery D.W., Spengler J.D., Neas L.M., Speizer F.E., Ferris Jr B.G ., Wave J.H ., and Brunekreef B. An epidemiologic study of respiratory health status and indicators of indoor air pollution from combustion sources. In: Harper J.P. (Ed.) Combustion Process and the Quality of the Indoor Environment. Niagra Falls. Air & Waste Management Association, Niagra Falls, NY, 1989, pp. 262–271.

Durrleman S., and Simon R. Flexible regression models with cubic splines. Statist Med 1989: 8: 551–561.

Neas L.M., Dockery D.W., Ware J.H., and Spengler J.D. Association of indoor nitrogen dioxide with respiratory symptoms and pulmonary function in children. Am J Epidemiol 1991: 134: 204–219.

Neas L.M., Douglas D.W., Ware J.H., Spengler J.D., Ferris Jr.B.G., and Speizer F.E. Concentration of indoor particulate matter as determinant of respiratory health in children. Am J Epidemiol 1994: 139: 1088–1099.

Rosner B., Spiegelman D., and Willett W.C. Correction of logistic regression relative risk estimates and confidence intervals for measurement error: the case of multiple covariates measured with error. Am J Epidemiol 1990: 132: 734–745.

Rosner B., Willet W.C., and Spiegelman D. Correction of logisitic relative risk estimates for non-random measurement error. Statist Med 1989: 8: 1051–1069.

Spiegelman D., Carroll R., and Kipnis V. Efficient regression calibration for logistic regression in main study/internal validation study designs with an imperfect reference instrument. Statist Med 2001: 10: 139–160.

Ware J.H., Dockery D.W., Spiro III A., Speizer F.E., and Ferris Jr B.G., Passive smoking, gas cooking, and respiratory health of children living in six cities. Am Rev Resp Dis 1984: 129: 366–374.

Weller E.A., Milton D.K., Eisen E., and Spiegelman D.L. Regression calibration for logistic regression with multiple surrogates for one exposure, 2005 (submitted for publication).
Acknowledgements
We thank the members of the Measurement Error Working Group at the Harvard School of Public Health. This research was supported by the following grants: NIEHS ES09411-03, NIOSH RO1 OH03489, NIEHS RO1 ES007036, and NIEHS 2P30ES00002. The research described in this article has been subjected to review by the US National Health and Environmental Effects Research Laboratory and approved for publication. Approval does not signify that the contents reflect the views of the Agency, nor does any mention of trade names or commercial products constitute endorsement or recommendation for use.
Appendix
Appendix
Here is the SAS code for the paper's analysis, including the simulation: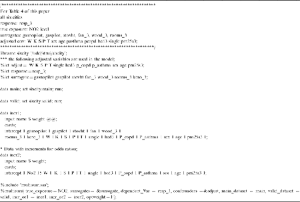 About this article
Cite this article
Li, R., Weller, E., Dockery, D. et al. Association of indoor nitrogen dioxide with respiratory symptoms in children: Application of measurement error correction techniques to utilize data from multiple surrogates. J Expo Sci Environ Epidemiol 16, 342–350 (2006). https://doi.org/10.1038/sj.jes.7500468
Received:

Accepted:

Published:

Issue Date:

DOI: https://doi.org/10.1038/sj.jes.7500468
Keywords
regression calibration

measurement error

validation study

main study

nitrogen dioxide

respiratory disease.
This article is cited by
International Archives of Occupational and Environmental Health (2018)

Kathie L. Dionisio
Howard H. Chang
Lisa K. Baxter

Environmental Health (2016)