Abstract
Continuous measurements of particle number (PN), particle mass (PM10) and gaseous copollutants (NOx, CO and O3) were obtained at eight sites (urban, suburban and remote) in Southern California during years 2002 and 2003 in support of University of Southern California Children's Health Study. We report the spatial and temporal variation of PNs and size distributions within these sites. Higher average total PN concentrations are found in winter (November to February), compared to summer (July to September) and spring (March to June) in all urban sites. Contribution of local vehicular emissions is most evident in cooler months, whereas effects of long-range transport of particles are enhanced during warmer periods. The particle size profile is most represented by a combination of the spatial effects, for example, sources, atmospheric processes and meteorological conditions prevalent at each location. Afternoon periods in the warmer months are characterized by elevated number concentrations that either coincide or follow a peak in ozone concentrations, suggesting the formation of new particles by photochemistry. Results show no meaningful correlation between PN and mass, indicating that mass based standards may not be effective in controlling ultrafine particles. The study of the impact of the Union worker's strike at port of Long Beach in October 2002 revealed statistically significant increase in PN concentrations in the 60–200 nm range (P<0.001), which are indicative of contributions of emissions from the idling ships at the port.
Access options
Subscribe to Journal
Get full journal access for 1 year
$119.00
only $19.83 per issue
All prices are NET prices.
VAT will be added later in the checkout.
Tax calculation will be finalised during checkout.
Buy article
Get time limited or full article access on ReadCube.
$32.00
All prices are NET prices.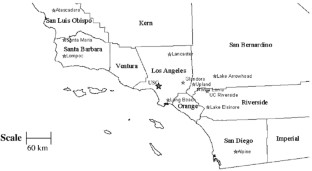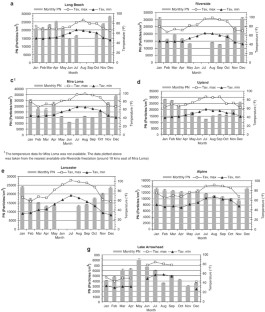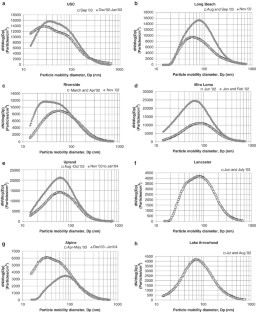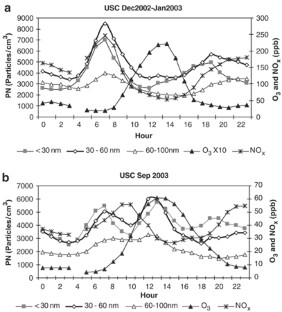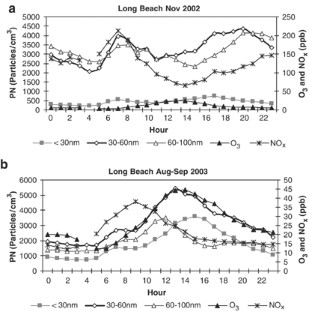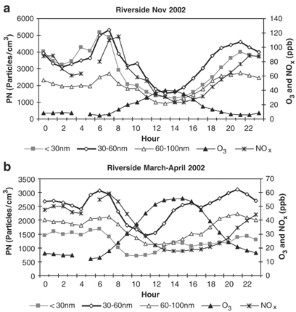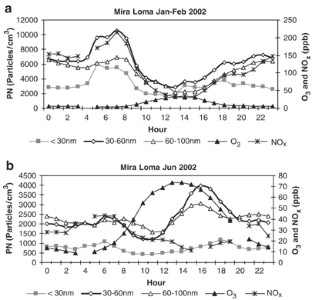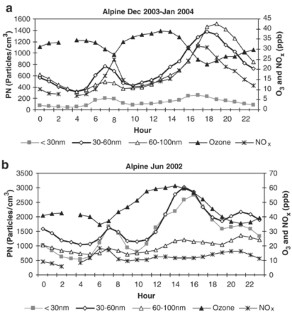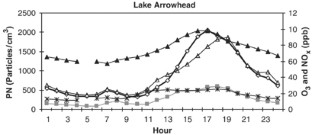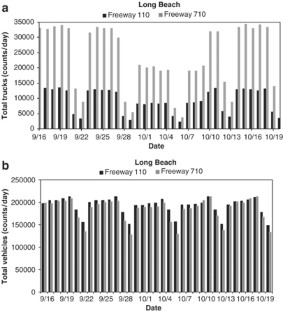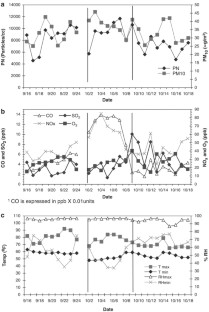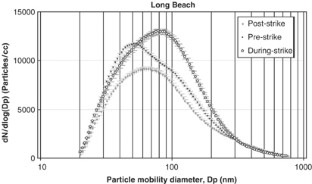 References
Baltensperger U., Streit N., Weingartner E., Nyeki S., Prevot A.S.H., Van Dingenen R., Virkkula A., Putaud J.P., Even A., Ten Brink H., Blatter A., Neftel A., and Gaggeler H.W. Urban and rural aerosol characterization of summer smog events during the PIPAPO field campaigne in Milan, Italy. J Geophys Res 2002: 107 (D22): 8193–8204.

Baumgardner D., Raga G.B., and Muhlia A. Evidence for the formation of CCN by photochemical processes in Mexico City. Atmos Environ 2004: 38 (3): 357–367.

Birmili W., Wiedensolher A., Heintzenber J., and Lehmann K. Atmospheric particle number size distribution in central Europe: statistical relations to air masses and meteorology. J Geophys Res 2001: 106 (D23): 32005–32018.

Buzorius G., Hameri K., Pekkanen J., and Kulmala M. Spatial variation of aerosol number concentration in Helinski city. Atmos Environ 1999: 33: 553–565.

Cheng M.D., and Tanner R.L. Characterization of ultrafine and fine particles at a site near the Great Smoky Mountains. Atmos Environ 2002: 36: 5795–5806.

Chow J.C., Watson J.G., Fujita E.M., Lu Z., Lawson D.R., and Ashbaugh L.L. Temporal and spatial variations of PM2.5 and PM10 aerosol in the Southern California air quality study. Atmos Environ 1994: 28 (12): 2061–2080.

CNN. Long Beach harbor strike, Internet, accessed August 24, 2004: http://money.cnn.com/2002/10/08/news/ports_longshoremen.

Cooper D.A. Exhaust emissions from ships at berth. Atmos Environ 2003: 37: 3817–3830.

Corbett J.J., and Fischbeck P. Emissions from ships. Science 1997: 278 (5339): 823–824.

Cyrys J., Stolzel M., Heinrich J., Kreyling W.G., Menzel N., Wittmaack K., Tuch T., and Wichmann H.E. Elemental composition and sources of fine and ultrafine ambient particles in Erfurt, Germany. Sci Total Environ 2003: 305: 143–156.

Derwent R.G., Davies T.J., Delaney M., Dollard G.J., Field R.A., Dumitrean P., Nason P.D., Jones B.M.R., and Pepler S.A. Analysis and interpretation of the continuous hourly monitoring data for 26 C2–C8 hydrocarbons at 12 United Kingdom sites during 1996. Atmos Environ 2000: 34 (2): 297–312.

Dockery D.W., and Pope C.A. Acute respiratory effects of particulate air pollution. Ann Rev Public Health 1994: 15: 107–132.

Fine P.M., Shen S., and Sioutas C. Inferring the sources of fine and ultrafine particulate matter at downwind receptor sites in the Los Angeles Basin using multiple continuous measurements. Aerosol Sci Technol 2004: 18: 182–195.

Harrison R.M., Shi J.P., Xi S., Khan A., Mark D., Kinnersley R., and Yin J. Measurement of number mass and size distribution of particles in the atmosphere. Philos Trans Roy Soc London 2000: 358: 2567–2580.

Isakson J., Persson T.A., and Lindgren E.S. Identification and assessment of ship emissions and their effects in the harbor of Goteborg Sweden. Atmos Environ 2003: 35: 3659–3666.

Jacques P.A., Ambs J.L., Grant W.L., and Sioutas C. Field evaluation of the differential TEOM monitor for continuous PM2.5 mass concentrations. Aerosol Sci Technol 2004: 38 (Suppl. 1): 49–59.

Kikas U., Mirma A., Tamm E., and Raunemaa T. Statistical characteristics of aerosol in Baltic Sea region. J Geophys Res 1996: 101 (D14): 19319–19327.

Kim S., Shen S., Sioutas C., Zhu Y.F., and Hinds W.C. Size distribution and diurnal and seasonal trends of ultrafine particles in source and receptor sites of the Los Angeles Basin. J Air Waste Manage Assoc 2002: 52: 297–307.

Kulmala M. How particles nucleate and grow. Science 2002: 302: 1000–1001.

Kulmala M., Vehkamäki H., Petäjä T., Dal Maso M., Lauri A., Kerminen V.M., Birmili W., and McMurry P.H. Formation and growth rates of ultrafine atmospheric particles: a review of observations. J Aerosol Sci 2004: 35: 143–176.

Künzli N., McConnell R., Bates D., Bastain T., Hricko A., Lurmann F., Avol E., Gilliland F., and Peters J. Breathless in Los Angeles: the exhausting search for clean air. Am J Public Health 2003: 93 (9): 1494–1499.

Lawless P.A., Rodes C.E., and Evans G. Aerosol concentration during the 1999 Fresno exposure studies as functions of size season and meteorology. Aerosol Sci Technol 2001: 34: 66–74.

Li N., Alam J., Eiguren A., Slaughter N., Wang X., Huang A., Wang M., Sioutas C., and Nel, A.E. Nrf2 is a key transcription factor in antioxidant defense in macrophages and epithelial cells: protecting against the injurious effects of pro-oxidative air pollutants. J Immunol 2004: 173 (5): 3467–3481.

Li N., Sioutas C., Froines J.R., Cho A., and Misra C, Nel A. Ultrafine particulate pollutants induce oxidative stress and mitochondrial damage. Environ Health Persp 2003: 111 (4): 455–460.

Liu P.S.K., and Deshler T. Causes of concentration differences between a Scanning Mobility Particle Sizer and a Condensation Particle Counter. Aerosol Sci Technol 2003: 37: 917–923.

Mäkelä J.M., Aalto P., Jokinen P., Pohja T., Nissinen A., Palmroth S., Markkanen T., Seitsonen K., Lihavainen H., and Kulmala M. Observations of ultrafine aerosol particle formation and growth in boreal forest. Geophys Res Lett 1997: 24: 1219–1222.

Morawska L., Bofinger N.D., Kocis L., and Nwankwoala A. Comprehensive characterization of aerosols in a subtropical urban atmosphere: particle size distribution and correlation with gaseous pollutants. Atmos Environ 1998: 32 (14–15): 2467–2478.

Morawska L., Jayarantne E.R., Mengersen K., and Thomas S. Differences in airborne particle and gaseous concentrations in urban air between weekdays and weekends. Atmos Environ 2002: 36: 4375–4383.

Na K.S., Sawant A.A., Song C., and Cocker D.R. Primary and secondary carbonaceous species in the atmosphere of Western Riverside County, California. Atmos Environ 2004: 38 (9): 1345–1355.

Noble C.A., Mukerjee S., Gonzales M., Rodes C.E., Lawless P.A., Natarajan S., Myers E.A., Norris G.A., Smith L., Ozkaynak H., and Neas L.M. Continuous measurement of fine and ultrafine particulate matter criteria pollutants and meteorological conditions in urban El Paso, Texas. Atmos Environ 2003: 37: 827–840.

Oberdörster G., and Utell M.J. Ultrafine particles in the urban air: to the respiratory tract and beyond? Environ Health Persp 2002: 110 (8): A440–A441.

O'Dowd C., McFiggans G., Creasey D.J., Pirjola L., Hoell C., Smith M.H., Allan B.J., Plane J.M.C., Heard D.E., Lee J.D., Pilling M.J., and Kulmala M. On the photochemical production of new particles in the coastal boundary layer. Geophys Res Lett 1999: 26 (12): 1707–1710.

Peters A., Wichmann H.E., Tuch T., and Heinrich J. Respiratory effects are associated with the number of ultrafine particles. Am J Resp Crit Care Med 1997: 155: 1376–1383.

Phuleria H ., Fine P.M., Zhu Y., and Sioutas C. Characterization of particulate matter and co-pollutants during the fall 2003 Southern California fires. J Geophys Res-Atmos 2005: 110 (D7).

Pope C.A. Review: epidemiological basis for particulate air pollution health standards. Aerosol Sci Technol 2000: 32 (1): 4–14.

Ruuskanen J., Tuch Th., Ten Brink H., Peters A., Khystov A., Mirme A., Kos G.P.A., Brunekreef B., Wichmann H.E., Buzorius G., Vallius M., Kreyling W.G., and Pekkanen J. Concentrations of ultrafine, fine and PM2.5 particles in three European cities. Atmos Environ 2001: 35: 3729–3738.

Sardar S.B., Fine P.M., Hoon A., and Sioutas C. The relationship between particle number and co-pollutant concentrations in the Los Angeles Basin. J Air Waste Manage Assoc 2004: 54: 992–1005.

Saxe H., and Larsen T. Air pollution from ships in three Danish ports. Atmos Environ 2004: 38: 4057–4067.

Shi J.P., Evans D.E., Khan A.A., and Harrison R.M. Sources and concentration of nanoparticles (<10 nm diameter) in the urban atmosphere. Atmos Environ 2001: 35: 1193–1202.

Shi J.P., Khan A.A., and Harrison R.M. Measurements of ultrafine particle concentration and size distribution in the urban atmosphere. Sci Total Environ 1999: 235: 51–64.

Shi J.P., and Qian Y. Aerosol size distributions (3 nm to 3 μm) measured at St. Louis Supersite (4/1/01–4/30/02). MS Thesis, Department of Mechanical Engineering, University of Minnesota, Minneapolis, MN 55455, 2003.

Sinha P., Hobbs P.V., Yokelson R.J., Christian T.J., Kirchstetter T.W., and Bruintjes R. Emissions of trace gases and particles from two ships in the southern Atlantic Ocean. Atmos Environ 2003: 37: 2139–2148.

Stanier C.O., Khlystov A.Y., and Pandis S.N. Ambient aerosol size distributions and number concentrations measured during the Pittsburgh Air Quality Study (PAQS). Atmos Environ 2004: 38: 3275–3284.

Strom J., Umegard J., Torseth K., Tunved P., Hansson H.-C., Holmen K., Wismann V., Herber A., and Langlo G.K. One-year particle size distribution and aerosol chemical composition measurements at the Zeppelin Station, Svalbard, March 2000–March 2001. Atmos Environ 2003: 28: 1181–1190.

Weber R.J., Marti J.J., McMurry P.H., Eisle, F.L., Tanner D.J., and Jefferson A. Measurement of new particle formation and ultrafine particle growth rates at a clean continental site. J Geophys Res 1997: 102 (D4): 4375–4385.

Wehner B., and Wiedensohler A. A long-term measurement of submicrometer urban aerosols: statistical analysis for correlations with meteorological conditions and trace gases. Atmos Chem Phys 2003: 3: 867–879.

Woo K.S., Chen D.R., Pui D.Y.H., and McMurry P.H. Measurement of Atlanta aerosol size distributions: observations of ultrafine particle events. Aerosol Sci Technol 2001: 34: 75–87.

Xia T., Korge P., Weiss J.N., Li N., Venkatesen M.I., Sioutas C., and Nel A. Quinones and aromatic chemical compounds in particulate matter (PM) induce mitochondrial dysfunction: implications for ultrafine particle toxicity. Environ Health Persp 2004: 112 (14): 1347–1359.

Yu F., and Turco R.P. From molecular clusters to nanoparticles: role of ambient ionization in tropospheric aerosol formation. J Geophys Res 2001: 106 (D5): 4797–4814.

Zanobetti A., Schwartz J., and Dockery D.W. Airborne particles are a risk factor for hospital admissions for heart and lung disease. Environ Health Persp 2000: 108 (11): 1071–1077.

Ziemann P., Tobias H.J., Beving D.E., Sakurai H., Zuk M., McMurry P.H., Zarling D., Waytulonis R., and Kittelson D.B. Chemical analysis of diesel engine nanoparticles using a nano-DMA/thermal desorption particle beam mass spectrometer. Environ Sci Technol 2001: 35: 2233–2243.

Zhang K.M., and Wexler A.S. A hypothesis for growth of fresh atmospheric nuclei. J Geophys Res-Atmos 2002: 107 (D21): 4577.

Zhang R., Suh I., Zhao J., Fortner E.C., Tie X., Molina L.T., and Molina M.J. Atmospheric new particle formation enhanced by organic acids. Science 2004: 304: 1487–1490.

Zhu Y.F., Hinds W.C., Kim S., Shen S., and Sioutas C. Study of ultrafine particles near a major highway with heavy-duty diesel traffic. Atmos Environ 2002a: 36: 4323–4335.

Zhu Y.F., Hinds W.C., Kim S., and Sioutas C. Concentration and size distribution of ultrafine particles near a major highway. J Air Waste Manage Assoc 2002b: 52: 1032–1042.
Acknowledgements
This work was supported by the California Air Resources Board (CARB) and the South Coast Air Quality Management District through Grants 53-4507-7823 and 53-4507-7822 to USC. This manuscript has not been subjected to CARB's peer and policy review, and therefore does not necessarily reflect the views of the Agencies. No official endorsement should be inferred.
About this article
Cite this article
Singh, M., Phuleria, H., Bowers, K. et al. Seasonal and spatial trends in particle number concentrations and size distributions at the children's health study sites in Southern California. J Expo Sci Environ Epidemiol 16, 3–18 (2006). https://doi.org/10.1038/sj.jea.7500432
Received:

Accepted:

Published:

Issue Date:

DOI: https://doi.org/10.1038/sj.jea.7500432
Keywords
particle number size distributions

particle mass (PM10)
gaseous copollutants (NOx, CO and O3)

children's health study

vehicular emissions

photochemistry.
This article is cited by
Laxmi Kant Bhardwaj
Prangya Rath
Moharana Choudhury

Aerosol Science and Engineering (2022)

Tara Kerin
Heather Volk
Irva Hertz-Picciotto

Journal of Autism and Developmental Disorders (2018)