Abstract
Dermal contact with some organic disinfection by-products (DBPs) such as trihalomethanes in chlorinated drinking water has been established to be an important exposure route. We evaluated dermal absorption of two haloketones (1,1-dichloropropanone and 1,1,1-trichloropropanone) and chloroform while bathing, by collecting and analyzing time profiles of expired breath samples of six human subjects during and following a 30-min bath. The DBP concentrations in breath increased towards a maximum concentration during bathing. The maximum haloketone breath concentration during dermal exposure ranged from 0.1 to 0.9 μg / m3, which was approximately two orders of magnitude lower than the maximum chloroform breath concentration during exposure. Based on a one-compartment model, the in vivo permeability of chloroform, 1,1-dichloropropanone, and 1,1,1-trichloropropanone were approximated to be 0.015, 7.5 × 10− 4, and 4.5 × 10− 4 cm / h, respectively. Thus, haloketones are much less permeable across human skin under normal bathing conditions than is chloroform. These findings will be useful for future assessment of total human exposure and consequent health risk of these DBPs.
Access options
Subscribe to this journal
Receive 6 print issues and online access
$259.00 per year
only $43.17 per issue
Rent or buy this article
Prices vary by article type
from$1.95
to$39.95
Prices may be subject to local taxes which are calculated during checkout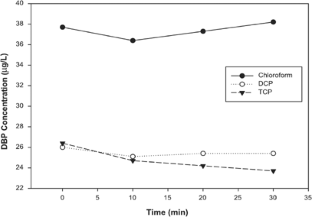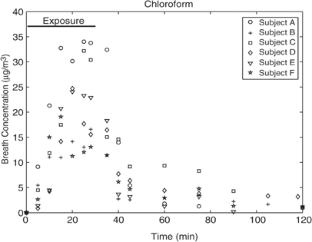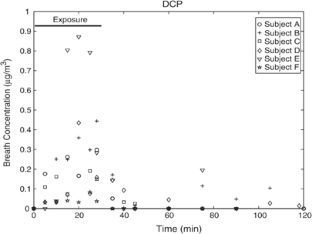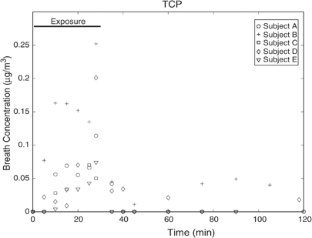 Similar content being viewed by others
References
Aggazzotti G., Fantuzzi G., Righi E., Tartoni P., Cassinadri T., and Predieri G. Chloroform in alveolar air of individuals attending indoor swimming pools. Arch Environ Health 1993: 48(4): 250–254.

Aggazzotti G., Fantuzzi G., Tartoni P.L., and Predieri G. Plasma chloroform concentrations in swimmers using indoor swimming pools. Arch Environ Health 1990: 45: 175–179.

Bull R.J., and Robinson M Carcinogenic activity of haloacetonitrile and haloacetone derivatives in the mouse skin and lung. In: Jolley R.L., Bull R.J., Davis W.P., et al. (eds). Water Chlorination: Environmental Impact and Health Effects, Vol. 5. Lewis Publishers, Chelsea, MI, 1985, pp. 221–227.

Cantor K.P., Lynch C.F., Hildesheim M.E., Dosemeci M., Lubin J., Alavanja M., and Craun G. Drinking water source and chlorination byproducts. I. Risk of bladder cancer. Epidemiology 1998: 9(1): 21–28.

Christman R.F., Norwood D.L., Millington D.S., and Johnson J.D. Identity and yields of major halogenated products of aquatic fulvic acid chlorination. Environ Sci Technol 1983: 17(10): 625–628.

Clemens M., and Scholer H.F. Halogenated organic compounds in swimming pool water. Zentralblatt fur Hygiene und Umweltmedizin 1992: 193(1): 91–98 (in German).

Comroe J.H. Physiology of Respiration, 2nd edn. Year Book Medical Publishers, Chicago, IL, 1974.

Corley R.A., Gordon S.M., and Wallace L.A Physiologically based pharmacokinetic modeling of the temperature-dependent dermal absorption of chloroform by humans following bath water exposures. Toxicol Sci 2000: 53(1): 13–23.

Crank J The Mathematics of Dilution. Oxford University Press, London, 1975.

U.S. EPA. Development of statistical distributions or ranges of standard factors used in exposure assessment. 600 / 8-85-010. Office of Research and Development, Office of Health and Environmental Assessment, Washington, DC, 1985.

U.S. EPA. Information Collection Rule: Federal Regulation 61:94:24354. U.S. Environmental Protection Agency, Cincinnati, OH, 1996.

Gehan E.A., and George S.L. Estimation of human body surface area from height and weight. Cancer Chemother Rep 1970: 54(4): 225–235.

Gordon S.M., Wallace L.A., Callahan P.J., Kenny D.V., and Brinkman M.C. Effect of water temperature on dermal exposure to chloroform. Environ Health Perspect 1998: 106: 337–345.

Heinicke K., Wolfarth B., Winchenbach P., Biermann B., Schmid A., Huber G., Friedmann B., and Schmidt W. Blood volume and hemoglobin mass in elite athletes of different disciplines. Int J Sports Med 2001: 22(7): 504–512.

Hildesheim M.E., Cantor K.P., Lynch C.F., Dosemeci M., Lubin J., Alavanja M., and Craun G. Drinking water source and chlorination byproducts. II. Risk of colon and rectal cancers. Epidemiology 1998: 9(1): 29–35.

Jo W.K., Weisel C.P., and Lioy P.J Routes of chloroform exposure and body burden from showering with chlorinated tap water. Risk Anal 1990: 10: 575–580.

Kim H., Shim J., and Lee S. Formation of disinfection by-products in chlorinated swimming pool water. Chemosphere 2002: 46: 123–130.

Krasner S.W., McGuire M.J., Jacongelo J.G., Patania N.L., Reagan K.M., and Aieta E.M. The occurrence of disinfection by-products in US drinking water. J. AWWA 1989: 81(8): 41–53.

LeBel G.L., Benoit F.M., and Williams D.T. A one-year survey of halogenated DBPs in the distribution system of treatment plants using three different disinfection processes. Chemosphere 1997: 34: 2301–2317.

Levesque B., Ayotte P., LeBlanc A., Dewailly E., Prud'Homme D., Lavoie R., Allaire S., and Levallois P. Evaluation of dermal and respiratory chloroform exposure in humans. Environ Health Perspect 1994: 102(12): 1082–1087.

Lindstrom A.B., Pleil J.D., and Berko D.C. Alveolar breath sampling and analysis to assess trihalomethane exposures during competitive swimming training. Environ Health Perspect 1997: 105: 636–642.

McKone T.E. Linking a PBPK model for chloroform with measured breath concentrations in showers: implications for dermal exposure models. J Expo Anal Environ Epidemiol 1993: 3: 339–365.

McKone T.E., and Howd R.A. Estimating dermal uptake of nonionic organic chemicals from water and soil: I. Unified fugacity-based models for risk assessments. Risk Anal 1992: 12(4): 543–557.

Meier J.R., Ringhand H.P., Coleman W.E., Munch J.W., Streicher R.P., Kaylor W.H., and Schenck K.M. Identification of mutagenic compounds formed during chlorination of humic acid. Mutat Res 1985: 157: 111–122.

Parry G.E., Bunge A.L., Silcox G.D., Pershing L.K., and Pershing D.W. Percutaneous absorption of benzoic acid across human skin. I. In vitro experiments and mathematical modeling. PharmRes 1990: 7(3): 230–236.

Pirot F., Kalia Y.N., Stinchcomb A.L., Keating G., Bunge A., and Guy R.H Characterization of the permeability barrier of human skin in vivo. Proc Natl Acad Sci USA 1997: 94(4): 1562–156.

Pleil J.D., and Lindstrom A.B. Exhaled human breath measurement method for assessing expo to halogenated volatile organic compounds. Clin Chem 1997: 43(5): 723–730.

Quimby B.D., Delaney M.F., Uden P.C., and Barnes R.M. Determination of the aqueous chlo products of humic substances by gas chromatography with microwave emission detection. Anal Chem 1980: 52: 259–263.

Raymer J.H., Pellizzari E.D., Thomas K.W., and Cooper S.D. Elimination of volatile organic compounds in breath after exposure to occupational and environmental microenvironments. J Expo Anal Environ Epidemiol 1991: 1(4): 439–451.

Raymer J.H., Thomas K.W., and Cooper S.D. A device for sampling of human alveolar breath for the measurement of expired volatile organic compounds. J Anal Toxicol 1990: 14(6): 337–344.

Roy A., Weisel C.P., Lioy P.J., and Georgopoulos P.G. A distributed parameter physiologically-based pharmacokinetic model for dermal and inhalation exposure to volatile organic com. Risk Anal 1996: 16(2): 147–160.

Scheuplein R.J. Permeability of the skin. Physiol Rev 1971: 51(4): 702–747.

Shatkin J.A., and Brown H.S. Pharmacokinetics of the dermal route of exposure to volatile or chemicals in water: a computer simulation model. Environ Res 1991: 56(1): 90–108.

Simpson K.J., and Hayes K.P. Drinking water disinfection by-products: an Australian perspective. Water Res 1998: 32: 1522–1528.

Steven A.A., Moore L.A., Slocum C.J., Smith B.L., Seeger D.R., and and Ireland J.C. By-products of chlorination at ten operating utilities. In: Jolley RL, Condie LW, Katz S (eds.). Water Chlo-rination: Environmental Impact and Health Effects, Vol. 6. Lewis Publishers, Chelsea, MI, 1990, pp. 579–604.

Wallace L.A. Human exposure and body burden for chloroform and other trihalomethanes. Environ Sci Technol 1997: 27: 113–194.

Wallace L.A., Nelson W.C., Pellizzari E.D., and Raymer J.H. Uptake and decay of volatile organic compounds at environmental concentrations: application of a four-compartment model to a chamber study of five human subjects. J Expo Anal Environ Epidemiol 1997: 7: 141–163.

Wallace L.A., Pellizzari E.D., and Gordon S.M. A linear model relating breath concentrations to environmental exposures: application to a chamber study of four volunteers exposured to volatile organic chemicals. J Expo Anal Environ Epidemiol 1993: 3: 75–102.

Weisel C.P., Jo W.K., and Lioy P.J. Utilization of breath analysis for exposure and dose estimate of chloroform. J Expo Anal Environ Epidemiol Supp 1992: 1: 55–69.

Weisel C.P., and Shepard T.A. Chloroform exposure and the body burden associated with swim in chlorinated pools. In: Wang R (ed.). Water Contamination and Health: Integration of Exposure Assessment Toxicology and Risk Assessment. Marcel Dekker, New York, 1994, 135–148.

Xu X., Mariano T., Laskin J.D., and Weisel C.P. Percutaneous absorption of tri-halomethanes, haloacetic acids and haloketones. Toxicol Appl Pharmacol 2002: 184: 19–26.

Xu X., and Weisel C.P. Inhalation exposure to haloacetic acids and haloketones during showering. Environ Sci Technol 2003: 37(3): 569–576.

Xu X., and Weisel C.P. Respiratory uptake of disinfection by-products in drinking water: breath measurements. J Expo Anal Environ Epidemiol 2004 (in press).
Acknowledgements
This research was funded by the United States Environmental Protection Agency (U.S. EPA) Research Foundation (#GR825953-01-0). This presentation has not been subjected to the Agency's review and therefore does not necessarily reflect the views of the Agency. Clifford P. Weisel is supported in part by the NIEHS Center for Excellence Grant (ES05022-06).
About this article
Cite this article
Xu, X., Weisel, C. Dermal uptake of chloroform and haloketones during bathing. J Expo Sci Environ Epidemiol 15, 289–296 (2005). https://doi.org/10.1038/sj.jea.7500404
Received:

Accepted:

Published:

Issue Date:

DOI: https://doi.org/10.1038/sj.jea.7500404
Keywords