Abstract
Amniotic fluid (AF) is a complex substance essential to fetal well-being. This article reviews recent discoveries and the current understanding of the origin and circulation of AF and its nutritive, protective, and diagnostic functions. Future directions for AF research are also discussed.
Relevant articles
Open Access articles citing this article.
Mianne Lee

,

Anna K. Y. Kwong

…

Brian H. Y. Chung

npj Genomic Medicine Open Access 28 December 2022

Yanyan Liu

,

Ziyuan Lin

…

Huaqin Sun

Cell Death & Disease Open Access 19 December 2022

Giovanni Parente

,

Eduje Thomas

…

Mario Lima

Annals of Pediatric Surgery Open Access 11 August 2022
Access options
Subscribe to Journal
Get full journal access for 1 year
$119.00
only $9.92 per issue
All prices are NET prices.
VAT will be added later in the checkout.
Tax calculation will be finalised during checkout.
Buy article
Get time limited or full article access on ReadCube.
$32.00
All prices are NET prices.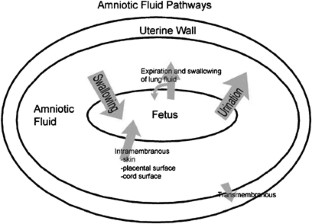 References
Brace RA, Wolf EJ . Normal amniotic fluid volume changes throughout pregnancy. Am J Obstet Gynecol 1989;161:382–388.

Gilbert WM, Brace RA . Amniotic fluid volume and normal flows to and from the amniotic cavity. Semin Perinatol 1993;17:150–157.

Gilbert WM, Newman PS, Eby-Wilkens E, Brace RA . Technetium-99 m rapidly crosses the ovine placenta and intramembranous pathway. Am J Obstet Gynecol 1996;175:1557–1562.

Wintour EM, Shandley L . Effects of fetal fluid balance on amniotic fluid volume. Semin Perinatol 1993;17:158–172.

Sherer DM . A review of amniotic fluid dynamics and the enigma of isolated oligohydramnios. Am J Perinatol 2002;19:253–266.

Brace RA, Vermin ML, Huijssoon E . Regulation of amniotic fluid volume: intramembranous solute and volume fluxes in late gestation fetal sheep. Am J Obstet Gynecol 2004;191:837–846.

Cheung CY . Vascular endothelial growth factor activation of intramembranous absorption: a critical pathway for amniotic fluid volume regulation. J Soc Gynecol Investig 2004;11:63–74.

Wang S, Kallichanda N, Song W, Ramirez BA, Ross MG . Expression of aquaporin-8 in human placenta and chorioamniotic membranes: evidence of molecular mechanism for intramembranous amniotic fluid resorption. Am J Obstet Gynecol 2001;185:1226–1231.

De Santis M, Cavaliere AF, Noia G, Masini L, Menini E, Caruso A . Acute recurrent polyhydramnios and amniotic prolactin. Prenatal Diagn 2000;20:347–348.

Mann SE, Nijland MJ, Ross MG . Ovine fetal adaptations to chronically reduced urine flow: preservation of amniotic fluid volume. J Appl Physiol 1996;81:2588–2594.

Jauniaux E, Gulbis B, Gerloo E . Free amino acids in human fetal liver and fluids at 12–17 weeks of gestation. Hum Reprod 1999;14:1638–1641.

Bloomfield FH, van Zijl PL, Bauer MK, Harding JE . Effects of intrauterine growth restriction and intraamniotic insulin-like growth factor I treatment on blood and amniotic fluid concentrations and on fetal gut uptake of amino acid in late gestation ovine fetuses. J Pediatr Gastroenterol Nutr 2002;35:287–297.

Kwon H, Wu G, Bazer FW, Spencer TE . Developmental changes in polyamine levels and synthesis in the ovine conceptus. Biol Reprod 2003;69:1626–1634.

Buchmiller TL, Kim CS, Chopourian HL, Fonkalsrud EW . Transamniotic fetal feeding: enhancement of growth in a rabbit model of intrauterine growth retardation. Surgery 1994;116:36–41.

Mulvihill SJ, Albert A, Synn A, Fonkalsrud EW . In utero supplemental fetal feeding in an animal model: effects on fetal growth and development. Surgery 1985;98:500–505.

Mulvihill SJ, Stone MM, Fonkalsrud EW, Debas HT . Trophic effect of amniotic fluid on fetal gastroinestinal development. J Surg Res 1986;40:291–296.

Trahair JF, Sangild PT . Fetal organ growth in response to oesophageal infusion of amniotic fluid, colostrum, milk or gastrin-releasing peptide: a study in fetal sheep. Reprod Fertil Dev 2000;12:87–95.

Hirai C, Ichiba H, Saito M, Shintaku H, Yamano T, Kusuda S . Trophic effect of multiple growth factors in amniotic fluid or human milk on cultured human fetal small intestinal cells. J Pediatr Gastroenterol Nutr 2002;34:524–528.

Goetzman BW, Read LC, Plopper CG, et al. Prenatal exposure to epidermal growth factor attenuates respiratory distress syndrome in rhesus infants. Pediatr Res 1994;35:30–36.

Buchmiller TL, Shaw KS, Chopourian HL, et al. Effect of transamniotic administration of epidermal growth factor on fetal rabbit small intestinal nutrient transport and disaccharidase development. J Pediatr Surg 1993;28:1239–1244.

Dvorak B, Fituch CC, Williams CS, Hurst NM, Schanler RJ . Increased epidermal growth factor levels in human milk of mothers with extremely premature infants. Pediatr Res 2003;54:15–19.

Kimble RM, Breier BH, Gluckman PD, Harding JE . Enteral IGF-I enhances fetal growth and gastrointestinal development in oesophageal ligated fetal sheep. J Endocrinol 1999;162:227–235.

Bloomfield FH, Breier BH, Harding JE . Fate of (125)I-IGF-I administered into the amniotic fluid of late-gestation fetal sheep. Pediatr Res 2002;51:361–369.

Juul SE, Christensen RD . Absorption of enteral recombinant human erythropoietin by neonates. Ann Pharmacother 2003;37:782–786.

Akinbi HT, Narendran V, Pass AK, Markart P, Hoath SB . Host defense proteins in vernix caseosa and amniotic fluid. Am J Obstet Gynecol 2004;191:2090–2096.

Yoshio H, Tollin M, Gudmundsson GH, et al. Antimicrobial polypeptides of human vernix caseosa and amniotic fluid: implications for newborn innate defense. Pediatr Res 2003;53:211–216.

Espinoza J, Chaiworapongsa T, Romero R, et al. Antimicrobial peptides in amniotic fluid: defensins, calprotectin and bacterial/permeability-increasing protein in patients with microbial invasion of the amniotic cavity, intra-amniotic inflammation, preterm labor and premature rupture of membranes. J Matern Fetal Neonatal Med 2003;13:2–21.

Otsuki K, Yoda A, Saito H, Mitsuhashi Y, Shimizu Y, Yanaiha T . Amniotic fluid lactoferrin in intrauterine infection. Placenta 1999;20:175–179.

Yamada T, Matsubara S, Minakami H, Kohmura Y, Hiratsuka M, Sato I . Chemotactic activity for polymorphonuclear leukocytes: meconium versus meconium-stained amniotic fluid. Am J Reprod Immunol 2000;44:275–278.

Hsueh W, Caplan MS, Qu XW, Tan XD, De Plaen IG, Gonzalez-Crussi F . Neonatal necrotizing enterocolitis: clinical considerations and pathogenetic concepts. Pediatr Dev Pathol 2003;6:6–23.

Ban C, Billah MM, Truong CT, Johnston JM . Metabolism of platelet activating factor in human fetal membranes and decidua vera. Arch Biochem Biophys 1986;246:9–18.

Wilson RD . Amniocentesis and chorionic villus sampling. Curr Opin Obstet Gynecol 2000;12:81–86.

Kramer K, Cohen HJ . Intrauterine fetal diagnosis for hematologic and other congenital disorders. Clin Lab Med 1999;19:239–243.

Moise Jr KJ . Management of Rhesus alloimmunization in pregnancy. Obstet Gynecol 2002;100:600–611.

Hessner MJ, Pircon RA, Johnson ST, Luhm RA . Prenatal genotyping of the Duffy group system by allele-specific polymerase chain reaction. Prenat Diagn 1999;19:41–45.

Neerhof MG, Haney EI, Silver RK, Ashwood ER, Lee IS, Piazze JJ . Lamellar body counts compared with traditional phospholipid analysis as an assay for evaluating fetal lung maturity. Obstet Gynecol 2001;97:305–309.

Kaplan LA, Chapman JF, Bock JL, et al. Prediction of respiratory distress syndrome using the Abbott FLM-II amniotic fluid assay. Clin Chim Acta 2002;326:61–68.

Pachi A, De Luca F, Cametti C, Barresi S, Berta S . Use of electrical conductivity of amniotic fluid in the evaluation of fetal lung maturation. Fetal Diagn Ther 2001;16:90–94.

Florio P, Cobellis L, Luisi S, et al. Changes in inhibins and activin secretion in healthy and pathological pregnancies. Mol Cell Endocrinol 2001;180:123–130.

Michetti F, Gazzolo D . S100B protein in biological fluids: a tool for perinatal medicine. Clin Chem 2002;48:2097–2104.

Ramon y Cajal CL, Martinez RO . Defecation in utero a physiologic fetal function. Am J Obstet Gynecol 2003;188:153–156.

Gelfand SL, Fanaroff JM, Walsh MC . Meconium stained fluid: approach to the mother and baby. Pediatr Clin North Am 2004;51:655–667.

Tran SH, Caughey AB, Musci TJ . Meconium-stained amniotic fluid is associated with puerperal infections. Am J Obstet Gynecol 2003;189:746–750.

Uszynski M, Zekanowska E, Uszynski W, Kuczynski J . Tissue factor and tissue factor pathway inhibitor in amniotic fluid and blood plasma: implications for the mechanism of amniotic fluid embolism. Eur J Obstet Gynecol Reprod Biol 2001;95:163–166.

Davis JR, Miller HS, Feng JD . Vernix caseosa peritonitis: report of two cases with antenatal onset. Am J Clin Pathol 1998;109:320–323.

Adzick NS, Lorenz HP . Cells, matrix, growth factors, and the surgeon; the biology of scarless fetal wound repair. Ann Surg 1994;220:10–18.

Luton D, Guibourdenche J, Vuillard E, Bruner J, de Lagausie P . Prenatal management of gastroschisis: the place of the amnioexchange procedure. Clin Perinatol 2003;30:551–557.

Akgur FM, Ozdemir T, Olguner M, Aktug T, Ozer E . An experimental study investigating the effects of intraperitoneal human neonatal urine and meconium on rat intestines. Res Exp Med 1998;198:207–213.

Sapin E, Mahieu D, Borgnon J, Douvier S, Carricaburu E, Sagot P . Transabdominal amnioinfusion to avoid fetal demise and intestinal damage in fetuses with gastroschisis and severe oligohydramnios. J Pediatr Surg 2000;35:598–600.

Ozgenel GY, Filiz G . Effects of human amniotic fluid on peripheral nerve scarring and regeneration in rats. J Neurosurg 2003;98:371–377.

Gao X, Devoe LD, Given KS . Effects of amniotic fluid on proteases: a possible role of amniotic fluid in fetal wound healing. Ann Plastic Surg 1994;33:128–134; discussion 134–5.

Ross MG, Brace RA . National Institute of Child Health and Development conference summary: amniotic fluid biology — basic and clinical aspects. J Matern Fetal Med 2001;10:2–19.

Abbott P, Thompson AC, Ferguson EJ, et al. Placental opioid-enhancing factor: generalizability of effects. Physiol Behav 1991;50:933–940.

In 't Anker PS, Scherjon SA, Kleijburg-van der Keur C, et al. Amniotic fluid as a novel source of mesenchymal stem cells for therapeutic transplantation. Blood 2003;102:1548–1549.

Akisu M, Baka M, Huseyinov A, Kultursay N . The role of dietary supplementation with L-glutamine in inflammatory mediator release and intestinal injury in hypoxia/reoxygenation-induced experimental necrotizing enterocolitis. Ann Nutr Metab 2003;47:262–266.

Amin HJ, Zamora SA, McMillan DD, et al. Arginine supplementation prevents necrotizing enterocolitis in the premature infant. J Pediatr 2002;140:425–431.

Dvorak B, Halpern MD, Holubec H, et al. Epidermal growth factor reduces the development of necrotizing enterocolitis in a neonatal rat model. Am J Physiol Gastrointest Liver Physiol 2002;282:G156–G164.

Ledbetter DJ, Juul SE . Erythropoietin and the incidence of necrotizing enterocolitis in infants with very low birth weight. J Pediatr Surg 2000;35:178–181; discussion 182.

Caplan MS, Lickerman M, Adler L, Dietsch GN, Yu A . The role of recombinant platelet activating factor acetylhydrolase in a neonatal rat model of necrotizing enterocolitis. Pediatr Res 1997;42:779–783.

Sherman MP, Bennett SH, Hwang FFY, Yu C . Neonatal small bowel epithelia: enhancing anti-bacterial defense with lactoferrin and Lactobacillus GG. BioMetals 2004;17:285–289.

Sullivan SE, Calhoun DA, Maheshwari A, et al. Tolerance of simulated amniotic fluid in premature neonates. Ann Pharmacother 2002;36:1518–1524.

Lima-Rogel V, Calhoun DA, Maheshwari A, et al. Tolerance of a sterile isotonic electrolyte solution containing select recombinant growth factors in neonates recovering from necrotizing enterocolitis. J Perinatol 2003;23:200–204.

Porter AE, Auth J, Prince M, Ghidini A, Brenneman DE, Spong CY . Optimization of cytokine stability in stored amniotic fluid. Am J Obstet Gynecol 2001;185:459–462.
About this article
Cite this article
Underwood, M., Gilbert, W. & Sherman, M. Amniotic Fluid: Not Just Fetal Urine Anymore. J Perinatol 25, 341–348 (2005). https://doi.org/10.1038/sj.jp.7211290
Published:

Issue Date:

DOI: https://doi.org/10.1038/sj.jp.7211290