Abstract
This series discusses errors in neonatology since the 1920s. Three historical periods are defined: the "Hands-Off" years, 1920 to 1950; the "Heroic" years, 1950 to 1970; and the "Experienced" years, 1970 to 2000. In this article, the "Hands-Off" years, we discuss lowered thermal environment, supplemental oxygen, initial thirsting and starving, synthetic vitamin K, SMA formula, and diaper markings.
Relevant articles
Open Access articles citing this article.
Silke Becker

,

Haibo Wang

…

M. Elizabeth Hartnett

Scientific Reports Open Access 31 January 2018
Access options
Subscribe to Journal
Get full journal access for 1 year
$119.00
only $9.92 per issue
All prices are NET prices.
VAT will be added later in the checkout.
Tax calculation will be finalised during checkout.
Buy article
Get time limited or full article access on ReadCube.
$32.00
All prices are NET prices.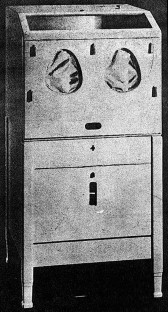 References
Silverman WA Retrolental Fibroplasia: A Modern Parable. New York: Grune and Stratton. 1980

Roueché B . Three sick babies. In. Medical Detectives. New York: Truman Talley Books/Plume. 1988. p. 200–16.

Silverman WA . Neonatal pediatrics at the century mark. Perspect Biol Med 1989; 32: 159–69.

Baker JP The Machine in the Nursery. Baltimore: Johns Hopkins University Press. 1996

Cone TE . The first published report of an incubator for use in the care of the premature infant (1857). Am J Dis Child 1981; 135: 658–60.

Baker JP . The incubator and the medical discovery of the premature infant. J Perinatol 2000; 5: 321–8.

Hess JH Premature and Congenitally Diseased Infants. Philadelphia: Lea and Febiger. 1922

Budin P The Nursling. Edinburgh: Caxton Publishing. 1907translated by WJ Maloney

Blackfan KD, Yaglou CP . The premature infant: a study of the effects of atmospheric conditions on growth and development. Am J Dis Child 1933; 46: 1175–236.

Silverman WA . The future of clinical experimentation in neonatal medicine. Pediatrics 1994; 94: 932–8.

Silverman WA . The physical environment and the premature infant. Pediatrics 1959; 23: 166–71.

Martin L . Oxygen Therapy: The First 150 Years 1999 www.mtsinai.org/pulmonary/papers/ox-hist/ox-hist-intro.html

Bakwin H . Oxygen therapy in premature infants with anoxemia. Am J Dis Child 1923; 25: 157–62.

Hess JH . Oxygen unit for premature and very young infants. Am J Dis Child 1934; 47: 916–7.

Chapple CC . Controlling the external environment of premature infants in an incubator. Am J Dis Child 1938; 50: 459–60.

Wilson JL, Long SB, Howard PJ . Respiration of premature infants: response to variations of oxygen and to increased carbon dioxide in inspired air. Am J Dis Child 1942; 63: 1080–5.

Smith CA . The continued use of oxygen for premature infants. Bull NY Acad Med 1950; 26: 430–3.

Silverman WA . "Collateral damage" in perinatal warfare. Paediatr Perinat Epidemiol 2002; 16: 98–9.

Lanman JT, Guy LP, Dancis J . Retrolental fibroplasia and oxygen therapy. JAMA 2002; 155: 223–6.

Avery ME, Oppenheimer EH . Recent increase in mortality from hyaline membrane disease. J Pediatr 1960; 57: 553–9.

McDonald AD . Cerebral palsy in children of very low birth weight. Arch Dis Child 1963; 38: 579–88.

Snider GL . Historical perspective on mechanical ventilation: from simple life support system to ethical dilemma. Am Rev Respir Dis 1989; 140: 52–7.

Cone TE . History of the Care and Feeding of the Premature Infant. Boston: Little, Brown and Co. 1985

Davies DP . The first feed of low birthweight babies: changing attitudes in the twentieth century. Arch Dis Child 1978; 53: 187–92.

Smith CA, Yudkin S, Young W, Minkowski A, Cushman M . Adjustment of electrolytes and water following premature birth. Pediatrics 1949; 3: 34–48.

Ames RG . Urinary water excretion and neurohypophyseal function in full term and premature infants shortly after birth. Pediatrics 1953; 12: 272–82.

Smith CA . The Physiology of the Newborn Infant. Springfield: Charles C. Thomas. 1945

Smith CA . Prenatal and neonatal nutrition: Borden Award address. Pediatrics 1962; 30: 145–56.

Usher R . The metabolic changes in respiratory distress syndrome of prematurity seen as a failure of somatic compensations for asphyxia. In. Ciba Foundation Symposium on Somatic Stability in the Newly Born. London: Churchill. 1961p92–116.

Drillien CM The Growth and Development of the Prematurely Born Infant. Edinburgh: Livingstone. 1964. p. 302–8.

Churchill JA . Weight loss in premature infants developing spastic diplegia. Obstet Gynecol 1963; 22: 601–5.

Smallpiece V, Davies PA . Immediate feeding of premature infants with undiluted breast-milk. Lancet 1964; 2: 1349–52.

Cornblath M, Forbes AE, Pildes RS, Luebben G, Greengard J . A controlled study of early fluid administration on survival of low birth weight infants. Pediatrics 1966; 38: 547–54.

Winick M, Noble A . Quantitative changes in DNA, RNA, and protein during prenatal and postnatal growth in the rat. Dev Biol 1965; 12: 451–66.

Townsend CW . The hemorrhagic disease of the newborn. Arch Pediatr 1894; II: 559–65.

Kugelmass N . The management of hemorrhagic problems in infancy and childhood. JAMA 1932; 99: 895–902.

Waddell WW, Guerry D . Effect of vitamin K on the clotting time of the prothrombin and the blood: with special reference to unnatural bleeding of the newly born. JAMA 1939; 112: 2259–63.

Dam H, Dyggve H, Larsen H, Plum P . The relation of vitamin K deficiency to hemorrhagic disease of the newborn. Adv Pediatr 1952; 5: 129–53.

Greer FR . Special needs and dangers of fat-soluble vitamins A, E and K. In: Tsang RC, Zlotkin SH, Nichols BL, Hansen JW, editors. Nutrition During Infancy; Principles and Practice, 2nd ed. Cincinnati: Digital Educational Publishing. 1997. p. 286

Speert H . Carl Siegmund Franz Credé, placental expression, and the prevention of neonatal ophthalmia. Obstet Gynecol 1957; 10: 335–9.

Committee on Fetus and Newborn Standards and Recommendations for Hospital Care of Newborn Infants, 2nd ed. Evanston: American Academy of Pediatrics. 1954

Allison AC . Danger of vitamin K to newborn. Lancet 1955; I: 669

Laurance B . Danger of vitamin-K analogues to newborn. Lancet 1955; 1: 819

Crosse VM, Meyer TC, Gerrard JW . Kernicterus and prematurity. Arch Dis Child 1959; 30: 501–8.

Dyggve H . Bilirubin studies in premature infants who received menadione derivatives or vitamin K1 at birth. Acta Paediatr 1960; 49: 230–42.

Committee on Nutrition. Vitamin K compounds and the water-soluble analogues: use in therapy and prophylaxis in pediatrics. Pediatrics 1961; 28: 501–7.

Nelson EM . Association of vitamin B6 deficiency with convulsions in infants. Public Health Rep 1956; 71: 445–8.

Coursin DB . Convulsive seizures in infants with pyridoxine-deficient diet. JAMA 1954; 154: 406–8.

May CD . Vitamin B6 in human nutrition: a critique and an object lesson. Pediatrics 1954; 14: 269–79.

Coursin DB . Vitamin B6 deficiency in infants: a follow-up study. Am J Dis Child 1955; 90: 344–8.

Leklem JE . Vitamin B6 . In: Machlin LJ, editor. Handbook of Vitamins, 2nd ed. New York: Marcel Dekker. 1991. p. 342–78.

Snyderman SE, Holt LE, Carretero R, Jacobs K . Pyridoxine deficiency in the human infant. J Clin Nutr 1953; 1: 200–7.

Coursin DB . Symposium on frontiers in nutrition in relation to milk; vitamin B6 (pyridoxine) in milk. Q Rev Pediatr 1955; 10: 1–9.

Bessey OA, Adam DJ, Hansen AE . Intake of vitamin B6 and infantile convulsions: a first approximation of requirements of pyridoxine in infants. Pediatrics 1957; 20: 33–44.

Rayner W . Cyanosis in newly born children caused by aniline marking ink. Br Med J 1886; 1: 294

Graubarth J, Bloom CJ, Coleman FC, Soloman H . Dye poisoning in the nursery: a review of seventeen cases. JAMA 1945; 128: 1155–7.

Scott EP, Prince GE, Rotondo CC . Dye poisoning in infancy. J Pediatr 1946; 28: 713–8.

Fisch RO, Berglund EB, Bridge AG, Finley PR, Quie PG, Raile R . Methemoglobinemia in a hospital nursery. JAMA 1963; 185: 760–3.

Herzog P, Feig SA . Methaemoglobinaemia in the newborn infant. Clin Haematol 1978; 7: 75–83.

Hjelt K, Lund JT, Scherling B, et al. Methaemoglobinaemia among neonates in a neonatal intensive care unit. Acta Pediatr 1995; 84: 365–70.
Acknowledgements
The author is grateful for the helpful comments and suggestions of W.A. Silverman and Jeffrey P. Baker, and for the extensive grammatical review by Alex F. Robertson IV.
About this article
Cite this article
Robertson, A. Reflections on Errors in Neonatology: I. The "Hands-Off" Years, 1920 to 1950. J Perinatol 23, 48–55 (2003). https://doi.org/10.1038/sj.jp.7210842
Published:

Issue Date:

DOI: https://doi.org/10.1038/sj.jp.7210842