Abstract
OBJECTIVE: To determine the incidence of early-onset group B beta hemolytic streptococcal (EOGBS) infection and the association between changes in the incidence and intrapartum antibiotic prophylaxis (IAP).
STUDY DESIGN: A retrospective population survey of infants with GBS at <7 days of age with a nested case–control study of non-GBS infants over the same time period, January 1985 to December 1998. The incidence of GBS and maternal antibiotic treatment during labor was analyzed as a function of time period: prior to publication of guidelines for prevention of EOGBS (1985–1992), following AAP/ACOG guidelines (1993–1995), and following CDC consensus guidelines (1996–1998).
RESULTS: Fifty-six cases of EOGBS infection occurred among 53,088 live births. The incidence declined from 1.5/1000 before any guidelines to 0.67/1000 after AAP/ACOG guidelines (p=0.004), and continued to decline after the CDC consensus statement (0.28/1000) (p=0.38). IAP remained stable (33% of at risk mothers) until after introduction of the CDC consensus guidelines (59%, p=0.02).
CONCLUSION: IAP did not fully explain the decline in EOGBS incidence in our center.
Access options
Subscribe to this journal
Receive 12 print issues and online access
$259.00 per year
only $21.58 per issue
Rent or buy this article
Get just this article for as long as you need it
$39.95
Prices may be subject to local taxes which are calculated during checkout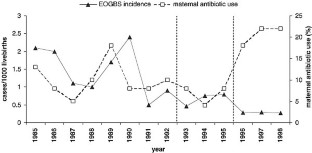 References
Weisman LE, Stoll BJ, Cruess DF et al. Early-onset group B streptococcal sepsis: a current assessment J Pediatr 1992 121: 428–33

Allardice JG, Baskett TF, Seshia MMK, Bowman M, Malazdrewicz R . Perinatal group B streptococcal colonization and infection Am J Obstet Gynecol 1982 142: 617–20

Easmon CSF, Hastings MJG, Deeley J, Rivers RPA, Marwood R . The effect of intrapartum chemoprophylaxis on the vertical transmission of group B streptococci Br J Obstet Gynecol 1983 90: 633–5

Boyer KM, Gadzala CA, Kelly PD, Gotoff SP . Selective intrapartum chemoprophylaxis of neonatal group B streptococcal early onset disease: III. Interruption of mother to infant transmission J Infect Dis 1983 148: 810–6

American Academy of Pediatrics. Guidelines for prevention of group B streptococcal infection by chemoprophylaxis Pediatrics 1992 90: 775–8

Anonymous. Group B streptococcal infections in pregnancy. ACOG Technical Bulletin #170 — July 1992 Int J Gynecol Obstet 1993 42: 55–9

Gibbs RS, McGregor JA, Mead PB, Eschenbach DA, Hager WD, Sweet RL . A survey of practices in infectious diseases by obstetrician–gynecologists Obstet Gynecol 1994 83: 631–6

Centers for Disease Control and Prevention. Prevention of perinatal group B streptococcal disease: a public health perspective Morb Mortal Wkly Rep 1996 45: 1–24

Benitz WE, Gould JB, Druzin ML . Antimicrobial prevention of early-onset group B streptococcal sepsis: estimates of risk reduction based on a critical literature review Pediatrics 1999 103: e78

Rouse DJ, Goldenberg RL, Cliver SP, Cutter GR, Mennemeyer ST, Fargason CA . Strategies for the prevention of early-onset neonatal group B streptococcal sepsis: a decision analysis Obstet Gynecol 1994 83: 483–94

Boyer KM, Gotoff SP . Prevention of early-onset neonatal group B streptococcal disease with selective intrapartum chemoprophylaxis N Engl J Med 1986 314: 1665–9

Lin FY, Brenner RA, Johnson YR et al. The effectiveness of risk-based intrapartum chemoprophylaxis for the prevention of early-onset neonatal group B streptococcal disease Am J Obstet Gynecol 2001 184: 1204–10

Tuppurainen N, Hallman M . Prevention of neonatal group B streptococcal disease: intrapartum detection and chemoprophylaxis of heavily colonized parturients Obstet Gynecol 1989 73: 583–7

Matorras R, Garcia-Perea A, Omenaca F, Diez-Enciso M, Madero R, Usandizaga JA . Intrapartum chemoprophylaxis of early-onset group B streptococcal disease Eur J Obstet Gynecol Reprod Biol 1991 40: 57–62

Isaacs D, Royle JA . Intrapartum antibiotics and early onset neonatal sepsis caused by group B Streptococcus and by other organisms in Australia J Pediatr Infect Dis 1999 18: 524–8

Factor SH, Whitney CG, Zywicki SS, Schuchat A . Effects of hospital policies based on 1996 group B streptococcal disease consensus guidelines Obstet Gynecol 2000 95: 377–82

Schrag SJ, Zywicki S, Farley MM et al. Group B streptococcal disease in the era of intrapartum antibiotic prophylaxis N Engl J Med 2000 342: 15–20

Ohlsson A, Myhr TL . Intrapartum chemoprophylaxis of perinatal group B streptococcal infections: a critical review of randomized controlled trials Am J Obstet Gynecol 1994 170: 910–7

Katz PF, Hibbard JU, Ranganathan D, Meadows W, Ismail M . Group B streptococcus: to culture or not to culture? J Perinatol 1999 19: 337–42

Brozanski BS, Jones JG, Krohn MA, Sweet RL . Effect of a screening-based prevention policy on prevalence of early-onset group B streptococcal sepsis Obstet Gynecol 2000 95: 496–501

Adriaanse AH, Lagendijk I, Muytjens HL, Nijhuis JG, Kollee LA . Neonatal early onset group B streptococcal infection. A nine-year retrospective study in a tertiary care hospital J Perinat Med 1996 24: 531–8

Lieu TA, Mohle-Boetani JC, Ray GT et al. Perinatal group B streptococcal infection in a managed care population Obstet Gynecol 1998 92: 21–7

Schrag SJ, Zywicki S, Farley MM et al. Group B streptococcal disease in the era of intrapartum antibiotic prophylaxis N Engl J Med 2000 342: 15–20

Morales WJ, Dickey SS, Bornick P, Lim DV . Change in antibiotic resistance of group B streptococcus: impact on intrapartum management Am J Obstet Gynecol 1999 181: 310–4

Mercer BM, Carr TL, Beazley DD, Crouse DT, Sibai BM . Antibiotic use in pregnancy and drug-resistant infant sepsis Am J Obstet Gynecol 1999 181: 816–21

Pearlman MD, Pierson CL, Faix RG . Frequent resistance of clinical group B streptococci isolates to clindamycin and erythromycin Obstet Gynecol 1998 92: 258–61

Hickman ME, Rench MA, Ferrieri P, Baker CJ . Changing epidemiology of group B streptococcal colonization Pediatrics 1999 104: 203–9

Schuchat A . Epidemiology of group B streptococcal disease in the United States: shifting paradigms Clin Microbiol Rev 1998 11: 497–513

Blumberg HM, Stephens DS, Modansky M et al. Invasive group B streptococcal disease: V. The emergence of serotype J Infect Dis 1996 173: 365–73

Paoletti LJ, Bradford J, Paoletti LC . A serotype VIII strain among colonizing group B streptococcal isolates in Boston, Massachusetts J Clin Microbiol 1999 37: 3759–60

Zaleznik DF, Rench MA, Hillier S et al. Invasive disease due to group B Streptococcus in pregnant women and neonates from diverse population groups Clin Infect Dis 2000 30: 276–81
About this article
Cite this article
Uy, I., D'Angio, C., Menegus, M. et al. Changes in Early-Onset Group B Beta Hemolytic Streptococcus Disease With Changing Recommendations For Prophylaxis. J Perinatol 22, 516–522 (2002). https://doi.org/10.1038/sj.jp.7210798
Published:

Issue Date:

DOI: https://doi.org/10.1038/sj.jp.7210798