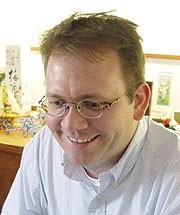 For nearly 70 years, a tiny organic compound called 2-quinuclidone has baffled organic chemists: no one could definitively synthesize it.
Brian Stoltz, a chemist at the California Institute of Technology, Pasadena, took on the challenge after repeatedly encountering the enigmatic molecule, which does not occur naturally, in the early years of his career. He first learned of 2-quinuclidone as a graduate student, while house-sitting for Yale University chemist Harry Wasserman (see page 699). It is a molecule in which the amide bond in its constituent amino acid is twisted out of shape. Wasserman said it deserved further study; Stoltz made a mental note.
Later, and without prompting, Stoltz's postdoc mentor Elias Corey identified 2-quinuclidone as a "classic unsolved problem in synthesis". When he became an independent investigator, Stoltz began his quest. He devised an unambiguous path to the molecule that was confirmed by X-ray crystallography, and tells Nature about it here.
Why was the compound so difficult to make?
The structure is very twisted, and predicted to be very unstable. That's presumably why chemists in the 1950s and 1960s were unable to make it.
How did you succeed where others failed?
Every previous approach to the compound started from an amino acid, and then tried to build the last ring by making a nitrogen–carbon bond. But the instability of this bond meant that if water contaminated the product, it would decompose to the amino acid and you would never know that you had succeeded.
We wanted to devise a synthesis whose result would be completely unambiguous even if you got water into the system. We constructed the rings using a different bond from the one that breaks on decomposition.
Does the work simply resolve a historical oddity, or are there practical implications?
Both. Some think these twisted amides are prevalent in biological systems. Maybe an enzyme could grab hold of a peptide in such a way that it twists the amide and makes it ready for cleavage.
Was the X-ray crystallography crucial or did it just confirm what you found?
It would have been tough to convince me to submit the paper without the crystal structure, just because it had been such a controversial compound. The structure itself was reasonably routine, but the hard step was getting the crystals because the compound is so prone to decomposition. Kousuke Tani, the paper's first author and a postdoc of mine, had a fantastic feel for it.
About this article
Cite this article
Abstractions. Nature 441, xiii (2006). https://doi.org/10.1038/7094xiiib
Published:

Issue Date:

DOI: https://doi.org/10.1038/7094xiiib