Abstract
Using data from families in which marker genotypes are known for the father, the mother and the affected offspring, a simple statistic for testing for imprinting effects is developed. The statistic considers whether the expected number of families in which the father carries more copies of a particular marker allele than the mother is equal to the expected number of families in which the mother carries more copies of the allele than the father. The proposed parent-of-origin effects test statistic (POET) is shown to be normally distributed and can be employed to test for imprinting in situations where the marker locus need not be a disease susceptibility locus and where the female and male recombination fractions are sex-specific. A simulation study is conducted to characterize the power of the POET and other properties, and its results show that it is appropriate to employ the POET.
References
Amos CI (1994). Robust variance-components approach for assessing genetic linkage in pedigrees. Am J Hum Genet 54: 535–543.

Bartolomei MS, Tilghman SM (1997). Genomic imprinting in mammals. Annu Rev Genet 31: 493–525.

Broman KW, Murray JC, Sheffield VC, White RL, Weber JL (1998). Comprehensive human genetic maps: individual and sex-specific variation in recombination. Am J Hum Genet 63: 861–869.

Deng HW, Chen WM (2001). The power of the transmission disequilibrium test (TDT) with both case–parent and control–parent trios. Genet Res 78: 289–302.

Falls JG, Pulford DJ, Wylie AA, Jirtle RL (1999). Genomic imprinting: implications for human disease. Am J Pathol 154: 635–647.

Fann CSJ, Ott J (1995). Parsimonious estimation of sex-specific map distances by stepwise maximum likelihood regression. Genomics 29: 571–575.

Feenstra B, Greenberg DA, Hodge SE (2004). Using lod scores to detect sex differences in male–female recombination fractions. Hum Hered 57: 100–108.

Haghighi F, Hodge SE (2002). Likelihood formulation of parent-of-origin effects on segregation analysis, including ascertainment. Am J Hum Genet 70: 142–156.

Hanson RL, Kobes S, Lindsay RS, Knowler WC (2001). Assessment of parent-of-origin effects in linkage analysis of quantitative traits. Am J Hum Genet 68: 951–962.

Haseman JK, Elston RC (1972). The investigation of linkage between a quantitative trait and a marker locus. Behav Genet 2: 3–19.

Knapp M (1999). A note on power approximations for the transmission/disequilibrium test. Am J Hum Genet 64: 1177–1185.

Morison IM, Paton CJ, Cleverley SD (2001). The imprinted gene and parent-of-origin effect database. Nucleic Acids Res 29: 275–276.

Ott J (1999). Analysis of Human Genetic Linkage, 3rd edn. The Johns Hopkins University Press: Baltimore and London.

Pfeifer K (2000). Mechanisms of genomic imprinting. Am J Hum Genet 67: 777–787.

Rao CR (1973). Linear Statistical Inference and Its Applications. John Wiley: New York.

Reik W, Walter J (2001). Genomic imprinting: parental influence on the genome. Nat Rev Genet 2: 21–32.

Risch N, Merikangas K (1996). The future of genetic studies of complex human diseases. Science 273: 1516–1517.

Shete S, Amos CI (2002). Testing for genetic linkage in families by a variance-components approach in the presence of genomic imprinting. Am J Hum Genet 70: 751–757.

Shete S, Zhou X, Amos CI (2003). Genomic imprinting and linkage test for quantitative-trait loci in extended pedigrees. Am J Hum Genet 73: 933–938.

Smalley SL (1993). Sex-specific recombination frequencies: a consequence of imprinting? Am J Hum Genet 52: 210–212.

Spielman RS, McGinnis RE, Ewens WJ (1993). Transmission test for linkage disequilibrium: the insulin gene region and insulin-dependent diabetes mellitus (IDDM). Am J Hum Genet 52: 506–516.

Strauch K, Fimmers R, Kurz T, Deichmann KA, Wienker TF, Baur MP (2000). Parametric and nonparametric multipoint linkage analysis with imprinting and two-locus-trait models: application to mite sensitization. Am J Hum Genet 66: 1945–1957.

Van den Oord EJCG (2000). The use of mixture models to perform quantitative tests for linkage disequilibrium, maternal effects, and parent-of-origin effects with incomplete subject-parent triads. Behav Genet 30: 335–343.

Weinberg CR (1999). Methods for detection of parent-of-origin effects in genetic studies of case–parents triads. Am J Hum Genet 65: 229–235.

Wilkins JF, Haig D (2003). What good is genomic imprinting: the function of parent-specific gene expression. Nat Rev Genet 4: 359–368.

Wu CC, Shete S, Amos CI (2005). Linkage analysis of affected sib pairs allowing for parent-of-origin effects. Ann Hum Genet 69: 113–126.
Acknowledgements
We are grateful for the valuable comments made by the editor and two reviewers on an early draft of this paper. We thank David Wilmshurst for editorial assistance. This work was partially supported by a CRCG Seed Grant of The University of Hong Kong and funding from the National Natural Science Foundation of China (10329102, 10561008) and the Scientific Research Fund of Huaihua University.
Appendices
Appendix A
Derivation of the conditional probabilities in
Table 1 The first family type 100 in Table 1 is taken as an example to illustrate how the conditional probabilities listed in the last column of Table 1 are derived. In order to find the conditional probability P(FMC=100∣child is affected), it is necessary to calculate P(F=M1M2, M=M2M2, C=M2M2, child is affected), which is the sum of the following four terms by the law of total probability: P(F=M1M2, M=M2M2, C=DM2/DM2)φD/D, P(F=M1M2, M=M2M2, C=DM2/dM2)φD/d, P(F=M1M2, M=M2M2, C=dM2/DM2)φd/D, P(F=M1M2, M=M2M2, C=dM2/dM2)φd/d where the left haplotype of the slash / is paternal and the right one is maternal. The first term (ignoring factor φD/D) can be further written as a product of two probabilities, P(F=M1M2, CP=DM2)P(M=M2M2, CM=DM2), where CP and CM denote respectively the paternal and maternal haplotypes at the marker locus and the DSL. For the first probability, considering all possible ordered genotypes at the marker locus and the DSL and seeing whether there is recombination between these two loci, we have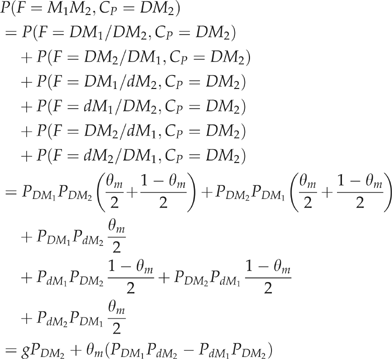 which is just w6 listed in the footnote of Table 1 after some transformations. The second probability is just w3 by the same principle. So P(F=M1M2, M=M2M2, C=DM2/DM2)=w3w6. Similarly, we have P(F=M1M2, M=M2M2, C=DM2/dM2)=w4w6, P(F=M1M2, M=M2M2, C=dM2/DM2)=w3w8 and P(F=M1M2,M=M2M2, C=dM2/dM2)=w4w8. Finally, we have the expression of the conditional probability P(FMC=100∣child is affected).
Appendix B
Proof for asymptotic normality of the POET
Theorem
Let u=(u1, …, um)T, v=(v1, …, vm)T, uivi=0, ui2=ui, vi2=vi (i.e. ui=0 or 1 and vi=0 or 1), for any i, (N1, ⋯, Nm, Nm+1)T be a multinomially distributed random variable of size n=∑i=1m+1Ni and with parameters (s1,…, sm, sm+1), where sm+1=1−∑i=1msi. Denote N=(N1, …, Nm)T, then the distribution of tends to the normal distribution with mean and variance 1−(a1−a2)2/(4(a1+a2))−3(a1−a2)2/(4(a1+a2)2), where a1=uTs, a2=vTs, and s=(s1, …, sm)T.
Proof
Note that N/n is the maximum likelihood estimator of the parameter vector s and from the asymptotic normality of the maximum likelihood estimator, we have in law

where ∑=(σij)m × m, σii=si(1−si) and σij=−sisj for i≠j (Rao, 1973). It follows immediately that

Let

then we have

where the derivative ∂g/∂x is evaluated at x1=uTs and x2=vTs. After some matrix multiplication, we complete the proof.
About this article
Cite this article
Zhou, JY., Hu, YQ. & Fung, W. A simple method for detection of imprinting effects based on case–parents trios. Heredity 98, 85–91 (2007). https://doi.org/10.1038/sj.hdy.6800906
Received:

Revised:

Accepted:

Published:

Issue Date:

DOI: https://doi.org/10.1038/sj.hdy.6800906
Keywords
association

genomic imprinting

genotypic relative risk

linkage analysis

power