Abstract
The Iberian breed is the most important pig population of the Mediterranean type. The genetic structure of two strains (Torbiscal and Guadyerbas) and three varieties (Retinto, Entrepelado and Lampiño) of this breed was studied using 173 pigs genotyped for 36 microsatellites. In addition, 40 pigs of the related Duroc breed were also analysed. In the 1960s, the Iberian breed's numbers were severely reduced by disease, due to economic change and to crossbreeding. Varieties are in danger of disappearance or blending. A new conservation strategy is required. An analysis was performed that allows us to ascertain the loss or gain of genetic diversity if one or several subpopulations are removed. The results are compared with those using the Weitzman method. The two methodologies produce conservation priorities that are completely different, the reason being that the Weitzman method does not take into account the within-population genetic diversity. We apply optimal contribution theory and a new procedure for cluster analysis, and discuss their value in the general framework of the problems of setting of priorities and tactics for the conservation of genetic resources.
References
Aranguren-Méndez J, Jordana J, Gómez M (2002). Genetic conservation of five endangered Spanish donkey breeds. J Anim Breed Genet 119: 256–263.

Barker JSF (1999). Conservation of livestock breed diversity. AGRI 25: 33–43.

Benito J, Vázquez C, Menaya C, Ferrera JL, García-Casco JM, Silió L et al (2000). Evaluation of productive parameters in different strains of Iberian pig. In: Afonso JA, Tirapicos JL (eds) Tradition and Innovation in Mediterranean Pig Production. CIHEAM/ICAM-UE: Zaragoza, pp 113–121.

Caballero A, Toro MA (2002). Analysis of genetic diversity for the management of conserved subdivided populations. Conserv Genet 3: 289–299.

Cañón J, Alexandrino P, Bessa I, Carleos C, Carretero Y, Dunner S et al (2001). Genetic diversity of local European beef cattle breeds for conservation purposes. Genet Sel Evol 33: 311–332.

Chaiwong N, Kinghorn BP (1999). Use of genetic markers to aid conservation decisions for groups of rare domestic breeds. Proc Assoc Adv Anim Breed Genet 13: 365–368.

Crandall KA, Bininda-Emonds ORP, Mace GM, Wayne RK (2000). Considering evolutionary processes in conservation biology. TREE 15: 290–295.

Dawson KJ, Belkhir K (2001). A Bayesian approach to the identification of panmictic populations and the assignment of individuals. Genet Res 78: 59–73.

Eding H, Crooijmans PMA, Groenne MAM, Meuwissen THE (2002). Assessing the contribution of breeds to genetic diversity in conservation schemes. Gen Sel Evol 34: 613–633.

Eding H, Laval G (1999). Measuring genetic uniqueness in livestock. In: Oldenbroek JK (ed) Genebanks and the Conservation of Farm Animal Genetic Resources. DLO Institute for Animal Sciences and Health: Lelystad, The Netherlands, pp 33–58.

Excoffier L (2001). Analysis of population subdivisión. In: Balding DJ, Bishop M, Cannings C (eds) Handbook of Statistical Genetics. John Wiley: New York, pp 271–307.

FAO (1998). Secondary guidelines for development of national farm animal genetic resources management plan. Measurement of domestic animal diversity (MoDAD); Working report. Available at:, http://dad.fao.org Accessed Dec. 15, 2000.

Felsenstein J (2001). PHYLIP Phylogeny inference Package, Version 3.6 (alpha2). Department of Genetics, University of Washington: Seattle.

Fernández A, Rodrigáñez J, Toro MA, Rodríguez MC, Silió L (2002). Inbreeding effects on the parameters of the growth function in three strains of Iberian pigs. J Anim Sci 80: 2267–2275.

Hall SJG, Bradley DG (1995). Conserving livestock breed diversity. TREE 10: 267–270.

Iannuccelli E, Wolosyn N, Arhains J, Gellin J, Milan D (1996). GEMMA: a database to manage and automate microsatellite genotyping. Proceedings of the 25th International Conference on Animal Genetics, Tours, p 88.

Laval G, Iannuccelli N, Legault C, Milan D, Groenen MAM, Giuffra E et al (2000). Genetic diversity of eleven European pig breeds. Genet Sel Evol 32: 187–203.

Lemus-Flores C, Ulloa-Arvizu R, Ramos-Kuri M, Estrada FJ, Alonso RA (2001). Genetic analysis of Mexican hairless pig populations. J Anim Sci 79: 3021–3026.

López-Bote CJ (1998). Sustained utilization of the Iberian pig breed. Meat Science 49(Suppl 1): S17–S27.

Malécot G (1948). Les Mathématiques de l'Hérédité. Masson et Cie: Paris.

Moritz C (1994). Defining 'evolutionary significant units' for conservation. Trends Ecol Evol 9: 373–375.

Nei M (1973). Analysis of gene diversity in subdivided populations. Proc Natl Acad Sci USA 70: 3321–3323.

Notter DR (1999). The importance of genetic diversity in livestock populations of the future. J Anim Sci 77: 61–69.

Oldenbroek JK (1999). Genebanks and the Conservation of Farm Animal Genetic Resources. DLO Institute for Animal Sciences and Health: Lelystad, The Netherlands.

Ollivier L, Foulley JJ (2002). Some suggestions on how to preserve both within- and between-breed genetic diversity. 53rd Annual Meeting of the European Association for Animal Production. Cairo, Egypt.

Ovilo C, Clop A, Noguera JL, Oliver MA, Barragán C, Rodríguez MC et al (2002). QTL mapping for meat quality traits in an Iberian × Landrace F2 pig population. J Anim Sci 80: 2801–2808.

Petit RJ, El Mousadik A, Pons O (1998). Identifying populations for conservation on the basis of genetic markers. Conserv Biol 12: 844–845.

Ponzoni RW (1997). Genetic resources and conservation. In: Piper LR, Ruvinsky A (eds) The Genetics of Sheep. CAB International: New York, pp 433–466.

Pritchard JK, Stephens M, Donnelly P (2000). Inference of population structure using multilocus genotype data. Genetics 155: 945–959.

Rodrigáñez J, Toro MA, Rodriguez MC, Silió L (2000). Alleles survival from Portuguese and Spanish strains in a population of Iberian pig. In: Afonso JA, Tirapicos JL (eds) Tradition and Innovation in Mediterranean Pig Production. CIHEAM/ICAM-UE: Zaragoza, pp 57–61.

Rosenberg NA, Burke T, Elo K, Feldman MW, Freidlin PJ, Groen MAM et al (2001). Empirical evaluation of genetic clustering methods using multilocus genotypes from 20 chicken breeds. Genetics 159: 699–713.

Ruane J (1999). A critical review of the values of genetic distance studies in conservation of animal genetic resources. J Anim Breed Genet 116: 317–323.

Silió L (2000). Iberian pig breeding programme. In: Galal S, Boyazouglu J, Hammond K (eds) Developing Breeding Strategies for Lower Input Animal Production Environments. International Committee for Animal Recording: Roma, pp 511–520.

Thaon d'Arnoldi C, Foulley J-L, Ollivier L (1998). An overview of the Weitzman approach to diversity. Genet Sel Evol 30: 149–161.

Toro MA, Rodrigañez J, Silió L, Rodríguez C (2000). Genealogical analysis of a closed herd of black hairless Iberian pigs. Conserv Biol 14: 1843–1851.

Vaughan HW (1950). Breeds of Live Stock in America. Long's College Book Co.: Columbus, OH.

Weitzman ML (1992). On diversity. Quart J Econom 107: 363–405.

Wimmers K, Ponsuksili S, Hardge T, Valle-Zarate A, Mathur PK, Horst P (2000). Genetic distinctness of African, Asian and South American local chickens. Anim Genet 31: 159–165.

Wright S (1969). Evolution and the Genetics of Populations. Vol. 2, The Theory of Gene Frequencies. The University of Chicago Press: Chicago.
Acknowledgements
We are grateful to Jesús Fernández for the calculations of optimal contributions, Beatriz Villanueva for the English revision and Javier Cañón and David García for the software to calculate Weitzman distances. Financial support has been provided by the Grant RZ01-028-C2-1. Pig blood samples were kindly supplied by CIA 'Dehesón del Encinar' and AECERIBER.
Appendix A
Appendix A
Let us consider three populations (n=3) with 3, 2 and 2 individuals genotyped for a codominant marker. The coefficient of molecular coancestry between all the individuals are given in Table A1. It is obtained by applying Malécot definition but referring to identity in state instead of identity by descent.
Adding the appropriate cells of the table, we can easily obtain the values of the average coancestry between subpopulations as

The average self-coancestries of each population, si, will add only the diagonal values and the average inbreeding will correspond to Fi=2si−1

The average distance between individuals of subpopulations i and j is

And the classical Nei's minimum and the Reynolds distances will be


For subpopulation I, the following relationships are met:

Here, αi is the deviation from H–W proportions and Gi is the proportion of diversity between individuals for subpopulation i, so that (1−αi)=2(1−Gi) and (1−fii)=(1−si)+Dii.
For the entire population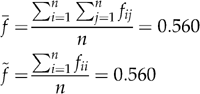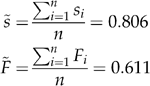 and finally the average global coancestry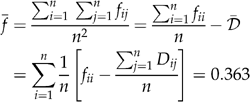 The last expression allows to assign the contribution of each population to the global coancestry either to its own coancestry (fii=si−Dii) or to the genetic distances to other populations.
It should also be noted that Wright's (1969) F-statistics are obtained as

so that (1−FIT)=(1−FIS)(1−FST)
All the above measures are calculated for each marker locus and averaged over loci. There is an alternative way of calculating the above results that will lead to exactly the same figures (Caballero and Toro, 2002). It is also straightforward to modify the above formulae to assign different weights to subpopulations, although it is not clear as to which weights should be applied. From an evolutionary perspective, Nei (1973) suggests equal weights, but other authors suggest that it is more reasonable for descriptive purposes to weigh each population proportionally either to the effective or to the actual population size. Finally, because the studied individuals of a subpopulation can be considered as a sample (or the subpopulations studied as a sample of a larger set of subpopulations), some corrections should be included to allow for the finite sample size. There is, however, some controversy about what is the appropriate correction (Excoffier, 2001). In the present work, we show the results ignoring these corrections in order to maintain the simplicity of the analysis and, since the numbers of sampled individuals per population are approximately equal, the results are essentially the same.
About this article
Cite this article
Fabuel, E., Barragán, C., Silió, L. et al. Analysis of genetic diversity and conservation priorities in Iberian pigs based on microsatellite markers. Heredity 93, 104–113 (2004). https://doi.org/10.1038/sj.hdy.6800488
Received:

Accepted:

Published:

Issue Date:

DOI: https://doi.org/10.1038/sj.hdy.6800488
Keywords
Iberian pig

global coancestry

genetic distances

conservation priorities

microsatellites