Abstract
Purpose
To analyse outcomes of lacrimal bypass surgery with the Medpor coated tear drainage tube.
Methods
A total of 26 eyes in 26 patients with persistent epiphora who failed canaliculoanastomosis and dacryocystorhinostomy were treated by the lacrimal bypass surgery with the Medpor coated tear drainage tubes. Ten cases of severe obstruction of punctum and canaliculi and 16 cases with both upper system and lacrimal sac obstruction comprised this cohort of patients.
Results
No tube extrusion or displacement was observed after 6–28 months of follow-up. Complete or significant resolution of epiphora was achieved in 23/26 cases (88.5%). Luminal obstruction by debris was noted in nine eyes, ocular discomfort in four, improper tube size selection in two, malposition in one, infection in one, diplopia in one, corneal abrasion in one, and reflux of intranasal secretion into fornix in another.
Conclusion
Medpor coated tear drainage tube offers tube stabilization in minimizing tube extrusion and displacement.
Access options
Access options
Subscribe to Journal
Get full journal access for 1 year
$411.00
only $34.25 per issue
All prices are NET prices.
VAT will be added later in the checkout.
Rent or Buy article
Get time limited or full article access on ReadCube.
from$8.99
All prices are NET prices.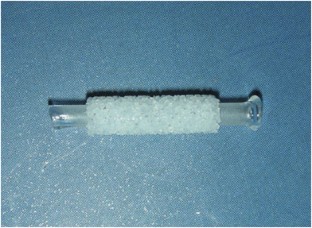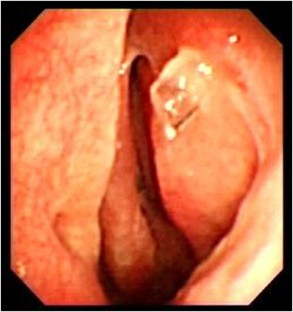 References
1

Jones LT . Conjunctivodacryocystorhinostomy. Am J Ophthalmol 1965; 59: 773–783.

2

Sekhar GC, Dortzbach RK, Gonnering RS, Lemke BN . Problems associated with conjunctivodacryocystorhinostomy. Am J Ophthalmol 1991; 112: 502–506.

3

Rosen N, Ashkenazi I, Rosner M . Patient dissatisfaction after functionally successful conjunctivodacryocystorhinostomy with Jones tube. Am J Ophthalmol 1994; 117: 636–642.

4

Chung YJ, Kim G, Sohn BK . Conjunctivorhinostomy with rubber-tipped Jones tube. Ann Plast Surg 2004; 52: 68–71.

5

Trotter WL, Meyer DR . Endoscopic conjunctivodacryocystorhinostomy with Jones tube placement. Ophthalmology 2000; 107: 1206–1209.

6

Can I, Can B, Yarangumeli A, Gurbuz O, Tekelioglu M, Kural G . CDCR with buccal mucosal graft: comparative and histopathological study. Ophthalmic Surg Lasers 1999; 30: 98–104.

7

Hurwitz JJ . New polypropylene tube to stent or bypass the lacrimal system. Can J Ophthalmol 1984; 19: 261–265.

8

Reinecke RD, Carroll JM . Silicone lacrimal tube implantation. Trans Am Acad Ophthalmol Otolaryngol 1969; 73: 85–90.

9

Hurwitz JJ . Teflon tubes for stenting and bypassing the lacrimal drainage pathways. Ophthalmic Surg 1989; 20: 855–859.

10

Zilelioglu G, Gunduz K . Conjunctivodacryocystorhinostomy with Jones tube. A 10-year study. Doc Ophthalmol 1996–1997; 92: 97–105.

11

Steinsapir KD, Glatt HJ, Putterman AM . A 16-year study of conjunctival dacryocystorhinostomy. Am J Ophthalmol 1990; 109: 387–393.

12

Rubin PA, Bilyk JR, Shore JW . Orbital reconstruction using porous polyethylene sheets. Ophthalmology 1994; 101: 1697–1708.

13

Lim C, Martin P, Benger R, Kourt G, Ghabrial R . Lacrimal canalicular bypass surgery with the Lester Jones tube. Am J Ophthalmol 2004; 137: 101–108.

14

Lee JS, Jung G, Lee JE, Oum BS, Lee SH, Rho HJ . The treatment of lacrimal apparatus obstruction with the use of an inner canthal Jones tube insertion via a transcaruncular route. Ophthalmic Surg Lasers 2001; 32: 48–54.

15

Hurwitz JJ, Rutherford S . Computerized survey of lacrimal surgery patients. Ophthalmology 1986; 93: 14–19.
Acknowledgements
We are grateful to Dr David T Tse (Bascon Palmer Eye Institute, Department of Ophthalmology, University of Miami School), Dr Yip Chee Chew (The Eye Institute, Tan Tock Seng Hoapital) for their help and their support. This work was supported by grants from the Science and Technology Commission of Shanghai and the Hygiene Commission of Shanghai.
Additional information
The authors have no proprietary interest in any products or items mentioned in this paper
About this article
Received

Accepted

Published

Issue Date
Keywords
lacrimal duct occlusion

lacrimal bypass surgery

Medpor coated tear drain