Abstract
The compulsive nature of tobacco use is attributable to nicotine addiction. Nicotine is eliminated by metabolism through the cytochrome P450 2A6 (CYP2A6) enzyme in liver. Inhibition of CYP2A6 by chemical compounds may represent a potential supplement to anti-smoking therapy. The purpose of this study was to rationally design potent inhibitors of CYP2A6. 3D-QSAR models were constructed to find out which structural characteristics are important for inhibition potency. Specifically located hydrophobic and hydrogen donor features were found to affect inhibition potency. These features were used in virtual screening of over 60 000 compounds in the Maybridge chemical database. A total of 22 candidate molecules were selected and tested for inhibition potency. Four of these were potent and selective CYP2A6 inhibitors with IC50 values lower than 1 μM. They represent novel structures of CYP2A6 inhibitors, especially N1-(4-fluorophenyl)cyclopropane-1-carboxamide. This compound can be used as a lead in the design of CYP2A6 inhibitor drugs to combat nicotine addiction.
Access options
Subscribe to this journal
Receive 6 print issues and online access
$259.00 per year
only $43.17 per issue
Rent or buy this article
Prices vary by article type
from$1.95
to$39.95
Prices may be subject to local taxes which are calculated during checkout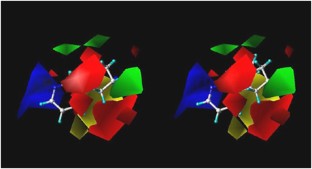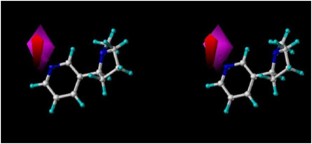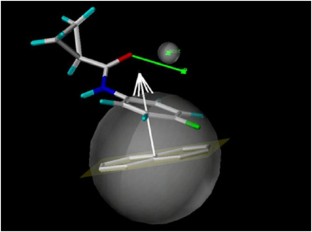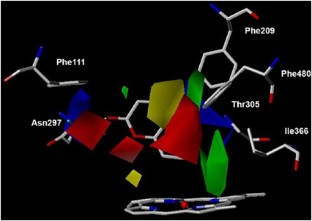 Abbreviations
CYP:

cytochrome P450

CoMFA:

Comparative Molecular Field Analysis

CoMSIA:

Comparative Molecular Similarity Indices Analysis

LHO:

leave-half-out

LOO:

leave-one-out

LSO:

leave-some-out

PLS:

partial least squares

3D-QSAR:

three-dimensional quantitative structure–activity relationship
References
Ezzati M, Hoorn SV, Rodgers A, Lopez AD, Mathers CD, Murray CJ et al. Estimates of global and regional potential health gains from reducing multiple major risk factors. Lancet 2003; 362: 271–280.

Benowitz NL . Pharmacology of nicotine: addiction and therapeutics. Annu Rev Pharmacol Toxicol 1996; 36: 597–613.

Berkman CE, Park SB, Wrighton SA, Cashman JR . In vitro–in vivo correlations of human (S)-nicotine metabolism. Biochem Pharmacol 1995; 50: 565–570.

Nakajima M, Yamamoto T, Nunoya K, Yokoi T, Nagashima K, Inoue K et al. Role of human cytochrome P4502A6 in C-oxidation of nicotine. Drug Metab Dispos 1996; 24: 1212–1217.

Messina ES, Tyndale RF, Sellers EM . A major role for CYP2A6 in nicotine C-oxidation by human liver microsomes. J Pharmacol Exp Ther 1997; 282: 1608–1614.

Hukkanen J, Jacob III P, Benowitz NL . Metabolism and disposition kinetics of nicotine. Pharmacol Rev 2005; 57: 79–115.

Oscarson M . Genetic polymorphisms in the cytochrome P450 2A6 (CYP2A6) gene: implications for interindividual differences in nicotine metabolism. Drug Metab Dispos 2001; 29: 91–95.

Raunio H, Rautio A, Gullsten H, Pelkonen O . Polymorphisms of CYP2A6 and its practical consequences. Br J Clin Pharmacol 2001; 52: 357–363.

Xu C, Goodz S, Sellers EM, Tyndale RF . CYP2A6 genetic variation and potential consequences. Adv Drug Deliv Rev 2002; 54: 1245–1256.

Nakajima M, Kuroiwa Y, Yokoi T . Interindividual differences in nicotine metabolism and genetic polymorphisms of human CYP2A6. Drug Metab Rev 2002; 34: 865–877.

Malaiyandi V, Sellers EM, Tyndale RF . Implications of CYP2A6 genetic variation for smoking behaviors and nicotine dependence. Clin Pharmacol Ther 2005; 77: 145–158.

Tyndale RF, Sellers EM . Variable CYP2A6-mediated nicotine metabolism alters smoking behavior and risk. Drug Metab Dispos 2001; 29: 548–552.

Gu DF, Hinks LJ, Morton NE, Day IN . The use of long PCR to confirm three common alleles at the CYP2A6 locus and the relationship between genotype and smoking habit. Ann Hum Genet 2000; 64: 383–390.

Schoedel KA, Hoffmann EB, Rao Y, Sellers EM, Tyndale RF . Ethnic variation in CYP2A6 and association of genetically slow nicotine metabolism and smoking in adult Caucasians. Pharmacogenetics 2004; 14: 615–626.

Malaiyandi V, Lerman C, Benowitz NL, Jepson C, Patterson F, Tyndale RF . Impact of CYP2A6 genotype on pretreatment smoking behaviour and nicotine levels from and usage of nicotine replacement therapy. Mol Psychiatry 2006; 11: 400–409.

Sellers EM, Kaplan HL, Tyndale RF . Inhibition of cytochrome P450 2A6 increases nicotine's oral bioavailability and decreases smoking. Clin Pharmacol Ther 2000; 68: 35–43.

Zhang W, Kilicarslan T, Tyndale RF, Sellers EM . Evaluation of methoxsalen, tranylcypromine, and tryptamine as specific and selective CYP2A6 inhibitors in vitro. Drug Metab Dispos 2001; 29: 897–902.

Draper AJ, Madan A, Parkinson A . Inhibition of coumarin 7-hydroxylase activity in human liver microsomes. Arch Biochem Biophys 1997; 341: 47–61.

Pelkonen O, Rautio A, Raunio H, Pasanen M . CYP2A6: a human coumarin 7-hydroxylase. Toxicology 2000; 144: 139–147.

Denton TT, Zhang X, Cashman JR . 5-substituted, 6-substituted, and unsubstituted 3-heteroaromatic pyridine analogues of nicotine as selective inhibitors of cytochrome P-450 2A6. J Med Chem 2005; 48: 224–239.

Poso A, Gynther J, Juvonen R . A comparative molecular field analysis of cytochrome P450 2A5 and 2A6 inhibitors. J Comput Aided Mol Des 2001; 15: 195–202.

Rahnasto M, Raunio H, Poso A, Juvonen RO . More potent inhibition of human CYP2A6 than mouse CYP2A5 enzyme activities by derivatives of phenylethylamine and benzaldehyde. Xenobiotica 2003; 33: 529–539.

Rahnasto M, Raunio H, Poso A, Wittekindt C, Juvonen RO . Quantitative structure-activity relationship analysis of inhibitors of the nicotine metabolizing CYP2A6 enzyme. J Med Chem 2005; 48: 440–449.

Yano JK, Hsu MH, Griffin KJ, Stout CD, Johnson EF . Structures of human microsomal cytochrome P450 2A6 complexed with coumarin and methoxsalen. Nat Struct Mol Biol 2005; 12: 822–823.

Yano JK, Denton TT, Cerny MA, Zhang X, Johnson EF, Cashman JR . Synthetic inhibitors of cytochrome P-450 2A6: inhibitory activity, difference spectra, mechanism of inhibition, and protein cocrystallization. J Med Chem 2006; 49: 6987–7001.

Hawkins DM, Basak SC, Mills D . Assessing model fit by cross-validation. J Chem Inf Comput Sci 2003; 43: 579–586.

Tervo AJ, Nyronen TH, Ronkko T, Poso A . A structure-activity relationship study of catechol-O-methyltransferase inhibitors combining molecular docking and 3D QSAR methods. J Comput Aided Mol Des 2003; 17: 797–810.

Salo OM, Savinainen JR, Parkkari T, Nevalainen T, Lahtela-Kakkonen M, Gynther J et al. 3D-QSAR studies on cannabinoid CB1 receptor agonists: G-protein activation as biological data. J Med Chem 2006; 49: 554–566.

Turpeinen M, Uusitalo J, Jalonen J, Pelkonen O . Multiple P450 substrates in a single run: rapid and comprehensive in vitro interaction assay. Eur J Pharm Sci 2005; 24: 123–132.

Turpeinen M, Korhonen LE, Tolonen A, Uusitalo J, Juvonen R, Raunio H et al. Cytochrome P450 (CYP) inhibition screening: comparison of three tests. Eur J Pharm Sci 2006; 29: 130–138.

Korhonen LE, Rahnasto M, Mahonen NJ, Wittekindt C, Poso A, Juvonen RO et al. Predictive three-dimensional quantitative structure-activity relationship of cytochrome P450 1A2 inhibitors. J Med Chem 2005; 48: 3808–3815.

Korhonen LE, Turpeinen M, Rahnasto M, Wittekindt C, Poso A, Pelkonen O et al. New potent and selective cytochrome P450 2B6 (CYP2B6) inhibitors based on three-dimensional quantitative structure-activity relationship (3D-QSAR) analysis. Br J Pharmacol 2007; 150: 932–942.

Williams PA, Cosme J, Sridhar V, Johnson EF, McRee DE . Microsomal cytochrome P450 2C5: comparison to microbial P450 s and unique features. J Inorg Biochem 2000; 81: 183–190.

Stahl GR, Holtje HD . Development of models for cytochrome P450 2A5 as well as two of its mutants. Pharmazie 2005; 60: 247–253.

Juvonen RO, Gynther J, Pasanen M, Alhava E, Poso A . Pronounced differences in inhibition potency of lactone and non-lactone compounds for mouse and human coumarin 7-hydroxylases (CYP2A5 and CYP2A6). Xenobiotica 2000; 30: 81–92.

Jones G, Willett P, Glen RC, Leach AR, Taylor R . Development and validation of a genetic algorithm for flexible docking. J Mol Biol 1997; 267: 727–748.

Verdonk ML, Cole JC, Hartshorn MJ, Murray CW, Taylor RD . Improved protein-ligand docking using GOLD. Proteins 2003; 52: 609–623.

Eldridge MD, Murray CW, Auton TR, Paolini GV, Mee RP . Empirical scoring functions: I. the development of a fast empirical scoring function to estimate the binding affinity of ligands in receptor complexes. J Comput Aided Mol Des 1997; 11: 425–445.

de Graaf C, Vermeulen NP, Feenstra KA . Cytochrome p450 in silico: an integrative modeling approach. J Med Chem 2005; 48: 2725–2755.

Cramer RI, Patterson D, Bunce J . Comparative molecular field analysis (CoMFA). 1. Effect of shape on binding of steroids to carrier proteins. J Am Chem Soc 1988; 110: 5959–5960.

Klebe G, Abraham U, Mietzner T . Molecular similarity indices in a comparative analysis (CoMSIA) of drug molecules to correlate and predict their biological activity. J Med Chem 1994; 37: 4130–4146.

Bohm M, St rzebecher J, Klebe G . Three-dimensional quantitative structure-activity relationship analyses using comparative molecular field analysis and comparative molecular similarity indices analysis to elucidate selectivity differences of inhibitors binding to trypsin, thrombin, and factor Xa. J Med Chem 1999; 42: 458–477.

Klebe G, Abraham U . Comparative molecular similarity index analysis (CoMSIA) to study hydrogen-bonding properties and to score combinatorial libraries. J Comput Aided Mol Des 1999; 13: 1–10.

Clark RD, Fox PC . Statistical variation in progressive scrambling. J Comput Aided Mol Des 2004; 18: 563–576.

Lipinski CA, Lombardo F, Dominy BW, Feeney PJ . Experimental and computational approaches to estimate solubility and permeability in drug discovery and development settings. Adv Drug Deliv Rev 2001; 46: 3–26.

Aitio A . A simple and sensitive assay of 7-ethoxycoumarin deethylation. Anal Biochem 1978; 85: 488–491.

Taavitsainen P, Juvonen R, Pelkonen O . In vitro inhibition of cytochrome P450 enzymes in human liver microsomes by a potent CYP2A6 inhibitor, trans-2-phenylcyclopropylamine (tranylcypromine), and its nonamine analog, cyclopropylbenzene. Drug Metab Dispos 2001; 29: 217–222.
Acknowledgements
We thank Ms. Hannele Jaatinen for her excellent technical help and Dr Ewen MacDonald for his help in preparing the manuscript.
Additional information
Duality of interest
None declared.
About this article
Cite this article
Rahnasto, M., Wittekindt, C., Juvonen, R. et al. Identification of inhibitors of the nicotine metabolising CYP2A6 enzyme—an in silico approach. Pharmacogenomics J 8, 328–338 (2008). https://doi.org/10.1038/sj.tpj.6500481
Received:

Revised:

Accepted:

Published:

Issue Date:

DOI: https://doi.org/10.1038/sj.tpj.6500481
Keywords
This article is cited by
Max K. Leong
Yen-Ming Chen
Po-Hong Chen

Pharmaceutical Research (2009)