Abstract
Alcohol drinking habits and alcoholism are partly genetically determined. Alcohol is degraded primarily by alcohol dehydrogenase (ADH) wherein genetic variation that affects the rate of alcohol degradation is found in ADH1B and ADH1C. It is biologically plausible that these variations may be associated with alcohol drinking habits and alcoholism. By genotyping 9080 white men and women from the general population, we found that men and women with ADH1B slow vs fast alcohol degradation drank more alcohol and had a higher risk of everyday drinking, heavy drinking, excessive drinking and of alcoholism. For example, the weekly alcohol intake was 9.8 drinks (95% confidence interval (CI): 9.1–11) among men with the ADH1B·1/1 genotype compared to 7.5 drinks (95% CI: 6.4–8.7) among men with the ADH1B·1/2 genotype, and the odds ratio (OR) for heavy drinking was 3.1 (95% CI: 1.7–5.7) among men with the ADH1B·1/1 genotype compared to men with the ADH1B·1/2 genotype. Furthermore, individuals with ADH1C slow vs fast alcohol degradation had a higher risk of heavy and excessive drinking. For example, the OR for heavy drinking was 1.4 (95% CI: 1.1–1.8) among men with the ADH1C·1/2 genotype and 1.4 (95% CI: 1.0–1.9) among men with the ADH1B·2/2 genotype, compared with men with the ADH1C·1/1 genotype. Results for ADH1B and ADH1C genotypes among men and women were similar. Finally, because slow ADH1B alcohol degradation is found in more than 90% of the white population compared to less than 10% of East Asians, the population attributable risk of heavy drinking and alcoholism by ADH1B·1/1 genotype was 67 and 62% among the white population compared with 9 and 24% among the East Asian population.
Access options
Subscribe to this journal
Receive 6 print issues and online access
$259.00 per year
only $43.17 per issue
Rent or buy this article
Get just this article for as long as you need it
$39.95
Prices may be subject to local taxes which are calculated during checkout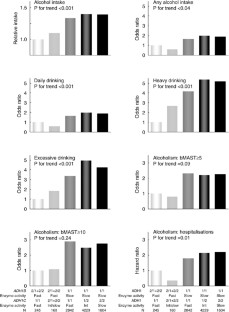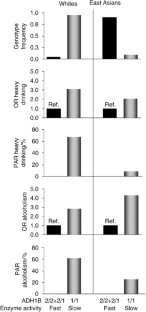 Abbreviations
ADH:

alcohol dehydrogenase

bMAST:

brief Michigan Alcoholism Screening Test

OR:

odds ratio

PAR:

population attributable risk

Ref:

Reference group
References
Han C, McGue MK, Iacono WG . Lifetime tobacco, alcohol and other substance use in adolescent Minnesota twins: univariate and multivariate behavioral genetic analyses. Addiction 1999; 94: 981–993.

Kendler KS, Neale MC, Heath AC, Kessler RC, Eaves LJ . A twin-family study of alcoholism in women. Am J Psychiatry 1994; 151: 707–715.

Saccone NL, Kwon JM, Corbett J, Goate A, Rochberg N, Edenberg HJ et al. A genome screen of maximum number of drinks as an alcoholism phenotype. Am J Med Genet 2000; 96: 632–637.

Bosron WF, Li TK . Genetic polymorphism of human liver alcohol and aldehyde dehydrogenases, and their relationship to alcohol metabolism and alcoholism. Hepatology 1986; 6: 502–510.

Vidal F, Lorenzo A, Auguet T, Olona M, Broch M, Gutierrez C et al. Genetic polymorphisms of ADH2, ADH3, CYP4502E1 Dra-I and Pst-I, and ALDH2 in Spanish men: lack of association with alcoholism and alcoholic liver disease. J Hepatol 2004; 41: 744–750.

Konishi T, Luo HR, Calvillo M, Mayo MS, Lin KM, Wan YJ . ADH1B*1, ADH1C*2, DRD2 (−141C Ins), and 5-HTTLPR are associated with alcoholism in Mexican American men living in Los Angeles. Alcohol Clin Exp Res 2004; 28: 1145–1152.

Wall TL, Carr LG, Ehlers CL . Protective association of genetic variation in alcohol dehydrogenase with alcohol dependence in native American Mission Indians. Am J Psychiatry 2003; 160: 41–46.

Osaka R, Nanakorn S, Sakata R, Nishiyori A, Shibata A, Nakamura J et al. Alcohol dehydrogenase-2 and aldehyde dehydrogenase-2 genotypes and male alcohol use disorders in Khon Kaen, north-east Thailand. Psychiatry Clin Neurosci 2003; 57: 37–45.

Chao YC, Wang SJ, Chu HC, Chang WK, Hsieh TY . Investigation of alcohol metabolizing enzyme genes in Chinese alcoholics with avascular necrosis of hip joint, pancreatitis and cirrhosis of the liver. Alcohol Alcohol 2003; 38: 431–436.

Frenzer A, Butler WJ, Norton ID, Wilson JS, Apte MV, Pirola RC et al. Polymorphism in alcohol-metabolizing enzymes, glutathione S-transferases and apolipoprotein E and susceptibility to alcohol-induced cirrhosis and chronic pancreatitis. J Gastroenterol Hepatol 2002; 17: 177–182.

Chambers GK, Marshall SJ, Robinson GM, Maguire S, Newton-Howes J, Chong NL . The genetics of alcoholism in Polynesians: alcohol and aldehyde dehydrogenase genotypes in young men. Alcohol Clin Exp Res 2002; 26: 949–955.

Ogurtsov PP, Garmash IV, Miandina GI, Guschin AE, Itkes AV, Moiseev VS . Alcohol dehydrogenase ADH2-1 and ADH2-2 allelic isoforms in the Russian population correlate with type of alcoholic disease. Addict Biol 2001; 6: 377–383.

Lee HC, Lee HS, Jung SH, Yi SY, Jung HK, Yoon JH et al. Association between polymorphisms of ethanol-metabolizing enzymes and susceptibility to alcoholic cirrhosis in a Korean male population. J Korean Med Sci 2001; 16: 745–750.

Borras E, Coutelle C, Rosell A, Fernandez-Muixi F, Broch M, Crosas B et al. Genetic polymorphism of alcohol dehydrogenase in Europeans: the ADH2*2 allele decreases the risk for alcoholism and is associated with ADH3*1. Hepatology 2000; 31: 984–989.

Amadéo S, Noble EP, Fourcade-Amadéo ML, Tetaria C, Brugiroux MF, Nicolas L et al. Association of D2 dopamine receptor and alcohol dehydrogenase 2 genes with polynesian alcoholics. Eur Psychiatry 2000; 15: 97–102.

Chao YC, Wang LS, Hsieh TY, Chu CW, Chang FY, Chu HC . Chinese alcoholic patients with esophageal cancer are genetically different from alcoholics with acute pancreatitis and liver cirrhosis. Am J Gastroenterol 2000; 95: 2958–2964.

Rodrigo L, Alvarez V, Rodriguez M, Perez R, Alvarez R, Coto E . N-acetyltransferase-2, glutathione S-transferase M1, alcohol dehydrogenase, and cytochrome P450IIE1 genotypes in alcoholic liver cirrhosis: a case–control study. Scand J Gastroenterol 1999; 34: 303–307.

Osier M, Pakstis AJ, Kidd JR, Lee JF, Yin SJ, Ko HC et al. Linkage disequilibrium at the ADH2 and ADH3 loci and risk of alcoholism. Am J Hum Genet 1999; 64: 1147–1157.

Chen CC, Lu RB, Chen YC, Wang MF, Chang YC, Li TK et al. Interaction between the functional polymorphisms of the alcohol-metabolism genes in protection against alcoholism. Am J Hum Genet 1999; 65: 795–807.

Whitfield JB, Nightingale BN, Bucholz KK, Madden PA, Heath AC, Martin NG . ADH genotypes and alcohol use and dependence in Europeans. Alcohol Clin Exp Res 1998; 22: 1463–1469.

Shen YC, Fan JH, Edenberg HJ, Li TK, Cui YH, Wang YF et al. Polymorphism of ADH and ALDH genes among four ethnic groups in China and effects upon the risk for alcoholism. Alcohol Clin Exp Res 1997; 21: 1272–1277.

Espinos C, Sanchez F, Ramirez C, Juan F, Najera C . Polymorphism of alcohol dehydrogenase genes in alcoholic and nonalcoholic individuals from Valencia (Spain). Hereditas 1997; 126: 247–253.

Chen WJ, Loh EW, Hsu YP, Cheng AT . Alcohol dehydrogenase and aldehyde dehydrogenase genotypes and alcoholism among Taiwanese aborigines. Biol Psychiatry 1997; 41: 703–709.

Nakamura K, Iwahashi K, Matsuo Y, Miyatake R, Ichikawa Y, Suwaki H . Characteristics of Japanese alcoholics with the atypical aldehyde dehydrogenase 2*2. I. A comparison of the genotypes of ALDH2, ADH2, ADH3, and cytochrome P-4502E1 between alcoholics and nonalcoholics. Alcohol Clin Exp Res 1996; 20: 52–55.

Tanaka F, Shiratori Y, Yokosuka O, Imazeki F, Tsukada Y, Omata M . High incidence of ADH2*1/ALDH2*1 genes among Japanese alcohol dependents and patients with alcoholic liver disease. Hepatology 1996; 23: 234–239.

Higuchi S, Muramatsu T, Matsushita S, Murayama M, Hayashida M . Polymorphisms of ethanol-oxidizing enzymes in alcoholics with inactive ALDH2. Hum Genet 1996; 97: 431–434.

Chen WJ, Loh EW, Hsu YP, Chen CC, Yu JM, Cheng AT . Alcohol-metabolising genes and alcoholism among Taiwanese Han men: independent effect of ADH2, ADH3 and ALDH2. Br J Psychiatry 1996; 168: 762–767.

Maezawa Y, Yamauchi M, Toda G, Suzuki H, Sakurai S . Alcohol-metabolizing enzyme polymorphisms and alcoholism in Japan. Alcohol Clin Exp Res 1995; 19: 951–954.

Zintzaras E, Stefanidis I, Santos M, Vidal F . Do alcohol-metabolizing enzyme gene polymorphisms increase the risk of alcoholism and alcoholic liver disease? Hepatology 2006; 43: 352–361.

Sun F, Tsuritani I, Yamada Y . Contribution of genetic polymorphisms in ethanol-metabolizing enzymes to problem drinking behavior in middle-aged Japanese men. Behav Genet 2002; 32: 229–236.

Rothman K . Biases in Study Design. Epidemiology—An Introduction. Oxford University Press: New York, 2002: 94–112.

Rothman K, Greenland S . Precision and Validity in Epidemiological Studies Modern Epidemiology.2nd edn, Lippincott, Williams and Wilkins, Philadelphia, USA, 1998, pp 115–134.

Mizoi Y, Yamamoto K, Ueno Y, Fukunaga T, Harada S . Involvement of genetic polymorphism of alcohol and aldehyde dehydrogenases in individual variation of alcohol metabolism. Alcohol Alcohol 1994; 29: 707–710.

Neumark YD, Friedlander Y, Durst R, Leitersdorf E, Jaffe D, Ramchandani VA et al. Alcohol dehydrogenase polymorphisms influence alcohol-elimination rates in a male Jewish population. Alcohol Clin Exp Res 2004; 28: 10–14.

Yokoyama T, Yokoyama A, Kato H, Tsujinaka T, Muto M, Omori T et al. Alcohol flushing, alcohol and aldehyde dehydrogenase genotypes, and risk for esophageal squamous cell carcinoma in Japanese men. Cancer Epidemiol Biomarkers Prev 2003; 12: 1227–1233.

Carr LG, Foroud T, Stewart T, Castelluccio P, Edenberg HJ, Li TK . Influence of ADH1B polymorphism on alcohol use and its subjective effects in a Jewish population. Am J Med Genet 2002; 112: 138–143.

Takeshita T, Yang X, Morimoto K . Association of the ADH2 genotypes with skin responses after ethanol exposure in Japanese male university students. Alcohol Clin Exp Res 2001; 25: 1264–1269.

Takeshita T, Mao XQ, Morimoto K . The contribution of polymorphism in the alcohol dehydrogenase beta subunit to alcohol sensitivity in a Japanese population. Hum Genet 1996; 97: 409–413.

The Copenhagen City Heart Study. Osterbroundersogelsen. A book of tables with data from the first examination (1976–78) and a five year follow-up (1981–83). Scand J Soc Med (Suppl) 1989; 41: 1–160.

Schnohr P, Jensen G, Lange P, Scharling H, Appleyard M . The Copenhagen City Heart Study—Østerbroundersøgelsen. Tables with data from the third examination 1991–94. Eur Heart J (Suppl) 2001; 3: H1–H83.

Sosnowski RG, Tu E, Butler WF, O'Connell JP, Heller MJ . Rapid determination of single base mismatch mutations in DNA hybrids by direct electric field control. Proc Natl Acad Sci USA 1997; 94: 1119–1123.

Sethi AA, Tybjaerg-Hansen A, Andersen RV, Nordestgaard BG . Nanogen microelectronic chip for large-scale genotyping. Clin Chem 2004; 50: 443–446.

Jensen MK, Sorensen TI, Andersen AT, Thorsen T, Tolstrup JS, Godtfredsen NS et al. A prospective study of the association between smoking and later alcohol drinking in the general population. Addiction 2003; 98: 355–363.

Pokorny AD, Miller BA, Kaplan HB . The brief MAST: a shortened version of the Michigan Alcoholism Screening Test. Am J Psychiatry 1972; 129: 342–345.

Jürgensen HJ, Frølund C, Gustafsen J, Mosbech H, Guldhammer B, Mosbech J . Registration of diagnoses in the Danish National Registry of patients. Methods Inf Med 1986; 25: 158–164.

Hplus. Fred Hutchinson Cancer Research Center: Seattle, WA, 2003.

Li SS, Khalid N, Carlson C, Zhao LP . Estimating haplotype frequencies and standard errors for multiple single nucleotide polymorphisms. Biostatistics 2003; 4: 513–522.

Lewontin RC . The interaction of selection and linkage. I. General considerations: heterotic models. Genetics 1964; 49: 49–67.

Pritchard JK, Przeworski M . Linkage disequilibrium in humans: models and data. Am J Hum Genet 2001; 69: 1–14.

Tooze JA, Grunwald GK, Jones RH . Analysis of repeated measures data with clumping at zero. Stat Methods Med Res 2002; 11: 341–355.

Walter SD . Calculation of attributable risks from epidemiological data. Int J Epidemiol 1978; 7: 175–182.
Acknowledgements
This work was supported by grants from the Danish Graduate School of Public Health, the Health Insurance Foundation, the Ministry of the Interior and Health and the Danish National Board of Health and The Danish Heart Foundation, The Danish Medical Research Council, The Copenhagen County Research Foundation and Chief Physician Johan Boserup and Lise Boserups Foundation. We thank the participants of the Copenhagen City Heart Studies.
Additional information
Duality of interest
None declared.
About this article
Cite this article
Tolstrup, J., Nordestgaard, B., Rasmussen, S. et al. Alcoholism and alcohol drinking habits predicted from alcohol dehydrogenase genes. Pharmacogenomics J 8, 220–227 (2008). https://doi.org/10.1038/sj.tpj.6500471
Received:

Revised:

Accepted:

Published:

Issue Date:

DOI: https://doi.org/10.1038/sj.tpj.6500471
Keywords
genetic association study

alcoholism

population-based study

alcohol

alcohol dehydrogenase

acetaldehyde