Abstract
Codeine is an analgesic drug acting on μ-opiate receptors predominantly via its metabolite morphine, which is formed almost exclusively by the genetically polymorphic enzyme cytochrome P450 2D6 (CYP2D6). Whereas it is known that individuals lacking CYP2D6 activity (poor metabolizers, PM) suffer from poor analgesia from codeine, ultra-fast metabolizers (UM) due to the CYP2D6 gene duplication may experience exaggerated and even potentially dangerous opioidergic effects and no systematical study has been performed so far on this question. A single dose of 30 mg codeine was administered to 12 UM of CYP2D6 substrates carrying a CYP2D6 gene duplication, 11 extensive metabolizers (EM) and three PM. Genotyping was performed using polymerase chain reaction-restriction fragment length polymorphism methods and a single-base primer extension method for characterization of the gene-duplication alleles. Pharmacokinetics was measured over 24 h after drug intake and codeine and its metabolites in plasma and urine were analyzed by liquid chromatography with tandem mass spectrometry. Significant differences between the EM and UM groups were detected in areas under the plasma concentration versus time curves (AUCs) of morphine with a median (range) AUC of 11 (5–17) μg h l−1 in EMs and 16 (10–24) μg h l−1 in UM (P=0.02). In urine collected over 12 h, the metabolic ratios of the codeine+codeine-6-glucuronide divided by the sum of morphine+its glucuronides metabolites were 11 (6–17) in EMs and 9 (6–16) in UM (P=0.05). Ten of the 11 CYP2D6 UMs felt sedation (91%) compared to six (50%) of the 12 EMs (P=0.03). CYP2D6 genotypes predicting ultrarapid metabolism resulted in about 50% higher plasma concentrations of morphine and its glucuronides compared with the EM. No severe adverse effects were seen in the UMs in our study most likely because we used for safety reasons a low dose of only 30 mg. It might be good if physicians would know about the CYP2D6 duplication genotype of their patients before administering codeine.
Relevant articles
Open Access articles citing this article.
Gaute Lyngstad

,

Per Skjelbred

…

Lasse A. Skoglund

European Journal of Clinical Pharmacology Open Access 16 October 2021

S. R. Gretler

,

C. J. Finno

…

H. K. Knych

BMC Veterinary Research Open Access 13 February 2021
Access options
Subscribe to Journal
Get full journal access for 1 year
$119.00
only $19.83 per issue
All prices are NET prices.
VAT will be added later in the checkout.
Tax calculation will be finalised during checkout.
Buy article
Get time limited or full article access on ReadCube.
$32.00
All prices are NET prices.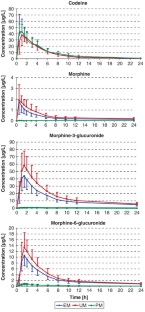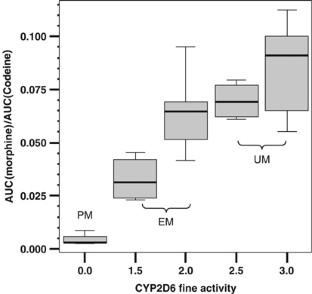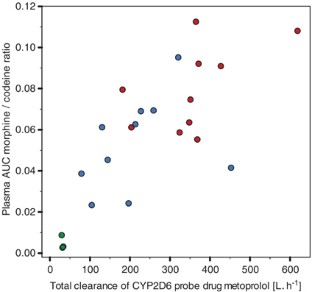 References
Dayer P, Desmeules J, Leemann T, Striberni R . Bioactivation of the narcotic drug codeine in human liver is mediated by the polymorphic monooxygenase catalyzing debrisoquine 4-hydroxylation (cytochrome P-450 dbl/bufI). Biochem Biophys Res Commun 1988; 152: 411–416.

Yue QY, Alm C, Svensson JO, Sawe J . Quantification of the O- and N-demethylated and the glucuronidated metabolites of codeine relative to the debrisoquine metabolic ratio in urine in ultrarapid, rapid, and poor debrisoquine hydroxylators. Ther Drug Monit 1997; 19: 539–542.

Johansson I, Yue QY, Dahl ML, Heim M, Sawe J, Bertilsson L et al. Genetic analysis of the interethnic difference between Chinese and Caucasians in the polymorphic metabolism of debrisoquine and codeine. Eur J Clin Pharmacol 1991; 40: 553–556.

Mortimer O, Persson K, Ladona MG, Spalding D, Zanger UM, Meyer UA et al. Polymorphic formation of morphine from codeine in poor and extensive metabolizers of dextromethorphan: relationship to the presence of immunoidentified cytochrome P-450IID1. Clin Pharmacol Ther 1990; 47: 27–35.

Mikus G, Bochner F, Eichelbaum M, Horak P, Somogyi AA, Spector S . Endogenous codeine and morphine in poor and extensive metabolisers of the CYP2D6 (debrisoquine/sparteine) polymorphism. J Pharmacol Exp Ther 1994; 268: 546–551.

Persson K, Sjostrom S, Sigurdardottir I, Molnar V, Hammarlund-Udenaes M, Rane A . Patient-controlled analgesia (PCA) with codeine for postoperative pain relief in ten extensive metabolisers and one poor metaboliser of dextromethorphan. Br J Clin Pharmacol 1995; 39: 182–186.

Sindrup SH, Poulsen L, Brosen K, Arendt-Nielsen L, Gram LF . Are poor metabolisers of sparteine/debrisoquine less pain tolerant than extensive metabolisers? Pain 1993; 53: 335–339.

Tyndale RF, Droll KP, Sellers EM . Genetically deficient CYP2D6 metabolism provides protection against oral opiate dependence. Pharmacogenetics 1997; 7: 375–379.

Dalen P, Frengell C, Dahl ML, Sjoqvist F . Quick onset of severe abdominal pain after codeine in an ultrarapid metabolizer of debrisoquine. Ther Drug Monit 1997; 19: 543–544.

Gasche Y, Daali Y, Fathi M, Chiappe A, Cottini S, Dayer P et al. Codeine intoxication associated with ultrarapid CYP2D6 metabolism. N Engl J Med 2004; 351: 2827–2831.

Kirchheiner J, Henckel HB, Franke L, Meineke I, Tzvetkov M, Uebelhack R et al. Impact of the CYP2D6 ultra-rapid metabolizer genotype on doxepin pharmacokinetics and serotonin in platelets. Pharmacogenet Genomics 2005; 15: 579–587.

Kirchheiner J, Henckel HB, Meineke I, Roots I, Brockmoller J . Impact of the CYP2D6 ultrarapid metabolizer genotype on mirtazapine pharmacokinetics and adverse events in healthy volunteers. J Clin Psychopharmacol 2004; 24: 647–652.

Kirchheiner J, Heesch C, Bauer S, Meisel C, Seringer A, Goldammer M et al. Impact of the ultrarapid metabolizer genotype of cytochrome P450 2D6 on metoprolol pharmacokinetics and pharmacodynamics. Clin Pharmacol Ther 2004; 76: 302–312.

Lundqvist E, Johansson I, Ingelman-Sundberg M . Genetic mechanisms for duplication and multiduplication of the human CYP2D6 gene and methods for detection of duplicated CYP2D6 genes. Gene 1999; 226: 327–338.

Aynacioglu AS, Sachse C, Bozkurt A, Kortunay S, Nacak M, Schroder T et al. Low frequency of defective alleles of cytochrome P450 enzymes 2C19 and 2D6 in the Turkish population. Clin Pharmacol Ther 1999; 66: 185–192.

McLellan RA, Oscarson M, Seidegard J, Evans DA, Ingelman-Sundberg M . Frequent occurrence of CYP2D6 gene duplication in Saudi Arabians. Pharmacogenetics 1997; 7: 187–191.

Quiding H, Anderson P, Bondesson U, Boreus LO, Hynning PA . Plasma concentrations of codeine and its metabolite, morphine, after single and repeated oral administration. Eur J Clin Pharmacol 1986; 30: 673–677.

Sachse C, Brockmöller J, Bauer S, Roots I . Cytochrome P450 2D6 variants in a Caucasian population: allele frequencies and phenotypic consequences. Am J Hum Genet 1997; 60: 284–295.

Raimundo S, Fischer J, Eichelbaum M, Griese EU, Schwab M, Zanger UM . Elucidation of the genetic basis of the common 'intermediate metabolizer' phenotype for drug oxidation by CYP2D6. Pharmacogenetics 2000; 10: 577–581.

Fuselli S, Dupanloup I, Frigato E, Cruciani F, Scozzari R, Moral P et al. Molecular diversity at the CYP2D6 locus in the Mediterranean region. Eur J Hum Genet 2004; 12: 916–924.

Sistonen J, Fuselli S, Levo A, Sajantila A . CYP2D6 Genotyping by a multiplex primer extension reaction. Clin Chem 2005; 51: 1291–1295.

Johansson I, Lundqvist E, Dahl ML, Ingelman-Sundberg M . PCR-based genotyping for duplicated and deleted CYP2D6 genes. Pharmacogenetics 1996; 6: 351–355.

LaForge KS, Yuferov V, Kreek MJ . Opioid receptor and peptide gene polymorphisms: potential implications for addictions. Eur J Pharmacol 2000; 410: 249–268.

Lotsch J, Skarke C, Grosch S, Darimont J, Schmidt H, Geisslinger G . The polymorphism A118G of the human mu-opioid receptor gene decreases the pupil constrictory effect of morphine-6-glucuronide but not that of morphine. Pharmacogenetics 2002; 12: 3–9.

Bond C, LaForge KS, Tian M, Melia D, Zhang S, Borg L et al. Single-nucleotide polymorphism in the human mu opioid receptor gene alters beta-endorphin binding and activity: possible implications for opiate addiction. Proc Natl Acad Sci USA 1998; 95: 9608–9613.

Crowley JJ, Oslin DW, Patkar AA, Gottheil E, DeMaria Jr PA, O'Brien CP et al. A genetic association study of the mu opioid receptor and severe opioid dependence. Psychiatr Genet 2003; 13: 169–173.

Steimer W, Zopf K, von Amelunxen S, Pfeiffer H, Bachofer J, Popp J et al. Allele-specific change of concentration and functional gene dose for the prediction of steady-state serum concentrations of amitriptyline and nortriptyline in CYP2C19 and CYP2D6 extensive and intermediate metabolizers. Clin Chem 2004; 50: 1623–1633.

Zineh I, Beitelshees AL, Gaedigk A, Walker JR, Pauly DF, Eberst K et al. Pharmacokinetics and CYP2D6 genotypes do not predict metoprolol adverse events or efficacy in hypertension. Clin Pharmacol Ther 2004; 76: 536–544.

Schmidt H, Vormfelde SV, Walchner-Bonjean M, Klinder K, Freudenthaler S, Gleiter CH et al. The role of active metabolites in dihydrocodeine effects. Int J Clin Pharmacol Ther 2003; 41: 95–106.

Lotsch J, Skarke C, Schmidt H, Rohrbacher M, Hofmann U, Schwab M et al. Evidence for morphine-independent central nervous opioid effects after administration of codeine: contribution of other codeine metabolites. Clin Pharmacol Ther 2006; 79: 35–48.

Kay DC, Gorodetzky CW, Martin WR . Comparative effects of codeine and morphine in man. J Pharmacol Exp Ther 1967; 156: 101–106.

Hedenmalm K, Sundgren M, Granberg K, Spigset O, Dahlqvist R . Urinary excretion of codeine, ethylmorphine, and their metabolites: relation to the CYP2D6 activity. Ther Drug Monit 1997; 19: 643–649.

Bertalmio AJ, Medzihradsky F, Winger G, Woods JH . Differential influence of N-dealkylation on the stimulus properties of some opioid agonists. J Pharmacol Exp Ther 1992; 261: 278–284.

Vree TB, van Dongen RT, Koopman-Kimenai PM . Codeine analgesia is due to codeine-6-glucuronide, not morphine. Int J Clin Pract 2000; 54: 395–398.

Mignat C, Wille U, Ziegler A . Affinity profiles of morphine, codeine, dihydrocodeine and their glucuronides at opioid receptor subtypes. Life Sci 1995; 56: 793–799.

Eckhardt K, Li S, Ammon S, Schanzle G, Mikus G, Eichelbaum M . Same incidence of adverse drug events after codeine administration irrespective of the genetically determined differences in morphine formation. Pain 1998; 76: 27–33.

Pai HV, Kommaddi RP, Chinta SJ, Mori T, Boyd MR, Ravindranath V . A frameshift mutation and alternate splicing in human brain generate a functional form of the pseudogene cytochrome P4502D7 that demethylates codeine to morphine. J Biol Chem 2004; 279: 27383–27389.
Acknowledgements
This study was supported by a grant from the German Ministry of Education and Research (GG 9845/5, Pharmacogenetic diagnostics).
Additional information
Duality of interest
Dr Brockmöller has received research grants and lecture honoraria by Roche, manufacturer of the Amplichip P450, a tool for CYP2D6 genotyping. Dr Julia Kirchheiner has no duality of interest.
About this article
Cite this article
Kirchheiner, J., Schmidt, H., Tzvetkov, M. et al. Pharmacokinetics of codeine and its metabolite morphine in ultra-rapid metabolizers due to CYP2D6 duplication. Pharmacogenomics J 7, 257–265 (2007). https://doi.org/10.1038/sj.tpj.6500406
Received:

Revised:

Accepted:

Published:

Issue Date:

DOI: https://doi.org/10.1038/sj.tpj.6500406
Keywords
CYP2D6

ultrarapid metabolism

gene duplication

codeine
This article is cited by
S. R. Gretler
C. J. Finno
H. K. Knych

BMC Veterinary Research (2021)

Daniel Carranza-Leon
Alyson L. Dickson
Cecilia P. Chung

The Pharmacogenomics Journal (2021)

Gaute Lyngstad
Per Skjelbred
Lasse A. Skoglund

European Journal of Clinical Pharmacology (2021)