Abstract
The 5-HT2A-serotonin receptor is a major molecular target for most atypical antipsychotic drugs as well as most hallucinogens, which can exacerbate psychotic symptoms. In this study, we examined whether random sequence variations in the gene (single nucleotide polymorphisms, SNPs) encoding the 5-HT2A-serotonin receptor could explain inter-individual variability in atypical antipsychotic and agonist drug response. We examined the in vitro pharmacology of four non-synonymous SNPs, which give rise to T25N, I197V, A447V, and H452Y variant 5-HT2A-serotonin receptors. Our data indicate that these non-synonymous SNPs exert statistically significant, although modest, effects on the affinity and functional effects of several currently approved atypical antipsychotics (aripiprazole, clozapine, olanzapine, quetiapine, risperidone, and ziprasidone). Also, the 5-HT2A receptor SNPs slightly altered the potency and relative efficacy of a small number of selected agonists (2,5-dimethoxy-4-iodoamphetamine, tryptamine, 5-hydroxytryptamine, m-chlorophenylpiperazine, and 5-methoxy-N, N-dimethyltryptamine). In all, our results show that the in vitro pharmacological effects of the SNPs are drug specific.
Access options
Subscribe to this journal
Receive 6 print issues and online access
$259.00 per year
only $43.17 per issue
Rent or buy this article
Get just this article for as long as you need it
$39.95
Prices may be subject to local taxes which are calculated during checkout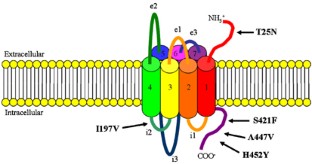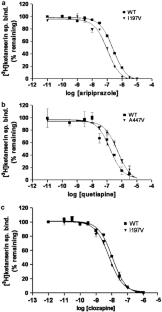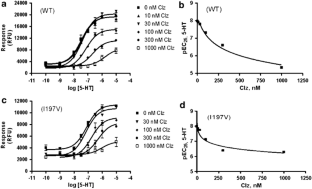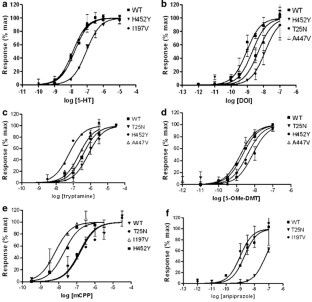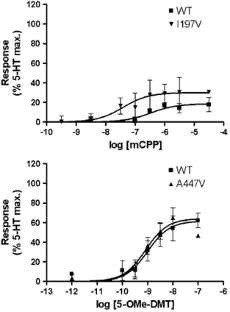 References
Roth BL, Hanizavareh SM, Blum AE . Serotonin receptors represent highly favorable molecular targets for cognitive enhancement in schizophrenia and other disorders. Psychopharmacology (Berl) 2004; 174: 17–24.

Seeman P . Atypical antipsychotics: mechanism of action. Can J Psychiatry 2002; 47: 27–38.

Meltzer HY, Matsubara S, Lee JC . Classification of typical and atypical antipsychotic drugs on the basis of dopamine D-1, D-2 and serotonin2 pKi values. J Pharmacol Exp Ther 1989; 251: 238–246.

Roth BL, Craigo SC, Choudhary MS, Uluer A, Monsma Jr FJ, Shen Y et al. Binding of typical and atypical antipsychotic agents to 5-hydroxytryptamine-6 and 5-hydroxytryptamine-7 receptors. J Pharmacol Exp Ther 1994; 268: 1403–1410.

Roth BL, Ciaranello RD, Meltzer HY . Binding of typical and atypical antipsychotic agents to transiently expressed 5-HT1C receptors. J Pharmacol Exp Ther 1992; 260: 1361–1365.

Shapiro DA, Renock S, Arrington E, Chiodo LA, Liu LX, Sibley DR et al. Aripiprazole, a novel atypical antipsychotic drug with a unique and robust pharmacology. Neuropsychopharmacology 2003; 28: 1400–1411.

Arranz MJ, Kerwin RW . Neurotransmitter-related genes and antipsychotic response: pharmacogenetics meets psychiatric treatment. Ann Med 2000; 32: 128–133.

Sodhi MS, Arranz MJ, Curtis D, Ball DM, Sham P, Roberts GW et al. Association between clozapine response and allelic variation in the 5-HT2C receptor gene. Neuroreport 1995; 7: 169–172.

Barbee JG, Conrad EJ, Jamhour NJ . The effectiveness of olanzapine, risperidone, quetiapine, and ziprasidone as augmentation agents in treatment-resistant major depressive disorder. J Clin Psychiatry 2004; 65: 975–981.

Citrome L, Volavka J . The promise of atypical antipsychotics: fewer side effects mean enhanced compliance and improved functioning. Postgrad Med 2004; 116: 49–51, 55–59, 63.

Malhotra AK, Murphy Jr GM, Kennedy JL . Pharmacogenetics of psychotropic drug response. Am J Psychiatry 2004; 161: 780–796.

Wolfgang W, Hoeg E, Lucas J, Wang D . Genetic variations in human G protein coupled receptors: implications for drug therapy. AAPS Pharm Sci 2001; 2: 1–27.

Licinio J, Wong ML . Back to where it all started: monoamines and behavior – from drug responses to genes. Mol Psychiatry 2004; 9: 427.

Scharfetter J . Pharmacogenetics of dopamine receptors and response to antipsychotic drugs in schizophrenia – an update. Pharmacogenomics 2004; 5: 691–698.

Roth BL, Sheffler DJ, Kroeze WK . Magic shotguns versus magic bullets: selectively non-selective drugs for mood disorders and schizophrenia. Nat Rev Drug Discov 2004; 3: 353–359.

Nichols DE . Hallucinogens. Pharmacol Ther 2004; 101: 131–181.

Glennon RA, Teitler M, Sanders-Bush E . Hallucinogens and serotonergic mechanisms. NIDA Res Monogr 1992; 119: 131–135.

Glennon RA . Phenylalkylamine stimulants, hallucinogens, and designer drugs. NIDA Res Monogr 1991; 105: 154–160.

Aghajanian GK, Marek GJ . Serotonin and hallucinogens. Neuropsychopharmacology 1999; 21(2 Suppl): 16S–23S.

Roth BL, Berry SA, Kroeze WK, Willins DL, Kristiansen K . Serotonin 5-HT2A receptors: molecular biology and mechanisms of regulation. Crit Rev Neurobiol 1998; 12: 319–338.

Kristiansen K, Kroeze WK, Willins DL, Gelber EI, Savage JE, Glennon RA et al. A highly conserved aspartic acid (Asp-155) anchors the terminal amine moiety of tryptamines and is involved in membrane targeting of the 5-HT(2A) serotonin receptor but does not participate in activation via a 'salt-bridge disruption' mechanism. J Pharmacol Exp Ther 2000; 293: 735–746.

Gray JA, Compton-Toth BA, Roth BL . Identification of two serine residues essential for agonist-induced 5-HT2A receptor desensitization. Biochemistry 2003; 42: 10853–10862.

Shapiro DA, Kristiansen K, Kroeze WK, Roth BL . Differential modes of agonist binding to 5-hydroxytryptamine(2A) serotonin receptors revealed by mutation and molecular modeling of conserved residues in transmembrane region 5. Mol Pharmacol 2000; 58: 877–886.

Shapiro DA, Kristiansen K, Weiner DM, Kroeze WK, Roth BL . Evidence for a model of agonist-induced activation of 5-hydroxytryptamine 2A serotonin receptors that involves the disruption of a strong ionic interaction between helices 3 and 6. J Biol Chem 2002; 277: 11441–11449.

Erdmann J, Shimron-Abarbanell D, Rietschel M, Albus M, Maier W, Korner J et al. Systematic screening for mutations in the human serotonin-2A (5-HT2A) receptor gene: identification of two naturally occurring receptor variants and association analysis in schizophrenia. Hum Genet 1996; 97: 614–619.

Arranz MJ, Munro J, Owen MJ, Spurlock G, Sham PC, Zhao J et al. Evidence for association between polymorphisms in the promoter and coding regions of the 5-HT2A receptor gene and response to clozapine. Mol Psychiatry 1998; 3: 61–66.

Malhotra AK, Goldman D, Buchanan R, Breier A, Pickar D . 5HT 2a receptor T102C polymorphism and schizophrenia. Lancet 1996; 347: 1830–1831.

Harvey L, Reid RE, Ma C, Knight PJ, Pfeifer TA, Grigliatti TA . Human genetic variations in the 5HT2A receptor: a single nucleotide polymorphism identified with altered response to clozapine. Pharmacogenetics 2003; 13: 107–118.

Arranz MJ, Munro J, Sham P, Kirov G, Murray RM, Collier DA et al. Meta-analysis of studies on genetic variation in 5-HT2A receptors and clozapine response. Schizophr Res 1998; 32: 93–99.

Ellingrod VL, Perry PJ, Lund BC, Bever-Stille K, Fleming F, Holman TL et al. 5HT2A and 5HT2C receptor polymorphisms and predicting clinical response to olanzapine in schizophrenia. J Clin Psychopharmacol 2002; 22: 622–624.

Jordan S, Koprivica V, Dunn R, Tottori K, Kikuchi T, Altar CA . In vivo effects of aripiprazole on cortical and striatal dopaminergic and serotonergic function. Eur J Pharmacol 2004; 483: 45–53.

Jordan S, Koprivica V, Chen R, Tottori K, Kikuchi T, Altar CA . The antipsychotic aripiprazole is a potent, partial agonist at the human 5-HT1A receptor. Eur J Pharmacol 2002; 441: 137–140.

Burris KD, Molski TF, Xu C, Ryan E, Tottori K, Kikuchi T et al. Aripiprazole, a novel antipsychotic, is a high-affinity partial agonist at human dopamine D2 receptors. J Pharmacol Exp Ther 2002; 302: 381–389.

Cichon S, Nothen MM, Rietschel M, Propping P . Pharmacogenetics of schizophrenia. Am J Med Genet 2000; 97: 98–106.

Kane J, Honigfeld G, Singer J, Meltzer H . Clozapine for the treatment-resistant schizophrenic. A double-blind comparison with chlorpromazine. Arch Gen Psychiatry 1988; 45: 789–796.

Masellis M, Basile V, Meltzer HY, Lieberman JA, Sevy S, Macciardi FM et al. Serotonin subtype 2 receptor genes and clinical response to clozapine in schizophrenia patients. Neuropsychopharmacology 1998; 19: 123–132.

Nothen MM, Rietschel M, Erdmann J, Oberlander H, Moller HJ, Nober D et al. Genetic variation of the 5-HT2A receptor and response to clozapine. Lancet 1995; 346: 908–909.

Davies MA, Sheffler DJ, Roth BL . Aripiprazole: a novel atypical antipsychotic drug with a uniquely robust pharmacology. CNS Drug Rev 2004; 10: 317–336.

Hazelwood LA, Sanders-Bush E . His452Tyr polymorphism in the human 5-HT2A receptor destabilizes the signaling conformation. Mol Pharmacol 2004; 66: 1293–1300.

Gray JA, Sheffler DJ, Bhatnagar A, Woods JA, Hufeisen SJ, Benovic JL et al. Cell-type specific effects of endocytosis inhibitors on 5-hydroxytryptamine(2A) receptor desensitization and resensitization reveal an arrestin-, GRK2-, and GRK5-independent mode of regulation in human embryonic kidney 293 cells. Mol Pharmacol 2001; 60: 1020–1030.

Bhatnagar A, Willins DL, Gray JA, Woods J, Benovic JL, Roth BL . The dynamin-dependent, arrestin-independent internalization of 5-hydroxytryptamine 2A (5-HT2A) serotonin receptors reveals differential sorting of arrestins and 5-HT2A receptors during endocytosis. J Biol Chem 2001; 276: 8269–8277.

Ozaki N, Manji H, Lubierman V, Lu SJ, Lappalainen J, Rosenthal NE et al. A naturally occurring amino acid substitution of the human serotonin 5-HT2A receptor influences amplitude and timing of intracellular calcium mobilization. J Neurochem 1997; 68: 2186–2193.

Reist C, Mazzanti C, Vu R, Fujimoto K, Goldman D . Inter-relationships of intermediate phenotypes for serotonin function, impulsivity, and a 5-HT2A candidate allele: His452Tyr. Mol Psychiatry 2004; 9: 871–878.

Bowers Jr MB, Swigar ME . Vulnerability to psychosis associated with hallucinogen use. Psychiatry Res 1983; 9: 91–97.

Rothman RB, Baumann MH, Savage JE, Rauser L, McBride A, Hufeisen SJ et al. Evidence for possible involvement of 5-HT(2B) receptors in the cardiac valvulopathy associated with fenfluramine and other serotonergic medications. Circulation 2000; 102: 2836–2841.

Chavkin C, Sud S, Jin W, Stewart J, Zjawiony JK, Siebert DJ et al. Salvinorin A, an active component of the hallucinogenic sage salvia divinorum is a highly efficacious kappa-opioid receptor agonist: structural and functional considerations. J Pharmacol Exp Ther 2004; 308: 1197–1203.

Rothman RB, Vu N, Partilla JS, Roth BL, Hufeisen SJ, Compton-Toth BA et al. In vitro characterization of ephedrine-related stereoisomers at biogenic amine transporters and the receptorome reveals selective actions as norepinephrine transporter substrates. J Pharmacol Exp Ther 2003; 307: 138–145.

Christopoulos A, Parsons AM, Lew MJ, El-Fakahany EE . The assessment of antagonist potency under conditions of transient response kinetics. Eur J Pharmacol 1999; 382: 217–227.

Lew MJ, Angus JA . Analysis of competitive agonist–antagonist interactions by nonlinear regression. Trends Pharmacol Sci 1995; 16: 328–337.
Acknowledgements
We are grateful to Dr Richard Mailman for supplying aripiprazole. This work was supported in part by NIMH RO1MH57635 and KO2MH01366 and the NIMH Psychoactive Drug Screening Program to BLR. MAD was supported in part by a supplement to RO1MH57635 with DJS and VS supported by NRSA and AHA predoctoral fellowships, respectively.
About this article
Cite this article
Davies, M., Setola, V., Strachan, R. et al. Pharmacologic analysis of non-synonymous coding h5-HT2A SNPs reveals alterations in atypical antipsychotic and agonist efficacies. Pharmacogenomics J 6, 42–51 (2006). https://doi.org/10.1038/sj.tpj.6500342
Received:

Revised:

Accepted:

Published:

Issue Date:

DOI: https://doi.org/10.1038/sj.tpj.6500342
Keywords
5-HT2A

serotonin receptors

T25N

I197V

A447V

H452Y