Abstract
The arylamine N-acetyltransferases (NATs) are involved in the metabolism of a variety of different compounds that we are exposed to on a daily basis. Many drugs and chemicals found in the environment, such as those in cigarette smoke, car exhaust fumes and in foodstuffs, can be either detoxified by NATs and eliminated from the body or bioactivated to metabolites that have the potential to cause toxicity and/or cancer. NATs have been implicated in some adverse drug reactions and as risk factors for several different types of cancers. As a result, the levels of NATs in the body have important consequences with regard to an individual's susceptibility to certain drug-induced toxicities and cancers. This review focuses on recent advances in the molecular genetics of the human NATs.
Your institute does not have access to this article
Relevant articles
Open Access articles citing this article.
Iman Akhlaghipour

,

Amir Reza Bina

…

Meysam Moghbeli

Human Genomics Open Access 02 April 2022

Nuanjun Wichukchinda

,

Jirapa Pakdee

…

Surakameth Mahasirimongkol

Human Genome Variation Open Access 11 May 2020

Sotiria Boukouvala

,

Zoi Chasapopoulou

…

Giannoulis Fakis

Scientific Reports Open Access 29 July 2019
Access options
Subscribe to Journal
Get full journal access for 1 year
$119.00
only $19.83 per issue
All prices are NET prices.
VAT will be added later in the checkout.
Tax calculation will be finalised during checkout.
Buy article
Get time limited or full article access on ReadCube.
$32.00
All prices are NET prices.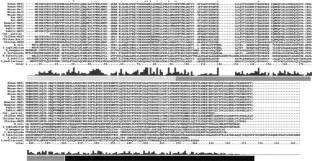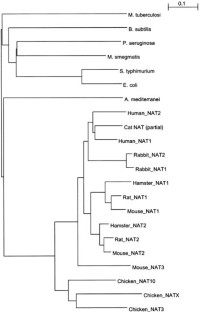 Abbreviations
NAT1:

arylamine N-acetyltransferase 1

NAT2:

arylamine N-acetyltranferase 2

PAS:

p-aminosalicylic acid

PABA:

p-aminobenzoic acid
References
Hein DW, Doll MA, Rustan TD, Gray K, Feng Y, Ferguson RJ et al . Metabolic activation and deactivation of arylamine carcinogens by recombinant human NAT1 and polymorphic NAT2 acetyltransferases Carcinogenesis 1993 14: 1633–1638

Kato R . Metabolic activation of mutagenic heterocyclic aromatic amines from protein pyrolysates Crit Rev Toxicol 1986 16: 307–348

Minchin RF, Reeves PT, Teitel CH, McManus ME, Mojarrabi B, Ilett KF et al . N- and O-acetylation of aromatic and heterocyclic amine carcinogens by human monomorphic and polymorphic acetyltransferases expressed in COS-1 cells Biochem Biophys Res Commun 1992 185: 839–844

Zenser TV, Lakshmi VM, Rustan TD, Doll MA, Deitz AC, Davis BB et al . Human N-acetylation of benzidine: role of NAT1 and NAT2 Cancer Res 1996 56: 3941–3947

Grant DM, Blum M, Demierre A, Meyer UA . Nucleotide sequence of an intronless gene for a human arylamine N-acetyltransferase related to polymorphic drug acetylation Nucl Acids Res 1989 17: 3978

Blum M, Grant DM, McBride W, Heim M, Meyer UA . Human arylamine N-acetyltransferase genes: isolation, chromosomal localization, and functional expression DNA & Cell Biol 1990 9: 193–203

Franke S, Klawitz I, Schnakenberg E, Rommel B, Van de Ven W, Bullerdiek J et al . Isolation and mapping of a cosmid clone containing the human NAT2 gene Biochem Biophys Res Communi 1994 199: 52–55

Hickman D, Risch A, Buckle V, Spurr NK, Jeremiah SJ, McCarthy A et al . Chromosomal localization of human genes for arylamine N-acetyltransferase Biochem J 1994 297: 441–445

Bova GS, Carter BS, Bussemakers MJ, Emi M, Fujiwara Y, Kyprianou N et al . Homozygous deletion and frequent allelic loss of chromosome 8p22 loci in human prostate cancer Cancer Res 1993 53: 3869–3873

Maitra A, Tavassoli FA, Albores-Saavedra J, Behrens C, Wistuba II, Bryant D et al . Molecular abnormalities associated with secretory carcinomas of the breast Hum Pathol 1999 30: 1435–1440

Lutchman M, Pack S, Kim AC, Azim A, Emmert-Buck M, van Huffel C et al . Loss of heterozygosity on 8p in prostate cancer implicates a role for dematin in tumor progression Cancer Genet Cytogenet 1999 115: 65–69

Brown MR, Chuaqui R, Vocke CD, Berchuck A, Middleton LP, Emmert-Buck MR et al . Allelic loss on chromosome arm 8p: analysis of sporadic epithelial ovarian tumors Gynecol Oncol 1999 74: 98–102

Wistuba II, Behrens C, Virmani AK, Milchgrub S, Syed S, Lam S et al . Allelic losses at chromosome 8p21–23 are early and frequent events in the pathogenesis of lung cancer Cancer Res 1999 59: 1973–1979

Ohsako S, Deguchi T . Cloning and expression of cDNAs for polymorphic and monomorphic arylamine N-acetyltransferases from human liver J Biol Chem 1990 265: 4630–4634

Vatsis KP, Weber WW, Bell DA, Dupret JM, Evans DA, Grant DM et al . Nomenclature for N-acetyltransferases Pharmacogenetics 1995 5: 1–17

Butcher NJ, Ilett KF, Minchin RF . Functional polymorphism of the human arylamine N-acetyltransferase type 1 gene caused by C190T and G560A mutations Pharmacogenetics 1998 8: 67–72

Hughes NC, Janezic SA, McQueen KL, Jewett MA, Castranio T, Bell DA et al . Identification and characterization of variant alleles of human acetyltransferase NAT1 with defective function using p-aminosalicylate as an in-vivo and in-vitro probe Pharmacogenetics 1998 8: 55–66

Lin HJ, Probst-Hensch NM, Hughes NC, Sakamoto GT, Louie AD, Kau IH et al . Variants of N-acetyltransferase NAT1 and a case-control study of colorectal adenomas Pharmacogenetics 1998 8: 269–281

Sinclair JC, Sandy J, Delgoda R, Sim E, Noble ME . Structure of arylamine N-acetyltransferase reveals a catalytic triad Nat Struct Biol 2000 7: 560–564

Andres HH, Klem AJ, Schopfer LM, Harrison JK, Weber WW . On the active site of liver acetyl-CoA. Arylamine N-acetyltransferase from rapid acetylator rabbits (III/J) J Biol Chem 1988 263: 7521–7527

Dupret JM, Grant DM . Site-directed mutagenesis of recombinant human arylamine N-acetyltransferase expressed in Escherichia coli. Evidence for direct involvement of Cys68 in the catalytic mechanism of polymorphic human NAT2 J Biol Chem 1992 267: 7381–7385

Floss HG, Yu TW . Lessons from the rifamycin biosynthetic gene cluster Curr Opin Chem Biol 1999 3: 592–597

Upton A, Johnson N, Sandy J, Sim E . Arylamine N-acetyltransferases of mice, men and microorganisms Trends Pharmacol Sci 2001 22: 140–146

Hein DW, Grant DM, Sim E . Update on consensus arylamine N-acetyltransferase gene nomenclature Pharmacogenetics 2000 10: 291–292

Hein DW, Doll MA, Rustan TD, Gray K, Ferguson RJ, Feng Y . Construction of Syrian hamster lines congenic at the polymorphic acetyltransferase locus (NAT2): acetylator genotype-dependent N- and O-acetylation of arylamine carcinogens Toxicol Appl Pharmacol 1994 124: 16–24

de Leon JH, Martell KJ, Vatsis KP, Weber WW . Slow acetylation in mice is caused by a labile and catalytically impaired mutant N-acetyltransferase (NAT2 9) Drug Metab Dispos 1995 23: 1354–1361

Ware JA, Svensson CK . Longitudinal distribution of arylamine N-acetyltransferases in the intestine of the hamster, mouse, and rat. Evidence for multiplicity of N-acetyltransferases in the intestine Biochem Pharmacol 1996 52: 1613–1620

Drobitch RK, Divakaruni P, Svensson CK . Effect of streptolysin-O-on rat hepatic acetyl coenzyme-A: arylamine N-acetyltransferase and cytochrome P-450 2B 1/2 activities ex vivo Immunopharmacol Immunotoxicol 1998 20: 159–171

Yamamura E, Sayama M, Kakikawa M, Mori M, Taketo A, Kodaira K . Purification and biochemical properties of an N-hydroxyarylamine O-acetyltransferase from Escherichia coli Biochim Biophys Acta 2000 1475: 10–16

Kattner E, Dubbels R, Schloot W . Acetylation of procainamide and isoniazid by a rat liver-N-acetyl-transferase Eur J Drug Metab Pharmacokinet 1981 6: 81–84

Riddle B, Jencks WP . Acetyl-coenzyme A: arylamine N-acetyltransferase. Role of the acetyl-enzyme intermediate and the effects of substituents on the rate J Biol Chem 1971 246: 3250–3258

Payton M, Mushtaq A, Yu TW, Wu LJ, Sinclair J, Sim E . Eubacterial arylamine N-acetyltransferases-identification and comparison of 18 members of the protein family with conserved active site cysteine, histidine and aspartate residues Microbiology 2001 147: 1137–1147

Delomenie C, Fouix S, Longuemaux S, Brahimi N, Bizet C, Picard B et al . Identification and functional characterisation of arylamine N-acetyltransferase in eubacteria: evidence for highly selective acetylation of 5-aminosalicylic acid J Bacteriol 2001 183: 3417–3427

Chung JG, Wang HH, Tsou MF, Hsieh SE, Lo HH, Yen YS et al . Evidence for arylamine N-acetyltransferase activity in the bacterium Helicobacter pylori Toxicol Lett 1997 91: 63–71

Ebisawa T, Deguchi T . Structure and restriction fragment length polymorphism of genes for human liver arylamine N-acetyltransferases Biochem Biophys Res Commun 1991 177: 1252–1257

Matas N, Thygesen P, Stacey M, Risch A, Sim E . Mapping AAC1, AAC2 and AACP, the genes for arylamine N-acetyltransferases, carcinogen metabolising enzymes on human chromosome 8p22, a region frequently deleted in tumours Cytogenet Cell Genet 1997 77: 290–295

Martell KJ, Vatsis KP, Weber WW . Molecular genetic basis of rapid and slow acetylation in mice Mol Pharmacol 1991 40: 218–227

Kelly SL, Sim E . Arylamine N-acetyltransferase in Balb/c mice: identification of a novel mouse isoenzyme by cloning and expression in vitro Biochem J 1994 302: 347–353

Martell KJ, Levy GN, Weber WW . Cloned mouse N-acetyltransferases: enzymatic properties of expressed Nat-1 and Nat-2 gene products Mol Pharmacol 1992 42: 265–272

Estrada-Rodgers L, Levy GN, Weber WW . Substrate selectivity of mouse N-acetyltransferases 1, 2, and 3 expressed in COS-1 cells Drug Metab Dispos 1998 26: 502–505

Fakis G, Boukouvala S, Buckle V, Payton M, Denning C, Sim E . Chromosome mapping of the genes for murine arylamine N-acetyltransferases (NATs), enzymes involved in the metabolism of carcinogens: identification of a novel upstream noncoding exon for murine Nat2 Cytogenet Cell Genet 2000 90: 134–138

Mattano SS, Erickson RP, Nesbitt MN, Weber WW . Linkage of Nat and Es-1 in the mouse and development of strains congenic for N-acetyltransferase J Hered 1988 79: 430–433

Fretland AJ, Doll MA, Gray K, Feng Y, Hein DW . Cloning, sequencing, and recombinant expression of NAT1, NAT2, and NAT3 derived from the C3H/HeJ (rapid) and A/HeJ (slow) acetylator inbred mouse: functional characterization of the activation and deactivation of aromatic amine carcinogens Toxicol Appl Pharmacol 1997 142: 360–366

Blum M, Grant DM, Demierre A, Meyer UA . N-acetylation pharmacogenetics: a gene deletion causes absence of arylamine N-acetyltransferase in liver of slow acetylator rabbits Proc Natl Acad Sci USA 1989 86: 9554–9557

Ferguson RJ, Doll MA, Rustan TD, Hein DW . Cloning, expression, and functional characterization of rapid and slow acetylator polymorphic N-acetyl-transferase encoding genes of the Syrian hamster Pharmacogenetics 1996 6: 55–66

Hein DW, Rustan TD, Bucher KD, Martin WJ, Furman EJ . Acetylator phenotype-dependent and -independent expression of arylamine N-acetyltransferase isozymes in rapid and slow acetylator inbred rat liver Drug Metab Dispos 1991 19: 933–937

Blum M, Grant DM, Demierre A, Meyer UA . Nucleotide sequence of a full-length cDNA for arylamine N-acetyltransferase from rabbit liver Nucl Acids Res 1989 17: 3589

Trepanier LA, Cribb AE, Spielberg SP, Ray K . Deficiency of cytosolic arylamine N-acetylation in the domestic cat and wild felids caused by the presence of a single NAT1-like gene Pharmacogenetics 1998 8: 169–179

Trepanier LA, Ray K, Winand NJ, Spielberg SP, Cribb AE . Cytosolic arylamine N-acetyltransferase (NAT) deficiency in the dog and other canids due to an absence of NAT genes Biochem Pharmacol 1997 54: 73–80

Blum M, Demierre A, Grant DM, Heim M, Meyer UA . Molecular mechanism of slow acetylation of drugs and carcinogens in humans Proc Natl Acad Sci USA 1991 88: 5237–5241

Grant DM, Blum M, Beer M, Meyer UA . Monomorphic and polymorphic human arylamine N-acetyltransferases: a comparison of liver isozymes and expressed products of two cloned genes Mol Pharmacol 1991 39: 184–191

Grant DM, Hughes NC, Janezic SA, Goodfellow GH, Chen HJ, Gaedigk A et al . Human acetyltransferase polymorphisms Mutat Res 1997 376: 61–70

Bell DA, Taylor JA, Butler MA, Stephens EA, Wiest J, Brubaker LH et al . Genotype/phenotype discordance for human arylamine N-acetyltransferase (NAT2) reveals a new slow-acetylator allele common in African-Americans Carcinogenesis 1993 14: 1689–1692

Cascorbi I, Drakoulis N, Brockmoller J, Maurer A, Sperling K, Roots I . Arylamine N-acetyltransferase (NAT2) mutations and their allelic linkage in unrelated Caucasian individuals: correlation with phenotypic activity Am J Hum Genet 1995 57: 581–592

Hickman D, Risch A, Camilleri JP, Sim E . Genotyping human polymorphic arylamine N-acetyltransferase: identification of new slow allotypic variants Pharmacogenetics 1992 2: 217–226

Hein DW, Doll MA, Fretland AJ, Leff MA, Webb SJ, Xiao GH et al . Molecular genetics and epidemiology of the NAT1 and NAT2 acetylation polymorphisms Cancer Epidemiol, Biomarkers & Prevention 2000 9: 29–42

Grant DM, Morike K, Eichelbaum M, Meyer UA . Acetylation pharmacogenetics. The slow acetylator phenotype is caused by decreased or absent arylamine N-acetyltransferase in human liver J Clin Invest 1990 85: 968–972

Dupret JM, Goodfellow GH, Janezic SA, Grant DM . Structure-function studies of human arylamine N-acetyltransferases NAT1 and NAT2. Functional analysis of recombinant NAT1/NAT2 chimeras expressed in Escherichia coli J Biol Chem 1994 269: 26830–26835

Hein DW, Rustan TD, Ferguson RJ, Doll MA, Gray K . Metabolic activation of aromatic and heterocyclic N-hydroxyarylamines by wild-type and mutant recombinant human NAT1 and NAT2 acetyltransferases Arch Toxicol 1994 68: 129–133

Hickman D, Palamanda JR, Unadkat JD, Sim E . Enzyme kinetic properties of human recombinant arylamine N-acetyltransferase 2 allotypic variants expressed in Escherichia coli Biochem Pharmacol 1995 50: 697–703

Delomenie C, Goodfellow GH, Krishnamoorthy R, Grant DM, Dupret JM . Study of the role of the highly conserved residues Arg9 and Arg64 in the catalytic function of human N-acetyltransferases NAT1 and NAT2 by site-directed mutagenesis Biochem J 1997 323: 207–215

Leff MA, Fretland AJ, Doll MA, Hein DW . Novel human N-acetyltransferase 2 alleles that differ in mechanism for slow acetylator phenotype J Biol Chem 1999 274: 34519–34522

Hein DW, Doll MA, Rustan TD, Ferguson RJ . Metabolic activation of N-hydroxyarylamines and N-hydroxyarylamides by 16 recombinant human NAT2 allozymes: effects of 7 specific NAT2 nucleic acid substitutions Cancer Res 1995 55: 3531–3536

Hein DW, Ferguson RJ, Doll MA, Rustan TD, Gray K . Molecular genetics of human polymorphic N-acetyltransferase: enzymatic analysis of 15 recombinant wild-type, mutant, and chimeric NAT2 allozymes Hum Mol Genet 1994 3: 729–734

Evans DA . N-acetyltransferase Pharmacol Therapeut 1989 42: 157–234

Meyer UA, Zanger UM . Molecular mechanisms of genetic polymorphisms of drug metabolism Annu Rev Pharmacol Toxicol 1997 37: 269–296

Glowinski IB, Radtke HE, Weber WW . Genetic variation in N-acetylation of carcinogenic arylamines by human and rabbit liver Mol Pharmacol 1978 14: 940–949

McQueen CA, Weber WW . Characterization of human lymphocyte N-acetyltransferase and its relationship to the isoniazid acetylator polymorphism Biochem Genet 1980 18: 889–904

Cribb AE, Grant DM, Miller MA, Spielberg SP . Expression of monomorphic arylamine N-acetyltransferase (NAT1) in human leukocytes J Pharmacol Exp Therapeut 1991 259: 1241–1246

Kilbane AJ, Petroff T, Weber WW . Kinetics of acetyl CoA: arylamine N-acetyltransferase from rapid and slow acetylator human liver Drug Metab Dispos 1991 19: 503–507

Ward A, Hickman D, Gordon JW, Sim E . Arylamine N-acetyltransferase in human red blood cells Biochem Pharmacol 1992 44: 1099–1104

Weber WW, Vatsis KP . Individual variability in p-aminobenzoic acid N-acetylation by human N-acetyltransferase (NAT1) of peripheral blood Pharmacogenetics 1993 3: 209–212

Vatsis KP, Weber WW . Structural heterogeneity of Caucasian N-acetyltransferase at the NAT1 gene locus Arch Biochem Biophys 1993 301: 71–76

Bell DA, Badawi AF, Lang NP, Ilett KF, Kadlubar FF, Hirvonen A . Polymorphism in the N-acetyltransferase 1 (NAT1) polyadenylation signal: association of NAT1*10 allele with higher N-acetylation activity in bladder and colon tissue Cancer Res 1995 55: 5226–5229

Badawi AF, Hirvonen A, Bell DA, Lang NP, Kadlubar FF . Role of aromatic amine acetyltransferases, NAT1 and NAT2, in carcinogen-DNA adduct formation in the human urinary bladder Cancer Res 1995 55: 5230–5237

Kadlubar FF, Badawi AF . Genetic susceptibility and carcinogen-DNA adduct formation in human urinary bladder carcinogenesis Toxicol Lett 1995 82–83: 627–632

Payton MA, Sim E . Genotyping human arylamine N-acetyltransferase type 1 (NAT1): the identification of two novel allelic variants Biochem Pharmacol 1998 55: 361–366

Bell DA, Stephens EA, Castranio T, Umbach DM, Watson M, Deakin M et al . Polyadenylation polymorphism in the acetyltransferase 1 gene (NAT1) increases risk of colorectal cancer Cancer Res 1995 55: 3537–3542

Bruhn C, Brockmoller J, Cascorbi I, Roots I, Borchert HH . Correlation between genotype and phenotype of the human arylamine N-acetyltransferase type 1 (NAT1) Biochem Pharmacol 1999 58: 1759–1764

de Leon JH, Vatsis KP, Weber WW . Characterization of naturally occurring and recombinant human N-acetyltransferase variants encoded by NAT1 Mol Pharmacol 2000 58: 288–299

Bouchardy C, Mitrunen K, Wikman H, Husgafvel-Pursiainen K, Dayer P, Benhamou S et al . N-acetyltransferase NAT1 and NAT2 genotypes and lung cancer risk Pharmacogenetics 1998 8: 291–298

Lo-Guidice JM, Allorge D, Chevalier D, Debuysere H, Fazio F, Lafitte LJ et al . Molecular analysis of the N-acetyltransferase 1 gene (NAT1*) using polymerase chain reaction-restriction fragment-single strand conformation polymorphism assay Pharmacogenetics 2000 10: 293–300

Dhaini HR, Levy GN . Arylamine N-acetyltransferase 1 (NAT1) genotypes in a Lebanese population Pharmacogenetics 2000 10: 79–83

Clark DW . Genetically determined variability in acetylation and oxidation. Therapeutic implications Drugs 1985 29: 342–375

Evans DA . Survey of the human acetylator polymorphism in spontaneous disorders J Med Genet 1984 21: 243–253

Evans DA . Genetic Factors in Drug Therapy Cambridge University Press: Cambridge 1993

Weber WW . Pharmacogenetics Oxford University Press: New York 1997

Besarati Nia A, Van Straaten HW, Kleinjans JC, Van Schooten FJ . Immunoperoxidase detection of 4-aminobiphenyl- and polycyclic aromatic hydrocarbons-DNA adducts in induced sputum of smokers and non-smokers Mutat Res 2000 468: 125–135

Nagao M, Wakabayashi K, Ushijima T, Toyota M, Totsuka Y, Sugimura T . Human exposure to carcinogenic heterocyclic amines and their mutational fingerprints in experimental animals Environ Health Perspect 1996 104: 497–501

Smith CJ, Livingston SD, Doolittle DJ . An international literature survey of 'IARC Group I carcinogens' reported in mainstream cigarette smoke Food & Chem Toxicol 1997 35: 1107–1130

Sram RJ, Binkova B . Molecular epidemiology studies on occupational and environmental exposure to mutagens and carcinogens, 1997–1999 Environ Health Perspect 2000 108: 57–70

Mao Y, Hu J, Ugnat AM, White K . Non-Hodgkin's lymphoma and occupational exposure to chemicals in Canada. Canadian Cancer Registries Epidemiology Research Group Ann Oncol 2000 11: 69–73

Zhou Q, Talaska G, Jaeger M, Bhatnagar VK, Hayes RB, Zenzer TV et al . Benzidine-DNA adduct levels in human peripheral white blood cells significantly correlate with levels in exfoliated urothelial cells Mutat Res 1997 393: 199–205

Lower GM Jr, Nilsson T, Nelson CE, Wolf H, Gamsky TE, Bryan GT . N-acetyltransferase phenotype and risk in urinary bladder cancer: approaches in molecular epidemiology. Preliminary results in Sweden and Denmark Environ Health Perspect 1979 29: 71–79

Wohlleb JC, Hunter CF, Blass B, Kadlubar FF, Chu DZ, Lang NP . Aromatic amine acetyltransferase as a marker for colorectal cancer: environmental and demographic associations Int J Cancer 1990 46: 22–30

Ilett KF, David BM, Detchon P, Castleden WM, Kwa R . Acetylation phenotype in colorectal carcinoma Cancer Res 1987 47: 1466–1469

Lang NP, Chu DZ, Hunter CF, Kendall DC, Flammang TJ, Kadlubar FF . Role of aromatic amine acetyltransferase in human colorectal cancer Arch Surg 1986 121: 1259–1261

Brockton N, Little J, Sharp L, Cotton SC . N-acetyltransferase polymor- phisms and colorectal cancer: a HuGE review Am J Epidemiol 2000  151: 846–861

Chen J, Stampfer MJ, Hough HL, Garcia-Closas M, Willett WC, Hennekens CH et al . A prospective study of N-acetyltransferase genotype, red meat intake, and risk of colorectal cancer Cancer Res 1998 58: 3307–3311

Welfare MR, Cooper J, Bassendine MF, Daly AK . Relationship between acetylator status, smoking, and diet and colorectal cancer risk in the north-east of England Carcinogenesis 1997 18: 1351–1354

Butcher NJ, Ilett KF, Minchin RF . Substrate-dependent regulation of human arylamine N-acetyltransferase-1 in cultured cells Mol Pharmacol 2000 57: 468–473

Lang NP, Butler MA, Massengill J, Lawson M, Stotts RC, Hauer-Jensen M et al . Rapid metabolic phenotypes for acetyltransferase and cytochrome P4501A2 and putative exposure to food-borne heterocyclic amines increase the risk for colorectal cancer or polyps Cancer Epidemiol, Biomarkers & Prevention 1994 3: 675–682

Kaderlik KR, Minchin RF, Mulder GJ, Ilett KF, Daugaard-Jenson M, Teitel CH et al . Metabolic activation pathway for the formation of DNA adducts of the carcinogen 2-amino-1-methyl-6-phenylimidazo[4,5-b]pyridine (PhIP) in rat extrahepatic tissues Carcinogenesis 1994 15: 1703–1709

Kadlubar F, Kaderlik RK, Mulder GJ, Lin D, Butler MA, Teitel CH et al . Metabolic activation and DNA adduct detection of PhIP in dogs, rats, and humans in relation to urinary bladder and colon carcinogenesis Princess Takamatsu Symp 1995 23: 207–213

Kristiansen E, Meyer O, Thorup I . The ability of two cooked food mutagens to induce aberrant crypt foci in mice Eur J Cancer Prev 1997 6: 53–57

Purewal M, Fretland AJ, Schut HA, Hein DW, Wargovich MJ . Association between acetylator genotype and 2-amino-1-methyl-6-phenylimidazo[4,5-b]pyridine (PhIP) DNA adduct formation in colon and prostate of inbred Fischer 344 and Wistar Kyoto rats Cancer Lett 2000 149: 53–60

Bandmann O, Vaughan JR, Holmans P, Marsden CD, Wood NW . Detailed genotyping demonstrates association between the slow acetylator genotype for N-acetyltransferase 2 (NAT2) and familial Parkinson's disease Mov Disord 2000 15: 30–35

Tan EK, Khajavi M, Thornby JI, Nagamitsu S, Jankovic J, Ashizawa T . Variability and validity of polymorphism association studies in Parkinson's disease Neurology 2000 55: 533–538

Ogawa M . [Biochemical, molecular genetic and ecogenetic studies of polymorphic arylamine N-acetyltransferase (NAT2) in the brain] Fukuoka Igaku Zasshi – Fukuoka Acta Medica 1999 90: 118–131

Bonicke R, Reif W . Enzymatische inaktivierung von isonicotinsaurehydrazid im menschlichen und tierischen organismus Arch Exp Pathol Pharmacol 1953 220: 321–333

Jounela AJ, Pasanen M, Mattila MJ . Acetylator phenotype and the antihypertensive response to hydralazine Acta Medica Scand 1975 197: 303–306

Shepherd AM, Ludden TM, McNay JL, Lin MS . Hydralazine kinetics after single and repeated oral doses Clin Pharmacol Therapeut 1980 28: 804–811

Spielberg SP . N-acetyltransferases: pharmacogenetics and clinical consequences of polymorphic drug metabolism J Pharmacokinet Biopharmaceut 1996 24: 509–519

Das KM, Dubin R . Clinical pharmacokinetics of sulphasalazine Clin Pharmacokinet 1976 1: 406–425

Shear NH, Spielberg SP, Grant DM, Tang BK, Kalow W . Differences in metabolism of sulfonamides predisposing to idiosyncratic toxicity Ann Intern Med 1986 105: 179–184

Cribb AE, Nuss CE, Alberts DW, Lamphere DB, Grant DM, Grossman SJ et al . Covalent binding of sulfamethoxazole reactive metabolites to human and rat liver subcellular fractions assessed by immunochemical detection Chem Res Toxicol 1996 9: 500–507

May DG, Porter JA, Uetrecht JP, Wilkinson GR, Branch RA . The contribution of N-hydroxylation and acetylation to dapsone pharmacokinetics in normal subjects Clin Pharmacol Therapeut 1990 48: 619–627

Bluhm RE, Adedoyin A, McCarver DG, Branch RA . Development of dapsone toxicity in patients with inflammatory dermatoses: activity of acetylation and hydroxylation of dapsone as risk factors Clin Pharmacol Therapeut 1999 65: 598–605

Ratain MJ, Mick R, Berezin F, Janisch L, Schilsky RL, Williams SF et al . Paradoxical relationship between acetylator phenotype and amonafide toxicity Clin Pharmacol Therapeut 1991 50: 573–579

Ratain MJ, Mick R, Berezin F, Janisch L, Schilsky RL, Vogelzang NJ et al . Phase I study of amonafide dosing based on acetylator phenotype Cancer Res 1993 53: 2304–2308

Ratain MJ, Rosner G, Allen SL, Costanza M, Van Echo DA, Henderson IC et al . Population pharmacodynamic study of amonafide: a Cancer and Leukemia Group B study J Clin Oncol 1995 13: 741–747

Ratain MJ, Mick R, Janisch L, Berezin F, Schilsky RL, Vogelzang NJ et al . Individualized dosing of amonafide based on a pharmacodynamic model incorporating acetylator phenotype and gender Pharmacogenetics 1996 6: 93–101

Payton M, Auty R, Delgoda R, Everett M, Sim E . Cloning and characterization of arylamine N-acetyltransferase genes from Mycobacterium smegmatis and Mycobacterium tuberculosis: increased expression results in isoniazid resistance J Bacteriol 1999 181: 1343–1347

Okumura F, Ueda O, Kitamura S, Tatsumi K . N-acetylation and N-formylation of carcinogenic arylamines and related compounds in dogs Carcinogenesis 1995 16: 71–76

Moller L, Zeisig M, Midtvedt T, Gustafsson JA . Intestinal microflora enhances formation of DNA adducts following administration of 2-NF and 2-AAF [published erratum appears in Carcinogenesis 1994 Dec; 15(12): 2969] Carcinogenesis 1994 15: 857–861

Guo R, Thormann W, Lauterberg B . Relationship between high incidence of adverse dapsone reactions and slow acetylate phenotype or low plasma/lymphocyte glutathione level Chin Med J 1996 109: 933–936

Zielinska E, Niewiarowski W, Bodalski J, Rebowski G, Skretkowicz J, Mianowska K et al . Genotyping of the arylamine N-acetyltransferase polymorphism in the prediction of idiosyncratic reactions to trimethoprim-sulfamethoxazole in infants Pharmacy World & Science 1998 20: 123–130

Cribb AE, Nakamura H, Grant DM, Miller MA, Spielberg SP . Role of polymorphic and monomorphic human arylamine N-acetyltransferases in determining sulfamethoxazole metabolism Biochem Pharmacol 1993 45: 1277–1282

Lemke LE, McQueen CA . Acetylation and its role in the mutagenicity of the antihypertensive agent hydralazine Drug Metab Disposition 1995 23: 559–565

Strandberg I, Boman G, Hassler L, Sjoqvist F . Acetylator phenotype in patients with hydralazine-induced lupoid syndrome Acta Medica Scand 1976 200: 367–371

Walubo A, Aboo A . Phenytoin toxicity due to concomitant antituberculosis therapy S Afr Med J 1995 85: 1175–1176

Ohno M, Yamaguchi I, Yamamoto I, Fukuda T, Yokota S, Maekura R et al . Slow N-acetyltransferase 2 genotype affects the incidence of isoniazid and rifampicin-induced hepatotoxicity Int J Tuberculosis Lung Dis 2000 4: 256–261

Zielinska E, Niewiarowski W, Bodalski J . The arylamine N-acetyltransferase (NAT2) polymorphism and the risk of adverse reactions to co-trimoxazole in children Eur J Clin Pharmacol 1998 54: 779–785

Kitas GD, Farr M, Waterhouse L, Bacon PA . Influence of acetylator status on sulphasalazine efficacy and toxicity in patients with rheumatoid arthritis Scand J Rheumatol 1992 21: 220–225

Pullar T, Hunter JA, Capell HA . Effect of acetylator phenotype on efficacy and toxicity of sulphasalazine in rheumatoid arthritis Ann Rheum Dis 1985 44: 831–837

Mongey AB, Sim E, Risch A, Hess E . Acetylation status is associated with serological changes but not clinically significant disease in patients receiving procainamide J Rheumatol 1999 26: 1721–1726

Tan EM, Rubin RL . Autoallergic reactions induced by procainamide J Allergy Clin Immunol 1984 74: 631–634

Reidenberg MM, Drayer DE . Procainamide, N-acetylprocainamide, antinuclear antibody and systemic lupus erythematosus Angiology 1986 37: 968–971

Paykel ES, West PS, Rowan PR, Parker RR . Influence of acetylator phenotype on antidepressant effects of phenelzine Br J Psychiatry 1982 141: 243–248

Johnstone EC . The relationship between acetylator status and inhibition of monoamine oxidase, excretion of free drug and antidepressant response in depressed patients on phenelzine Psychopharmacologia 1976 46: 289–294

Kawakubo Y, Nakamori M, Schopf E, Ohkido M . Acetylator phenotype in patients with p-phenylenediamine allergy Dermatology 1997 195: 43–45
About this article
Cite this article
Butcher, N., Boukouvala, S., Sim, E. et al. Pharmacogenetics of the arylamine N-acetyltransferases. Pharmacogenomics J 2, 30–42 (2002). https://doi.org/10.1038/sj.tpj.6500053
Received:

Revised:

Accepted:

Published:

Issue Date:

DOI: https://doi.org/10.1038/sj.tpj.6500053
Keywords
N-acetyltransferase

NAT

acetylation

arylamine

polymorphism