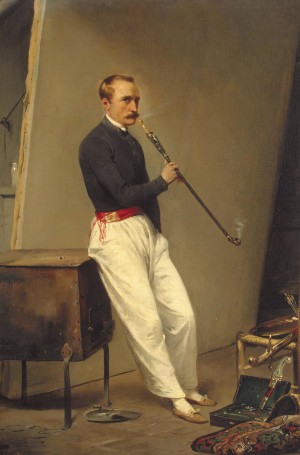 We might be able to learn more about Sherlock Holmes's physical appearance, beyond Sidney Paget's 1893 illustration of the fictional sleuth at work (see M. Konnikova Nature 549, 332–333; 2017).
In Arthur Conan Doyle's 'Adventure of the Greek Interpreter', Holmes mentions that his grandmother was "a sister of Vernet, the French artist". Émile Jean-Horace Vernet (1789–1863) and his grandfather Claude-Joseph Vernet (1714–1789) were both painters. There are several self-portraits by Émile Jean-Horace Vernet (see, for example, go.nature.com/2gohp80), and there is a striking portrait of Claude-Joseph Vernet by Elisabeth-Louise Vigée Le Brun (1788) at the Louvre Museum in Paris (see go.nature.com/2hlacgw).
These paintings show that Sherlock Holmes's purported great-uncle and his great-great-grandfather share an aquiline nose and piercingly intelligent eyes — two of the characteristics featured in Paget's illustration. And one of the self-portraits by Émile Jean-Horace Vernet shows the painter smoking a pipe (pictured).
About this article
Cite this article
Altschuler, E. Sherlock Holmes — a family likeness?. Nature 551, 33 (2017). https://doi.org/10.1038/551033c
Comments
By submitting a comment you agree to abide by our Terms and Community Guidelines. If you find something abusive or that does not comply with our terms or guidelines please flag it as inappropriate.