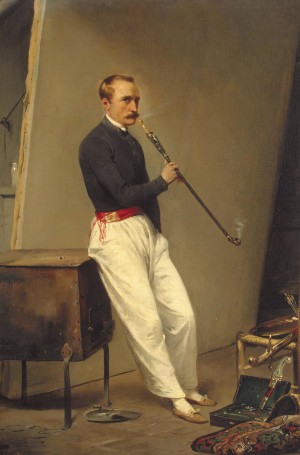 We might be able to learn more about Sherlock Holmes's physical appearance, beyond Sidney Paget's 1893 illustration of the fictional sleuth at work (see M. Konnikova Nature 549, 332–333; 2017).
In Arthur Conan Doyle's 'Adventure of the Greek Interpreter', Holmes mentions that his grandmother was "a sister of Vernet, the French artist". Émile Jean-Horace Vernet (1789–1863) and his grandfather Claude-Joseph Vernet (1714–1789) were both painters. There are several self-portraits by Émile Jean-Horace Vernet (see, for example, go.nature.com/2gohp80), and there is a striking portrait of Claude-Joseph Vernet by Elisabeth-Louise Vigée Le Brun (1788) at the Louvre Museum in Paris (see go.nature.com/2hlacgw).
These paintings show that Sherlock Holmes's purported great-uncle and his great-great-grandfather share an aquiline nose and piercingly intelligent eyes — two of the characteristics featured in Paget's illustration. And one of the self-portraits by Émile Jean-Horace Vernet shows the painter smoking a pipe (pictured).
About this article
Cite this article
Altschuler, E. Sherlock Holmes — a family likeness?. Nature 551, 33 (2017). https://doi.org/10.1038/551033c