Hurricane Harvey highlights the struggle to apply climate science.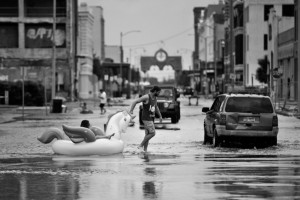 Hurricane Harvey is already being described as one of the ten costliest storms in US history, with the estimated financial damage put at between US$10 billion and $20 billion. Oil- and gas-industry infrastructure lies among the wreckage, and investors are eyeing the impact on the energy and insurance markets.
Decisions on where to install, build and develop have always been weather dependent. But they are becoming increasingly so. Extreme weather events such as Harvey can be described as 'unprecedented' only so many times before companies and governments are forced to accept that such events are the new normal, and to plan accordingly.
Such plans are more difficult and complicated than the simple broad-brush narrative often cited about the need to adapt to global warming. As we explore in a News story this week, scientists cannot yet supply the kind of detailed, quantified information that companies and others require to best plan for changes coming in the next few years to decades.
This is partly a question of resources: the world is a big place, the future infinite and there isn't enough computing power to go around. It is partly political, with the few late-adopters still offering a false flag around which to rally those who prefer inaction and obstruction. And it's partly because the field of climate services — as the field of such detailed projections is known — is on the front line of a cultural switch that sees science listen to society's questions, instead of simply offering answers. It is an imperfect storm, and scientists can't meet the cost alone.
About this article
Cite this article
Extreme weather events are the new normal. Nature 548, 499 (2017). https://doi.org/10.1038/548499b
Published:

Issue Date:

DOI: https://doi.org/10.1038/548499b