Researchers refuse to sit on evaluation panels after government bans international participation.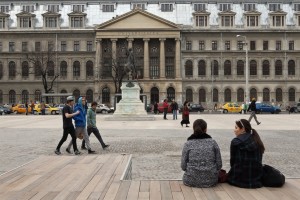 Researchers in Romania are stepping up protests against controversial government science reforms. Hundreds of scientists at leading research institutions say they will refuse to sit on national panels that assess and award grants, after the Romanian researchers' association Ad Astra called for the boycott on 30 May. But not all scientists in the country support the move.
Since Romania's current government took power in January, it has replaced formerly independent research councils with state-controlled bodies and has thrown international scientists off review panels. Panels can now only use international scientists to help select grants if no Romanian expert can be found — and even then, only if government officials approve it.
The government has told Romanian media that the changes are to help "capitalize on Romania's national potential". But researchers say that they are the latest in a series of policy backslides, whereby Romania — which this year celebrates a decade in the European Union — is retreating from international scrutiny of its research funding, and reintroducing political interference into the grant process.
"It is inconceivable for an EU country to intentionally forbid European expert evaluators to participate in national competitions for funding research," says Daniel David, vice-rector for competitiveness at Romania's Babeș-Bolyai University in Cluj-Napoca. "Just by this decision, researcher competition gets under political influence," he says.
Last month, Romania's government said that scientists had to provide certificates showing that they have their university's permission to participate in the evaluation process. Officially, this is to provide confirmation of a researcher's work status at their organization — but Ad Astra sees the paperwork as a government ploy to approve only researchers who won't be too critical of grant applications. Its boycott asks researchers not to provide the certificates. "The degradation of research management in Romania has reached a worrisome level," says Ad Astra member Lucian Ancu, who adds that he has received many messages of support for the boycott. The Romanian research ministry did not respond to requests for comment.
After Romania joined the EU in 2007, its government hoped to encourage local scientists to apply for excellence-based European research funds. In 2010, the government introduced laws to increase domestic merit-based research assessments and reduce political interference in grants. Those policies were popular with the most capable scientists at top universities, says Daniel Funeriu, Romania's research and education minister from 2009 to 2012. But others resented them, he says.
In 2012, some of the reforms were rolled back, and the latest moves to exclude overseas experts effectively complete the reversal of these policies, says Funeriu. The government can now decide who gets grants according to its own set of priorities, he says, adding that the risk is that money is distributed to a political clientele and not to excellent science.
The European University Association (EUA) in Brussels says that it deplores the research changes. On 30 May, it issued a statement calling them a "worrying development". The number of nationally funded projects has dropped, and researchers say that calls for excellence-based grants have been shelved, adds Lesley Wilson, the EUA's secretary-general. She notes that the reforms are part of a long chain of policy changes, which together "do not allow universities to develop long-term strategies".
But not all scientists in Romania support the boycott. "A lot of people were really hurt by the meritocratic system, so they like the status quo," says Costin Raiciu, a computer scientist at the University Politehnica of Bucharest. The boycotting scientists pledge that they will rejoin the approval process only when international experts are re-admitted. But the reforms might not be reversed, owing to the split between academics inside Romania, Ancu and Raiciu say. If they are not rolled back, Raiciu worries that many of the country's experienced researchers, tempted back to Romania by the merit-based grant system, will leave again. "Without [merit-based] funding, people would either give up research altogether or move out of the country," he says.
Related links
Related links
Related links in Nature Research
Related external links
About this article
Cite this article
Vesper, I. Romania's science reforms prompt boycott. Nature 546, 197 (2017). https://doi.org/10.1038/546197a
Published:

Issue Date:

DOI: https://doi.org/10.1038/546197a