A proposal to massively expand the number of bodies called planets raises interesting questions.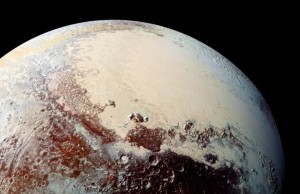 The beautiful mechanical orrery that hangs from the ceiling of the United Kingdom's Jodrell Bank observatory looks old, but isn't. Installed in 2013, the model of the Solar System carries a major clue to its relative youth: when the children who gather below are handed worksheets that ask them to name and label the system's planets, there are eight worlds on their list. For, according to rules agreed by the International Astronomical Union (IAU) in 2006, there is no room for Pluto. (Younger readers should note: the more elderly among us were taught at school that nine planets orbited the Sun.)
Officials at the observatory near Macclesfield will, therefore, surely be alarmed at a proposal that would render their new orrery old after all. Not all scientists accepted Pluto's demotion, and some of them have hatched a plot to put it back in its planetary place. (Not by chance, these scientists worked on the New Horizons probe that NASA sent to Pluto: a planetary explorer when it was conceived but not when it arrived in 2015.) The schoolchildren below the model should be anxious, too, for the proposal would swell the number of Solar System planets on their worksheets to more than 100.
Crudely, the proposal — which has been published online ahead of being presented at the Lunar and Planetary Science Conference in The Woodlands, Texas, next month — aims to classify a planet according to its internal geophysics rather than its place in space. An unintended consequence of the IAU change, the authors say, is that Pluto is now considered by the public to be less interesting to explore than it once was. So they suggest that we should instead put it like this: "A planet is a sub-stellar mass body that has never undergone nuclear fusion and that has sufficient self-gravitation to assume a spheroidal shape adequately described by a triaxial ellipsoid regardless of its orbital parameters." Or, if it helps, like this: "Round objects in space that are smaller than stars."
That would include at first glance, of course, the Moon. And many more moons besides — hence the huge Solar System upgrade. It's not clear at this stage how serious the proposal is, but it would come with a major plus. In future, kids at school might have to work harder to learn the names of Earth's neighbours, but they would also be taught that humanity has already left its footprints on another planet.
About this article
Cite this article
Pluto could be staging a comeback — and it's not alone. Nature 542, 392 (2017). https://doi.org/10.1038/542392b
Published:

Issue Date:

DOI: https://doi.org/10.1038/542392b