A harbour seal's whiskers might be sensitive enough to detect water passing through the gills of fish hiding in the sand.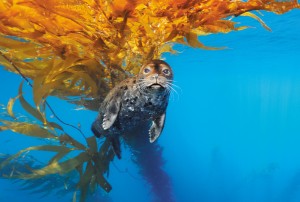 Wolf Hanke and his colleagues at the Institute for Biosciences in Rostock, Germany, trained three harbour seals (Phoca vitulina; pictured) to swim over a platform with eight water nozzles, which generated tiny currents resembling those from flatfish gills. The seals were trained to hover over a nozzle for five seconds if they detected a current. In an open-water pen in the Baltic Sea, the seals correctly identified the tiny flows of water with their whiskers, even when they were blindfolded.
Wild harbour seals can also smell fish, but this trial suggests that they may have other ways to find prey.
About this article
Cite this article
Seal whiskers may sense fish breath. Nature 541, 438 (2017). https://doi.org/10.1038/541438a