Researchers in the country have only just started using homegrown human embryonic stem cells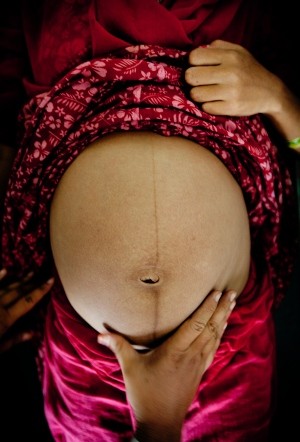 Fabián Díaz achieved a milestone last year when he derived the first human embryonic stem-cell line from cells of Mexican origin. Biologists across Mexico now use the stem cells, which Díaz — a researcher at the National Institute of Perinatology in Mexico City — created using embryos discarded by a fertility clinic.
But in recent months, Díaz has put his stem-cell research on hold. He is waiting to see whether Mexico's legislature will approve an amendment to the national health law that would ban experiments with human embryos. The proposal is winding its way through the legislature's lower house, the Chamber of Deputies. To become law, it would have to be approved by the legislature and by Mexico's president, Enrique Peña Nieto.
"They want to eliminate an entire area of research in Mexico," says René Drucker-Colín, a neurobiologist at the National Autonomous University of Mexico (UNAM) in Mexico City who hopes to use embryonic tissue as a treatment for people with Parkinson's disease.
The amendment is intended to regulate assisted reproduction, including the payment of surrogate mothers, donations to egg and sperm banks and the fertilization of more than three eggs at a time. But it would also ban the creation of human embryos for any purpose except reproduction and any research with existing human embryos.
Such restrictions are intended to address Mexico's thriving reproductive tourism industry, which has few protections for surrogate mothers. But the proposed amendment would have prohibited a scientific world first that took place in Mexico: the conception of a baby with DNA from three people. The child was born in April. His parents, who are from Jordan, used the treatment to prevent their baby from inheriting a disease that would otherwise be passed down through his mother's mitochondrial DNA.
The proposed changes to Mexico's health law have the backing of the National Action Party (PAN) and Peña Nieto's Institutional Revolutionary Party (PRI), but researchers worry that they are too broad.
"We're not against the regulation," says Diana Escalante, a neurodevelopmental biologist at UNAM. "But the way in which they are doing it is just forbidding everything." The amendment would prevent the creation of new embryonic stem-cell lines, she says, as well as a standard way to test whether the cells can develop into any cell type in the body. The penalties for violating the restrictions would include heavy fines and imprisonment.
Human-rights groups have joined scientists in opposing the proposed amendment, which would restrict artificial reproduction to heterosexual couples. Only Mexican-national couples would be able to use surrogate mothers, who would be limited to their relatives. Opponents of the plan say that it discriminates against same-sex couples and people without family members of reproductive age.
But Rosa Velez, a spokesperson for Sylvana Beltrones, the legislator who authored the amendment, says that the restrictions would protect human dignity and the legal rights of children who are created using fertility techniques and their parents. She adds that scientists would be able to study stem cells obtained from adults.
Researchers have protested against the plan. On 24 October, more than 60 Mexican scientists sent a letter to the newspaper El Universal critizing the proposed amendment. Drucker-Colín says that he has also asked Mexico's National Academy of Sciences to intercede with the politicians.
The amendment would make it harder for scientists to study the earliest stages of human development, says Iván Velasco, a neurodevelopmental biologist at UNAM and president of the Mexican Society for Stem Cell Research. "It's possible people will train abroad, but if they want to come back they won't be able to do it here," he says. Yet Velasco thinks that his own work, which uses existing human embryonic stem-cell lines, would be permitted.
Others are worried about how a ban on the use of embryonic stem cells would affect clinical research. "We are close to beginning working with [embryonic stem] cells, and these laws are going to trash everything," says Raymundo Cañales de la Fuente, a research gynaecologist at the Hospital Angeles Pedregal in Mexico City whose group looks for ways to improve the efficacy of assisted reproductive techniques.
The amendment would limit the use of routine techniques used in fertility clinics, including a method used to screen embryos for genetic mutations before they are implanted into the mother. Such screening can prevent the transmission of severe genetic diseases, and help some infertile couples to understand why they are having trouble conceiving.
If the technique is banned, researchers would need to rely on older, less precise methods to determine whether embryos are likely to survive implantation, says Patricia Grether, a geneticist at the National Institute of Perinatology. Clinicians could also send patients to the United States for treatment, but that is too expensive for many Mexicans.
Velez says that the intent of the proposed amendment is to improve assisted reproduction, not to ban it. But Cañales de la Fuente says that the proposal would prevent many reputable clinics from offering such services. Clinicians would be limited to fertilizing three eggs at a time, reducing their success rates. They would also have to verify that a couple is not storing fertilized eggs at another clinic. With more than 100 such clinics in Mexico City alone, there is no practical way to do this.
"We need to make a new law," Cañales de la Fuente says. "Completely different from this one, with a scientific basis and a medical basis to be practical — and from the ministry of health, not from the congressmen."
About this article
Cite this article
Reardon, S. Mexico proposal to ban human-embryo research would stifle science. Nature 540, 180–181 (2016). https://doi.org/10.1038/540180a
Published:

Issue Date:

DOI: https://doi.org/10.1038/540180a
This article is cited by
Maximilian Murtinger
Barbara Wirleitner
Friedrich Gagsteiger

Journal of Assisted Reproduction and Genetics (2020)