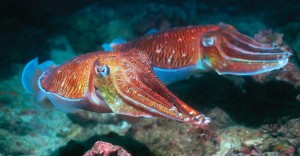 Cuttlefish seem to be able to distinguish between large and small numbers, at least when it comes to food.
Tsang-I Yang and Chuan-Chin Chiao at National Tsing Hua University in Hsinchu, Taiwan, let pharaoh cuttlefish (Sepia pharaonis; pictured) in the lab choose between two chambers containing different numbers of shrimps to eat. The animals consistently selected the chamber with more shrimps, regardless of whether there was a large or small difference in prey numbers. The cuttlefish also opted for two shrimps that were smaller and easier to eat than one large shrimp. But if they were hungry, they took the bigger and trickier meal.
This shows that cuttlefish have a number sense, and that their choice of prey is motivated by both hunger and the size of the potential reward, the authors say.
About this article
Cite this article
Cuttlefish can count. Nature 537, 11 (2016). https://doi.org/10.1038/537011a
Published:

Issue Date:

DOI: https://doi.org/10.1038/537011a