Ambitious bids to map the brain and cure cancer have not boosted overall research funding.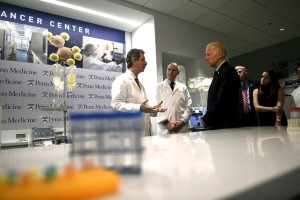 As Barack Obama prepares to leave office, Nature examines the scientific highs and lows of his presidency. Read the other stories in this series about his policies on space, research integrity and climate change.
When president-elect Barack Obama chose physicist John Holdren as his top science adviser in December 2008, some biomedical researchers worried that the pick signalled a White House bias towards physical science.
But faced with a penny-pinching Congress, Obama's strong support for biomedical science has not translated into significant funding gains for the US National Institutes of Health (NIH). The agency has seen the purchasing power of flat research budgets eroded by inflation (see 'Budget battles'). "The life sciences were a significant priority for the Obama administration," says Gregory Petsko, a biochemist at Weill Cornell Medical College in New York City. "But with Congress being the way that it is, there was a limit to what Obama could do as far as increasing support of biomedical research."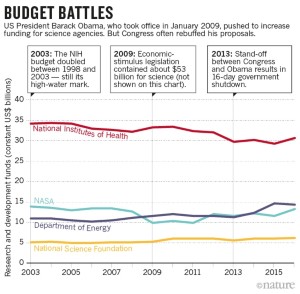 It is the big initiatives that will probably form Obama's lasting biomedical legacy, says Benjamin Corb, head of public affairs at the American Society for Biochemistry and Molecular Biology in Rockville, Maryland. In 2013, Obama announced the Brain Research Through Advancing Innovative Neurotechnologies (BRAIN) initiative to map the human brain. In 2015, he unveiled the Precision Medicine Initiative, which includes an ambitious study of health records and genomic information from one million people in the United States. And in January, he introduced the Cancer Moonshot, a US$1-billion proposal to double the pace of cancer research in five years.
NIH director Francis Collins, who led the Human Genome Project in the 1990s, likens Obama to a player who scores three goals in the same game: "I said to him, basically, 'Mr President, you have achieved a hat-trick.'"
But such programmes may come at a cost to basic research funding, even as they draw attention to areas of science that may be overlooked or underfunded. "These big initiatives tend to cast a really large shadow," says Corb. "They can overshadow some of those basic research needs."
And it's not clear whether Obama's major initiatives will survive under the next president. Democratic presidential candidate Hillary Clinton has said that she would continue the Cancer Moonshot initiative. She also supports Alzheimer's disease research, which bodes well for the BRAIN initiative if she is elected, Corb says. Republican candidate Donald Trump has no clear policy on biomedical research.
But the next president won't be making that decision alone. Patient advocates drive major changes in biomedical research priorities and funding over time, and will probably ensure that Obama's big-science initiatives continue, says Mary Woolley, president of the science-advocacy organization Research!America in Arlington, Virginia. "Determined advocates are not going to take 'no' for an answer," she says. "They'll be the ones that bridge administrations."
Additional information
Additional reporting by Sara Reardon.
Related links
Related links
Related links in Nature Research
Related external links
About this article
Cite this article
Ledford, H. Obama's science legacy: betting big on biomedical science. Nature 536, 385–386 (2016). https://doi.org/10.1038/536385a
Published:

Issue Date:

DOI: https://doi.org/10.1038/536385a