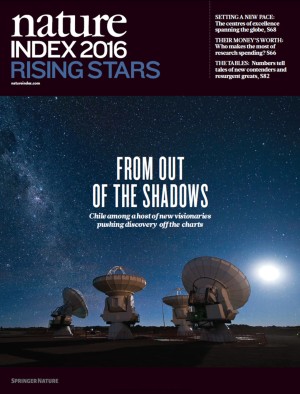 Talent scouts are trained to spot rising stars in the arts, sport and business. These people and organizations may not yet be at the top of their field, but clearly have the potential to shine more brightly than others.
In this spirit, Nature Index 2016 Rising Stars seeks to identify the ascendant performers in the research world, using the power of the Nature Index, which tracks the research of more than 8,000 global institutions.
These institutions and countries have improved their performance often without the longevity, reputation and resources of many well-established institutions that lead academic rankings, such as Harvard and Cambridge universities.
The institutions and countries we examine here have increased their contribution to a selection of top natural science journals — a metric known as weighted fractional count (WFC) — from 2012 to 2015. In the competitive world of academic publishing, these are the players to watch.
The countries we have selected as rising stars (S56) experienced exceptionally rapid increases during these years, either in their overall WFC, or in the WFC of a specific subject area. For example, the contribution of Indian researchers to chemistry publications grew by 35%. The subject made up more than half the country's output in the index last year.
China's remarkable rise in high-quality research output is now well established, which is why we no longer consider the country a rising star. However, it's worth noting that China topped the list of most improved countries in the index for the past four years, both overall and in the four subject areas tracked by the index: physical sciences, chemistry, life sciences and Earth and environment research.
On its own, the index is a powerful tool to assess research performance. But, combining its data with other information, such as country-level R&D spending or researcher numbers, reveals which countries and institutions are the most efficient at producing world-class research.
Our top 25 institutions have been selected from among the 100 most improved institutions in 2015 (S82). We've profiled institutions from all over the world whose output grew particularly fast. In four years, for instance, South Korea's new Institute for Basic Science (IBS) increased its contribution to high-quality journals by more than 4,000%. South Korean leaders hope IBS will bring the country a Nobel Prize.
Given the role research must play in solving many of society's biggest challenges, we congratulate the countries and institutions who are striving to be epicentres of scientific success.
About this article
Cite this article
Phillips, N. Rising stars. Nature 535, S49 (2016). https://doi.org/10.1038/535S49a
Published:

Issue Date:

DOI: https://doi.org/10.1038/535S49a