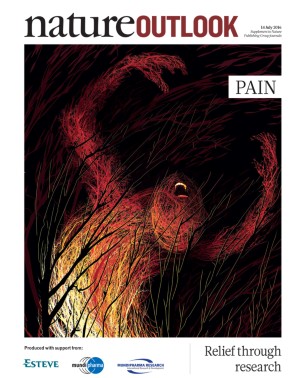 Pain is unpleasant but necessary. It signals danger, preventing us from harming ourselves, and alerts us to damage to our bodies. Yet for many people, their pain system is out of alignment. Too much pain is crippling and can make everyday living an agony. Even 'good' pain can turn bad, when the pain of an injury persists after the damage has healed.
To use only the term 'pain' is to ignore the full range of ways that people experience hurt. It might all start with the same basic pathways (see page S2), but the nuances change as acute pain becomes chronic and even the strongest analgesics stop working (S4). Damage to nerves has its own set of effects. Which sensation a person experiences might be a clue to the cause of their neuropathic pain — and how to treat it (S10).
The personal nature of pain complicates its study. Men and women even process pain through different immune cells in the spinal cord. Such an important distinction has a bearing on the sex of animals used in pain research (S7). And these variations have hampered genetic studies, which have so far shown only that pain is mediated by a mosaic of thousands of genes (S12). Brain imaging, however, is providing more leads. Researchers think that they have identified a neurological signature of pain that could be used in comparison studies (S8).
Researchers have come a long way in terms of understanding and controlling pain (S18). But although people in developed countries have access to the strongest opioids, billions elsewhere do not — even those in palliative care (S16). However, things are changing, with many drugs and devices in development, including the intriguing possibility of using honest placebos as painkillers (S14).
We are pleased to acknowledge the financial support of ESTEVE, Mundipharma International Ltd and Mundipharma Research GmbH & Co. KG in producing this Outlook. As always, Nature has sole responsibility for all editorial content.
About this article
Cite this article
Grayson, M. Pain. Nature 535, S1 (2016). https://doi.org/10.1038/535S1a
Published:

Issue Date:

DOI: https://doi.org/10.1038/535S1a
Further reading
Guangya Xu
Shutao Zhang
Zheng Shi

Purinergic Signalling (2021)

Ine Vandewauw
Katrien De Clercq
Thomas Voets

Nature (2018)