Court decision escalates tensions in ecologically sensitive region, but may also push nations to cooperate.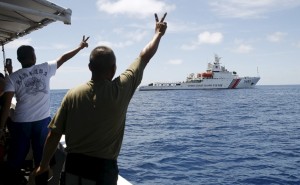 An international tribunal has ruled against China's territorial claims in the South China Sea — and ecologists are worried. They warn that the decision, which China has vowed to ignore, could escalate tensions between China and its neighbours, leading to increased competition for fish and a subsequent collapse in stocks.
"Now catastrophe looks much closer than before," says John McManus, a marine ecologist at the University of Miami in Florida. "The Hague decision stirred the pot."
But McManus and others also note that the ruling, by the Permanent Court of Arbitration in The Hague, may nudge China to cooperate more with regional rivals on scientific and environmental issues.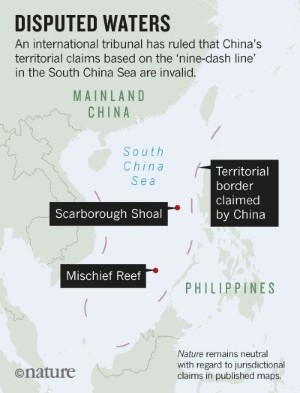 The Philippines brought the case in 2013 following China's occupation of a reef, called Scarborough Shoal, that both countries claim. On 12 July, the court upheld Philippine allegations that China had unlawfully restricted access to its fisherman there. And it rebuked China for its broader territorial claims within the 'nine-dash line' that envelops most of the South China Sea (see 'Disputed waters').
China argues that certain geological fixtures in the sea are islands that belong to its sovereign land and that the waters that surround them are within its 'exclusive economic zone'. The court found that the fixtures are merely rocks or "low-tide elevations".
The tribunal also said that China had violated the United Nations Convention on the Law of the Sea by constructing artificial islands that damaged coral reefs, and by failing to stop its fishers from snatching protected species.
The judgement is legally binding, but China, which views the South China Sea as increasingly important strategically, looks likely to ignore it. "China neither accepts nor recognizes it," says a statement from the foreign affairs ministry. The region contains more than 1 billion tonnes of oil reserves and is an important nexus connecting the Pacific and Indian oceans. "No one will force China from those islands if they don't want to go," says Tim Johnston, Asia program director for the Brussels-based International Crisis Group. Days after the ruling, China cordoned off a swathe of the area for military exercises.
Military escalation could follow. For instance, the tribunal found that Mischief Reef is within the Philippines' exclusive economic zone but China has built a military base there, and, since the ruling, landed an aircraft there.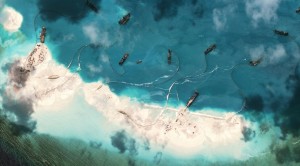 Ecologists will be watching out for an escalation in fishing, in particular at the Scarborough Shoal. Fish densities and catch rates in the South China Sea have plummeted in past decades. McManus's research suggests that the reef sits at the centre of a crucial region from which many coastal fishing stocks are replenished. He fears that the ruling — which found that China and the Philippines share fishing rights there — will lead both to increase their fishing activity. "One will try to get there before the other one," says McManus. "When we have a present fisheries crisis and a looming fisheries catastrophe, you shouldn't go to one of the most important places for fisheries and destroy it." Such a rush could affect hundreds of species, he says, and permanently reduce the numbers of some, including sea turtles, sharks and giant clams.
Another problem for conservationists is the destruction of coral reefs. McManus estimates that 162 square kilometres of reef has been destroyed, almost all of it by the Chinese in the past few decades. His calculations, which he presented at the South China Sea Conference on 12 July, suggest that Chinese cutter boats that hunt endangered giant clams account for 104 km2 of the damage, with 55 km2 a result of island building by dredging sediment from the ocean floor and dumping it on the reefs.
A statement by China's ministry of foreign affairs says that island building is carried out "based on thorough studies and scientific proof" and that "the impact on the ecological system of coral reefs is limited". But scientists have long said that the island building has to stop. Kwang-Tsao Shao, a marine-biodiversity expert at Taiwan's Academia Sinica in Taipei, says that at meetings that include his mainland peers, there is consensus from ecologists on both sides of the strait that the region should be set aside as a marine protected area.
Scientists in the region do already collaborate: Zhifei Liu at Tongji University in Shanghai, China, leads a UNESCO research project which brings together scientists from China, the Philippines and other countries to study how sediment is deposited and transported in the South China Sea. Liu says that this and other China-funded projects will be unaffected by the ruling, although he worries that Philippine collaborators might now drop out.
But scientific interest and environmental objectives in the area could strengthen diplomacy, by giving adversaries a reason to sit down and iron out priorities of mutual interest. The tribunal ruling may be what is needed to spark such dialogue, says Johnston. China — although bullish in its responses so far and unlikely to give up its claims — will want to at least look as though it is acting fairly and for the common good. "We are hoping this may tip the balance and persuade China that constructive negotiation is the way forward," he says.
Since the 1990s, McManus has advocated for a jointly run marine 'peace park' in the region. "It's the only way to avert a fisheries collapse. It will have a good effect on efforts to avert military action," he says. The tribunal decision makes him slightly more optimistic. He now gives the park a 1 in 10 chance of happening rather than 1 in 100. "If China can just sit there thinking 'this is all ours', we won't get anywhere," he says.
Related links
Related links
Related links in Nature Research
Related external links
About this article
Cite this article
Cyranoski, D. South China Sea ruling sparks conservation fears. Nature 535, 334–335 (2016). https://doi.org/10.1038/535334a
Published:

Issue Date:

DOI: https://doi.org/10.1038/535334a