Certain bacteria contain strings of magnetic nanoparticles and therefore align with magnetic fields. Inspired by these natural structures, researchers have now fabricated synthetic one-dimensional arrays of such particles.
Access options
Subscribe to Journal
Get full journal access for 1 year
$199.00
only $3.90 per issue
All prices are NET prices.
VAT will be added later in the checkout.
Tax calculation will be finalised during checkout.
Rent or Buy article
Get time limited or full article access on ReadCube.
from$8.99
All prices are NET prices.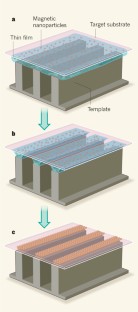 References
1

Faivre, D. & Ukmar Godec, T. Angew. Chem. Int. Edn 54, 4728–4747 (2015).

2

Jiang, X. et al. Adv. Mater. http://dx.doi.org/10.1002/adma.201601609 (2016).

3

Kiani, B., Faivre, D. & Klumpp, S. New J. Phys. 17, 043007 (2015).

4

Yuan, J., Xu, Y. & Müller, A. H. E. Chem. Soc. Rev. 40, 640–655 (2011).

5

Deegan, R. D. et al. Nature 389, 827–829 (1997).

6

Alphandéry, E. et al. ACS Nano 3, 1539–1547 (2009).

7

Ghosh, D. et al. Nature Nanotechnol. 7, 677–682 (2012).

8

Mishra, S. R., Dickey, M. D., Velevb, O. D. & Tracy, J. B. Nanoscale 8, 1309–1313 (2016).
About this article
Cite this article
Faivre, D., Bennet, M. Magnetic nanoparticles line up. Nature 535, 235–236 (2016). https://doi.org/10.1038/535235a
Further reading
Ali Bahadur

,

Shahid Iqbal

,

Aamer Saeed

,

Muhammad Imran Bashir

,

Muhammad Shoaib

,

Muhammad Waqas

,

Ghulam Shabir

&

Abdul Jabbar

Chemical Papers (2017)