Economic instability and campus violence have thrown labs into crisis.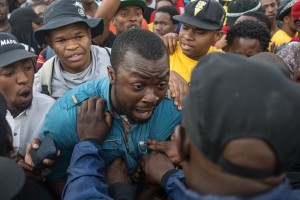 South Africa's universities have long been viewed as among the strongest in sub-Saharan Africa. But ongoing financial and political turmoil are endangering research at the nation's centres of higher learning.
It is an extension of the overall crisis that currently faces South Africa. The country's economy is in tatters, with its currency falling in value, and a corruption scandal has weakened President Jacob Zuma and his ruling political party. The upheaval is an unwelcome backdrop to the upcoming 21st International AIDS conference in Durban on 18–22 July.
Funding cuts have threatened agencies such as the South African Medical Research Council (MRC), and have harmed researchers' abilities to run their labs and recruit young scientists. They have also delayed planned projects at South African universities. The MRC is fighting a 7% budget cut for 2017–18, says council president Glenda Gray, and probably more cuts the year after. "This would be devastating," she says. "By cutting off science funding, you cut off your ability to be globally competitive."
But the true effects have not yet been felt, says vaccine researcher Shabir Madhi, executive director of South Africa's National Institute for Communicable Diseases in Johannesburg. He worries that young scientists' careers will sputter as a result of funding shortfalls, because junior researchers depend on government and university money to launch their programmes. Long-established scientists draw much of their research funding from outside South Africa and are less affected by the cuts.
Attempts by universities to compensate for slashes to funding have been challenged, sometimes violently. A proposed 10.5% fee hike at the University of the Witwatersrand in Johannesburg last October sparked a student protest movement, known on social media as the "#FeesMustFall" campaign. The protests spread to other universities, which had also proposed fee increases of 10–12%.The movement successfully squashed the hikes, and protestors are now pressing for free tuition at all South African universities.
Without fee increases, however, universities are facing immediate budget shortfalls, which have forced them to make widespread cuts. Astronomer David Block at the University of the Witwatersrand says that he and his colleagues were told at a faculty meeting last month to save money by cutting their use of water, heat and electricity. Earlier this year, he attempted to recruit a promising postdoctoral researcher, but failed because his department lacked money for new hires. "It really has reached a crisis — we're under tremendous strain."
Projects such as a programme to train vaccinology researchers at various institutions, including the University of the Witwatersrand, have had to find outside funding — a temporary stopgap.
Researchers are also worried about access to infrastructure, ever since protests ahead of municipal elections on 3 August led to campus vandalism. Unrest in January shut down University of Pretoria campuses for weeks, and in February, the Potchefstroom campus of North-West University was closed after students torched administration buildings, including a science centre. In May, arsonists burned down a historic auditorium at the University of Johannesburg.
Researchers and university administrators worry that political violence is becoming a new normal. During some of the worst mayhem, in May, Alta Schutte, director of the hypertension unit of North-West University said, "When I go home every day, I am a bit concerned that when I come back, my office, my lab, my hypertension clinic or my biobank will not be there."
The protest movement is a response to the nation's persistent inequality. "An upper-middle-income country like South Africa should widen access to education," says cardiologist Bongani Mayosi at the University of Cape Town. But the violence and intimidation have gone too far, he says.
Danie Visser, deputy vice-chancellor for research and internationalization at the University of Cape Town, agrees. "We are probably at a critical juncture: if the country is able meaningfully to address the issues that brought about the student protests in the first place, our universities — and therefore also our research — will survive and flourish."
Related links
Related links
Related links in Nature Research
Related external links
About this article
Cite this article
Check Hayden, E. South Africa's political turmoil endangers research. Nature 535, 207–208 (2016). https://doi.org/10.1038/535207a