Gauge theories underpin the standard model of particle physics, but are difficult to study using conventional computational methods. An experimental quantum system opens up fresh avenues of investigation. See Letter p.516
Access options
Subscribe to Journal
Get full journal access for 1 year
$199.00
only $3.90 per issue
All prices are NET prices.
VAT will be added later in the checkout.
Tax calculation will be finalised during checkout.
Buy article
Get time limited or full article access on ReadCube.
$32.00
All prices are NET prices.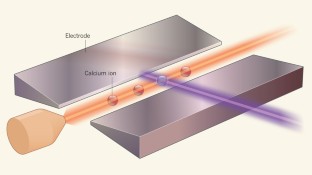 References
Martinez, E. A. et al. Nature 534, 516–519 (2016).

Feynman, R. P. Int. J. Theor. Phys. 21, 467–488 (1982).

Nature Physics Insight: Quantum simulation Nature Phys. www.nature.com/nphys/insight/quantum-simulation (2012).

Wilson, K. G. Phys. Rev. D 10, 2445–2459 (1974).

Wiese, U.-J. Ann. Phys. (Leipz.) 525, 777–796 (2013).

Zohar, E., Cirac, J. I. & Reznik, B. Rep. Prog. Phys. 79, 014401 (2016).

Tagliacozzo, L., Celi, A., Zamora, A. & Lewenstein, M. Ann. Phys. 330, 160–191 (2013).
About this article
Cite this article
Zohar, E. Quantum simulation of fundamental physics. Nature 534, 480–481 (2016). https://doi.org/10.1038/534480a
Published:

Issue Date:

DOI: https://doi.org/10.1038/534480a