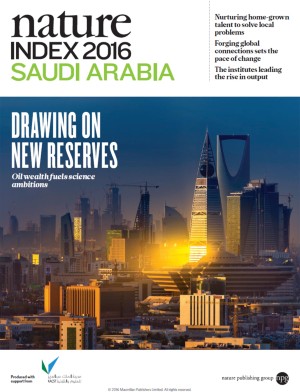 Saudi Arabia is the world's largest oil producer, however, in 2008 the country announced its plans to broaden its scope from an oil-based economy to one based on knowledge, under a national science strategy laid out until 2030. Enormous investments have allowed the country to create new high-tech universities and establish cutting-edge laboratories in its leading research institutions.
Tracking the change in the country's scientific output over the past four years, the first Nature Index supplement about the Middle East shows that Saudi Arabia's investments in science are starting to pay off. It has surpassed all other Arab states in the region, and outstripped other regional leaders to achieve the second highest output in the index in Western Asia.
Most of this growth can be attributed to five institutions across the Kingdom, which we profile on page S8. These institutions have forged collaborations with 89 countries in 2015, and the research has fuelled the country's rapid rise in the index. The United States and China, the global leaders in science, continue to account for the bulk of collaborations with Saudi Arabia.
Page S16 describes how the country's leading institutions, KAUST and KAU, are driving these collaborations through two distinctly different approaches. Our feature on page S19 shows how one Saudi Arabian institution is reaping the great rewards of maintaining a focus on the domestic and regional front.
A closer look at the Nature Index shows that, with the exception of KAUST, Saudi institutions usually have a smaller contribution to collaborations compared to their international counterparts. Aware of the need for more homegrown talent, the Saudi government has created a large scholarship programme to send students abroad for postgraduate studies, in the hope they will return and lead the country's scientific endeavours through new connections and a broad experience.
With the fastest growing weighted fractional count(WFC) in the Middle East in 2015, Saudi Arabia has positioned itself as a regional leader in the index. This rise has been driven by a strong focus on chemistry research, which makes up two-thirds of the Kingdom's science output in the Nature Index. On page S13, we look at the rise in Saudi Arabia's international standing. It has already shot past most of its competitors from 2012, and now has its sights on the higher rankings of the leading Asian strongholds. It's a lofty target, but the country's impressive trajectory so far makes it one to watch.
For more information on how Nature Index metrics are calculated, see page S24.
We acknowledge the financial support of KACST in producing this Nature Index supplement. Nature retains sole responsibility for all content.
About this article
Cite this article
Yahia, M. Saudi Arabia. Nature 532, S1 (2016). https://doi.org/10.1038/532S1a
Published:

Issue Date:

DOI: https://doi.org/10.1038/532S1a
This article is cited by
Aaron T. Kuan
Jasper S. Phelps
Wei-Chung Allen Lee

Nature Neuroscience (2020)

Ulf H. Schnabel
Christophe Bossens
Pieter R. Roelfsema

Scientific Reports (2018)